The United States

Good-quality housing – from Japan to the whole world
Amid the serious housing shortage immediately after the end of World War II, Japan was suffering from a lack of construction materials, and the market was flooded with poor-quality wooden housing. The nation as a whole needed a massive supply of good-quality housing.
At Daiwa House Industry, we were the first to promote the "industrialization of construction." The Company developed a system enabling the supply of large amounts of housing manufactured using industrialized methods, which made it possible to build houses with a reliable level of quality and a short construction time. In this way, we fulfilled the needs of society. Ever since the founding of Daiwa House Industry, we have constantly pursued the further evolution of housing technology, meeting the changing requirements of each successive generation and providing our customers with homes that are comfortable, durable, and eco-friendly.
One of our most cherished dreams is to offer people all over the world the technology and quality that we have created and refined during our many years of operation in the Japanese home-building market, and we are now working to make this dream come true.
Developing the US market through large-scale projects
Beginning in 1976, Daiwa House established four local subsidiaries in the United States – notably in California and Texas – and over the nine years to 1984 we built some 10,000 homes through lot subdivision. Following this, we concentrated our efforts on expanding the Group's operations in Japan, but in April 2011 we established Daiwa House California Inc. in San Jose. Then, in August 2011 we purchased and commenced management of a 42-unit rental apartment building in Redwood City, California.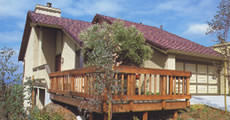 San Jose
Past Project :1979-1981
| | |
| --- | --- |
| Company | DAIWA HOUSE CORP. OF AMERICA |
| Project | Skyview Estates |
| Address | San Jose, CA |
| Summary | 1979~1981, Single Family Houses, 51 units |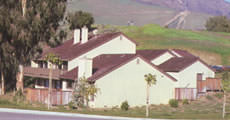 San Jose
Past Project :1979-1981
| | |
| --- | --- |
| Company | DAIWA HOUSE CORP. OF AMERICA |
| Project | Country Club Heights |
| Address | San Jose, CA |
| Summary | 1979~1981, Townhouses, 52 units |
Cupertino
Past Project :1981-1983
| | |
| --- | --- |
| Company | DAIWA HOUSE CORP. OF AMERICA |
| Project | Stonebridge |
| Address | Cupertino, CA |
| Summary | 1981~1983, Townhouses,36 units |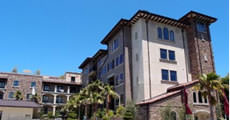 885 WOODSIDE
Past Project :2011-2016
| | |
| --- | --- |
| Company | Daiwa House California |
| Project | 885 WOODSIDE |
| Address | Redwood City, CA |
| Summary | 2011~2016, Condominiums,42 units |
In March 2014 we teamed up with major American real estate firm Lincoln Property Company, which holds the No.2 position in the US market in terms of the number of rental housing units under management. In May 2014 we made optimal use of the know-how we have built up in Japan in the fields of real estate development and the construction and management of rental housing by commencing the Berkeley Project (total of 716 rental housing units) in Fort Worth, Texas. This was followed in November of the same year by the Waters Edge Project (582 units) in Dallas County, Texas.
In July 2015 we kicked off a further expansion of our operations in the United States with the start of the Chicago North Clark Project (373 housing units), a high-rise rental housing building, and we also established Daiwa House Texas Inc. in Dallas with a view to expanding the operations of the Daiwa House Group across the country in collaboration with our existing base in Los Angeles, California.
Our Real Estate Development Projects in North America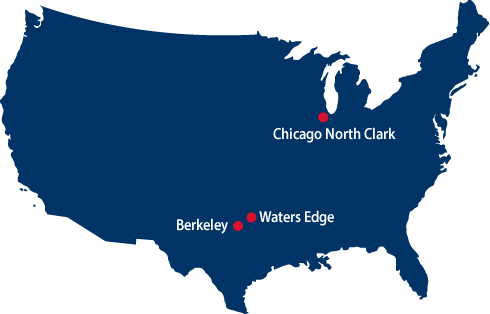 (as of January, 2016)
Berkeley Project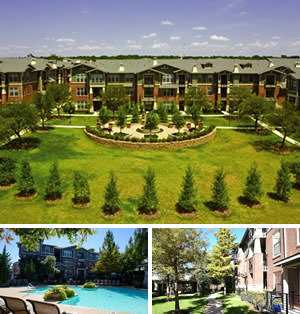 The Berkeley Project is a large-scale rental housing project (716 units) being constructed on a 110,000 m2 site (roughly 2.5 times the size of the Tokyo Dome baseball stadium) in the Forth Worth area, which is experiencing a rapid population increase.
Number of units

716

(Rental housing)
Total leasing floor space 

61,250

m2
Status: Completed
Waters Edge project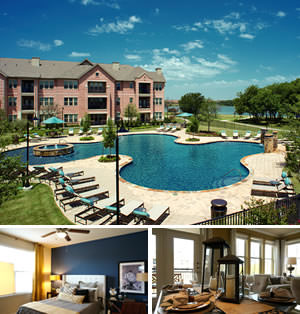 The Waters Edge Project is a large-scale rental housing project being constructed in Dallas County, where many major US corporations have their head offices. The site area is 110,000 m2 (roughly 2.5 times the size of the Tokyo Dome baseball stadium), and the number of housing units will be 582.
Number of units

582

(Rental housing)
Total leasing floor space 

51,404

m2
Status: Completion scheduled in December 2016
Chicago North Clark project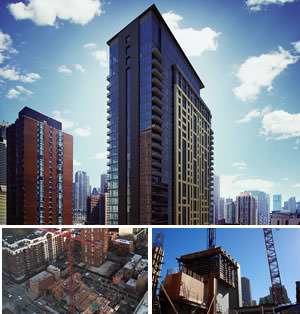 The Chicago North Clark Project is a high-rise (31 stories above ground; height of 100 meters) rental housing project that will comprise 373 units.
The site is ideally located close to the business and commercial district of downtown Chicago, and when completed, this building will be our first high-rise rental housing project outside Japan.
Number of units

373

(Rental housing)
Total leasing floor space 

29,700

m2
Status: Completion scheduled in May 2017
Cooper Street Project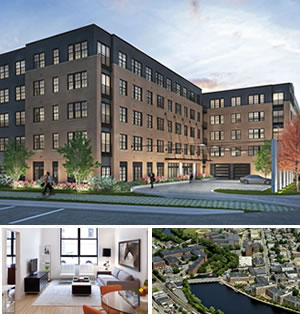 The Cooper Street Project is a rental housing project being undertaken near Boston in an area noted for its concentration of financial institutions and other companies as well as colleges. Demand for office space is high, and the employment situation is stable. The project involves four linked five-story wooden-structure buildings, containing a total of 264 home units, with common-use facilities.
Number of units

264

(Rental housing)
Total leasing floor space 

21,365

m2
Status: Completion scheduled in February 2018
Aiming to expand our operations across the whole country in partnership with Lincoln Property Company, the No.2 real estate operator in the United States
On March 3, 2014, at the United States Embassy in Tokyo, Daiwa House Industry Co., Ltd. (Daiwa House) and Lincoln Property Company (LPC) signed a memorandum of understanding on a strategic alliance between the two companies.
Under this agreement, Daiwa House made clear its intention to purchase and develop real estate properties worth roughly \150 billion in the period from 2014 to 2016, via its subsidiaries in the United States, with the goal of realizing annual sales of \50 billion or more in fiscal 2018.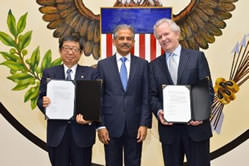 About our American partner
Founded in 1965 and headquartered in Dallas, LPC is one of the leading real estate companies in the United States.
It currently operates in over 200 cities across 30 states in the USA, as well as in 10 European countries.
LPC's achievements to date include the development of 210 million square feet (about 19 million m2) of rental housing and 141 million square feet (about 13 million m2) of commercial-use real estate. It currently manages more than 163,000 rental housing units (second in scale in the United States).
With over 6,300 employees, LPC is the largest developer of rental housing in the United States among non-REIT business entities.
ABOUT LINCOLN PROPERTY COMPANY
Founded in 1965 in Dallas,TX, Lincoln Property Company is a vertically integrated real estate development,management,and services firm.LCP currently employs over 6,300 people in 45 offices throughout the United States maintaining a presence in200 cities.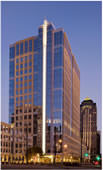 The TOMODACHI Initiative is a Japan-U.S. exchange program that was born out of reconstruction support in the aftermath of the 2011 Tohoku earthquake and tsunami, and was launched at the initiative of the U.S. Embassy in Japan and the U.S.-Japan Council. The initiative works to foster next-generation business and social leaders in Japan and the United States through educational, cultural, and leadership-training programs.
The vision that lies behind this initiative is also closely involved with strengthening ties between the two countries and encouraging a mutual understanding and appreciation of one another's culture and history, in the hope of contributing to the realization of a more prosperous and secure world through closer international coordination. The initiative proclaims its aim to be the nurturing of a new generation – the TOMODACHI Generation – of young leaders from both Japan and the United States who possess the kind of technical skills that are needed and accepted in every corner of the world, and who also have an international perspective
Daiwa House wholeheartedly concurs with this vision, and as part of its overall social contribution effort, participates in this initiative as a strategic partner*. The Company has donated US$1 million over the three years up to 2016.
From here onward, we intend to continue helping to foster the next generation of leaders through financial support for a variety of programs, aiming to stimulate fruitful exchange between young people in Japan and the United States.
* Corporations, organizations, and individuals who donate US$1 million or more to this partnership.