Top Commitment

Top Message (President,CEO and COO)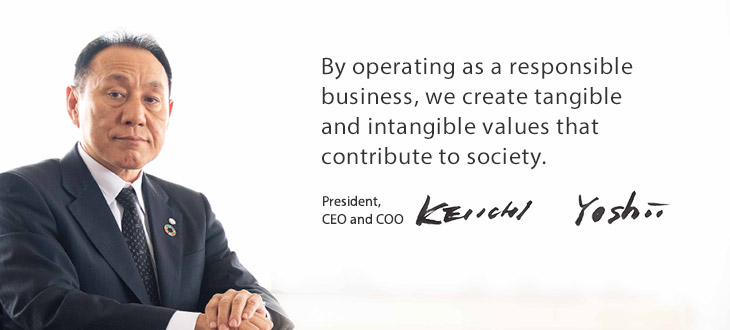 I apologize for the improprieties that have caused the loss of trust in us.
Since becoming president in November 2017, I have sought to constructively increase the overall strength of the Daiwa House Group and break into new domestic markets. In this roughly year and a half, I cannot outright claim that we achieved everything I set out for us to do, but I do come to work every day determined to accomplish what needs to be done. It also goes without saying that I recognize the weight my words can have because of my position at the top of an organization and, for that reason, I am very much determined to fur ther tune my messaging also within the company.
In terms of performance, we did well under our 5th Medium-Term Management Plan by accelerating growth in our core businesses of apartments and commercial, business and corporate facilities, diversifying business, and strengthening our human resources and manufacturing foundations. In fact, in the final year of the plan, which ended this past March, we posted our highest sales and earnings ever, many thanks to all the executives and employees of our Group as well as cooperating companies.
Unfortunately, however, our otherwise stellar record has been tarnished by a series of improprieties as an affiliate of ours in China was caught cheating in March this year and some single-family houses and apartments failed to clear building standards in April. We resultantly lost the trust of our stakeholders, therefore being the highest ranking officer in the group, I sincerely apologize.
We are presently addressing the matters. Moreover, all the executives and employees unanimously agree that it is important to confront the causes of the improprieties, deal with them directly, learn from them and show everyone how we have changed.
Continuing to carry on the founder's spirit
My predecessor, Takeo Higuchi, recently retired as CEO and relinquished his authority to represent the Daiwa House Group by doing so. He served as president and chairman for 18 years, during which time he increased sales from 1 to 4 trillion yen – a tremendous achievement by any measure. Moreover, his efforts to carry on and permeate throughout the Group the spirit of our founder Nobuo Ishibashi undeniably laid the foundations for the growth that the Daiwa House Group has achieved today.
If we are to continue growing to the 5 trillion yen mark, 6 trillion yen mark and eventually reach our founder's dream of "10 trillion yen in annual sales by our 100th anniversary," it is imperative that we continue to pursue business with the founder's spirit while adhering to the philosophy of "Being Complete in Small Things" that our executives and employees have advocated for generations, and create "products and services that are useful and liked by people."
In addition to that, given the importance placed on ESG (Environment, Society and Governance) around the world today, I strongly feel that these three topics should be our starting point for managing business over the medium- to long-term, rather than focusing purely on recent performance figures.
Further contributions to society through the housing stock and overseas businesses
Our business strategy for implementing the 6th Medium-Term Management Plan we just announced is to expand business in the commercial, business and corporate facilities segments, prepare for new growth and accelerate overseas expansion in the single-family house, apartments and condominium segments, and steadily promote the housing stock business under the "Livness" brand that we newly launched to help customers improve the added-value of their assets. The "Livness" business is a particularly important theme of our 6th Medium-Term Management Plan because, with it, we are "re-tilling" communities and houses as part of our commitment to the future.
With regard to our overseas business expansion, we have identified our mission in each country in terms of what our Group should do so that we can undertake new challenges. I am a strong believer in "local production for local consumption," which means "having people from the local area running local operations." In countries with developing economies, there is an increasing amount of public housing being built with public funding, but our Group has done no more than to provide knowhow; we're strictly involved in private sector projects. The reason being that construction projects that would send tax revenues out of the country are not allowed. And, it is highly unlikely that this policy will change going forward. Therefore, to grow business overseas, we will team up with people in a broad range of countries around the world to seriously analyze and solve the issues of each specific geographic area.
More in terms of sustainable management
In addition to spelling out our business strategy in the 6th Medium-Term Management Plan, we set specific priority issues to promote over the coming three years with regard to the "environment" and "society." And, we specify target indices for each issue, which, by trying to achieve them, we expect to strengthen the processes we use to conduct business and help enhance our social value through the business we do.
Just with regard to the "environment," we participated in several international initiatives last year related to climate change in "SBT," "EP100" and "RE100." Going forward, we will take on the challenge of high targets in business and other activities that you could call ambitious. As high as these hurdles may be, this is the path we need to be taking in our Group. And, we are confident that helping to solve environmental problems will pan out as sustainable growth for us.
Human resources are instrumental to sustainable development going forward
With regard to "society," we will continue looking for solutions to a variety of issues from the three bases of "human resources," "technology and manufacturing" and "customers."
It goes without saying that human resources are instrumental to the sustainable growth of any business. For us as well, the sustainable development of our Group hinges entirely on how we train and groom the human resources who will be steering business going forward. I often speak about an "employee's right to learn and the obligation that his/her superior has to teach him/her." Whether an engineer, sales rep or some other capacity, everybody desires to grow through their job. But, for everyone to grow, a business requires future certainty. If there is a future in that company, people will grow on their own and, as they grow, they will become increasingly more motivated to work and will discover the rewards of their efforts.
I joined this company in the middle of my career and have been very fortunate in terms of the people I have worked with. I have always been able to share my thoughts with others, which is why, I believe, we were able to move business development forward no matter what the situation. It is an executive's duty to shape his/her company so that the younger people of the workforce can feel this same way, because someday they will be shouldering the world.
Moreover, diversity is a necessary component of developing and deploying human resources. Japan is abuzz these days with the "active participation of women in the workplace," but I think we could do away with a special phrase like this by creating environments where anyone, regardless of gender, age or what have you, can be active. In our Group, we have improved employment systems and practices to increase diversity in the workplace, but it is still a work in progress. We, therefore, will steadfastly address matters in the 6th Medium-Term Management Plan.
With regard to "technology and manufacturing," we will make proactive use of advanced technologies like artificial intelligence, big data and other ICT to enhance safety, security and productivity. But, a major premise to any new technologies is that they must be practical and agreeable with construction sites, therefore thoughts and opinions from the field will be heavily reflected in development.
Keeping the promises we made to our customers
With regard to "customers," we will absolutely maintain our promises, as has been our standard practice till now. Our "Livness" business is all about that. We launched it because the suburban housing complexes our Group had built were losing their vitality due to the aging resident population.
When we built these complexes, we gave customers a reason to dream, but our duty tells us that we have to keep their dreams alive even decades later. So, already, work is in full swing to reanimate communities in housing complexes we developed in Kanagawa and Hyogo prefectures. As these projects move forward, we will reshape the landscapes inside and out into attractive communities that offer residents an environment where they can lead safe, secure and comfortable lives for years to come and are open to others who want to settle in there.
We look at this "re-tilling" of the housing complexes developed by our Group as a contribution through business to "Sustainable Cities and Communities," which the United Nations lists as number 11 of their 17 sustainable development goals, and consider it our responsibility to see it through.
Sustainability Report 2019 P21-22 "Priority Issues Concerning Value Chains Raised in Our Social Medium-Term Plan / Action Plan for the Environment"
Preparing for predictable risks through future-oriented investments
In addition to these three perspectives we will be using to solve issues, our 6th Medium-Term Management Plan specifies "innovation," "communication" and "risk countermeasures." With regard to "risk countermeasures," the improprieties we have had recently to atone for highlight the need for us to further improve our corporate governance and strengthen our risk countermeasures.
As for infrastructure development, we plan to invest about 100 billion yen over the next three years in the aforementioned "environmental" and "social" interests. Just regarding the budgeted amount, there are all sorts of opinions. Naturally, the question arises as to whether it is cost-effective or not. If we were investing all 100 billion yen in human resource development and the like, it would obviously be hard to measure the cost-effectiveness because the effect is mostly intangible.
But, we have looked long and hard at the future and earmarked this investment for the direction we are certain that our Group will have to head. With the birthrate falling and the population aging, severe labor shortages are predicted on the road ahead. If push comes to shove, we may be unable to properly execute operations using the ways and means we do now.
This is not the time to be taking things easy. Our thinking is to accelerate internal research and development on the one hand, while, given this age of open innovation, getting straight into practical applications by acquiring ideas and technologies from outside the Group on the other. We are going to take steps now so that, 5 or 10 years down the road, our successors will be able to say that they are glad they did what they did when they did it.
Fulfilling our social mission by preserving "Japanese sentiment"
With regard to "governance," we have unfortunately seen a series of improprieties as I mentioned at the very beginning. The situation is not only regrettable but serious and I promise all of our stakeholders right here and now that every instance will be addressed and corrected, as I will be looking into matters myself. Nothing will be overlooked or let off with a slap on the wrist.
I will work with all our executives and employees to solve the problems and prevent any recurrence to a degree that will spur people to think that our Group has been reborn.
As a final note, I am happy to inform you that we added our "Daiwa Sakura Aid" activity with which we are preserving cherry trees as our symbolic activities to carry forward our founder's spirit and a social contribution to future generations, to the 6th Medium-Term Management Plan. The cherry trees in the activity are on Mt. Yoshino in Nara Prefecture where our founder Nobuo Ishibashi was born and essentially where the spirit of the Daiwa House Group hails from.
As you probably know, the cherry trees of Yoshino have been cherished by the Japanese people since a long time ago. Together with our stakeholders, we want to preserve them into eternity as a representation of "Japanese sentiment" and symbol of the culture, history, traditions and landscape of Japan. This preservation activity brings us closer to the spirit of our founder and reminds us of our social mission in our Group to conduct business so that we are useful to and liked by society, and grow sustainably.