Risk Management
Management
In order to proceed with the building and the operation of its internal control system including risk management, our Group has appointed the President and COO as the director of the internal control system and the Internal Control Committee meets quarterly with the General Manager of Management Administration Headquarters as the chairman.
Fur ther, we have established the Risk Management Commi t tee as a meeting structure special ized in risk management, and made it mandatory to individually report any risk cases immediately to the Head Office Risk Management Committee Secretariat. Through this initiative, reported information on risks associated with financial market trends, compliance, environments, quality, information security, human rights and others can be promptly communicated to and shared with Executive Officers and managers in relevant departments.
In addition, we have set up a system to follow the progress of the risk management structure improvement on a regular basis. Specifically, the Head Office Risk Management Committee meets monthly to share risk cases reported by worksites and Group companies. These risk cases are reported to the Board of Directors twice a year. To deal with critical risks, we launch a working group to discuss preventive measures and give instructions to worksites and Group companies to tell them what must be done as well as implementing them across the Group.
The Risk Management Committee Chairman is, as a director of the risk management, responsible for developing the Daiwa House Group's risk management system and implementing risk preventive measures.
Furthermore, managers of risk management are assigned at each department to monitor risks continuously. Serious scandals and accidents occurred at other companies are also notified to the chief administrators immediately, to whom required education is provided. On top of that, a division has been established to audit everyday risk management situation at each department. Matters relating to risk management collected through the above are periodically reported to the Board of Directors and the Audit and Supervisory Board to take necessary actions.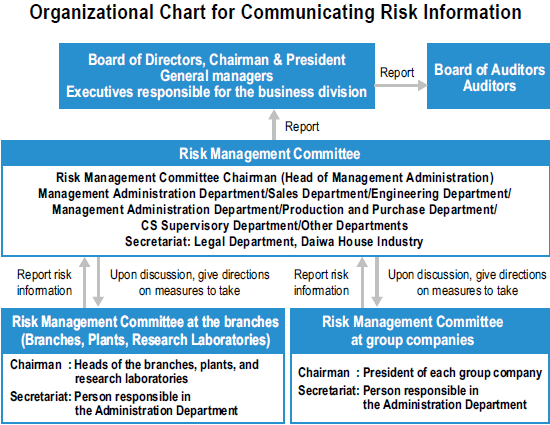 Corporate Ethics and Human Rights Helpline
Since 2004, the Daiwa House Group has been operating a hotline for internal breach notification ("whistle-blowing") and consultation services, while implementing regulations to protect whistle-blowers. The hotline is available, and the regulations are applicable, to all Group employees, regardless of their type of employment. In 2012, this service was renamed the "Corporate Ethics and Human Rights Helpline." The hotline accepts not only reports of suspected or confirmed cases of breach but also reports of, and requests for help and advice on, a variety of workplace- or human rights-related problems, thereby contributing to early detection and resolution of such problems. In fiscal 2014, the hotline received 175 reports and consultations, primarily with regard to problems in the work environment. In the process of working toward resolution, the wishes of the consulter are respected, and in some cases, hearings of the persons concerned are held to confirm the facts. Along with such actions, corrective measures are implemented with the issuance of punishments or direct disciplinary guidance to the offender. Once the problem has been resolved, a followup investigation is carried out to ensure, in some cases, that the reporter will not be subject to retaliatory treatment or that improvements have been made, thus always protecting hotline users. As measures for recurrence prevention, information is shared among related branch offices and departments via the persons in charge of the hotline to raise general awareness of the risks. Training programs are also organized to draw attention to such issues.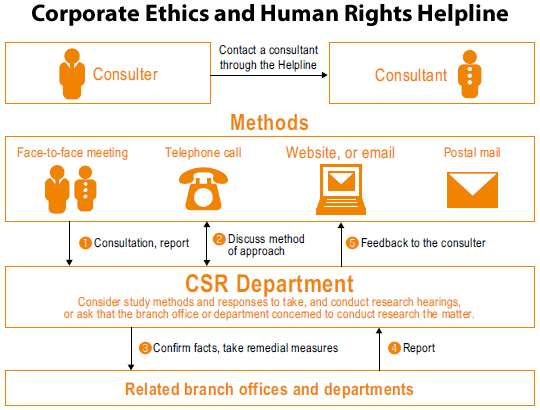 At the Daiwa House Group, points of contacts for reporting and consultation have been put in place at the CSR, Legal, and Human Resource Departments, facilitating the detection of legal irregularities, violations of human rights, workplace problems, and the like. Several contact points are available within the company to lower the psychological barrier that employees may feel about reporting or seeking advice, thus easing the way for them to reach out at an early stage.