Top Commitment

Top Message (Chairman and CEO)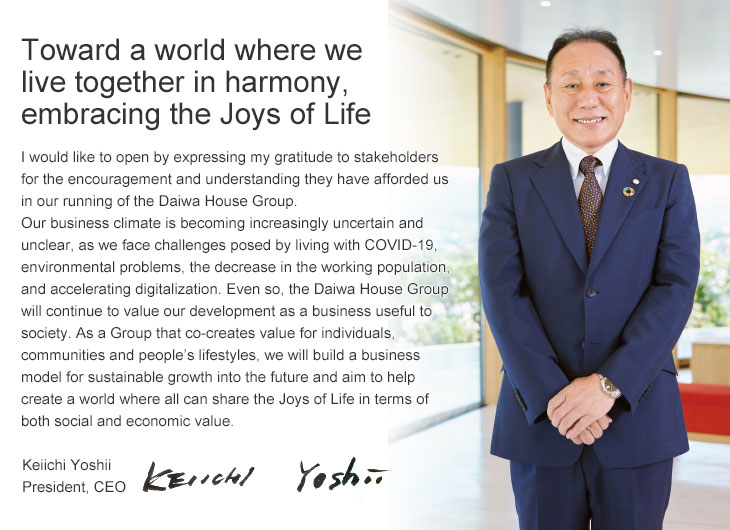 Management based on six decision-making criteria that codify our founder's ideas
As one might expect, only a small percentage of companies in existence today have been in operation for over a century. The vast majority disappear long before they reach the 100year mark. Why is that? The way I see it, top executives tend to become consumed by conceit when their business succeeds. They forget they are members of society, instead becoming self-centered and power hungry. This can happen no matter what size a company is. But the larger the company, the faster and greater its decline will be once its executives become bloated with self-importance.
Where does the Daiwa House Group stand in this regard? We have been in business for 63 years. Our late founder Nobuo Ishibashi passed on to the corporate group the goal of reaching ¥10 trillion in consolidated sales by our 100th anniversary while continuing to play a useful role in society through our business. Today we are working to achieve that dream, sharing the same values among executives and employees throughout the organization.
In his later years, as company advisor, Mr. Ishibashi would always say things like, "Employees have their families. Suppliers and subcontractors have theirs. As a corporate entity we have an obligation to sustain those people's livelihoods. The company is therefore a public institution." This loyalty to his employees and sense of responsibility to all stakeholders was part of Mr. Ishibashi's moral fiber, and it drew many people to him. That approach to life and business is what put the Daiwa House Group in the position we are in today, endowed with the trust of society.
When I became president in 2001, I codified Mr. Ishibashi's idea into six criteria for decision-making. The company's management would be based on deciding whether or not an action benefits: the company, our employees, our customers, our shareholders, and/or society; and whether or not it is a positive force for the future. A solid relationship with stakeholders is a sine qua non for any company. So is maintaining a long-term view to overcome day-to-day difficulties. I set the course for management of the company based on this awareness. Daiwa House Industry has since become a signatory to the United Nations Global Compact, a demonstration of our commitment to sustainable development. I feel that the six criteria represent essentially the same values.
My focus was to consistently follow the business spirit of our founder. Mr. Ishibashi, who built the business from scratch, is the father of the company, and as an employee I felt like one of his children and it was quite natural for me to honor this relationship. My wish now is for the executives and employees who will be responsible for the corporate group going forward to build upon the founder's spirit. I remain convinced that as long as our executives honor the business spirit of the company's founder, they will not fall into the trap of self-aggrandizement, thereby placing the company in jeopardy.
We must live up to our stature as a large company the more we grow
Daiwa House Industry Co., Ltd. alone employs about 17,000 people at present. The Daiwa House Group as a whole has about 64,000 employees —an organization of significant size. In fiscal 2017, our 79th fiscal term, we achieved good business results, and consolidated sales exceeded ¥3,700 billion. In the current fiscal year we will continue to push forward and try to reach ¥4,000 billion.
It is more important than ever, especially when things are going well, to heed the advice in the saying, "The boughs that bear most hang lowest," and maintain a humble approach in our words and deeds within the bounds of society. The larger the company is, the greater the requirement that we live up to its stature. And we must not forget that the words and deeds of each and every employee can build or destroy the stature of the company.
A new president and COO of Daiwa House Industry took over in November 2017—Mr. Keiichi Yoshii. Mr. Yoshii is a person who sets an example worth following, in my opinion. He also belongs to that generation that learned directly from the founder; as a business leader he practices modesty. Under his leadership, the Group will be able to carry on the founder's spirit, fulfill our duties as a public institution, and achieve sustainable growth. When you are working for the social good, it becomes natural to take care of matters properly. And when you do this on a regular basis, it builds trust in the character of the company, our stature.
Solving environmental problems and addressing emerging social issues
I believe that creating businesses useful to the world will be fundamental to our business development in the future. In 2001, I initiated the concept of "Asu Fukaketsuno," an initialism from the Japanese language for: safety (Anzen), speed & housing stock, social welfare (Fukushi), the environment (Kankyo), health (Kenko), ICT (Tsushin), and agriculture (Nogyo). These are fields that represent the primary issues facing humanity the world over; they are also relevant to the United Nation's Sustainability Development Goals (SDGs). When we create new businesses and contribute to society, we are doing so from the vantage point of working to resolve these issues.
Environmental efforts are particularly important at the global level. Our Group is accelerating efforts to achieve a "carbon-free society," and continues to work toward net zero greenhouse gas (CO2) emissions from both our own activities and related business endeavors. We are engaged in pilot projects to create energy self-sufficient houses and buildings and ZET (Net Zero Energy Towns).
The Daiwa House Saga Building was completed in February 2018, Japan's first energy self-sufficient office building made possible by using renewable energy. I attended the ceremony commemorating its completion in Saga Prefecture, Japan, and toured the power storage facilities inside the building. In addition to being an advanced initiative within the company, we believe that it holds great potential as a business for the future.
The Group also operates wind farms in the Sadamisaki Peninsula of Ehime Prefecture—an environmentally friendly project to raise the utilization rate of natural energy. We will be boosting the priority level of the electricity supply from renewable energy sources in the future for its ability to contribute to the prevention of global warming.
We also plan to actively create new businesses, not only in the area of the environment but also to resolve such social issues as labor shortages in an aging society. We have already introduced the use of robotic suits at construction sites, and would like to offer more products and services like these, which anticipate the needs of society. To reach the goal of ¥10 trillion in annual sales as a corporate group, it is essential that we cultivate employees who are willing to take on challenges. We can do this through collaboration with venture companies and through human resource development. What I would most like to see are ventures emerging from within the company to commercialize self-developed ideas. Currently, we have 317 group companies. I believe that we can expand to almost any size if we are able to create new products and services useful globally to society, in addition to our existing businesses.
Cultivating personnel to sustain growth
In addition to creating new businesses, to achieve sustainable growth in the future the one thing we should focus on above all is personnel training. While the acquisition of knowledge, skills, and proficiencies is of course important, efforts to build character are equally indispensable. We are asking especially those in managerial or executive positions to nurture subordinates, placing an emphasis on communication.
In my youthful days on the job, I had a bitter experience that I later learned from. As manager of the Yamaguchi Branch, I was hot-blooded toward work and as a result my subordinates became afraid of me and I was left with no support. After six months on the job, I confessed my troubles to Mr. Ishibashi, who was visiting on inspection. He said just one thing: "For leaders, strong decision-making is crucial." I thought long and hard about the meaning behind his words, and decided to carry out one-on-one conversations with my subordinates.
Through these conversations, opening up to each other brought mutual understanding so that what I had to say could reach them directly, even if it was a tough thing to hear. By communicating, managers and employees become able to understand the intentions behind each other's words, and are able to build trust. With our organization as large as it is now, this effort is all the more important.
Finally, I believe in diversity and realize that everyone has their own strengths and abilities. Though, if you ask me what accounts for differences in performance, I would say it comes down to effort. And what drives effort is will. As our founder, Mr. Ishibashi, dreamed in postwar Japan, great ambition will lead to new business opportunities. I feel that the mission of top management is to channel the ambition of employees into things that will make the world a better place.
I look forward to the continued understanding and support of our stakeholders regarding management of the Daiwa House Group.