Top Commitment

Top Message (President,CEO)
Address Challenges Facing Society to Be an Enterprise Treasured by All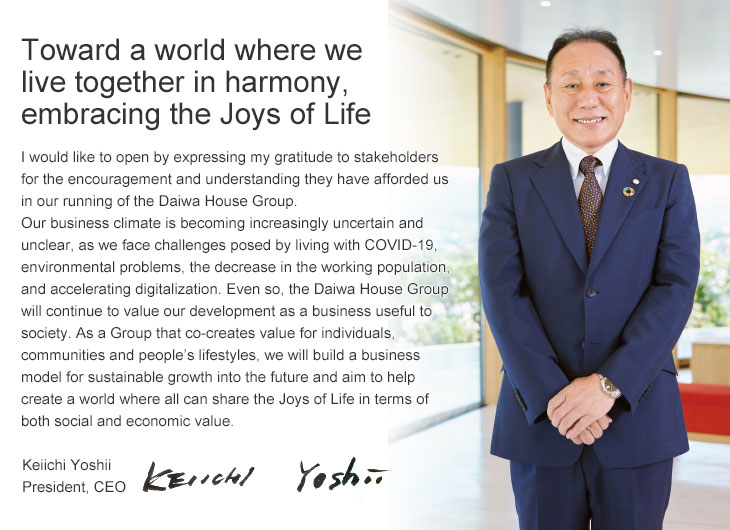 I would like to open by expressing my gratitude to stakeholders for the encouragement and understanding they have afforded us in our running of the Daiwa House Group.
Looking back in history, we find that pandemics have forced huge changes in the societies of even ancient Greece and medieval Europe. The current COVID-19 pandemic, too, is showing signs of sparking a storm of world-altering transitions with diverse implications for people's everyday lives. This makes running enterprises with a vision for the future all the more crucial. At the Daiwa House Group, we see times of opacity like today as precisely when we need to return to Daiwa House Industry's founding spirit and address squarely the challenges facing today's society. In that context, we are committed to moving ahead resolutely, working to becoming an enterprise valued by the public for helping make the world a better place.
Reaffirming our mission to provide total living spaces
Fiscal 2020 was a year when all humanity was preoccupied with fighting the pandemic. That predicament served to heighten the value of things necessary to people's lives, prompting us at Daiwa House Group to a renewed awareness that we provide one of the three basic necessities of life—places to live—and, consequentially, our mission. Uptake of working from the home has practically erased the line between on and off duty, and the home—no longer the place for rest and recovery—is now where all of life's activities take place. We at Daiwa House Group now have to accommodate that transition by helping create places for all facets of people's lives—total living spaces.
The robust popularity of our Lifegenic line of bespoke single-family houses available exclusively on the Web, perfectly symbolizes the changes taking place. To order a Lifegenic home via our innovative sales format, a customer starts by going to a website and answering six questions, according to which the system responds with suggestions for the interior and exterior. The sales format and housing line attracted little interest at launch time in October 2019, drawing little more than 30,000 inquiries a month. But when the government declared a state of emergency in April 2020, calls started rolling in, with the number of inquiries surging past 200,000 in the peak month of May 2020. As of April 2021, sales, too, have grown to exceed 700 units. A product and sales format launched experimentally turned out to be a good match for customer needs just as COVID-19 pandemic made gathering potential buyers at housing exhibition sites untenable, and we were able to transform a pinch into a growth opportunity.
In the Logistics, Business and Corporate Facilities segment, logistics facilities are gaining importance to society as their critical role as anchors for getting product to consumers is reevaluated. In addition to generating even higher employment than factories, logistics centers can serve as evacuation sites and bases for recovery work when natural disaster strikes, making them even more crucial to communities. And with work and other aspects of life also moving online, demand for data centers is climbing sharply as well. Both are areas we have long concentrated on, so we will be stepping up our engagement now that they are garnering attention for their diverse utility.
Fiscal 2020 was also a year for the Group to reflect deeply on several irregularities that surfaced in 2019 and fundamentally rethink some of the ways we do business. The COVID-19 pandemic occurred just as the resulting reforms were beginning to show results, and thanks to the progress that had been made we were able to keep the pandemic's repercussions small. Through it all I believe the Daiwa House Group was able to adequately demonstrate its strengths, which include a broad business portfolio and our employees' standing together to face down the unprecedented crisis.
Confronting hardship, leading the construction industry forward through DX
Of course, it's not that we were unaffected by the pandemic. Taking into account the state of emergency declared for seven prefectures in April 2020, we directed the suspension of work at building sites nationwide. The decision was made to prioritize lives over all else; nonetheless, it was also one with potential for serious consequences affecting not just the company, but all those who work at the sites as well. To soften the blow, we decided to help cover subcontractors' costs associated with work scheduled for execution during the suspension. The decision itself was easy and came quickly, as it is rooted in the Group's founding spirit of advancing together with our suppliers.
Meanwhile, in-house we set about moving ahead with work style reform and making our digital transformation (DX). We had already launched several work style reform initiatives to comply with government requests ahead of the Tokyo Olympics, even before the arrival of the COVID-19 pandemic forced us to accelerate their implementation. One thing learned from actually instituting telework and other like measures, is how hard it can be to work from home. The experience taught us that limiting the workplace to the home can be untenable for some, as many employees told us that it made it almost impossible to draw a line between work time and off time. To address this, in urban centers where we have multiple locations we are currently experimenting with scheme in which employees divide their working hours between their usual "home" office and a "road" office located as closest to their residences. We are hoping that initiatives like this will provide a platform for various work styles and better motivate diverse human resources to flourish in their jobs.
Our digital transformation efforts include deploying building information modeling (BIM), a framework for centralizing the management of all work processes from concept development to design, production, assembly, and management of buildings. It is based on a digital model generated using three-dimensional techniques to reduce labor needs at and bring about unoccupied construction sites. The move was originally designed to help us cope with labor shortages, an inevitable consequence of Japan's declining population; but its effectiveness for coping with the new normal of the with-Corona era persuaded us of its importance for the future. Once we've perfected the system, we intend to back up our purported dedication to the "industrialization of construction"— applying manufacturing techniques to construction—by making information on the system available to the whole industry, as one of our contributions to its future.
Running the business on strategies balancing growth and stability as we shift to a business division-based system
Another initiative, whose full implementation got underway in April 2021, is a reorganization of our domestic business entities into seven divisions to put Group companies under the control of the division most pertinent to their respective business lines. The move's objective is to foster nimbler decision-making and more robust governance by handing authority and responsibility over to division heads.
Our previous organization, which subordinated entities under business departments and branch offices, tended to blur lines of responsibility and make it difficult for our governance framework to keep pace with their growth amid the swelling of discrete entities' scale and the number of Group companies. And because the old organization put departments and Group companies on equal footing, it hindered their ability to coordinate and work together. With their reorganization under business divisions we are working to optimize the balance between achieving growth and maintaining stability, proactively creating synergies among Group companies for growth while clearly defining lines of responsibility to ensure stability.
Moving forward we will be taking up the challenge of creating new value at each of our business divisions, paying careful attention to details like whether division heads are grasping all the business opportunities they can, listening to what those working the frontlines have to say, and—perhaps most of all—responsibly owning a clear vision for their divisions and running them in line with their commitments.
Developing human resources, our top priority issue for achieving sustainable growth
Becoming a ¥10 trillion enterprise is a dream our founder left for future generations to make come true, and we are aiming to achieve ¥10 trillion annual turnover by 2055, Daiwa House Industry's 100th anniversary. To do my part in that long-term endeavor, I have committed myself to developing the necessary human resources and am putting my energies into developing an environment and programs for fostering the managerial talent we will need. My utmost priority is to prepare people to be able to competently run the company down the road. My aim is to bring up a full lineup of capable top-level managers from within our midst, without resorting to drafting outside talent, to achieve this goal.
The extraordinary situation the pandemic has forced upon us has helped me better appreciate what the heads of our business divisions, all of them potential candidates to take over from me, are thinking. Unanticipated predicaments put people's values most to the test. One huge takeaway for me—something that I can apply in fostering and appointing tomorrow's leaders—is that I could affirm whether individuals are able to formulate a long-term vision and take action rather than merely react to immediate circumstances.
Meanwhile, I believe that Daiwa House Group has a workforce of unparalleled diversity in Japan. We have employees of over 30 nationalities, and even among management, numerous mid-career hires are flourishing in their jobs. Our employees also have highly varied academic and career backgrounds, and I think the only area where we fall short on diversity measures is the percentage of women in management positions. But we're also in the process of fostering the next generation of capable human resources, and a reversal of the ratio of women to men in our employ is just waiting to happen. And I want to carefully and deeply embed our Group's ideal of diversity into our corporate fabric, as evidenced by our taking active steps to enhance the diversity of decision-making organs such as the board of directors.
In autumn 2021 we will be opening in Nara Prefecture a new training facility, the Daiwa House Group MIRAI KACHI KYOSO Center, after a half-year delay caused by the pandemic. It tends to attract interest for being one of the largest of its kind in Japan; but personally, I think its content is what is important. To ensure that it offers a selection of attractive training programs and that their content never stales, we will be overhauling them once every six months. And we want it to be a facility that invites not just employees, but anyone and everyone from the local community and neighborhood school children to the people involved in its upkeep, to just drop in and acquire new knowledge. We look forward most to children visiting and finding something that inspires them to pursue a dream and make it come true.
Sharing people's dreams, being of service to society
As described above, our Group is moving resolutely to achieve further growth; but this does not mean we're only after bigger numbers. What counts most is how we become a ¥10 trillion enterprise, and what we must value most as the premise for achieving that dream are key concepts spelled out by our founder: "Don't do things because they will make a profit, but because they will be of service to society." "Always look further into the future." "Make dreams come true." To survive, an enterprise must be a presence society needs, thus the Daiwa House Group must keep dedicating itself to being of service to society, to helping people make their dreams come true.
An example of how we are doing these things, is our work to revitalize residential towns Daiwa House Industry built decades ago. Having developed numerous communities of owner-occupied homes, we helped countless customers make their dream of home ownership come true. But with the passage of time, their communities are facing a plethora of new challenges as their residents age. Simply leaving them to their own devices and moving on to new greenfield projects would be irresponsible of us. Instead, we want to help customers whose initial dream we once helped fulfill, write a new chapter of their dream-come-true story by squarely addressing the challenges they now face. This mindset is the impetus for our Livness Town Project. Now underway in residential communities in places like Miki, Hyogo Prefecture and Yokohama, Kanagawa Prefecture, the project is engaged in diverse trial initiatives. Through it, we are committed to applying the empirical wisdom of the whole Daiwa House Group and leveraging the know-how of our many business endeavors to create new appeal in and bring renewed vitality back to each of these communities.
Moving environmental goals forward—because some things just can't wait
Engagement for the environment is crucial for enhancing corporate value sustainably and over the long haul. With climate change bringing bigger and more frequent natural disasters with each passing year, there's no putting off addressing it. To do our part, the Daiwa House Group is concentrating its energies with specific emphasis on achieving a decarbonized society via Challenge ZERO 2055, our long-term environmental vision aiming for zero environmental impacts. As a result of work to reduce our greenhouse gas (GHG) emissions, enhance our energy efficiency, and increase our use of renewable energy as part of our participation in the EP100, RE100, and SBT international initiatives, during FY2020 the Group was able to generate more electricity with renewables than we consumed, hitting a target for 2030 a full decade ahead of schedule. Now we will be working to achieve GHG emissions neutrality by 2050, a goal originally set for 2055 but moved forward in line with a government policy announced in October 2020. And we hope to leverage the successes of our decarbonization achievement to enhance the competitiveness of our businesses, accelerating our contribution to environmental causes through business as we move ahead with net zero-energy houses (ZEH) and net zero-energy buildings (ZEB), roll out our Ko"Re"kara City community development concept for making the zero-energy model happen, and expand the scope of our environmental and energy businesses.
Facing society's challenges squarely to be a corporate group treasured by all
The Daiwa House Group is in business to "be of service to society," and making the challenges confronting society the starting point for expanding business opportunities is at the top of our own list of priorities. These points have been since the Company's founding, still are, and will always be the fundamental spirit in which the Group pursues its business goals. Now, in a time unsettled by the COVID-19 pandemic more than ever, we will seriously ponder what is needed and demanded of us, look further into the future , and enhance our corporate value by working to resolve the challenges facing society. And, to be and remain a corporate group valued by the public, we will start by being an enterprise where each of our employees can work with a smile on their face because they're glad, even proud, to work here. I sincerely hope all our stakeholders, too, will continue to stand by us as we take the Group forward into the future.