Sustainability Report 2018
The Daiwa House Group has issued a sustainability report 2018, which is of high interest to corporate sustainability and ESG *1 aspects, targeting corporate assessment agencies, long-term investors, NGOs, experts, etc. as the main readers.
In this report, we will establish a good relationship with stakeholders (customers, employees, business partners, local citizens, shareholders) and the contribution to the global environment, which the Group is working on to realize a management vision through its business, And reports on the foundation of CSR management that supports these. Please refer to "Editorial Policy" below for content and composition of this report.
In addition, the Integration Report 2018 in September.
*1 Environment: Environment, society: Social, governance: It means an abbreviation for Governance
English Edition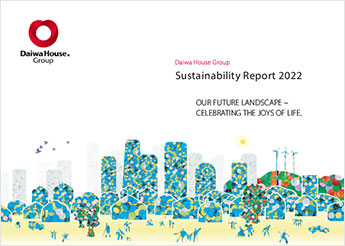 All Page Contents(21.8MB/238Pages)
GRI Standards Cross-Reference Table(112KB/16Pages)
* "Interactive function" is given to PDF of "All Page Contents" version. On the GRI contrast table (p.221-236), you can transition from each item to the main text and related materials. In addition, you can refer to the table of contents, page feed, jump to the GRI contrast table in the header of each page, and you can move to another chapter by clicking on the index at the left and right of the page.
Managerial Philosophy and Overall Picture
Sustainable Growth Based on Our Founder's Spirit
Origins of the Daiwa House Group
Message from the Chairman
Message from the President
The Group's Origins and Vision of Sustainable Growth
The Story of Value Creation (1)–(6)
Framework for Management Implementation
Overall Picture for Achieving Our Vision
Medium-Term Plan and Assessment Indices for Achieving Our Vision
The Materiality Selection Process for the Medium-Term CSR Plan
Implementation Report
Co-creating a Brighter Future with Our Customers
Commitment from the Executive Officer in Charge
Providing High Quality Products
Proper Communication with Customers
Long-Term Efforts to Earn Trust
Businesses to Address Social Issues / Sustainable Consumption
Co-creating a Brighter Future with Our Employees
Commitment from the Executive Officer in Charge
Providing a Safe and Healthy Work Environment
Developing Human Resources
Creating Work Environments and Systems Where a Diverse Range of Employees Can Work Flexibly
Providing Employment Opportunities for Exceptional Human Resources
Co-creating a Brighter Future with Our Business Partners
Commitment from the Executive Officer in Charge
Fair Competition
Encouraging Business Partners in CSR Efforts
Improving Labor Conditions and Ensuring Human Resources for Construction Subcontractors
Co-creating a Brighter Future with Local Communities
Commitment from the Executive Officer in Charge
Supporting Community Development Through the Construction Business
Community Co-creation Activities
Co-creating a Brighter Future with Our Shareholders
Commitment from the Executive Officer in Charge
Returning Benefits to Our Shareholders and Investor Relations
External Evaluation of Daiwa House Industry's IR
Co-creating a Brighter Future with the Environment
Commitment from the Executive Officer in Charge
Long-Term Environmental Vision
Action Plan for the Environment (Endless Green Program 2018)
Environmental Management
Supply Chain Management in Our Entire Business (Environment)
Prevention of Global Warming (Energy / Climate Change)
Harmony with the Natural Environment (Preservation of Biodiversity)
Conservation of Natural Resources (Longer Durability / Waste Reduction / Water Resource Conservation)
Prevention of Chemical Pollution
Eco Communication
Foundation of CSR Management
Commitment from the Executive Officer in Charge
Corporate Governance
Human Rights Management
Risk Management
Corporate Ethics / Compliance
Anti-corruption / Fair Trade
Management of Intellectual Property Rights
CSR Management
Cooperating with External Organizations and Their Assessment (Society / Environment)
Data Section / Third-Party Assurance
Summary of the Daiwa House Group
Organization
Major Group Companies
Highlight of Financial Results and Consolidated Financial Indicators
CSR Self-Assessment Indices
Social Data
Environmental Data
Site Report
Third-Party Assurance Report
Third-Party Opinion
GRI Standards Cross-Reference Table