Top Message / Environmental Philosophy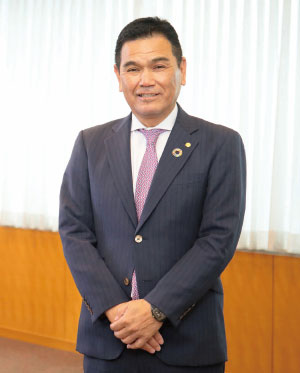 Focusing on climate change and other issues like biodiversity to deliver a new approach across our industry
Senior Executive Offi cer
Deputy Head of Technology Headquarters
Head of Safety (Housing),
Head of Environment
Hiroshi Kono
Mitigating and adapting to climate change as we work to reconcile profi tability and environmental sustainability
At Daiwa House Group, our Challenge ZERO 2055 long-term vision for the environment is our ultimate goal and, within that vision, we have made mitigating and adapting to climate change one of our key management challenges. We aim to achieve carbon neutrality in 2050 and have set a milestone of reducing greenhouse gas (GHG) emissions throughout our value chain by 40% (vs fiscal 2015 levels) by 2030. We are putting into practice our Endless Green Program 2026, a detailed plan of what we need to do now to ensure we achieve these long-term targets. Our Seventh Medium-Term Management Plan also includes these 2030 targets as we progress to carbon neutrality.
In fiscal 2022, we reduced GHG emissions throughout our value chain by 23.5% (vs fiscal 2015 levels) and are progressing at a faster pace than our targets.
This includes a 39.3% reduction (vs fiscal 2015 levels) of emissions from sold buildings as they went into use, above our target of 35%. We attribute this achievement to our stepped up efforts to make net-zero products. In fiscal 2022, 86% of our houses were net zero (ZEH*1), a jump of 33 points over the ZEH level in fiscal 2021, as we equipped more custombuilt houses with solar panels and worked to standardize houses in development projects as ZEH. In rental housing, we launched TORISIA, a net-Zero Energy House Mansion (ZEH-M) condominium product, in October 2022. We have also worked to get rental housing owners on board with our ZEH-M initiatives, raising the ZEH-M share of our rental housing offerings to 14% in fiscal 2022 (up 11 points vs fiscal 2021). In condominiums, 68% of our builds were ZEH-M as well (up 33 points vs fiscal 2021), and in February 2023 we announced that we will be making ZEH-M specifications standard for all Premist series condominiums to be constructed from fiscal 2024 forward. In addition, we are accelerating our shift to net-Zero Energy Buildings (ZEBs*1) at logistics and other large commercial building projects, where the portion of ZEBs rose to 65.7% in fiscal 2022 (up 27.7 points vs fiscal 2021). These results show how all our business divisions are engaging proactively in these initiatives, on a thorough understanding of our policy that profitability and environmental sustainability are indeed compatible.
In terms of emissions from our business operations, we have made a significant step forward by switching to 100% renewable energy for power purchased to run our parent operations in Japan. Through this, we have achieved a substantial reduction in scope 2*2 emissions. Emissions from our business operations are down 33.5% (vs fiscal 2015 levels), beating our reduction target of 25%. We now plan to focus on generating more renewable energy in-house to get us even closer to carbon neutrality. In January 2023, we acquired the rights to manage Hibikinada Thermal Power Station Co., Ltd. and made it a Group company. The Hibikinada Power Station was co-fired with coal and biomass, but we will shut operations down and convert it to fire biomass only. This has meant that the target date for achieving our RE100 initiative (100% renewable energy for electricity used in our business activities) across the Group, including in-house power generation, will be pushed back from fiscal 2023 to fiscal 2025; however, for power purchased, we still aim to achieve 100% renewable energy across the Group, including overseas sites, during fiscal 2023.
We are also switching company cars to clean energy vehicles with the goal of having a 100% clean-energy fleet by fiscal 2030. We have many employees who are allowed to use their personal cars for work purposes, including construction workers and sales representatives, so we have set up a New Eco Allowance Scheme to help them buy clean energy vehicles. Across the Group as well, we are actively working to help Daiwa Living and Daiwa Lease switch their fleets to electric vehicles.
We have continued to work with our main suppliers to reduce GHG emissions across the supply chain. During fiscal 2022, 65.9% of our suppliers had SBT*3-level targets for GHG reductions in place, a 1.9-fold improvement over fiscal 2021. We attribute these positive results to increased dialogue with suppliers and the development of win–win relationships. Working in partnership with all our suppliers, we aim to achieve our target of 90% of suppliers with SBT-level GHG reduction targets by fiscal 2026. We will also start to engage in discussions over new issues related to digital transformation (DX) and green transformation (GX).
Another new initiative is our decision to introduce ICP*4 into real estate investment decisions. Before rolling out this program in April 2023, we participated in a model eco-friendly project to confirm the effectiveness of the approach. We aim to develop a program to promote greater uptake of eco-friendly buildings, while keeping a close eye on their environmental performance, potential as investment projects, and other benchmarks.
Transition plan for achieving carbon neutrality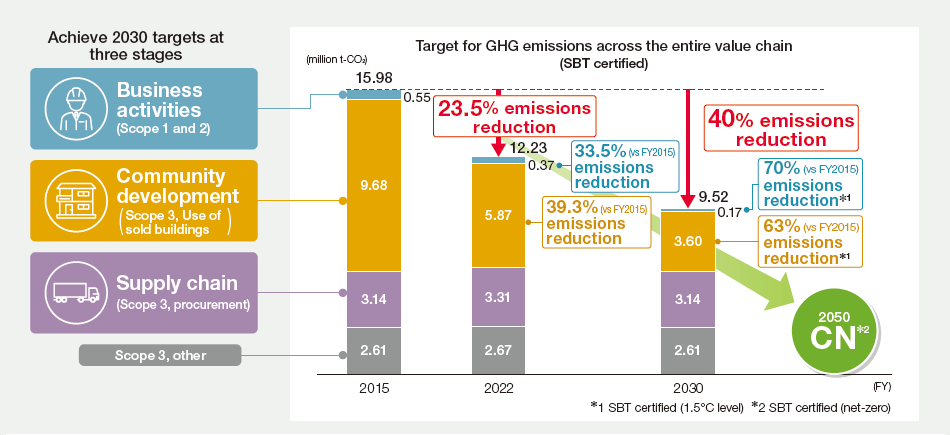 Aiming to become nature-positive, we are working to create more green spaces and eliminate forest destruction
Along with climate change, another major Daiwa House theme is addressing biodiversity. In our business operations, we are working to expand the surface area of eco-friendly green spaces. In fiscal 2022, we reached a surface area of 257,000m² beating our target of 200,000m². Under the slogan Let's Keep Green, we defined a policy to encourage ideas for eco-friendly greening through exterior planting at properties that includes at least 50% indigenous species. We then ran e-learning programs to promote awareness of this policy. One result: we have seen greening programs start at all branch offices.
For major properties like condominiums and logistics facilities, we have worked with the Association for Business Innovation in harmony with Nature and Community (ABINC) to have our land use certified as in accordance with biodiversity conservation. One example is the Premist Fujigaoka condominium project (Aichi Prefecture), the largest ZEH-M development in the Tokai region (360 units), where we have implemented a plan to plant indigenous species and created habitats for birds and butterflies. The new plantings were difficult to maintain in the beginning and did not immediately thrive, but have since started to improve, changing not only the property environment but also the awareness of occupants. We aim to design and build environmentally friendly spaces, taking into account the differences between regional and urban properties, and focus efforts on managing and maintaining planted spaces through good channels of communication with management companies in the Daiwa House Group. At this stage, only a few properties have obtained ABINC certification, but we see enormous value in taking on this challenge, as it will make those involved more informed on environmental matters and our employees more environmentally conscious. We will actively work to pursue such projects in the future. We have also made substantial progress towards our goal of having all employees obtain the Eco Test certification. As of end-fiscal 2022, 26,135 employees were certified, a 30% increase over the previous fiscal year. We are delighted that the majority of Group employees have now obtained their certification.
Another critical issue is to avoid procuring timber from areas at risk of deforestation. We have asked our suppliers of C-ranked timber, which is at the highest risk, to submit plans for improvement and are working on rigorously checking official documentation and switching to suppliers that source timber from low-risk areas. We are engaged in direct dialogue with the various companies that supply timber-related products, encouraging them to formulate zero deforestation policies.
Actively engaging with new challenges and visualizing data to allow sustainable urban development
A new area for the future is the development of lignin technologies and greater use of timber, not only in housing but also in public works. This is relevant to our efforts to combat climate change and also important from the perspective of addressing local issues through carbon fixation and local production for local consumption. We have already established a full-time department and have started developing proposals on using lignin in public works. Our goal is to focus on empirical data and to develop proposals that make best use of steel and wood materials for different purposes.
Environmental initiatives involving DX will also be an important theme as we move ahead. As a first step, we will optimize building designs that minimize GHG emissions through the development of a digital platform based around BIM*5, which allows integrated management of construction data, and the visualization of GHG emissions from production processes of the materials used. To achieve this, in April 2023 we added to the Group a company that has developed a proprietary construction material database. We will now expand this database and use it to visualize GHG emissions from all construction inputs. The initial focus will be on principal components before we expand the program to include other construction materials.
Being able to visualize the GHG emissions from all construction materials will allow us to optimize building designs. We will also be able to gather data for urban development. Moving ahead, visualization of energy use and other data for entire towns will likely play a role in the development of sustainable communities. We intend to also apply this data in future Ko"Re"kara City Projects, which seek to be communities using 100% renewable energy, and other similar projects. Our approach is to run our initiatives as an open project and make any positive results available to all, bringing together our industry and contributing more to the global environment.
Ensuring fruition of DX and GX initiatives, adding depth and breadth to environmental engagement
Reducing GHG emissions across the supply chain is the next challenge on the road to carbon neutrality. We expect to be able to advance this by progressively visualizing GHG emissions as discussed above. We will generate solid results by connecting with our partners and suppliers and demonstrating to them the benefits of sharing data; to this end, we need to maintain positive relationships with them built on a full appreciation of the endeavor. I think that environmental and DX programs may help us improve things like working conditions and other issues in the construction industry that I have been striving to better since my time as a site foreman. I have seen even greater results from initiatives that marry the environment with DX, and these programs are truly worth pursuing.
One more theme other than climate change where we need to make more progress relates to initiatives arising from our policy that corporate profitability can coexist with environmental sustainability. Moving into the future, we will incorporate themes like biodiversity into our business strategy to accelerate implementation of initiatives to address these themes.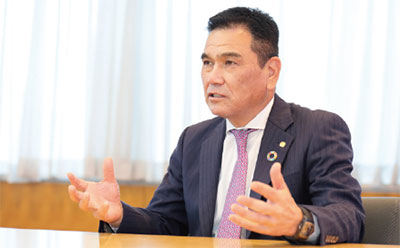 *1 ZEH and ZEB are abbreviations for Net Zero Energy House and Net Zero Energy Building, respectively. These are houses or buildings with energysaving and -generation features that allow net zero annual primary energy consumption while maintaining a comfortable indoor environment.
*2 Indirect GHG gas emissions from the use of electricity, heat, or steam from sources other than our company
*3 Abbreviation for Science-Based Targets. Target for GHG reduction that is consistent with the levels required under the Paris Agreement.
*4 Abbreviation for Internal Carbon Pricing. A system for setting the company's own carbon price. The cost per 1t CO2 emissions is converted into cost based on the company standards to quantify the climate change risk.
*5 Abbreviation for Building Information Modeling, referring to a digitalized 3D model with building information added. It is a method of utilizing building information accumulated across the entire lifecycle of a building, from design to construction and management.