Providing High Quality Products
Concept and Policy
The Daiwa House Group provides a broad range of buildings as a "Group that co-creates value for individuals, communities and people's lifestyles." Buildings also protect human lives and valuable property, and must provide safety and peace of mind. People expect to use such buildings for a long period of time and hand them over across generations. This is why we promise to deliver high-quality products, and make efforts to improve quality throughout the entire life cycle of buildings, from product development to design, construction, maintenance, and to scrapping (demolition).
Management
Quality Assurance System
Our company pursues quality improvement throughout the entire production process, from development to design and contract, production and construction, and to after-sale services. As shown in the diagram below, we conduct inspections and take improvement measures in development, production and construction, and other individual processes. We also evaluate the quality of our products in terms of both hardware and software through questionnaire surveys, periodic inspections, and various inquiries received following delivery to customers, thereby maintaining quality that satisfies end customers who use our products. Input received from customers is incorporated into individual processes for improvement with respect to the physical quality of products, the quality of services by employees, and operational quality concerning systems and organizations.
Quality assurance system flow (Housing)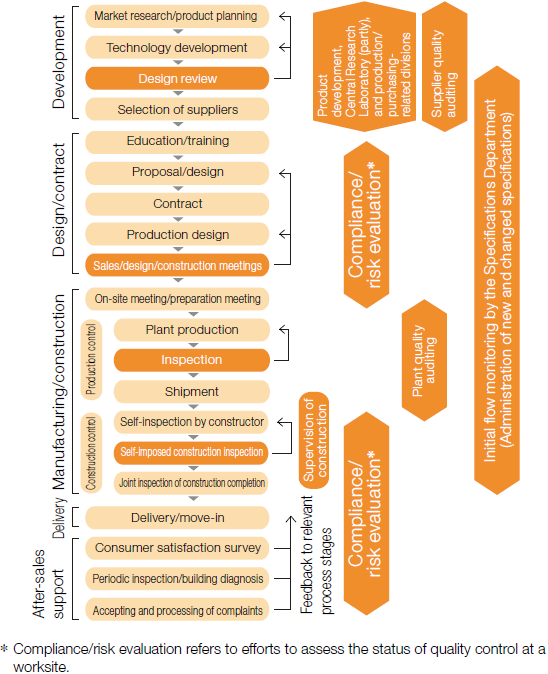 Implementation of the ISO 9001 Quality Management System Standards
At Daiwa House Industry's plants throughout Japan we are automating, streamlining, and using more robots to achieve thorough quality standardization in an integrated production system that extends from parts machining to assembly. Our plants nationwide, together with the Production and Procurement Division of the Head Office, have acquired ISO 9001 certification, the international standard for quality management systems. In our production sector, ISO 9001 quality management systems have been implemented as a tool to further promote efforts to enhance and stabilize product quality.
Strengthening quality management through ICT (Information and Communication Technology)
Building Information Modeling (BIM)
We are adopting BIM to centralize information through the full life cycle of a building and across all of its processes, including sales, design, production and construction, and after-sales service. Through the use of BIM we are able to more smoothly build consensus with the customer using 3D data of the building. Also, by centralizing building information we can share design changes or other information in real time, achieve consistency among drawings, and in other ways assure quality as expected by the customer.
Quality Inspection System, D-Doc
To strengthen and improve the quality and efficiency of construction site quality inspections, we began using the D-Doc system throughout Japan in October 2015 in the construction segment and in April 2016 for the housing segment. The system allows inspections to be conducted at construction sites using a tablet device (mobile data terminal) or a smartphone, registering the results and sharing the data on the spot to streamline inspections and speed up the multiple check process.