The DNA of the Company's foundation is in B2B
【Infographic】The Roots of Daiwa House Industry Go Back to JNR's warehouses
Daiwa House Industry was founded in 1955 by Nobuo Ishibashi, who was born the fifth son of a family operating a lumber business in Nara Prefecture. The company's roots go back to the warehouses of Japanese National Railways (JNR). This infographic presentation tells the founding story of Daiwa House Industry, now a company with 3 trillion yen in annual sales that is engaged in construction and comprehensive real estate solutions, including housing, logistics facilities, hotels, and more.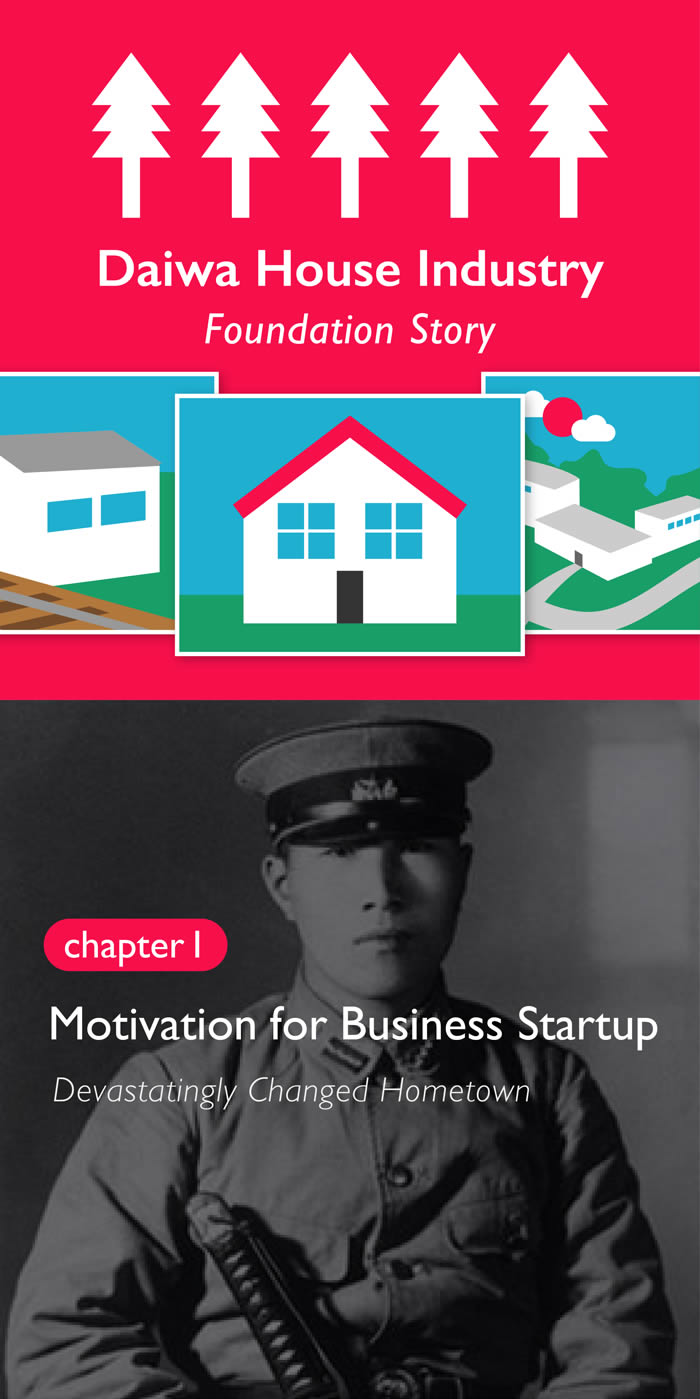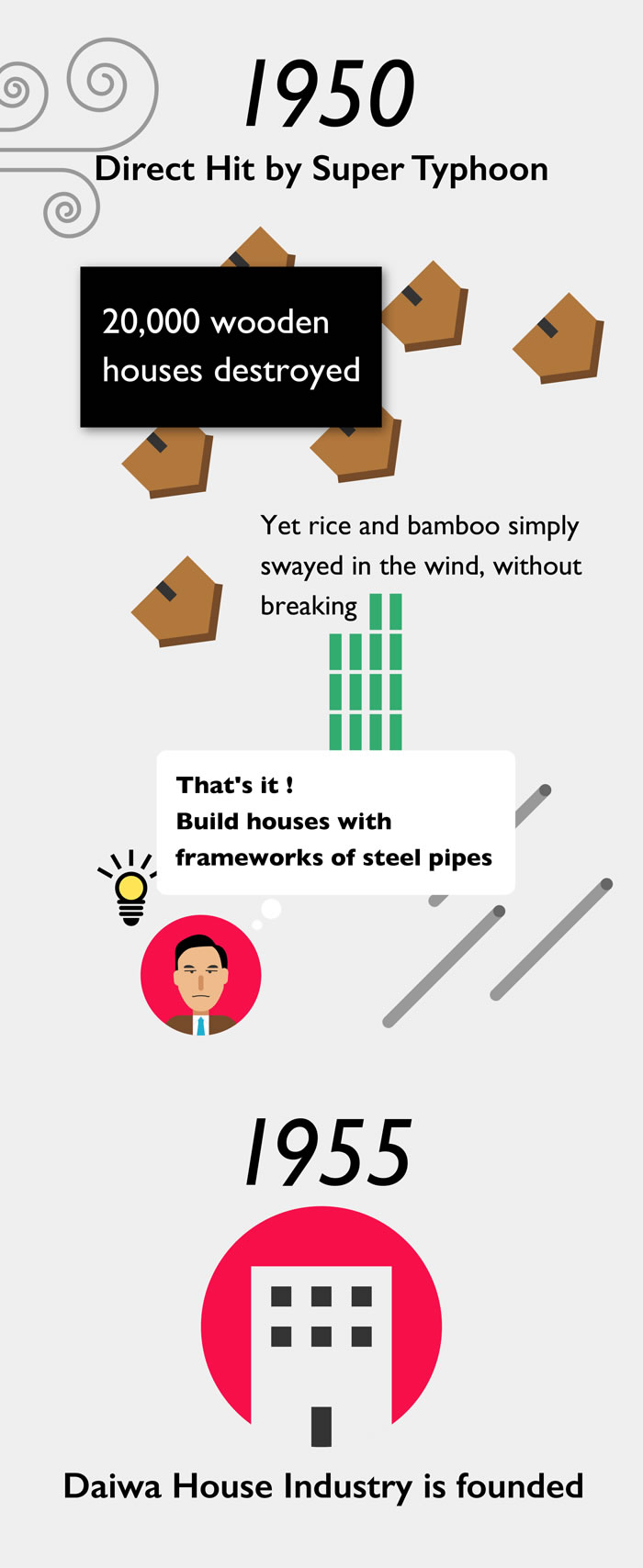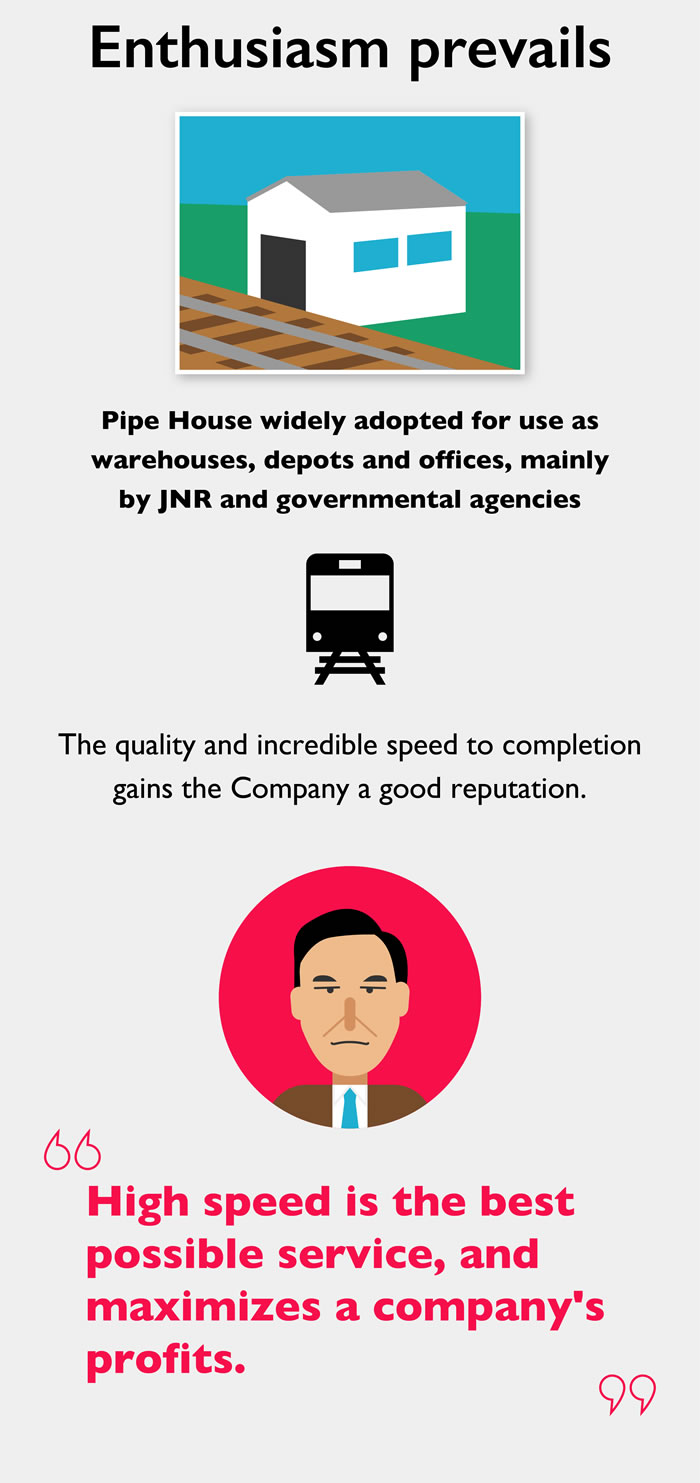 Born into a family operating a lumber business, Nobuo Ishibashi must have been intimately familiar with lumber. An interesting paradox of history is that it was precisely because he knew the weak points of lumber as a building material – and also strongly desired to protect the forested hillsides around his hometown – that he led the industrialization of construction by quickly focusing on building houses with steel pipe frameworks.
Even though Daiwa House Industry is primarily known as a housing manufacturer, its first clients were social infrastructure industries such as Japanese National Railways and Nippon Telegraph and Telephone Public Corporation. It is clear that the Company's DNA base was in B2B, though it later established a firm position as a housing manufacturer by building prefabricated housing and constructing new towns during Japan's rapid economic growth period.
Throughout his life, Nobuo Ishibashi constantly thought about what he could do for Japan. He maintained that the basis of corporate management should be to nurture people and develop society through business operations. In his last days, he passed on to his successors his dream of achieving 10 trillion yen in annual sales by the Company's centennial. Nobuo Ishibashi passed away at age 81, and to realize his dream, we must manage the Company by looking far beyond where others normally look in the future.
Daiwa House Industry marked its 60th anniversary in 2015. It is likely to achieve 3 trillion yen in sales as of March 2016. This is because, in addition to its core business of housing, the field of corporate services – the Company's origin – has become the driver for growth. This has been made possible by the accurate identification of corporate needs, including the promotion of effective land asset utilization, such as through the construction of large-scale logistics facilities and the development of roadside stores by the Company's retail and wholesale facilities business.
Under the leadership of its CEO, Takeo Higuchi, Daiwa House Industry makes untiring efforts to be a sustainable company, achieving further growth in the matured Japanese market and steadily developing the infinite potential of the global market, under its slogan, "ASUFUKAKETSUNO," meaning "essential for tomorrow" and standing for Safety and Security, Speed/Stock, Welfare, Environment, Health, Communications and Agriculture.
Infographics by Jun Sakurada (NewsPicks), text by Momoko Kyukawa (NewsPicks)