Top Commitment

Top Message (President,CEO)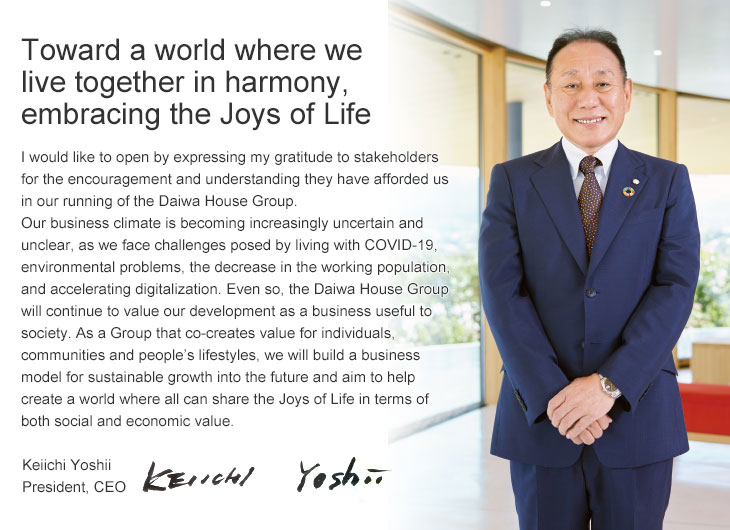 Our Future Landscape — Celebrating the Joys of Life
Our basic approach at the Daiwa House Group can be expressed as "Creating Dreams, Building Hearts" and we have worked together with our customers to achieve this through our various businesses.
In the housing field, which includes single-family houses and rental housing, we have come up with a diverse range of housing styles that reflect social and lifestyle changes and provide solutions to issues faced by customers throughout their lives. In the business field, we have been proactive in addressing corporate customer needs, for example by developing advanced and cutting-edge logistics facilities or data centers, while also contributing to regional revitalization through the development of higher value commercial facilities or multi-use redevelopments and the installation of renewable power generation business to keep pace with the times.
In each of our businesses, we remain focused on the spirit of "together with our customers" that is part of our "each individual orientation" that the Daiwa House Group has valued since our founding. We will work to anticipate rapidly changing social needs and build lifestyle infrastructure to support people's way of life.
Our Hopes for the Future
Since our founding, the Daiwa House Group has operated in line with the key concepts spelled out by our founder Nobuo Ishibashi: "Don't do things because they will make a profit, but because they will be of service to society" and "Our Hopes for the Future enable both individual and company growth." As we approach our 100th anniversary in 2055, the Daiwa House Group has initiated Our Hopes for the Future project that involves participation by every single employee to answer some key questions: what type of society do we want to build and what do we need to do to achieve this? Working with groups of employees, particularly younger staff members, over the course of one year, we have discussed these social issues and debated the purpose of our company.
The Our Hopes for the Future elicited through this process were "creating the fundamental societal infrastructure and lifestyle culture rooted in regeneration, ensuring a world where we live together in harmony embracing the Joys of Life." This has been defined as our purpose and we have established this concept as a new compass to guide the growth of our Group.
This newly defined purpose updates the original concepts of our founder and represents our thinking today. By sharing Our Hopes for the Future (purpose) with stakeholders and realizing the ideas contained therein, we aim to develop our future as a much-loved business and increase corporate value.
Six materialities and the society we want to create by 2055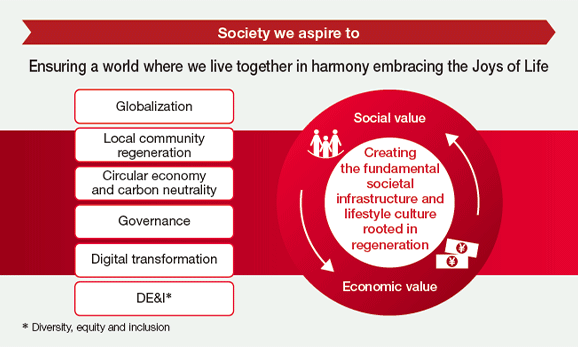 Towards a world where we live together in harmony embracing the Joys of Life
To achieve a world where we can share the joys of life as proposed in Our Hopes for the Future (purpose), we have defined the actions our Group needs to take: create value premised on regeneration and circulation, use digital technology for real-world innovation, and help achieve diverse lifestyles true to people's selves. We have also specified six materialities. With an eye on these, our Seventh Medium-Term Management Plan proposes three management policies for growth from here on out: Evolve revenue model, Optimize management efficiency, and Strengthen management base. In this way, we will work to establish a model for sustainable growth.
Management policies and focal themes in the 7th Medium-Term Management Plan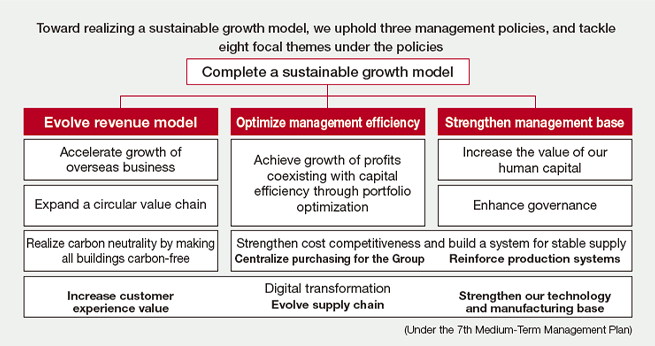 Entire company pulling together to achieve carbon neutrality
"Realize carbon neutrality by making all buildings carbonfree" is an initiative to help our children's future and is one of our greatest duties. As a leading company in the construction industry, this is something we absolutely must achieve.
In August 2021, the Daiwa House Group endorsed the Carbon Neutral Declaration by the Japanese government and we announced targets to take us to carbon neutrality by fiscal 2050. In order to achieve this, we have gone through a process of backcasting and in our recently formulated seventh Medium-Term Management Plan, we have raised our interim targets and by 2030 we aim to reduce greenhouse gas (GHG) emissions by at least 40% across the value chain compared with 2015 levels. To achieve these targets, we will work on a carbon-neutral strategy at all businesses.
For carbon neutrality in our business activities, we had previously aimed to achieve our renewable energy 100% (RE100) target in 2040, but have brought this forward by 17 years to fiscal 2023. The Daiwa House Group already generates 1.3 times more renewable energy than the energy we use across the entire Group and we expect to gain value from these renewable energy supplies. We are also actively working to develop carbon neutral communities through products and services. We are enhancing our offerings for net Zero Energy Houses (ZEH) and Buildings (ZEB) in all businesses and aim for all new properties supplied by the Group by 2030 in principle to be ZEH or ZEB. In addition, we are installing solar panels on all buildings.
By engaging in such a wide range of initiatives, we aim to tackle environmental issues while also generating corporate earnings.
Making people happy to live in their community
Of the 17 SDGs, one (No. 12) aims for "Responsible consumption and production." As well as reflecting on the responsible production of the new communities we build, we have also considered whether their consumption is responsible. Livness Town Project is one of our businesses designed to help tackle the problems arising from an aging population and low birth rate, as well as aged buildings. With this project, we are redeveloping Neopolis suburban housing complexes originally developed by our company. Getting involved in this way in community redevelopment, we are working to address responsible consumption issues while creating dynamic, attractive communities. Various initiatives are underway: Working with local authorities and other bodies, we are looking at how to help the elderly stay healthy and families, raise their children. We intend to create communities designed for all generations to enjoy, so that people are happy to live in their community for many years and younger cohorts want to move in.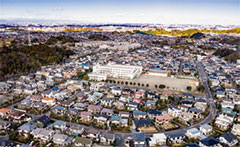 Kamigo Neopolis (Yokohama City)
Looking ahead, we will focus on revitalizing local economies, creating employment, and using renewable energy in regional cities and suburban areas. We will step up our business in multi-use developments and redevelopments that leverage Group resources, so that we can help maximize the potential of the localities outside the major urban centers.
Creating a mutually stimulating environment to foster the personal growth for our diverse human resources
When our Company was founded, "developing people through business" was the first statement in the Daiwa House Corporate Creed, underlining just how important human resources development is to the Group.
In October 2021, we opened the new training facility the Daiwa House Group MIRAI KACHI KYOSO Center (Kotokurie) in Nara Prefecture, providing us with new facilities to develop our human resources. The center is an open space not only for Group employees, but also for the wider community, offering a venue for people of all ages to study and think together, be stimulated by those around them, and foster personal growth. We expect the center to help develop human resources capable of co-creating value for the future, which in turn will help to create a better society.
The Daiwa House Group has a record of employing people of many different backgrounds, including mid-career recruits, and developing human resources with varied perspectives. We have furthered the development of the Company by creating a diverse workforce with different attributes and skill sets to develop detailed solutions for our customers problems. We have also grown as a multifaceted company with a diverse business offering, spanning housing construction, real estate development, and general contracting, and this allows us to deliver solutions to customer needs and social issues that change with the times, while also valuing our connections with our stakeholders. I am of the view that we need to maintain and improve this corporate culture as we move ahead.
We are also promoting diversity, equity, and inclusion (DE&I) within the organization, ensuring that we have diversity in the managerial ranks and proactively organizing staff exchanges and interactions between Group companies. Through these programs, our future leaders acquire the management skills (such as the ability to engage or draw out new value) that will allow them to make the most of the different sets of values in our organization.
Future-oriented DX strategy to enrich living and working styles
Digital transformation (DX) at the Daiwa House Group focuses on maximizing value delivered to the customer and ensuring safety, productivity, and quality in our manufacturing, with the overall goal of leveraging digital technologies to transform living and working styles. We are working to develop effective systems to accommodate the difficult conditions faced by the construction industry, such as the urgent challenge posed by the decrease in the working population and how to cope with heatwaves. We want to take a leading role in construction-sector DX, deploying labor-saving and automated systems while ensuring the safety, productivity, and quality that are critical on construction sites.
We are also working to create new value by leveraging digital technologies to transform operational processes. We are taking a big-data approach to the wealth of information the Group has on our many customers and buildings. This is designed to enhance the value of our information assets and allow us to deliver products and services tailored to individual customer needs and in ways that enrich living and working styles.
To all our stakeholders
Eyes set firmly on the future, we will be working steadily to drive these initiatives forward, guided by our new compass, Our Hopes for the Future. We will strive to support everyone's lives, helping to build a world where we live together in harmony embracing the Joys of Life. We will continue to keep the spirit of the founder at the heart of everything we do, while flexibly accommodating contemporary needs in order to continue evolving as a company that meets or exceeds the expectations of customers and society.