Top Commitment

Top Message (Chairman)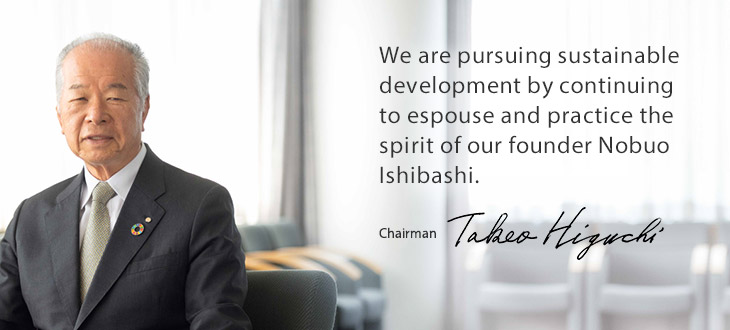 Nothing but appreciation for our stakeholders
I recently retired as CEO and relinquished my authority to represent the Daiwa House Group by doing so. However, during my years at the helm, I was fortunate to have the support of our various stakeholders, to note first and foremost our many customers, our shareholders and investors, the many people from cooperating companies and our employees. I truly thank you, one and all, for your continuous guidance and encouragement during my tenure at the top. Now as chairman, I am determined to continue promoting our employee training programs, coaching the younger members of our workforce, and fulfilling my duties of carrying on the spirit of our founder as the underlying business foundation of the Daiwa House Group.
The 15 years after I assumed the position of CEO in 2004 went by fast. Having inherited the founder's dream of building our group into a "10 trillion yen-a-year business by our 100th anniversary" and, to the best of my abilities, steered the group to do good for this world as a public organ of society, we grew into a business with over 4 trillion yen in sales annually. Though we are not even halfway to where we want to be, we can grow sustainably as a business by continuing to solve issues that afflict society as we have been doing for so many years.
Pursuing our mission "The company is a public institution of society."
I became strongly aware of the point and purpose of managing a business like a "public organ of society" in 1993 when I was appointed president of Daiwa Danchi and tasked with reconstructing our then-affiliate. When the founder, then in the role of an advisor, called me in and entrusted me with the reconstruction, he said, "This is actually my job, but in the condition I'm in, I want you to handle it." Knowing the business difficulty that Daiwa Danchi was in, I was hesitant to take on such a heavy responsibility, but the founder, who was straddled with health issues at the time, lectured me about how "rebuilding the business was our responsibility because the company is a public institution of society," so I prepared myself mentally for the challenge.
Years later, in 2001, I was named president of Daiwa House Industry when it merged with Daiwa Danchi. Group sales at the time were about 1 trillion yen, but throughout my time as president and chairman, our duty as a "public organ of society" was always in my head when conducting business.
Even today, though sales are about four times greater, that thought has not changed one iota.
Looking back on my 15 years as chairman, I committed myself to carrying on the founder's spirit, spreading his teachings both inside and outside the company like a storyteller and making sure our "products and services were useful and liked by people." The founder forever etched his perspective of work and life into my thoughts when he made the statement listed at the beginning of this report: "Don't start off from the thought: 'What can I do that will make a profit? A company is a public organ of society, and we must ask ourselves what kind of product – or what kind of business – will be of use to the world around us and make people happy."
Achieving sustainable growth by practicing the founder's spirit
When the founder was battling illness at a retreat house in Noto, Ishikawa during his later years, a few others and I paid him a visit. However, because he was gravely ill, I alone was chosen to meet with him. I don't know why he picked me; I never asked him. I had joined the company in the middle of my career and started out managing supplies at our Sakai Plant. Not having followed an elite path by any standard, I find it strange to this day that he called me in.
After that first visit, I made overnight trips to see him almost monthly, during which I listened to what the founder thought about the company's future and I expressed what I thought. What he imparted to me in those discussions has helped to develop the Daiwa House Group into what it is today for as much as I have tried to spread that message through the group.
To show for that, the "six criteria for decision-making" that we codified when I became president embody the founder's thinking. In a nutshell, all business decisions are based on whether or not the outcome down the road will be good for the company and our employees, our customers and shareholders, and society in general. This is how we thought instinctively back in the day, but this train of thought came from our founder.
Another practical application of the founder's belief in "being useful and liked by people" is the "Asu Fukaketsuno" concept we apply to new business. It is an initialism from the Japanese language for: safety (Anzen), speed & housing stock, social welfare (Fukushi), the environment (Kankyo), health (Kenko), ICT (Tsushin), and agriculture (Nogyo). Each of these fields represents an issue facing humanity the world over.
All of the answers are found in "The Future of the Daiwa House Group"
There are people concerned about who will convey the founder's spirit going forward and how. I am not one of them. Reason being, our founder left us a wonderful book titled "The Future of the Daiwa House Group." Current president Keiichi Yoshii and all the executives and employees have read it, learned from it and are applying what it says to their work every day.
For example, if they run into a wall on something, they can return to the book and find a solution to their problem as if the founder was talking directly to them.
Through this book, every executive and employee can learn and refresh their understanding of our mission "the company is a public institution of society" by reading up on the founder's thoughts from time to time. Moreover, it spells out how to go about business almost as if it foresees the future, and simply explains the path to "10 trillion yen in annual sales by our 100th anniversary."
In recent years, employees working at our overseas bases are learning from the translated version of "The Future of the Daiwa House Group." I hope this is the beginning of our founder's dream stepping out of Japan and into the world, and finding solutions to a plethora of problems around the globe.
Our strength lies in our adherence to the bottom-up approach
Fortunately, we are performing well. And, if I were asked to cite a particular reason for our success, it would have to be the bottom-up approach we have developed since our founding. I recall at a sales meeting a long time ago the founder pointing to the shoes of an employee. They were covered in dust and worn thin. He then said, "As many times as it takes, get on your feet and get out there. Sales are about footwork." His words were loaded with strong convictions the founder held about business.
Visit the sites you are in charge of to know the situation. Before buying a lot, walk the area. If construction is underway, check the work out to make sure there are no problems. All issues and answers are found at the site. Check the project out with your own eyes, think about the issues and, once you find a solution, promptly take action. Though all of this seems obvious, the source of our company's strength lies in the importance we place on seeing the actual site, product and situation, which is the bottom-up approach I speak of.
Not only will the way we focus on this bottom-up approach continue to serve us going forward but, as business expands both in content and scale and in Japan and overseas as well, its importance is likely to grow more and more.
Human resource development is the biggest key to growth going forward
More than anything else, human resources are essential to the future growth aspirations of our Group. Because of the particularly heavy influence on growth they have, those at the top of the pyramid must have a clear vision of the future and explain it in easy enough language to understand so that it permeates throughout the entire organization. Needless to say, programs that can produce as many of these human resources as possible are crucial.
Recognizing the importance of human resource development, managers of our company spend half of their time training and grooming the staff whose work they oversee. I am confident that, by developing human resources who ambitiously seek solutions to the social challenges ahead, our Group can grow one or even two times over.
Of course, training someone is never easy. Both knowledge and skill are vital; simply instructing someone how to do something is not the same as developing him/her. People, for one, are complicated and can grow only so much when the steps they need to follow are easy. Moreover, they can get away with being selfish and protective for a while, but eventually others see through them. What is critical to personal growth is to pursue a presence truly trusted by others. It is not about the material losses or gains before your eyes but standing firm for what is right and calling out what is wrong based on your own beliefs. You then do your best in your place of assignment. No matter what your environment, you remain committed to your mission. Somebody is always watching, so conducting yourself in such a way will open doors of opportunity for you.
To be successful in any field requires exceptional effort. And, in addition to that, you need a little bit of "luck." But, you have to realize that "luck" is not something that happens by chance but what "unfolds" before those who keep at it day after day without quitting. This is the most important thing in developing human resources and also is the universal truth that transcends the ages, which I strongly believe will remain important going forward.
Creating a corporate climate where our workforce can hold onto and reach for their dreams
The young people on our workforce are obviously tasked with achieving our Group dream of "10 trillion yen in sales by our 100th anniversary." Creating a corporate climate that spurs in them the ambition and courage to make this challenge is perhaps the biggest duty of top management and certainly crucial to future growth.
There are still many, many issues we face because of our nature "the company is a public institution of society." But, we can solve them one by one and continue to grow in the process by passing down the insight of our founder, Nobuo Ishibashi, to the next generation so that they feel like they own it. In the meantime, all the executives and employees are agreed to look squarely at the social issues ahead and establish for ourselves a position and presence from where we can contribute further to the world as a business group, rather than act conceited about our good performance over the past few years.