Sustainability Report 2022
The Daiwa House Group has published the Sustainability Report 2022 with comprehensive coverage of ESG matters.
Recognizing the expectations for information disclosure from stakeholders such as corporate assessment agencies and long-term investors, this report acknowledges our accountability for contributions to society and the environment through our business while also helping us to acquire appropriate third-party evaluations and to put these to use in improving our operations.
In the Message from the President section, the report explains the ideas that are embodied in the fulfillment of Our Hopes for the Future (purpose), our role in achieving that vision (in particular our "materialities" or priority issues), and our policies for doing so, focusing also on topics such as achieving carbon neutrality, the progress of our Livness Town Project, the development of human resources, and our DX strategy.
The Feature section looks at the dialogue that played such a vital role in the formulation of Our Hopes for the Future (purpose) and at the ideas that we have come to hold dear through the construction of the MIRAI KACHI KYOSO Center (Kotokurie) together with some of the work that has been going on there since it opened.
The Implementation Report section covers the following topics.
<Environment>
A review of activities undertaken during fiscal 2021 based on our four environmental priority themes and an overview of the Endless Green Program 2026, an action plan for the environment formulated in accordance with our 7th Medium-Term Management Plan.
<Society>
Our performance on the key goal indicators (KGIs) corresponding to the 16 priority issues identified in the Endless Social Program 2021, our social medium-term plan, and the work being done in this area.
<Corporate Governance>
A review of corporate governance at the Daiwa House Group covering the operation and evaluation of our corporate governance system and board of directors, supervision by the board of directors of matters relating to the SDGs and ESG, the incentive system for medium- to long-term corporate value enhancement, and stock ownership by directors.
As corporate management now requires the integration of business with the resolution of societal challenges, the Daiwa House Group intends to utilize this report as a tool for constructive dialogue with stakeholders (including customers, employees, business partners, community residents, and shareholders) with the aim of creating a world in which everyone can share the joys of life.
English Edition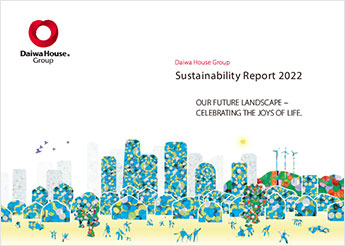 All Page Contents(54.3MB/189Pages)
Message from the President
Feature
Onward! Towards fulfilling Our Hopes for the Future!
New Co-creation and Fostering the Next Generation Designing the Society of the Future with Kotokurie
Implementation Report Environment
Management
Commitment from the Executive Officer in Charge
Long-Term Environmental Vision
Action Plan for the Environment (Endless Green Program)
Action Plan for the Environment (Endless Green Program 2026)
Action Plan for the Environment (Endless Green Program 2021)
General (Expand environmental contribution business)
Reinforcing the foundation of environmental management
Environmental management
Supply chain management (Environment)
Eco communication
Focal theme
1 Mitigating and adapting to climate change
Response to the Task Force on Climate-related Financial Disclosures (TCFD)
2 Harmony with the natural environment (Preservation of biodiversity)
3 Closed-loop resource sourcing and conservation of aquatic environments (Greater durability and waste reduction)
4 Prevention of chemical pollution
Implementation Report Society
Management
Commitment from the Executive Officer in Charge
Long-Term Social Vision
Social Medium-Term Plan (Endless Social Program)
CSR Management
Human Rights Management
Focal theme
1.Innovation base
Issue 1: Build platforms for innovating solutions to social issues
Issue 2: Promote social inclusion in real estate development
2.Human resources base
Issue 3: Work style reform for employees
Issue 4: Upgrade human resource development and recruitment
Issue 5: Promote diversity and inclusion
3.Technology and manufacturing base
Issue 6: Enforce safety/security at construction sites
Issue 7: Improve productivity in manufacturing operations with the cooperation of business partners
Issue 8: Promote and improve the efficiency of CSR procurement across the Group
4.Customer base
Issue 9: Upgrade corporate communications
Issue 10: Promote customer support to maintain long-term relationships
5.Communication base
Issue 11: Integrate and upgrade financial and nonfinancial communications
Issue 12: Keep pace with rapidly evolving communication environments
6.Risk countermeasures base
Issue 13: Prepare business continuity plans on the premise of natural disasters/extreme weather
Issue 14: Establish human rights due diligence at factories
Issue 15: Establish corporate ethics and compliance rules
Issue 16: Build management base for global business development from a long-term perspective
Risk Management
Internal Control
Anti-corruption
Implementation Report Corporate Governance
Management
Commitment from the Executive Officer in Charge
Corporate Governance
Third-Party Assessment / Data Section
Cooperating with Third Parties and Their Assessment
Cooperating with Third Parties
Main certifications and awards
Inclusion in ESG indices
Data Section
Results and self-assessment of the Action Plan for the Environment
Results and self-assessment of the Social Medium-Term Plan
Environmental Data
Social Data
Corporate Governance Data
Third-Party Assurance Report
Editorial Postscript