CSR management
CSR management
Our policy
The Daiwa House Group considers it important to provide the value required of the Group from a long-term viewpoint by implementing CSR through our businesses to contribute to the society as a company offering housing and other infrastructures to customers and society. Based on the philosophy of "Co-creating a Brighter Future," our CSR strategy is designed to solve geoenvironmental problems and those faced by the society with our unique technologies and know-how. It also aims to enhance the relationship with our stakeholders in the entire value chain.
CSR promotion organization structure
CSR Department has functions of planning and adjusting CSR-related policies, systems and items to implement, and the Board of Directors decide important matters.
Since 2005, each branch office selects one CSR Committee member to familiarize everyone with corporate ethics and compliance. One Community Co-Creation Promotion Committee member is selected separately to promote planning and implementation of matters related with community co-creation activities, as well as awareness-raising activities intended for our employees.
Since 2005, all of the Group companies have also started to appoint a person responsible for CSR, and are building a system to promote CSR activities.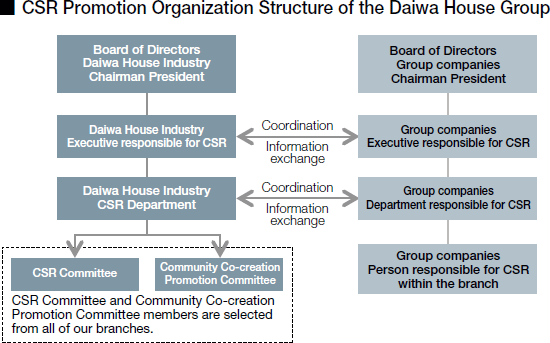 Branch office CSR management
Based on the concept that the steadily accumulated CSR activities at each one of our branch offices should be valued, we have adopted branch office CSR management at our 83 branch offices.
Under the Branch Office CSR Management, we carry out the CSR Guidelines in our routine works centering on Branch Managers' policy to realize sound management of branch offices. These efforts are assessed using CSR awareness survey and Evaluation of Business Management Soundness,* a framework for checking risks in both "awareness" and "action," thereby leading to the improvement of business.
* Evaluation of Business Management Soundness is an evaluation system adopted at branch offices that allows "increasing management efficiency" and "strengthening the management base" to take root in worksites. It contains a wide range of ESG evaluation items.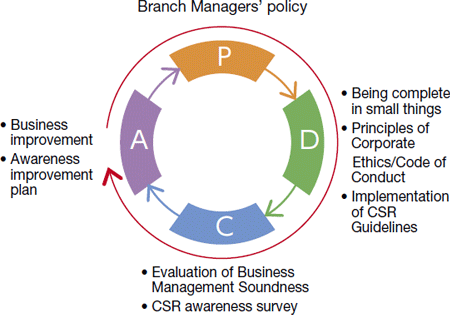 CSR awareness survey
Implementation of CSR awareness survey (Check)
Since fiscal 2004, the Daiwa House Group has been conducting an in-house CSR awareness survey to gauge the status of practice of the Principles of Corporate Ethics and Action Guidelines (later Code of Conduct) by employees in their respective workplaces. It is a completely original questionnaire survey conducted on the Group's intranet in which participants answer anonymously about 50 questions regarding their workplaces. The results are converted into numerical points, and average values are obtained. We are conducting self-check (self-diagnosis) by comparing the results with those of the previous year to see changes in the employees' awareness during the year, and each branch office compares the results with the across-the-board average to find out the points they need to make additional efforts. By reference to these results, each branch office draws up future improvement activity plan.
Workplace Awareness Improvement Plan (Action) based on CSR awareness survey
After the implementation of CSR awareness survey, taking the opportunity of plenary meetings or general morning assemblies, each workplace shares the trend of the employees' awareness and future tasks read from the survey results. Setting of the most important improvement items toward the next year and examination of concrete improvement measures are summarized in the "Workplace Awareness Improvement Plan." To cite a case, as a measure to the survey result (what an employee felt) that "it's less likely that everyone cooperates according to his/her ability to achieve our goal," we have practiced "presenting outcomes obtained by achievement of our goal, as well as compliments and appreciations received from our customers, to share the sense of fulfillment" for a year. In this way, each branch office circulates PDCA based on the survey results.