CSR Self-Assessment Indices
The Daiwa House Group introduced "CSR self-evaluation index" from 2006 to improve the CSR activities in order to measure and visualize the results of CSR activities.
Since 2013, we have set and operated indicators with reference to the international standard ISO 26000. In order to more clearly inform the spirit of "co-creation symbiosis" and its efforts, we reorganized the issues separately for each stakeholder, Based on the medium-term CSR plan, we revised the indicators around E (environment), S (society) and G (governance) and set up 26 key issues · 47 indicators. In addition, as a new attempt this time, we will set a 3-year target according to the 5 th medium-term management plan to be launched in fiscal 2016 and turn PDCA, aim to achieve performance targets and strengthen management foundation.
We will continue to improve our CSR activities by "striving to be faithful to our stakeholders and continuing to respond to the needs of society as a corporate citizen".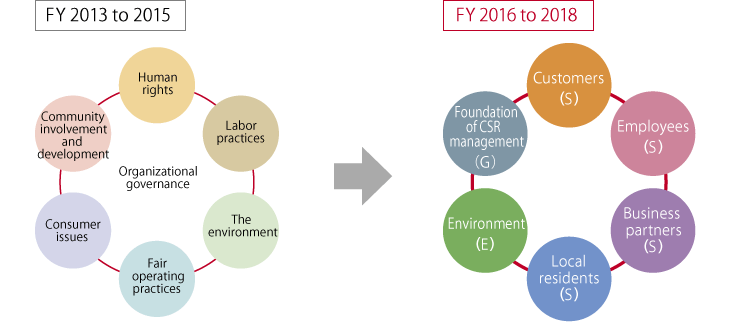 CSR Self-Assessment Index — Outline of Fiscal 2016 Results