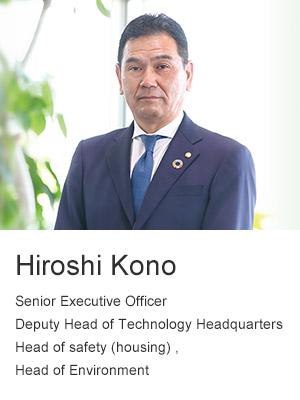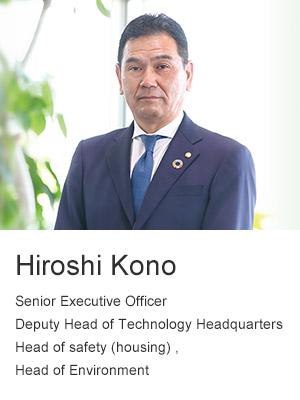 Promoting greenhouse gas emissions reduction with "slowing and adapting to climate change" made the top priority issue
Each country has increased its efforts to address climate change according to the Paris Agreement, which was adopted in December 2015 and the movement is being accelerated in response to the Special Report on Global Warming of 1.5˚C released by the IPCC* last year. In addition, frequent extreme weather such as torrential rainfall, severe heat, and typhoons has spread awareness about climate change as a matter of urgency, which is urging various actions in the country as well. As SDGs, another global environmental initiative comparable to the Paris Agreement, includes climate change as a matter to be addressed, it is a matter of importance closely related to other matters.
The Daiwa House Group, as a corporate citizen, recognizes how important these issues are, working on them actively and systematically.
We formulated in 2016 "Challenge ZERO 2055," a long-term environmental vision that focuses on "harmony with the natural environment," "conservation of natural and water resources," "prevention of chemical pollution" as well as the top priority issue "slowing and adapting to climate change." In the course of the vision, concrete targets nd plans are set nearly every three years as the EGP (endless green program), which is promoted at the Groupwide level.
In EGP 2018 (fiscal 2016 to 2018), we took our environmental initiatives under the concept of promoting integrated environmental management within our Group and globally based on the life cycle approach to ensure that corporate profitability can coexist with environmental sustainability.
At the same time, we acquired the SBT certification, an international initiative, for greenhouse gas emissions reduction to be consistent with the Paris greement's 2˚C temperature target. In addition, we joined EP100 and RE100, international initiatives for promoting energy efficiency and renewable energy use, respectively, as the first-ever company in the world from the construction industry, accelerating activities in terms of a medium- to long-term vision.
Principal accomplishments of our business activities include Royal Home Center Tsushima Branch (Aichi), the first-ever largescale ZEB store, which has been in operation since 2016, and Daiwa House Saga Building (Saga), a power self-sufficient building which was completed in 2018 and has been fully powered by renewable energy on a trial basis since then.
Regarding housing products, in addition to expanding ZEH, we are promoting advanced community development by applying such technologies as energy self-sufficient housing, electricity interchanging, and ZET to SECUREA Toyota Kakimoto (Aichi), Takao SAKULa CITY (Tokyo), and Toyama City Safe and Smart Model City Block (Toyama). For construction-related products, we have worked on performance improvement in D's SMART series including environmentally-friendly office "D's SMART OFFICE" and environmentally-friendly factory "D's SMART FACTORY," winning many customers' favor. In addition, in fiscal 2018, we declared further engagement in such environmental activities, and were certified by the Ministry of the Environment as an Eco First Company by being an environmentally-advanced company in the housing and construction industry.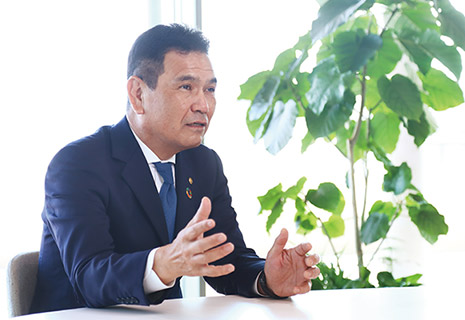 ZEH-standard xevoΣ PREMIUM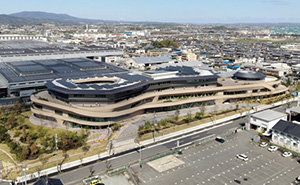 Electricity self-sufficient office "Daiwa House Saga Building"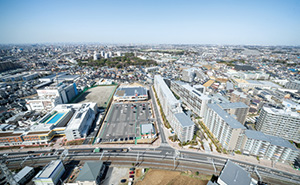 "Eco First Company" certification ceremony
*IPCC (Intergovernmental Panel on Climate Change): An organization that was founded by the World Meteorological Organization (WMO) and the United Nations Environment Programme (UNEP) and provides reports on scientific findings about climate change.
The new Action Plan for the Environment accelerates integrated "decarbonization" within our Group and globally
EGP2021 (fiscal 2019 to 2021), a new Action Plan for the Environment that is launched this year, is going to further promote "Zero Carbon" in terms of products and monozukuri to achieve SBT, EP100, and RE100.
In addition to promoting ZEH in housing products and ZEB in construction-related products, we are going to engage in new types of community development based on the combined form of energy saving, creation, and accumulation for the combined development for which our Group capitalizes on our strength of having a wide range of business domains. We are going to make a Groupwide effort to promote an environmental contribution business that consists of the electricity sales business, the greening business, and the reform and renovation business, a new "Livness" brand, trying to contribute to the environment, reinforce business competitiveness, and increase sales.
We are going to promote "carbon-free" in our Group worksites, factories, and facilities as well. While promoting continuous and thorough energy efficiency in existing facilities, we will actively use energy-related advanced technology to pursue ZEB for newlyconstructed facilities, with feedback on such attempts for the development of new products. Through these efforts, we aim to achieve a 35% greenhouse gas emissions reduction (per unit of sales) in fiscal 2021 from the fiscal 2015 level.
In addition, we will reinforce the environmental management system within our Group and globally as illustrated in the promotion of environmental information disclosure, the development of environmental education, and the introduction of an IT-based environmental law management system.
In order to incorporate "carbon-free" and other environmental risk reduction activities into supply chains, we will cooperate with our business partners for our mutual benefits by setting greenhouse gas emissions reduction targets and promoting sustainable procurement of timber.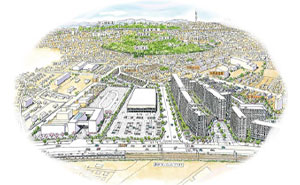 DREAM Solar Yamagata Mogami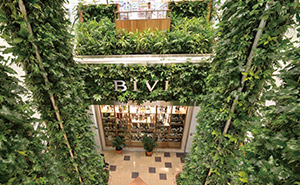 BiVi Senriyama
Enhancing adaptation policies to climate change and realizing corporate profitability coexisting with environmental sustainability
With extreme weather becoming more frequent across the world in recent times, climate change is a matter of urgency, not of the future. As illustrated in supply chains being broken by heavy rain and snow and the heatstroke risk rising in construction sites owing to fierce heat, it has already become a big threat to our business.
In adding resilience to supply chains, introducing IT-based WEATHERY Environmental Sensors to construction sites, and marketing a single-family housing product "Anti-Disaster House," our Group is engaging in adaptation policies to climate change.
Besides, having announced our support for TCFD last September, we are going to discuss how to deal with climaterelated financial disclosures recommended by TCFD in its final report.
On the other hand, our Group regards national and international trends in environmental challenges including climate change as big business opportunities. The construction-related business, which accounts for more than 80% of our Group's sales, is closely linked to the climate change issue in terms of energy consumption.
Increased awareness about environmental challenges and tightening of laws and regulations encourage the introduction of buildings of high environmental performance, therefore, we aim to ensure business superiority by actively working on products of high environmental performance. In addition, given that climate change is a globally shared issue, products of high environmental performance and environment-conscious real estate development can be key "weapons" for our overseas business. By improving our environmental brand through the promotion of such actions and the pursuit of international nitiatives such as SBT, EP100, RE100, and TCFD, we aim to realize corporate profitability coexisting with environmental sustainability and contribute to our management vision "Build a world in which people can lead fulfilled lives."

As a Group that co-creates value for individuals, communities, and people's lifestyles, the Daiwa House Group considers the future of our environment and provides products and services that are more environmentally friendly, for the purpose of realizing a society where people live with a sense of enrichment in harmony with their environment.

In order to realize a "society where people live with a sense of enrichment in harmony with their environment," we established the following four categories as the focal themes for our environmental activities.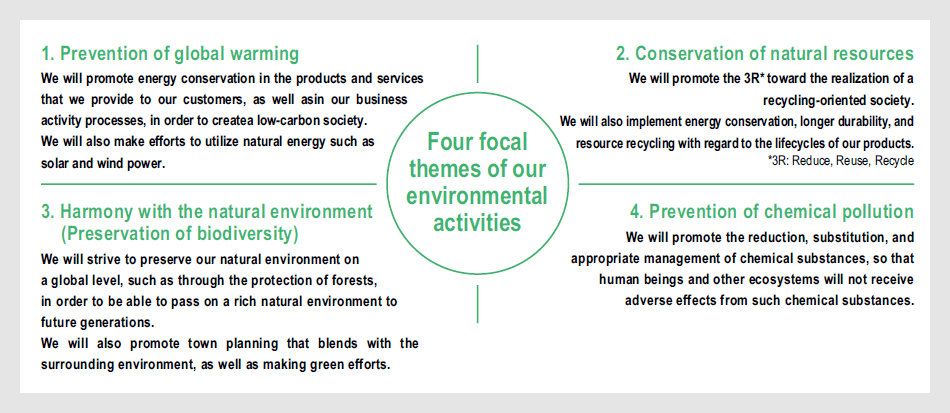 1. Reduce the environmental burden of our products and services
We apply an environmentally conscious approach to the planning and design of the whole lifecycle so that we can provide products and services with less environmental impact.
2. Reduce the environmental burden within the process of our business activities
We identify the impact on the environment at every step of all business activities, and make constant efforts to make improvements in order to reduce environmental impacts.
3. Compliance with laws and regulations
We comply with applicable laws and regulations and stakeholders' demands that we have agreed to meet, in order to remain a trustworthy corporate citizen.
4. Enhancement of education and training
We establish our Environmental Management System and regularly provide training and education in order to remind us of the importance of the environment, and undertake environmental activities with creative ideas.
5. Promotion of environmental communication
We actively disclose information on environmental issues and reflect the results from dialogues with all stakeholders in our environmental activities now and in the future.
6. Promotion of green procurement
We procure environmentally friendly materials and products through cooperative efforts with our business partners.
7. Development of environmental technologies and businesses
We develop technologies and business models that contribute to reducing environmental impacts, and take on challenging opportunities to start new, global and innovative business.
Effective on April 1, 2005
Kazuto Tsuchida
Representative Director
and Senior Managing Executive Officer
In charge of the Environment