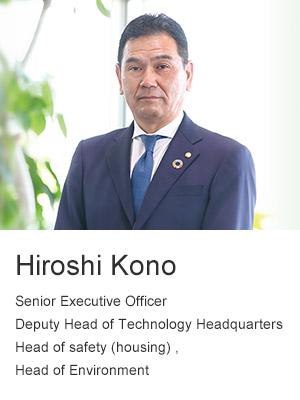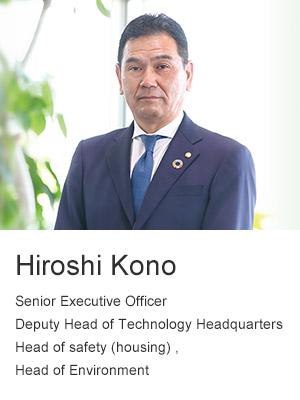 Putting forward "Slowing and Adapting to Climate Change (prevention of global warming)" as the materiality in the long-term environmental vision.
The Daiwa House Group is increasing our efforts for a "carbon-free society" as a social mission for environmental issues, continuing to approach zero greenhouse gas emissions through business activities and business services.
The Paris Agreement, which was signed by 196 countries and regions in 2015, sets the goal of reducing CO2 emissions in the world by 50 to 70% by 2050 and virtually 100% in the second half of this century. With the global standard shifting from "low carbon" to "zero carbon," we are seriously trying to achieve the goal as a corporate citizen.
Of the four environmental priority themes set as policies for achieving the goal in the long-term environmental vision "Challenge ZERO 2055" formulated in 2016, we put forward "Slowing and Adapting to Climate Change (prevention of global warming)" as the materiality. Based on this, we, looking ahead up to 2055, have in action various measures against greenhouse gas emissions and are preparing a roadmap for reduction in greenhouse gas emissions.
Specifically, in addition to promoting "zero carbon" through business activities, we apply technologies and expertise gained through them to business services, which creates a virtuous cycle of zero carbon promotion between business activities and business services. As part of business activities, we, as the first-ever construction industry company in the world, have joined EP100 and RE100, global initiatives for energy efficiency and renewable energy respectively, committing ourselves to doubling energy efficiency and full use of renewable energy.
Meantime, our "zero carbon" through business services manifests itself in the promotion of the construction of zero energy houses, buildings and towns. Having been already developing and disseminating energy self-efficient houses, we are promoting Net Zero Energy Building (ZEB) based on "D's Smart Series" (environment-friendly buildings), developing smart cities/towns, and engaging in environmental energy businesses that provide solutions based on energy saving, creation and storage.
Businesses based on "Zero Carbon" expanding nationwide and outside Japan.
Our efforts for "Zero Carbon" are achieving positive results, not simply ending in goal setting. In business activities, the first-ever large scale ZEB store in Japan has been open in Aichi prefecture since 2016. In Saga prefecture, our office was constructed as an "electricity self-sufficient building" this February.
With regard to "Zero Carbon" through business services, demonstration tests of energy self-sufficient housing are going on at SECUREA Toyota Kakimoto, a housing estate in Aichi prefecture. For ZEB, "D's Smart Series" -based office buildings, stores, nursing facilities, distribution facilities, factories, and medical facilities have been established in series. Starting with the first-ever ZET (Net Zero Energy Town) "SMA-ECO Town Harumidai" in Osaka, the ZET development is being promoted nationwide. Furthermore, we steadily have in progress such projects as "Takao SAKULa CITY" (Tokyo), where our commercial facilities, and house and condominium dwellers are engaging in cool share for the construction of a multiplex town based on our total capabilities and "Toyama City Safe and Smart Model City Block" (Toyoma prefecture), where, in addition to the promotion of energy saving, anti-disaster collaborations between public facilities and housing blocks are promoted.
Advanced technologies for energy saving are highly appreciated domestically and internationally. We have many requests for technology introduction from Australia, China, and the U.S., where environmental controls are becoming stricter year by year. With cooperation among each division such as production, construction, and overseas business further enhanced in addition to obtaining each housing equipment supplier's cooperation, we are going to offer energy saving and creation technologies according to each country's local climate and cultures. This is the way we are going to accelerate the growth of our overseas business.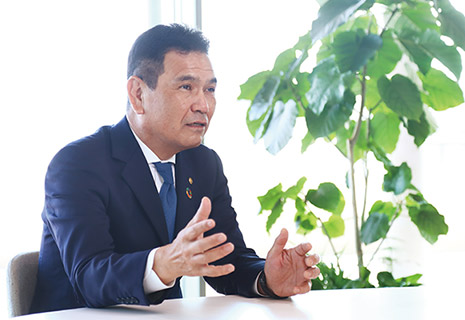 Electricity self-sufficient building
(Daiwa House Saga Building)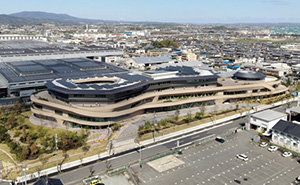 Energy self-sufficient housing
(SECUREA Toyota Kakimoto)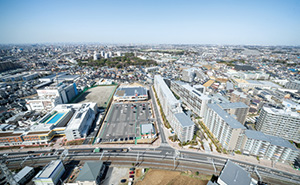 First-ever ZET in Japan
(SMA-ECO Town Harumidai)
Taking environmental issues positively as business opportunities, not as risks
What background does it make the Daiwa House Group to keep a competitive advantage in efforts for a "carbon-free society"? It can be traced back to 5S [Seiri (Neatness), Seiton (Order), Seiso (Cleaning), Seiketsu (Cleanliness), and Shitsuke (Discipline)], which are illustrated in keeping housing construction sites neat and clean and remembering to classify construction waste. We believe that our uncompromising pursuit of 5S in all nationwide construction sites under the philosophy of "Being complete in small things" underlies our current efforts for environmental protection. We also believe that our long-running commitment to naturally carrying out what is described as commonplace like keeping construction sites neat for customers and local communities and reducing waste has increased our awareness of environmental issues and made us a corporate group that is seriously working on them, fulfilling various social stakeholders' expectations.
When our Group business is seen from medium- to longterm perspectives, global environmental issues can be a business risk factor. For example, the rise in the average temperature can trigger heatstroke in construction sites, which can worsen labor environments or delay construction periods. With heavy rains or snows more frequent, deliveries of materials to construction sites can be disturbed. In addition, as a risk of transition to a carbonfree society, costs for developing and manufacturing environmentally-friendly products can increase.
However, our Group is going to take medium- to long-term business risks not as something negative but as business opportunities and promote strategic activities for the environment in line with growth strategies. "D's SMART," which gave birth to ZEB, is a good example. By mobilizing the capabilities of our Group companies to generate synergy, we are going to certainly achieve "Challenge ZERO 2055," contributing to the creation of sustainable society.

As a Group that co-creates value for individuals, communities, and people's lifestyles, the Daiwa House Group considers the future of our environment and provides products and services that are more environmentally friendly, for the purpose of realizing a society where people live with a sense of enrichment in harmony with their environment.

In order to realize a "society where people live with a sense of enrichment in harmony with their environment," we established the following four categories as the focal themes for our environmental activities.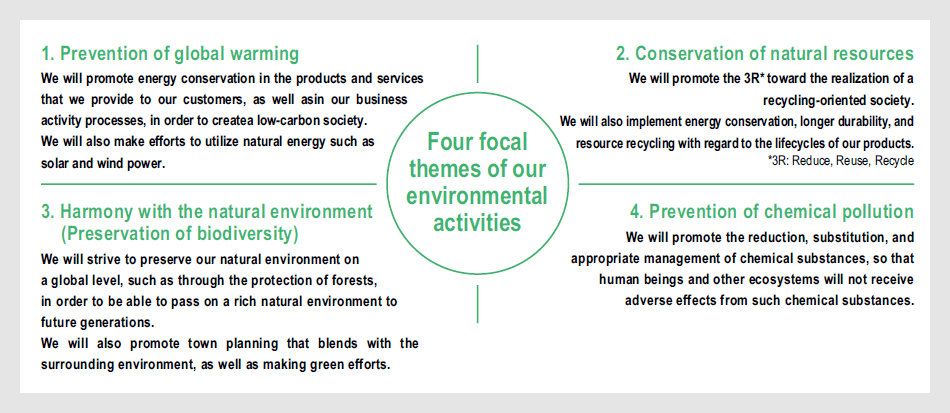 1. Reduce the environmental burden of our products and services
We apply an environmentally conscious approach to the planning and design of the whole lifecycle so that we can provide products and services with less environmental impact.
2. Reduce the environmental burden within the process of our business activities
We identify the impact on the environment at every step of all business activities, and make constant efforts to make improvements in order to reduce environmental impacts.
3. Compliance with laws and regulations
We comply with applicable laws and regulations and stakeholders' demands that we have agreed to meet, in order to remain a trustworthy corporate citizen.
4. Enhancement of education and training
We establish our Environmental Management System and regularly provide training and education in order to remind us of the importance of the environment, and undertake environmental activities with creative ideas.
5. Promotion of environmental communication
We actively disclose information on environmental issues and reflect the results from dialogues with all stakeholders in our environmental activities now and in the future.
6. Promotion of green procurement
We procure environmentally friendly materials and products through cooperative efforts with our business partners.
7. Development of environmental technologies and businesses
We develop technologies and business models that contribute to reducing environmental impacts, and take on challenging opportunities to start new, global and innovative business.
Effective on April 1, 2005
Kazuto Tsuchida
Representative Director
and Senior Managing Executive Officer
In charge of the Environment