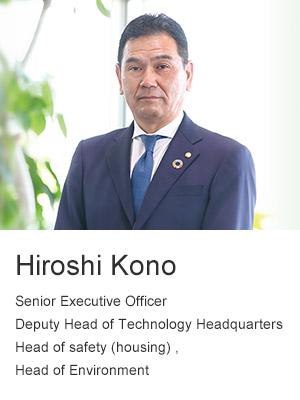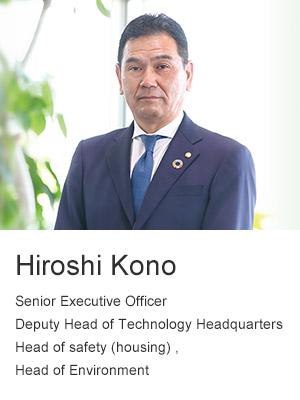 Accelerating Groupwide efforts to counter climate change as a strategic management issue
In recent years, frequent extreme weather such as typhoons, torrential rainfall, and large-scale forest fires has spread awareness about climate change as a matter of urgency across the world, and each country has accelerated its efforts to address climate change according to the Paris Agreement. As SDGs, the global goals to create a sustainable, better world, includes climate change as a matter to be addressed, it is a matter of importance closely related to other matters. This trend is urging various actions in the country as well, and particularly, the awareness of environmental aspects in corporate management and finance has been heightened, such as ESG management and the Task Force on Climate-related Financial Disclosures (TCFD).
The Daiwa House Group recognizes how important these issues are, and is working on them actively and systematically by positioning them as strategic management issues that may offer business opportunities.
We formulated in 2016 "Challenge ZERO 2055," a long-term environmental vision that focuses on "harmony with the natural environment," "conservation of natural and water resources," "prevention of chemical pollution" as well as the top priority issue Managerial Philosophy and Overall Picture Technology and Manufacturing Base Risk Countermeasures Base Third-Party Assessment / Data Section Governance Communication Base Customer Base Innovation Base Environment Human resources Base Society Implementation Report Environment 021 DaiwaHouseGroup Sustainability Report 2020 Funabashi Grand Oasis large-scale community development with 100% renewable energy Load-bearing wall KyureK DREAM Wind Ehime Seiyo wind-power plant (Ehime) Anti-Disaster House with All-Weather Three Battery Linking System "slowing and adapting to climate change." In the course of the vision, concrete targets and plans are set nearly every three years as the EGP (endless green program), which is promoted at the Groupwide level.
Decarbonizing our operations and applying the know-how to promote carbon-free houses, buildings and towns
Recent principal accomplishments of our business activities include Royal Home Center Tsushima Branch (Aichi), the first-ever large-scale ZEB store, which has been in operation since 2016, and Daiwa House Saga Building (Saga), a power self-sufficient building by renewable energy which was completed in 2018 and is running on a trial basis. As a result of promoting energy conservation and increasing the use of renewable energy including these efforts, we achieved a 32% greenhouse gas emissions reduction per unit of sales in fiscal 2019 from fiscal 2015, at a faster pace than the Paris Agreement's 2°C temperature target. In March 2020, DREAM Wind Ehime Seiyo, the Daiwa House Group's second large-scale wind-power plant, went into operation. Consequently, the ratio of power generation by the Group using renewable energy sources to electricity consumption reached 96%.
In parallel with these efforts, we are working to incorporate into our products the know-how in energy conservation, creation, and storage that we obtained in operations, and have them applied to society. The pillar of this effort is the development and dissemination of ZEH and ZEB. As housing products, we released the "Anti-Disaster House" equipped with an All-Weather Three Battery Linking System to secure power, heating, and hot-water supply for some 10 days even when it is raining, and as construction-related products, launched the D's SMART Series, including the environmentally-friendly office "D's SMART OFFICE" and environmentally-friendly factory "D's SMART FACTORY," all of which are winning many customers' favor. We are also stepping up our efforts by developing communities nationwide that incorporate advanced technologies such as energy self-sufficient housing, electricity interchanging, and ZET (Net Zero Energy Towns). These communities include SECUREA Toyota Kakimoto (Aichi), Takao SAKULa City (Tokyo), Toyama City Safe and Smart Model City Block (Toyama), and Funabashi Grand Oasis (Chiba).
These proactive environmental activities have been highly commended in fiscal 2019. We were certified as a "Climate Change A-list" company for the second year in a row, the highest evaluation of CDP Climate Change, and were also certified as a "Supplier Engagement leader board" under the CDP's Supplier Engagement Rating. In Japan, we also received many environment-related awards, such as the "Fiscal 2019 Environment Minister's Award for Global Warming Prevention Activity" and was inducted into a hall of fame of the "Environmental Communication Award."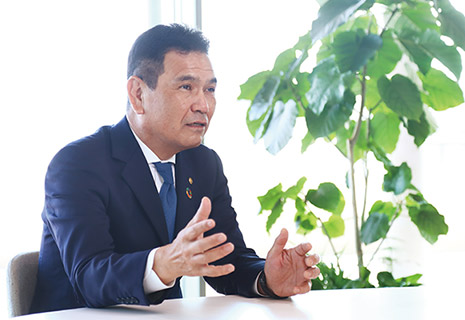 Load-bearing wall KyureK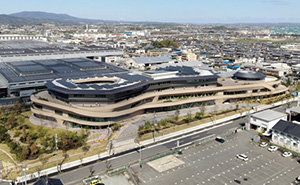 Anti-Disaster House with All-Weather Three Battery Linking System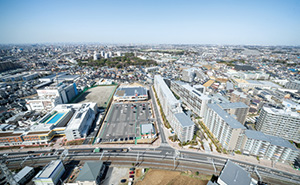 DREAM Wind Ehime Seiyo wind-power plant (Ehime)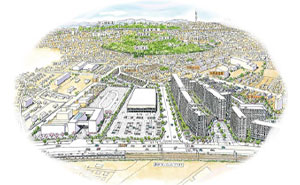 Funabashi Grand Oasis large-scale community development with 100% renewable energy
Promoting the Action Plan for the Environment with five focal policies
In the EGP2021 (fiscal 2019 to 2021) started in fiscal 2019, which expanded the scope of application to all the Group companies including overseas ones, we are going to accelerate integrated environmental management within our Group and globally based on the life cycle approach to ensure that corporate profitability can coexist with environmental sustainability with emphasis on efforts for "carbon-free."
①Promoting "carbon-free" in the fields of products and monozukuri for achieving SBT, EP100, and RE100
To achieve Zero Carbon for our products, we are expanding ZEH as housing products and ZEB as construction products (with sales ratio targets of 60% for ZEH and 35% for ZEB by fiscal 2021), while hosting public-private partnership ZEB seminars, and acquiring Green Building certification.
To achieve Zero Carbon monozukuri, we acquired SBT certification, an international initiative for greenhouse gas emissions reduction, to be consistent with the Paris Agreement's 2°C temperature target. In addition, we joined EP100 and RE100, international initiatives for promoting energy efficiency and renewable energy use, respectively, as the first-ever company in the world from the construction industry, accelerating activities in terms of a medium- to long-term vision.
While promoting continuous and thorough energy efficiency in the Group worksites, factories, and other facilities, we will actively use energy-related advanced technology to pursue ZEB for newly constructed facilities, with feedback on such attempts for the development of new products.
②Promoting win-win cooperation for reducing environmental risks in supply chains
In order to incorporate "carbon-free" and other environmental risk reduction activities into supply chains, we will cooperate with our business partners for our mutual benefits by setting greenhouse gas emissions reduction targets and promoting sustainable procurement of timber.
③Promoting the development and dissemination of environmentally conscious products and services for boosting business competitiveness
In addition to promoting ZEH and ZEB, we are going to make a Groupwide effort to promote an environmental contribution business that consists of the electricity sales business, the greening business, and the reform and renovation business under the new "Livness" brand, trying to contribute to the environment, reinforce business competitiveness, and increase sales. Capitalizing on our strength of having a wide range of business domains, we are going to engage in development of new types of communities that are not only environmentally-friendly but also resilient (recuperative and restorative) in the face of disasters.
④Advancing strategic eco communication for improving environmental brand and ESG assessment
We are committed to continuously improving our environmental activities through communicating our approach and efforts to address environmental issues in an easy-to-understand way, both internally and externally, as well as in dialogues with stakeholders. We actively disclose information through sustainability reports, integrated reports, our websites and so forth. We engage in dialogues with institutional investors and ESG assessment agencies to grasp the recent rising demand from the financial industry. Having announced our support for TCFD in September 2018, we also intend to ensure full climate-related financial disclosures.
⑤Enhancing integrated environmental management within the Group and globally for advancing environmental management
We are promoting environmental management in cooperation with the Group companies both in Japan and abroad. We will reinforce the environmental management system within our Group and globally as illustrated in the promotion of environmental information disclosure, the development of environmental education, and the introduction of an IT-based environmental law management system.
To attain our long-term environmental vision, we pursue corporate profitability coexisting with environmental sustainability and contribute to our management vision "Build a world in which people can lead fulfilled lives" by steadily making improvements based on the EGP.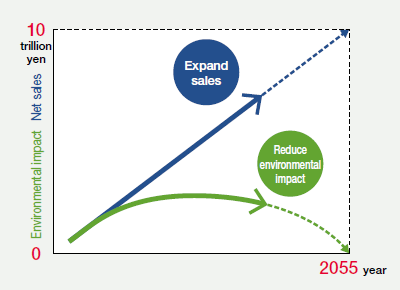 Aim to achieve sales of 10 trillion yen and zero environmental impacts by 2055, our 100th anniversary