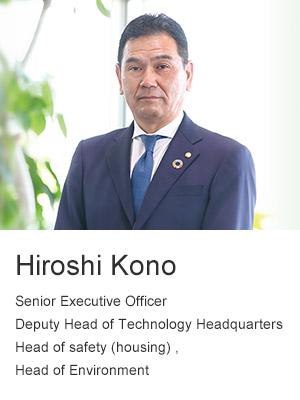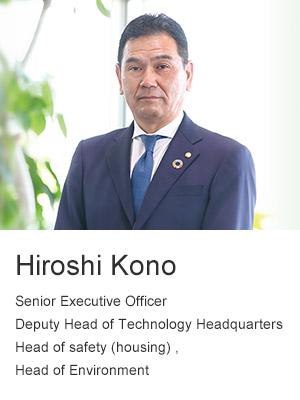 Expanding the scope of our long-term environmental vision and setting seven new Challenge ZERO goals, we have defined milestones for 2030
Japan committed itself becoming a decarbonized society, achieving carbon neutrality—zero greenhouse gas (GHG) emissions—by 2050 in October 2020, and in December the Ministry of Economy, Trade and Industry (METI) formulated a strategy for green growth. Overseas, meanwhile, the United States returned to the Paris Agreement in January 2021 and convened a summit of leaders from the world's major GHG emitting countries. And China, too, announced in 2020 a decarbonization target, saying it would effectively eliminate CO2 emissions by 2060, demonstrating that the non-binding Paris pledge to limit global warming to 1.5° above pre-industrial levels, is becoming the mainstream goal worldwide. And among the UN's sustainable development goals (SDGs)—a set of aims designed to spur international society on towards a better, sustainable tomorrow—addressing climate change, biodiversity, and other environmental issues has been given a prominent position, as well as being one that is inherently critically to other goals. Environmental concerns are thus increasingly important factors in investing and the running of enterprises.
These developments have prompted us at the Daiwa House Group to position environmental stewardship as a strategic challenge, and we are working actively and systematically to transform it into a business opportunity. This year we updated our Challenge ZERO 2055 long-term environmental vision formulated in 2016 as a roadmap to where we want to be in our centennial year. The revisions add new focal challenges, our "7 Challenge ZERO"s, as well as extend the scope of the original vision's priority themes. And the updated vision defines milestones for 2030 intended to push us to achieving the 2055 ultimate goal: with respect to mitigating and adapting to climate change, carbon neutrality by 2050. In particular, it commits us to accelerating our environmental engagement by vastly raising our 2030 targets for energy efficiency and use of renewables under the vision's highest priority theme, mitigating and adapting to climate change.
Creating a reinforcing cycle of beneficial outcomes by applying know-how gained through own decarbonization in products and services
The Daiwa House Group is approaching decarbonization from two angles: our business activities and our products and services. In 2018 we joined three international initiatives—EP100, RE100, and SBT—and set ourselves several ambitious targets to accelerate environmental engagement in our business activities. We have long been working to thoroughly maximize the efficiency of our energy use, and joining EP100 provided the impetus for implementing a new policy: make all Group company owned facilities we build going forward Zero Energy. Buildings, once erected, get used for several decades at least, so how a builder goes about maximizing their energy performance at the time of construction, is crucial. The Group therefore resolved that all our own new builds will be Net Zero as a matter of principle—which means we are already busy putting up zero energy buildings for all manner of applications from offices to stores to logistics centers.
A ZEB soft spot is that sometimes they have to top up their needs by drawing power from external sources. This is where our work to achieve our RE100 target comes in. Renewables account for less than 20% of Japan's energy mix, a rather low figure, which means it would be difficult to source renewable energy from outside the company; so we decided to generate our own instead. And this way, we help increase renewables' share of the Japan's power mix as we work to produce 100% of the power we consume from them. During fiscal 2020, we made great strides towards our aim of renewables-sourced energy self-sufficiency across the Group. On the generation side, we have developed and put online 49 megasolar installations across Japan, including our 5MW Toyama Uozu Kannondo DREAM Solar facility. This allowed us to generate more power from renewables than the entire group consumed for the first time in our history—a target originally set for 2030, achieved a decade early! Meanwhile, on the consumption side, at our offices, housing exhibits, construction sites, factories, and other facilities across the nation, we began full-scale sourcing of electricity that is, in substance, 100% generated with renewables at the Group's own power stations.
Naturally we will not rest there, but continue pursuing greater energy efficiency and expanding our use of renewables as we work to reduce the Daiwa House Group's GHG emissions footprint.
To wit: A new training facility, the Daiwa House Group MIRAI KACHI KYOSO Center, scheduled to open in October 2021, is a Group-owned new build that embodies concepts I just described. Designed to be a training and education center where occupants can palpably feel elements of nature—the wind, light, and water—incorporated into the architecture, it will be one of Japan's largest facilities of its kind. As well as building it as a ZEB adeptly incorporating natural elements to minimize energy use, we were also careful to preserve the biodiversity of its setting. We intend to acquire several environmental certifications for it, including LEED Zero from the U.S. Green Building Council. We will also be making the center 100% renewables-powered—i.e., sourcing all its energy from renewables, first powering it from a rooftop solar system and, when that isn't enough, covering the rest of its needs with electricity from Group-owned renewable-energy generating stations.
Along with the above, we are working to transform into products and services the technologies and expertise we accrue in the course of decarbonizing our business activities, and to encourage their broader adoption throughout society. As well as pouring effort into developing and encouraging uptake of Net Zero Energy Buildings (ZEBs) and Net Zero Energy Houses (ZEHs), we recently launched Anti-Disaster Houses, a single-family housing line engineered to better cope with severe weather-induced disasters, which have been occurring with increasing frequency and intensity lately. These houses are equipped with an all-weather three battery linked system capable of powering, heating, and providing hot water for about 10 days even in cloudy weather. In commercial architecture, we also offer the environmentally friendly D's SMART series of structures that can be used in a multitude of applications, everything from offices or factories to logistics centers. And, leveraging the aggregate capabilities of the entire Daiwa House Group, at locations all across the nation we're building mixed-use developments like the 100% renewables-powered Funabashi Grand Oasis in Chiba prefecture.
In this way, our Group is creating a cycle of beneficial outcomes spanning our business activities, products, and services in which we develop expertise, put it to work in our own buildings and facilities, and provide it in ways that palpably demonstrates to customers the many advantages and benefits of ecofriendly housing, buildings, facilities, and developments.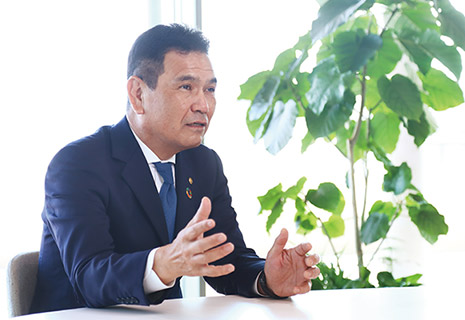 Toyama Uozu Kannondo DREAM Solar facility (Toyama)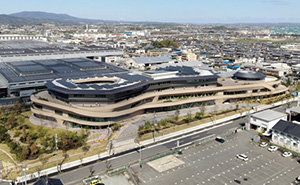 A training facility, the Daiwa House Group MIRAI KACHI KYOSO Center (Nara)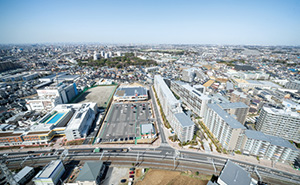 The Daiwa Group's 100% renewables-powered Funabashi Grand Oasis largescale mixed-use development (Chiba)
Our Ongoing Challenge: Corporate profitability coexisting with environmental sustainability
We are working hard to run the entire Daiwa House Group in an environmentally conscious and responsible manner at all its domestic and overseas locations—what we call "integrated environmental management within our Group and globally." We monitor our progress via our Endless Green Program 2021 (FY2019–FY2021) environmental action plan. What follows is my report on our principal fiscal 2020 achievements for each of the program's key policies.
First, let's look at how we did on Key Policy 1: Decarbonization of products and business activities in pursuit of SBT, EP100, and RE100 targets. We reached our fiscal 2020 goals for ZEHs, which accounted for 58.0%, and ZEBs, which accounted for 39.6% of units sold in their respective product categories. In our single-family housing segment, the good showing is a result of moves to bolster our organization for pitching ZEH homes as well as extending our range of offerings conforming to ZEH standards, both exemplified by the launch of our xevo ADVANCE and other similar products. In our business and corporate facilities and commercial facilities segments, we were able to achieve our target thanks to a rise in the proportion of ZEB-compliant large-scale logistics facilities we built during the year. We believe this is a result of having enhanced our ability to pitch ZEBs through seminars—for both internal training and participation by people from outside the company—that were held online, to communicate the benefits and advantages of ZEBs. In decarbonization of business activities, we met our targets across the board, reducing our GHG emissions per unit of sales by 39.3% and increasing our energy efficiency 1.46 times, both compared to fiscal 2015; reaching a renewables usage rate of 8.5%; and generating 133% of our power needs from renewable energy sources. We believe these achievements are thanks to our ongoing efforts to conserve energy and generate power from renewable sources, though lower operational rates at our resorts and other leisure facilities due to the COVID-19 pandemic also played a role.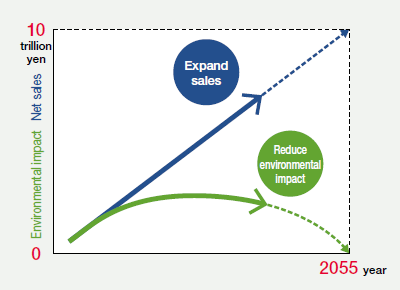 Aim to achieve sales of 10 trillion yen and net zero environmental impacts by 2055, our 100th anniversary
Next, let's move on to Key Policy 2: Win–win cooperation for reducing environmental risks in supply chains. With 80.4% of our principal suppliers having set their own GHG reduction targets, we have reached our goal for this indicator. We attribute this achievement to our forming a decarbonization working group with our suppliers and, through dialog over decarbonization, working towards improvements with them. This action has met with positive responses, and for the second year running the CDP awarded us the highest score for supplier engagement in February 2021.
We also reached our target for Key Policy 3: Developing and encouraging uptake of environmentally conscious products and services to enhance competitiveness, with ¥1,256.4 billion in sales by our environmental contribution businesses. This total reflects the aggregate sales of our renewable-energy power generation business, greening businesses, and energy-saving remodeling and renovation businesses as well as rising uptake of our ZEH and ZEB offerings. The indicator motivates us to strive for higher sales and greater competitiveness as well as to contribute to the environment. And further, we are working to transform into reality a new concept in mixed-use developments, the Ko"Re"kara City Model. Drawing on the aggregate strength of our Group's broad range of business interests, the model envisions mixed-use developments that are not only eco-conscious, but disaster-resistant—resilient in the face of disasters—as well.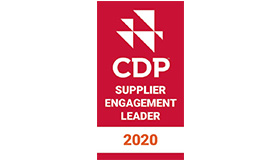 The Company received CDP's highest Supplier Engagement Rating for two years running
With respect to Key Policy 4: Advancing strategic eco communication for improving environmental brand and ESG assessment, we maintain ongoing dialogue with institutional investors and ESG assessment organizations as well as actively disclose pertinent information via our sustainability reports, integrated reports, website, and other outreach channels. This work was recognized with a bronze award in the environmentally sustainable enterprise category at the Second ESG Finance Awards Japan.
And finally, let's consider Key Policy 5: Enhancing integrated environmental management within the Group and globally for advancing environmental management. On the belief that human resources capable of running the company in an environmentally sound and responsible manager are essential to our future, we encourage employees to qualify under Japan's Eco Kentei environment and social certification program. We have met our target for this indicator, too, with 11,818 employees having passed the requisite examination to date.
Moving forward, we at the Daiwa House Group will contribute to bringing about a sustainable society, working towards the goals set forth in our long-term environmental vision while continuing the ongoing challenge of squaring environmental stewardship and profitability.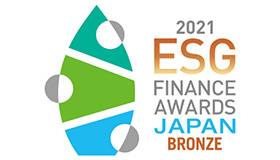 The Company received a bronze award in the environmentally sustainable enterprise category at the Second ESG Finance Awards Japan