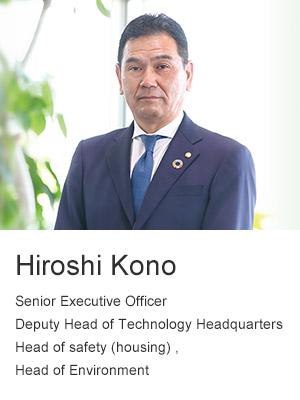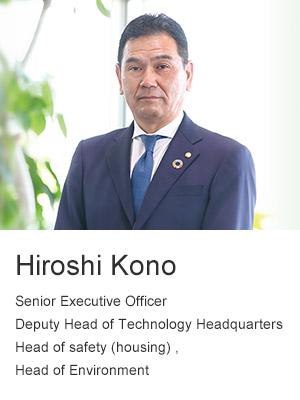 Commitment from the Executive Officer in Charge


Taking up the challenge of carbon neutrality for safer communities

Providing safe and secure buildings is an important mission for Daiwa House Group, which constructs housing and other buildings of all sizes fit for diverse purposes. In this context, it is important for us to strive to protect the joys of life enjoyed by those who live in and use those. The construction industry must always work to protect the community. It is to fulfill this responsibility that we are actively working to tackle climate change. Today, natural disasters are growing in frequency and intensity on a global scale, and the idea of protecting the environment is essential to protecting the lives of each and every individual. To that end, we formulated our long-term vision for the environment, Challenge ZERO 2055, as our ultimate goal. In that vision, we have positioned mitigating and adapting to climate change as one of our key management issues, with the aim of achieving carbon neutrality in 2050. At the same time, we have set a milestone of reducing greenhouse gas (GHG) emissions throughout our value chain by 40% (compared to fiscal 2015 levels) by 2030. Backcasting from the long-term target, we formulated Endless Green Program 2026, a detailed plan of what we need to do now to ensure we achieve the target. In the coming paragraphs, I explain the plan's five essential points for moving forward our environmental initiatives as a unified group.

The first point is carbon neutrality in community development. We will work to achieve a ZEH rate of 90%, a ZEH-M rate of 50%, and a ZEB rate of 60% in fiscal 2026, with the target that, by 2030, all our buildings will be ZEH/ZEB*1 and all newly constructed buildings will, in principle, be equipped with solar roof panels. Naturally, some customers will want to avoid installing solar panels because of the initial costs. In those cases, we will offer a plan in which we will install the solar panels instead of the customer, and the customer will use the renewable electricity that is generated from those panels. In this way, we will aim for carbon neutrality in community development by flexibly proposing different methods.

The second point is carbon neutrality in our business operations. In addition to making all of our newly constructed buildings ZEB as a matter of principle, we will aim to achieve RE100 (100% renewable energy utilization rate) in fiscal 2023, 17 years ahead of our initial schedule. This is the fastest target in the industry. Our Group's training facility, the Daiwa House Group MIRAI KACHI KYOSO Center (Kotokurie), which opened in 2021, embodies our will to be carbon neutral. In addition to saving energy through the implementation of such advanced technologies as an aquifer thermal energy storage system, which uses underground water for the building's air conditioning, it uses renewable energy drawn from solar panels and solar thermal collector panels to achieve ZEB-Ready status. And the center's operations are also powered with 100% renewable electricity. Furthermore, the center has obtained five certifications, including two international environmental certifications, LEED and SITES.

We recognize that the two points introduced above are the most crucial ones of our decarbonization plan, and we are determined to achieve them.

*1 An abbreviation for Net Zero Energy House and Net Zero Energy Building, respectively, referring to a house or building whose net energy consumption is essentially zero or negative.
Migration plan for reducing GHG emissions (by scope) on the road to carbon neutrality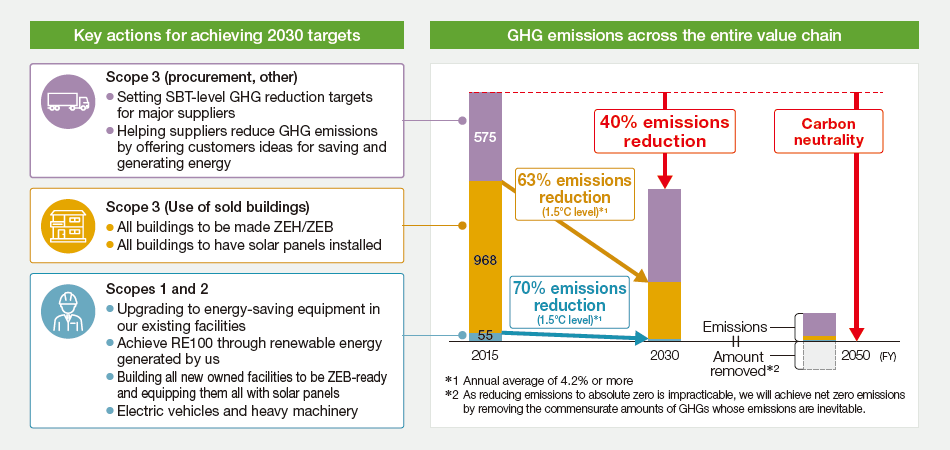 Our next challenge: How to share our goals with our suppliers
The third of our five essential points is to strive for a more-resilient supply chain, with the environment as our starting point. Previously we have worked with our suppliers to achieve collaboration in delivery, quality, and price; going forward, we must also include an environmental perspective. We will further this effort by sharing our policies on carbon neutrality, zero deforestation, and zero emissions with suppliers. Of course, working to improve environmental issues will require a review of our existing operations, and this will also place a burden on our suppliers. We understand that it is not easy to share these high targets and move forward amid different financial conditions on each side, but environmental concerns are of immediate importance. This is a rather challenging point, so we intend to lead the way by providing support through measures such as convening a carbon-free working group and proceeding with improvements gradually.
The fourth point is that we aim to expand our environmental contribution businesses in order to strengthen our initiatives aimed at meeting the expectations of society and our stakeholders. Specifically, in addition to increasing the number of ZEHs and ZEBs, we will drive order growth for renewable energy power-generating facilities and push forward with next-generation community development projects, such as the Ko"Re"kara City Project, which aims to achieve communities using 100% renewable energy. We will also continue to accelerate these activities going forward. The fifth point is that we are establishing the foundations of environmental management and implementing education to improve our employees' environmental literacy. Our employees drive our day-to-day business operations. As such, if they understand what it is they must do so that corporate profitability can coexist with environmental sustainability, this will change the proposals that they make to customers in the course of day-to-day business, and the effectiveness of our plans will improve even more.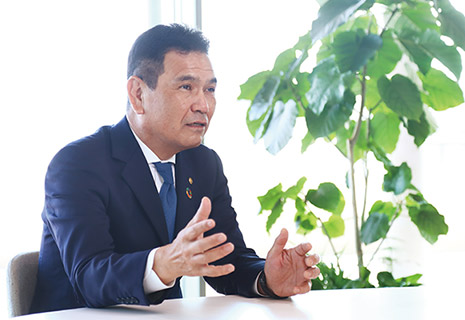 Simultaneously resolving challenges facing the construction industry and addressing global environmental concerns
As a leading company in the construction industry, our Group has been proactively pressing forward with DX (digital transformation) to enhance the productivity of operations from the perspective of solving the serious challenges the construction sector faces, which include the aging of engineers and the shift of young people away from the industry. Going forward, we will seek synergies from combining DX and GX (green transformation), the latter of which is designed to bring about both economic growth and improvements on the environmental front. The establishment of our Smart Control Centers is an example of that. Traditionally, during housing construction, managers would frequently visit construction sites, spending some 30% of their work time travelling back and forth. Naturally, such travel entails using fuel, meaning GHGs are emitted. Establishing Smart Control Centers that enable management without the need to travel to the construction sites has resulted in improved operations and increased efficiency as well as reduced environmental impact. We currently have 12 Smart Control Centers across Japan and are also working on the industrialization of materials. We are attempting to reduce GHG emissions while also reducing workloads on construction sites by prefabricating house and building components in well-equipped factories. We have just completed a proof-of-concept demonstration of our process and now aim to roll it out gradually. In this way, we feel that improvements are even more significant when DX and GX are undertaken in tandem, an approach that has given us an even stronger push forward. Another important initiative is our plan to visualize GHG emissions by material in our BIM*2, which we use to integrate and manage construction information. This will enable us to propose to customers ideas how much GHG emissions can be reduced by according to which materials are used to build, which may drive the selection of materials with low GHG emissions. This is something that, traditionally, has been difficult to achieve. If we can pull it off, it will lead to a change in the mindset of companies that produce materials, further accelerating the transition to a carbon-free society. The number of materials input into the system is still insufficient to make this an effective measure, but we will continue to examine the effort's future viability.
*2 Abbreviation for Building Information Modelling, referring to a digitalized 3D model with building information added. It is a method of utilizing building information accumulated across the entire lifecycle of a building, from design to construction and management.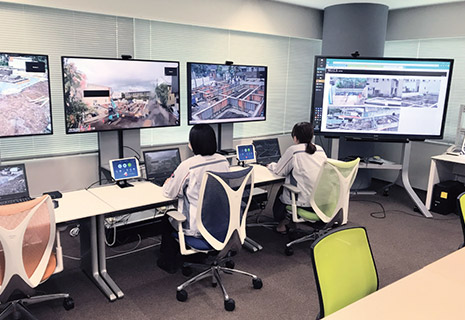 Inside a Smart Control Center
Giving every employee a sense of purpose to improve even more
Our efforts in 2022 and beyond look set to be even further enhanced by the strengths of each of our employees. In 2021, there was a company-wide project in which we had the opportunity to think about Our Hopes for the Future together with many employees and external stakeholders. I personally believe that this was a very meaningful project. The project was an opportunity for each employee to paint a concrete picture of their purpose, ahead of that of the company, by thinking about the kind of future that they want and how they would be involved in society in order to realize that future. Since people change their behavior when they determine their own objectives, we can expect that this will increase their motivation to tackle the challenges they face on a daily basis, which will jump start our organization as a whole. Such a willingness on the part of each employee is crucial to implementing any plan to overcome the challenges faced by the construction industry and to solve environmental issues. Going forward, we will continue to push forward emphatically toward achieving our targets, with our Group united in our enthusiasm for the future.