Proper Communication with Customers
Concept and Policy
The Daiwa House Group engages in business activities aiming to win the trust and esteem of its customers. Our executives and regular employees are all instilled with the idea of putting one's fullest effort into the most ordinary tasks, which we do for our customers as a corporate approach.
We also go one step beyond "putting the customer first" to "putting each individual first," a code of conduct to ensure that we look at things from the perspective of each customer. This approach of responding to the detailed requests of each individual customer is a feature of this company, which was built on single-family housing design and construction. We apply the approach equally to the construction of large-scale commercial facilities and distribution facilities.
To see things from the vantage point of each customer, good communication is crucial. Our stance is to always be honest and frank with customers, demonstrating "communication with integrity" premised on the protection of personal information (privacy) and based on our Principles of Corporate Ethics and Code of Conduct. We will do everything possible to uphold our promises and respond quickly and in good faith to all requests.
Proper communication with customers is the basis for building relationships of trust. In the three quality aspects (quality of products, employees, and operations), we pursue improvement through all business activities, aiming to satisfy customers' expectations and to promote customer satisfaction.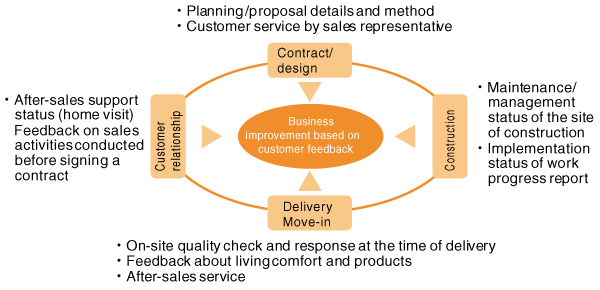 Management
Systems for enhancing three qualities
With respect to the three qualities, first, we believe that final satisfaction is achieved by providing product quality that exceeds customers' performance requirements. We therefore analyze input from customers at the CS Promotion Department and share the results with all related departments in pursuit of improvement.
「As for employee quality, we have faith that a strong group forms when individuals come together at a high level. Customer requests vary from person to person, and it is critical that our employees have flexible skills to answer requests on the spot. We work hard to develop those skills through on-the-job and off-the-job training.
To achieve operations quality, it is important for all employees to grasp basic practices and rules. It is essential that all employees share with each other the proper way of doing their jobs for all to understand. The implementation of the plan-do-check-act (PDCA) cycle is also vital for further improving operations.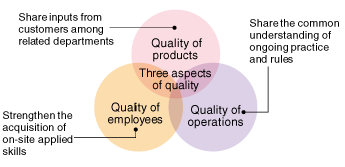 CS Promotional System
To ensure that customer feedback drives improvement in products and services, customer satisfaction committees have been set up at the head office and all worksites, tasked with sharing examples of customer feedback (objective statistics and "direct feedback") and implementing the PDCA cycle for initiatives through monthly meetings. Proposals for improvements based on customer feedback, as well as confirmations of progress, are carried out by a liaison council for the Product Development Department and liaison council for the construction segment. We have thus established a system that allows each worksite to share specific measures, while a rapid response is possible when groupwide decisions need to be made.
Previously a single department had been taking care of matters related to both customer satisfaction and quality. To further boost customer satisfaction, in fiscal 2014 we improved the system by splitting the functions between the Customer Satisfaction (CS) Division and the Quality Assurance Department. Now, customer feedback and quality data can be used on a regular basis to promote improvements based on the customer's perspective.
Promoting improvement activities through CS committees