Work-Life Balance
To meet the goals of our mid-term management plan, we must secure human resources and provide adequate training, and we feel it is essential to promote a work-life balance that enables diverse methods of working.
So then, we must help our employees attain fulfillment in work as well as life, regardless of gender, and help them attain their full potential through new ideas. In order to support continuous growth among our employees, we're working to efficiently utilize our diverse human resources through a flexible personal system drawn up in our 4th mid-term management plan.
Support through comprehensive programs
Thanks to a variety of comprehensive programs, the average number of years our female employees have continued working for us increased from 7.8 years in late March 2006, to 9.4 years as of April 1, 2015. The difference compared to our male employees dropped approximately one year from a 6.3-year difference to a 5.6-year one.
In 2015, we started a child-care and career support program (a dual-pronged system providing support to both child-care and career building activities), using work hour exemptions to significantly alter our policy on career building support.
Support programs for child-care (examples)
Lump-Sum Payment System for Raising the Next Generation: A program providing 1 million yen of support per child
Child-care Leave: A program providing vacation time to care for children up to 3 years old
Reduced Work Hours for Childbirth/Child care: A program providing a reduction in work hours to care for children up to 3rd grade elementary school age.
Family Nursing Leave: A program offering up to 5 days per year for taking care of ill family members, including children, spouse, parents, grandparents, spouse's parents, or spouse's grandparents
Hello Daddy Vacation: A program providing 5 days of continuous vacation time for male employees, starting on the day of their child's birth.
Child-care and Career Support: Provides information for early return to work, staggered work hours to secure employment, and usage assistance for child-care/child-care facilities, babysitting, etc.
Re-employment Priority Opportunity: This program gives priority to employees who had to quit due to life events, so that they can be recruited first if any new openings are available that they are interested in.
Other systems available through the Work-Life Balance Promotion (examples)
Paid Leave Accumulation: A program allowing employees to accumulate up to 100 limited paid vacation days provided by law and to use them as desired.
Paid Leave by the Hour: A program allowing employees to use their annual paid leave in hourly units.
Home Holiday: A program allowing employees to periodically get annual paid leave for family service, personal refreshment, self-improvement, etc.
Nursing Care Leave: A program which considers both care and work, allowing employees to get as much care leave as possible before grounds for ending are provided.
Parental Care Support: A program providing monetary support for employees who need to travel long distances to return home and take care of an ailing parent. The system covers travel costs, but is limited to four times a year.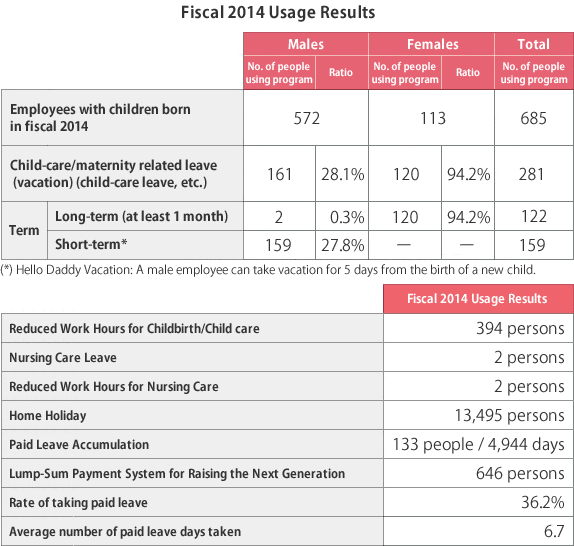 Support Program for Returning to Work from Child-care Leave
Interviews are performed between supervisor and employee for thorough communication, and a smooth transition back to work from childcare leave.
Getting the supervisor to understand the work/life balance concept is key to avoiding any discomfort for the employee regarding leave of absence and return to work. We are promoting a workplace environment in which both childcare and work are considered when employees return to work from childcare leave.

Efforts to promote male childcare participation
In order to promote male participation in childcare, we implemented the "Hello Daddy System" in 2007, allowing male employees to take 5 successive days of vacation from the birth of their new child. Allowing the male employee ample time to be present at childbirth, support his wife while being discharged from the hospital, etc. can lead to opportunities for him to participate in child rearing.
Also, by including examples of male employees participating in both work and childcare in our Handbook of Positive Action for Workforce Diversity, as well as the company Intranet, we are hoping to establish a business climate in which males can deal with both work and child-rearing activities.
Efforts to improve work methods and productivity
As a way to improve work methods, while also promoting work-life balance regardless of gender, we are working to drastically reduce the number of long work hours. Steps to achieve this include a goal of keeping average overtime hours within 75 hours per quarter, and to get over 75% of employees to take Home Holiday vacations as planned annual paid leave.
Since 2004, we've been working to reduce long hours by promoting a clear understanding of the situation for each employee. Efforts include implementation of a lockout of office, efforts to reduce long hours for each employee through detailed means, efforts to "visualize" the overtime situation, warning messages posted on the computers of those working longer than usual hours, strict requirements of advance application for overtime, direct office visits by Human Resourses department, and employee interviews to increase understanding.
Also, since 2015 we've been taking independent efforts to reduce long hours by enforcing strict company standards, through a penalty-based system within office performance evaluations. Those who exceed 80 hours of overtime in a month must meet with the industrial physician for interview, and those who exceed 100 hours of overtime in a month must meet with a company officer for interview. Other efforts include Human Resourses Department lockouts, and surprise inspections.
In order to bring about work methods that transcend time or place, we implemented mobile attendance management in 2008 to keep track of telecommuting for outside employees, and we've been experimenting with work-from-home employment for office workers since 2014.
Through these efforts, average annual work hours for 2014 were 2,272 - a 43-hour reduction compared to the previous year, with annual overtime hours per employee at 422 - a 41-hour reduction compared to the previous year. The percentage of employees taking paid leave was at 36.2%, a 2% increase from the previous year.
And to further increase productivity through an improvement in work methods, we've included "productivity per individual hour" as a topic in office performance evaluations since 2014, moving forward with our reformation of the business climate.
We've been certified with "Kurumin": the Next Generation Development Mark
We are working to create an environment that is easy for our employees to work in, formulating and carrying out plans of action such as "Balance between work and family life" and "Bringing about diverse work methods" based on the Law for Measures to Support the Development of the Next Generation. As a result, we have been certified as a enterprises lending support to child rearing, based on the Law for Measures to Support the Development of the Next Generation, allowing us to acquire "Kurumin": the Next Generation Development Mark in 2008 and 2013.
* The "Law for Measures to Support the Development of the Next Generation" was passed in 2005, as a way for the country, local governments and organizations, enterprises, etc. to join together to create an environment where the next generation of children can be born and raised healthy.