Developing Human Resources
Concept and Policy
As stated in its Company Philosophy (Corporate Creed), the Daiwa House Group aims to "develop people through business." We believe that human resources are the Group's greatest assets. In addition to the above, our Principles of Corporate Ethics and Code of Conduct emphasizes the development of human resources, and nourishes a corporate culture where we pursue human resource development in a medium- and long-term perspective, and where each individual plans their own growth and improves themselves.
We also believe that it is critical for the sustainable growth of businesses to inherit our founder's spirit. Based on the founder's counsel to "reflect on what businesses and products will be useful to people and that will make them happy," we anticipate the needs of the times and train people to be bold in taking on challenges and not be constricted by preconceived notions. We want them to thoroughly execute their ordinary work duties, which is the meaning of "being complete in small things."
Toward this goal, we provide various types of training combining OJT and Off-JT, and believe in having people learn by doing. We feel that hands-on training helps individuals to develop and use their abilities and unique talents, which ultimately allows them to make useful contributions to society.
In coming years, we will recruit and develop company executives who have a global mindset, toward the further globalization of businesses. Proactive measures will also be taken to establish systems that enable the development of locally hired employees at overseas offices, and their promotion to global employees. Taking into account the 100th anniversary of foundation, we will continue to further instill the founder's spirit, thereby retaining and developing next-generation employees, and recruiting and developing talented individuals to become managers.
Management
Through management that links human resource development with evaluation systems, we periodically confirm progress in human resource development, and facilitate the further growth of employees. Questionnaire surveys are conducted among participants in training. The effects of education and training, as well as points to be improved, are identified through the survey results, and improvements are made in education and training through the PDCA (Plan - Do - Check - Act) cycle.
Some numerical targets concerning human resource development are specified and published as part of the CSR Self-Assessment Indices.
OJT and Off-JT
For human resource development, OJT and Off-JT are effectively combined in the education and training systems. OJT is aimed at helping employees acquire practical skills through work at individual workplaces. OJT is linked with evaluation systems, thereby enhancing the effect of development for employees in all ranks. In particular, an "OJT Elder" system is established for new recruits, thereby clarifying persons in charge of training recruits and supporting the training system on an organizational basis.
As Off-JT, grade-specific training is implemented in order to develop the spirit of autonomy in employees. To this end, participants in the specific courses are openly invited.
General image of grade-specific Off-JT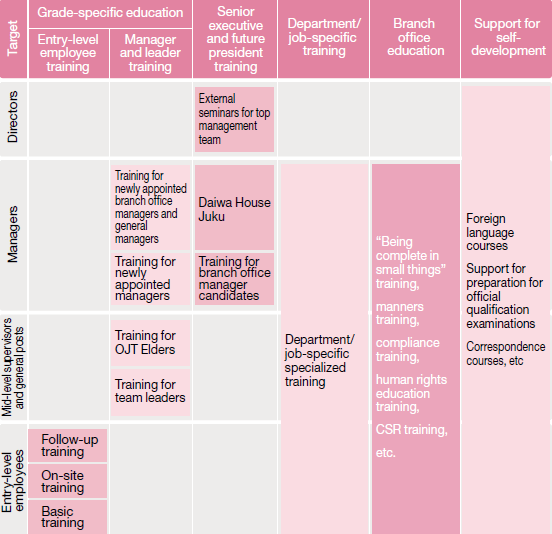 Linkage with evaluation systems
To facilitate the further development of human resources, gradespecific evaluation systems are implemented under management by the Human Resources Department. Through management that links human resource development with evaluation systems, we periodically confirm progress in human resource development, and facilitate the further growth of employees. The Human Resources Department continuously operates and improves the evaluation systems, thereby promoting human resource development by managers.
In the evaluation management system targeted at chiefs and regular employees, the superior has an interview with each subordinate at least once every quarter, and provides inputs whether the subordinate is exercising his/her abilities. The superior and the subordinate also share the common recognition about points for development, thereby promoting the further growth of the subordinate. The evaluation results of a subordinate by the superior can be confirmed by the subordinate him/herself, so that abilities required at work can be clearly identified.
In the target management system aimed at managers, target setting and appraisals are periodically conducted through interviews with the higher superior, thereby facilitating the achievement of organizational targets, and encouraging the further growth of managers.

For enhancing the effect of education and training
We hold an HR development liaison council meeting every month, aiming at the sustainable enhancement of education and training. The Human Resources Training Center, the primarily responsible department for education and training, takes the leadership in this meeting, where training details and methods are shared, and desirable pedagogy to enhance the personality and capabilities of employees are discussed, with training representatives from individual divisions.
Similarly, information is periodically exchanged with training representatives from individual Group companies, in order to promote human resource development.
Career counseling
We have established career counseling functions and systems in order to avoid personnel mismatches, where the skills that employees have acquired do not efficiently match their workplaces or careers. In addition to a system where employees can state their own ideas about career development, we establish and operate a system for periodic surveys to identify the technical skills of employees, and a system for employees in the accounting department to report their accounting skills, among other systems.
Major efforts
HR development through OJT
OJT Elders
Managers (sales office managers, section managers, and other line supervisors) are responsible for providing on-the-job training in our system that is designed to train and support new employees throughout the organization. OJT Elders assist managers and serve as leaders for carrying out on-the-job training for the entire organization. For them to become influential for new recruits, they need to have character, knowledge, and experience.
So, senior regular employees who are newly appointed as OJT Elders are asked to join a special training program for learning how to provide on-the-job training most effectively. They gain greater awareness of the training of new recruits and learn how to give guidance to and interact with new employees.
Training support patrol system
Staff from the Human Resources Training Center known as "round supporters" go around to each worksite to ensure that the OJT Elders system is functioning smoothly and that guidance and training is being provided consistently to new recruits. They provide support by interviewing such new employees and OJT Elders to check on how well the new employees are progressing and how their training and education are developing.
Off-JT HR development
〈Entry-level employee training〉
New employee training
The first year for new recruits is viewed as an important period during which the foundation is built of their new chapter in life, not only as working adults but also as Daiwa House Industry employees. Therefore, the new recruits undergo an annual educational program following a preplanned curriculum. Following basic training of about one week, new recruits are assigned to their respective departments. Not only employees in construction-related posts but all employees in all job descriptions, from design to sales and administration, receive practical on-site training. In this manner, they acquire specialized knowledge about manufacturing and building construction through firsthand experience. After this, a training program is carried out roughly every three months. The new employees acquire practically applicable knowledge and skills, and their levels of assimilation are checked from time to time.
In July 2007, the company introduces a standardized qualifying examination (Di-Q Examination*) which tests employees' practical abilities against target levels that are required of the employees to operate as professionals.
* Di-Q Examination: An in-house examination that tests the practical skills that employees need for their respective posts to confirm their level of skill acquisition.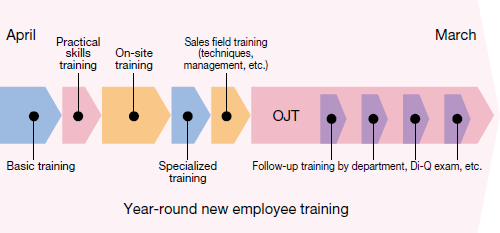 Summary of training programs
Target
Aim
OJT training
All positions
The acquisition of practical skills by learning how to view things and how to act on a fundamental level as working members of society
On-site training
(nationwide employees only)
Sales
To give even new salespeople a realistic feel for and the confidence to explain buildings by having them visit construction sites and production sites
Engineering
To train engineers to be proficient in manufacturing by showing them the construction process from production to construction—start to finish—plus test runs
Managerial
To give managers a realistic understanding of the buildings we build and sell by showing them how our products are manufactured
Sales field training
(nationwide employees only)
Engineering, Managerial
To reinforce the importance of seeing things from the customer's point of view by providing the experience of a salesperson
Group training
All positions
To check on the understanding of basic principles and the level of learning at worksites
Training for mid-career recruits
Mid-career workers are given the chance to study the company's history, founding spirit, CSR measures, and so on to prepare them for their jobs, teaching them the company's approach and providing evaluation criteria for making decisions.
Manager and leader training
Training for newly appointed branch office managers and general managers
This training is for newly appointed branch office managers and departmental managers. It offers a chance to learn how to fulfill one's role, become better prepared, and acquire evaluation criteria for making decisions that can be applied on the job.
Training for newly appointed managers
Newly appointed line managers (office managers, section managers, group leaders, office leaders) and others are given this training to develop preparedness, leadership skills, practical knowledge and thinking skills to use in practice as persons in charge within the organization.
Training for team leaders〈 Optional〉
This training is for employees with juniors working under them in their section. The training offers a chance to learn methods for bringing out the best in subordinates so that the team can function most effectively, providing leadership and communication skills and tips, particularly with respect to training subordinates.
Senior executive and future president training
Training for branch office manager candidates
This training has been given since fiscal 2005, with the aim of developing candidates for branch office managers, plant managers, and others for upper-level management posts. An inhouse open call is put out to motivate people to rise to leadership positions and to discover talented individuals. At the end of fiscal 2016, a total of 451 people have completed this program.
Daiwa House Juku
Daiwa House Juku is a Groupwide training program for nextgeneration business leaders begun in May 2008. Its practical training in management skills involves drawing up strategies to address actual management issues. At the end of fiscal 2016, a total of 314 people have completed the program, among whom 103 have become company executives.
Manners training
"Being Complete in Small Things" and manner training
At Daiwa House Industry, we believe that the commitment of all employees in all workplaces to doing ordinary things, such as proper greetings and good manners, quite ordinarily is at the source of doing greater things and serving society through business operations.
Based on this idea, in July 2011, we commenced the "Being Complete in Small Things" and Manner Training Program that is carried out at each branch office with all member participation, including the branch office manager and other executives. For this program, staff from the company's Human Resources Training Center serve as instructors.