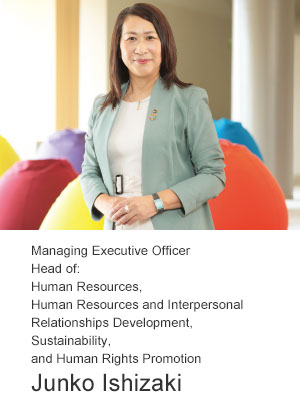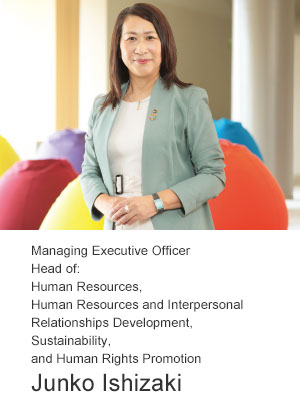 What has changed (and what has not) due to COVID-19
The COVID-19 pandemic sparked dramatic changes in society. One example is the dissemination of online conferencing tools as a substitute when face-to-face communication was suspended to suppress spread of the infection. Our Group's main point of contact with customers shifted from real to virtual space, and we interviewed potential recruits remotely for the first time using tablets. These exemplify the pandemicinspired paradigm shift taking place in society.
Thanks to ongoing diversification, the impact of COVID-19 on the Group's performance was comparatively light as other businesses made up for those adversely affected by the pandemic. Our Group's philosophy is rooted in the spirit of its founder: Be of service to society. Though our communication methods may change, the essential elements of our actions do not. Having an unshakeable core in the midst of change is our Group's strength, much like the master Basho's ideal of haiku: fueki ryūkō("immutable yet transient"). Precisely because we live in an era of rapid change, we need to carry on with our essential principles while embracing new developments.
Work style reform progresses amid pandemic
Work style reform is one example of adapting to change. We made preparations at an early stage to adopt teleworking, primarily in our business worksites in Tokyo's 23 wards, as our Group's contribution to easing congestion during the Tokyo Olympics. Thanks to this, during the first wave of the coronavirus outbreak in April 2020, we were able to close all domestic branch offices and swiftly switch to teleworking. This was not just a temporary COVID countermeasure. In September 2020, we launched a telework promotion project with the aim of elevating it to permanent work style reform as an element of sustainable growth.
The project does not entail merely changing work locations. We aim at maximizing results including productivity by promoting change internally around the following concepts: flexible work schedules, self-driven, efficient work styles, creative internal collaboration, and assigning the right people to the right roles. We are also reforming "hard" elements—for example, adopting a hot desk system with implementation targets depending on circumstances: 100% in emergencies and 50% during normal times. We intend to spend the three and a half years until the end of fiscal 2023 putting these arrangements in place.
One concern is damage to communication between supervisors and subordinates if our organization cannot guarantee psychological safety, and evaluations may suffer unfairly as employees' work is not readily apparent, reducing productivity and motivation. To avoid such situations, we are introducing one-on-one meetings to encourage dialogue between supervisors and subordinates and reviewing the evaluation system. We have implemented one-on-one meetings on a trial basis in some branch offices, with positive feedback so far, and plan to roll them out fully in the second half of fiscal 2021.
We also adopted flextime arrangements, which are highly compatible with teleworking, in April 2021. Employees set their own daily work hours, with no predetermined core hours, enabling flexible work styles. The attendance management system has also changed, with no major initial disruptions. We plan to refine the system quarter by quarter based on employee feedback. We want each and every employee to think for themselves how to work efficiently and productively, with the goal of independent, proactive work styles.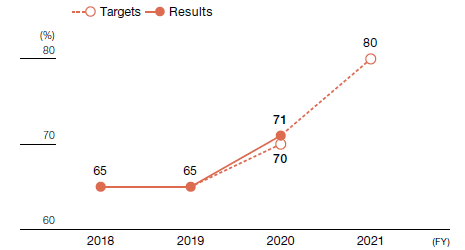 Improvement in "motivation"
Building systems and training personnel to carry forward the company into the next generation
Unrelated to the pandemic, our Group has long been aware of a longer term issue—developing talented individuals to become toplevel managers. As the Group has expanded in scope, it became inappropriate for a charismatic manager such as our founder, Nobuo Ishibashi, to lead it alone. A priority issue is how to hand it over to the next generation. From the viewpoint of enhancing governance and work execution and to foster sustainable growth going forward, it became necessary to double track the organization.
We thus adopted a business division-based system in fiscal 2021. Under the previous organizational structure, responsibilities of individual division heads tended to be unclear. Now, the division heads are responsible for all business resources—people, products, capital, and information. We aim to be able to function without a charismatic leader by delegating responsibility and authority to individual business divisions, which helps keep division heads on their toes.
We have also started implementing a succession plan to nurture the next generation of top-level managers. As a first step, the D-Succeed succession plan launched in fiscal 2020 produced six branch office heads and one affiliate president. The appetite of the target generation is also increasing, as the latest plan is vastly different from the previous training program for recruiting and training operating site managers, which did not always succeed in developing the requisite personnel. In light of these results, in fiscal 2021 we will develop a succession plan for directors, executive officers, and general managers at the head office. We also plan to overhaul the Daiwa House Juku management training classes we have been running since 2008 for senior executive and future president training as a succession plan, and relaunch it as New Daiwa House Juku management training classes from fiscal 2022.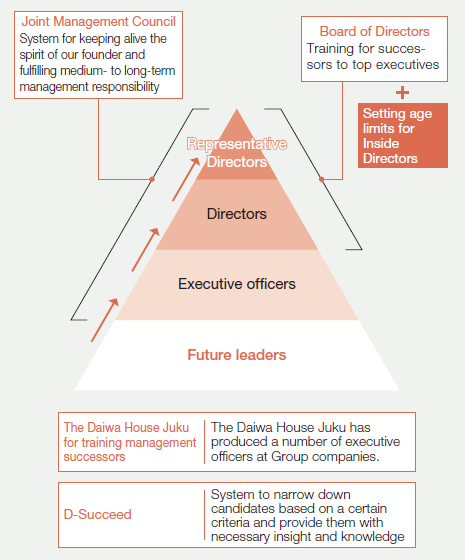 Co-creation of diverse human resources who can discover and solve issues
We focus on developing all of our employees, not just top-level managers. Simply put, Our Group is looking for diverse human resources with a view to future growth. However, we do not think simply gathering such people is sufficient. We are looking for those with superior ability to uncover issues and who can envision the future of the company and themselves.
A prime example was our founder, Nobuo Ishibashi, who used his unique perspective to identify potential social issues and developed numerous ideas useful to society. These days, amid increasingly diverse and complex social issues and people's needs, homogenous human resources skilled at solving given issues are no longer enough for a company to survive. It requires a sense of what an issue is and ability to see things from a variety of perspectives to uncover issues. Rather than hiring personnel with diverse values and training them with a uniform approach, we are striving to empower each and every one to bring their individuality to the fore.
One initiative is our new training facility, the Daiwa House Group MIRAI KACHI KYOSO Center, which will open this autumn in Nara Prefecture. Our Group plans to open it up to diverse stakeholders including local residents and our employees in Japan and overseas, in line with our corporate stance, Co-Creating a Brighter Future, which overlaps with some of the UN's SDGs. Providing opportunities to experience various values has the potential to create new businesses. When looking into training options, we asked employees what they would like to try at this facility, and they gave us roughly 330 ideas. Given the response from within the company alone, we expect to be able to create something unique and beyond our expectations. We see the facility as a venue for mutual learning through value co-creation with our stakeholders rather than just a training center.
Creating a workplace where all can find value in how they live
Our founder, Nobuo Ishibashi, listed "developing people through business" as the first statement in the Daiwa House Corporate Creed. The active participation and growth of each individual employee underpin the company's sustainable growth. Work style reform that enables them to feel rewarded and happy is a permanent priority issue for our Group.
Generally, feeling rewarded at work depends on whether or not there is a sense of satisfaction or engagement. To this end, we must evaluate each and every employee fairly and treat them in line with their evaluation. Employees must also be able to see a brighter future for the company and themselves. The company's role is to provide appropriate evaluation and treatment and career advancement systems. Running a business that employees find rewarding by contributing to society through work is a duty of the management team.
The company asks that employees enhance their motivation autonomously by envisioning the future of Daiwa House and themselves. Rather than using the company's systems to make work easier, we hope they will be motivated to choose work styles that allow them to make the most of their abilities and move toward their vision of the future. There are sayings along the lines of "time is life" and "the way you work is the way you live." Work style reform must not be reform of the way the company makes employees work. Our aim is to create employee-driven workplaces where each individual can find value in how they live through work, which will lead to maximum results from them and sustainable growth for the company.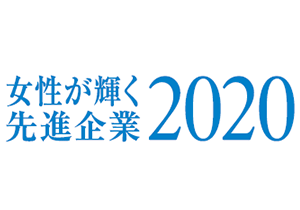 Received the Minister of State
for Gender Equality's Award
as part of the FY2020 Awards for
Leading Companies for Working Women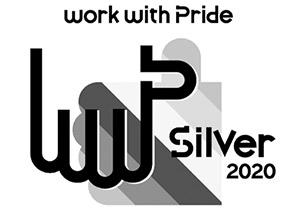 Received Silver at PRIDE Index 2020
developed by work with Pride (wwP)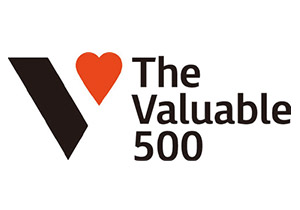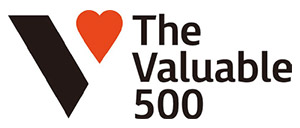 Joined The Valuable 500,
an international initiative
to promote disability inclusion