Social contributions through our business activities

Proposing medical and nursing care facilities that meet new standards which are needed in this super-aging society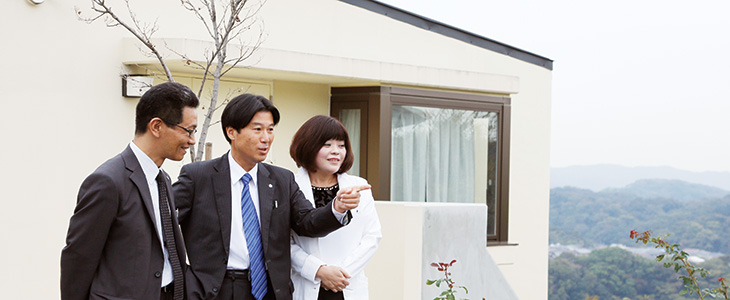 Functionalization of medical institutions
One of the issues of the medical system in Japan is the inadequacy of functional differentiation of its medical institutions. When receiving hospital treatment, patients in the acute stages of their illness are mixed together with patients requiring long-term treatment. There are also few medical workers per hospital floor despite the fact that Japan has many hospital beds in relation to its population. Therefore, overall medical care is generally spread out in a manner that is broad but thin. As for outpatient care, people tend to flock to major hospitals, causing long wait times and other obstacles.
In this situation, what is required is to promote the functional differentiation of medical institutions, and to build a system that can provide high quality medical care that is appropriate to the needs of each and every patient in an effective and efficient manner.
Promoting comprehensive care that works closely with the local community
With the advent of the super-aging society, an urgent issue is to develop an environment where people can live out their lives in a way that fits their lifestyle, in the local community where they are familiar with, even when they come under severe need for nursing care. In this situation the Ministry of Health, Labour and Welfare is taking the initiative in developing a comprehensive support and service system (Community- Based Integrated Care System) that provides residence, medical care, nursing care, preventative care, and living support to the local community by the year 2025, when the current baby boom generation numbering approximately 8 million reaches the age of 75 or above.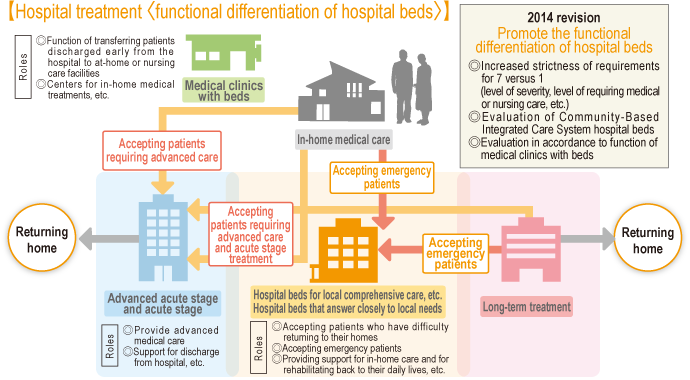 Daiwa House Industry believes that medical and nursing care facilities are a place for exercising our human activities as well as a place for our livelihood. As such, in order to realize a residential environment where the aged people can live their retirement years with a sense of peace and security, the company established a specialized research institute called the Silver Age Research Center as early as 1989. Since then, further research has been conducted based on the philosophy and concept that, in particular with regards to nursing care facilities, the building itself is an integral part of nursing care. The results of such research have been put to use in the planning and development of various medical and nursing care facilities.
Answering the changes to medical treatment costs in 2014
The Ministry of Health, Labour and Welfare revises the medical treatment costs every two years, and encourages medical institutions to realize functional differentiation. We provide appropriate advice to various medical institutions to help them to ascertain the approach that they wish to take and enable them to take early action toward achieving Japan's 2025 model.
Meeting new facility standards that promote functional differentiation of hospital beds
With the revision of medical costs, a new facility standard has been established in accordance to the new categorization of hospital beds. Thus, this new standard will be enforced when expanding or renovating a facility. We provide a flexible design plan that is prepared for future changes in the standards.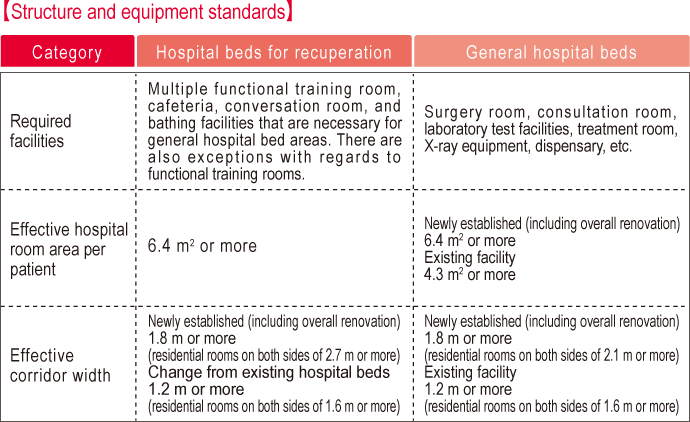 [Basic policy] We provide products and services that answer various views that are currently being conferred on medical and nursing care facilities.
Our basic policy in our medical and nursing care business is to provide products and services that meet various needs arising from different perspectives in establishing new buildings, as well as for relocations and renovations, based on an in-depth understanding of the management issues being faced by the medical and nursing care facilities.
In the medical and nursing care facilities for the elderly, which is the area that we specialize in, we combine both theory and practice, and offer high quality business proposals that will be a benefit to society, led by the highly developed know-how that has been cultivated by our Silver Age Research Center.
Fulfilling the law promoting improvements to earthquake resistance
The revised law promoting improvements for earthquake resistance requires public buildings above a certain size to report its earthquake resistance level. Under this law, buildings that do not fulfill the earthquake resistance standards will have its name publicly announced. Therefore, many hospitals have an urgent need to meet the requirements of this law.
Maintaining safety and security
Hospitals are strongly required to be in function in times of disaster. Thus, such buildings need to be prepared for earthquakes, and also have a pressing need to review its emergency power generation capacity and the storage of food and water based on a BCP (Business Continuity Plan).
Providing a level of comfort
A major factor that comes into play when patients and medical staff choose the facility to visit or work in is the level of comfort provided by that facility. A building design that takes consideration toward providing pleasant atmospheres will also help improve the stability of the work force.
Consideration toward the environment
These days, medical and nursing care facilities are also required to pay considerations toward environmental concerns. Eco-friendly measures are required not only through efforts made in their business operations; a variety of initiatives to reduce environmental burden are also required to be made in the buildings as well.
Investment plan for the land and building
The situation surrounding medical and nursing care facilities differ for each facility, such as having difficulty in acquiring loans from banks, or being required to operate their business by lease. Thus, it is necessary to develop an appropriate investment plan for the land and building.
[Execution theme] We offer proposals for medical facilities that answer next-generational needs based on the provision of safety & security, comfort, environmental considerations, and commercialization support.
Dramatic changes are expected to continue in the future regarding the environment surrounding medical and nursing care facilities. In such an era, what is required to be the chosen medical and nursing care facility is an ability to respond to changes.
Our Group utilizes the rich experience and high research and investigative abilities held by the Silver Age Research Center that serves as a think tank, as well as our experience from having provided assistance to medical and nursing care facilities, in our quest to develop facilities that meet next-generational needs. We offer the D's SMART MEDICAL facilities built on the four concepts of safety & security, comfort, environmental considerations, and commercialization support based on an understanding of the mission and issues held by the medical and nursing care facilities.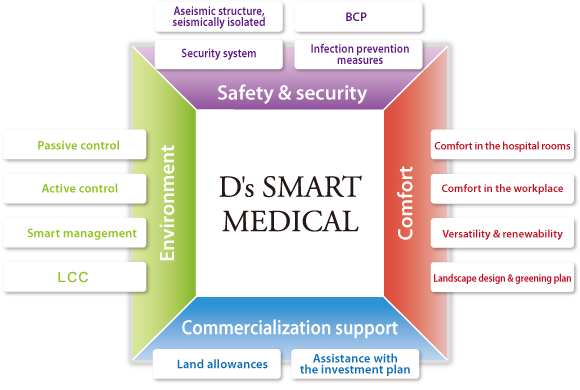 Effective preparations to provide safety & security in times of emergency

We offer proposals not only on ways to meet the needs for earthquake resistance that many hospitals face, but also a broad range of measures to prepare for safety and security from a broad perspective, including BCP measures, infection prevention measures, and security systems. The aim is to create hospitals that are both safe and secure not only during normal times, but also in times of emergency.
Providing a pleasant hospital environment for patients, and contributing to the level of satisfaction of the employees

We develop a pleasant hospital environment in order to be the chosen medical facility by the patients, and to improve recruitment of staff as well as to increase work force stability. The building is also designed with consideration toward versatility and renewability so that it will be able to adapt to future changes in the social environment.
Reduction of energy costs from a long-term perspective

We provide ways to cut energy costs and reduce the burden on the environment through the latest items on energy conservation, energy creation, and energy storage combined with smart management that have been developed from our efforts to build zero-energy-loss buildings.
Supporting investment plans for the land and building

We utilize our abundant information network to provide support toward commercialization that can only be provided by our Group, such as in suggesting appropriate sites for relocation or new constructions, proposing effective use of land after relocation, and business schemes utilizing medical type funds for those who do not have their own funds.

The Silver Age Research Center operates based on our company's DNA of placing importance on being closely involved with what is truly taking place at the actual site. The Research Center uses the know-how acquired from on-site experience combined with theoretic to provide effective and high quality business proposals to society. This is based on the philosophy of environmental considerations, safety & health, barrier-free, and energy conservation. The Research Center provides total support, from consultation to the opening of the facility, regarding the planning, operation, and funding of the medical and nursing care business with an understanding of the latest trends.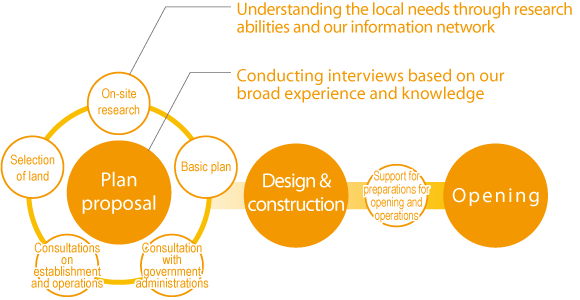 Case Study
Creating next generational medical facilities together with medical corporations by providing total support, from fund procurement to meeting changes in the design standards


Mental Hospital Mt. Kamakura, Mori & Umi Medical Institution(Kamakura City, Kanagawa Prefecture)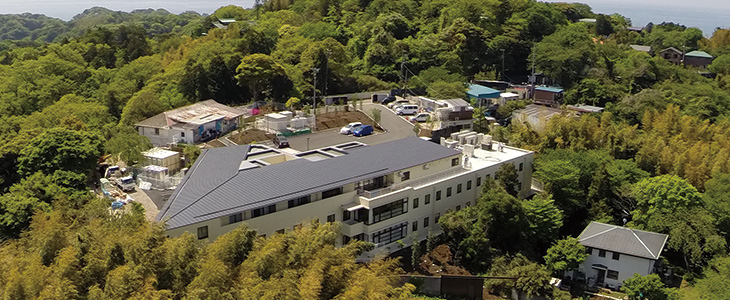 While many hospitals have an urgent need to strengthen their earthquake resistance capabilities and to adapt to next-generational medical developments, there is a significant concern on procuring funds for rebuilding because of the difficulty in getting hold of government subsidies and in acquiring loans through existing means. Mental Hospital Mt. Kamakura is one such medical institution that faced these problems. It became absolutely necessary to rebuild, since their building had deteriorated from aging. However, due to various reasons, they were unable to procure the necessary funds. Daiwa House Industry learned of this situation, and decided to use a fund specializing in developments as one method for supporting the business—a first attempt of its kind. The company not only became responsible for the construction of the building, but also provided overall support that included procuring funds and meeting the changes in design standards. As a result, this psychiatry hospital with a long history was able to step into a new existence as an advanced mental hospital that provides safe, reliable, and comfortable service that is indispensable to the local community.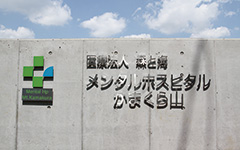 Mental Hospital Mt. Kamakura, Mori & Umi Medical Institution, was able to meet various medical needs of the future, such as the division of functions of the hospital beds, and contribute to the provision of comprehensive care to the local community.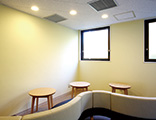 Rest spaces were created in various places along the corridors for patients who take walks within the hospital. The use of curved designs gives it a softened look.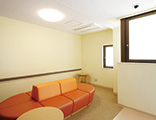 A sofa for taking rests is placed at the end of the hallway. It is placed away from the wall and designed with a curve, so that patients can move naturally on their walks circulating the hallway.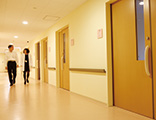 Calming color tones are used in common spaces such as hallways so that the patients can feel a sense of ease.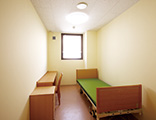 Hospital room that is simplistic, yet designed with care in the choice of colors. The room is created with careful consideration to give patients a sense of tranquility during their stay.
Rebuilding plan runs aground after the Great East Japan Earthquake Decision to utilize the healthcare & hospital fund
The Great East Japan Earthquake occurred on the day after the ground-breaking ceremony for rebuilding the Mental Hospital Mt. Kamakura. Their government subsidies were cancelled in order to concentrate on the earthquake recovery effort, and so the rebuilding project was also put on hold. The President and the Executive Director, who are a husband-and-wife team, found out about the development specialization-type healthcare & hospital fund, in which our company also invests, while they were trying to find some means of moving forward with their plan, and wished to utilize this fund. For our company, it was a highly unusual case of taking over an interrupted construction project. However, during the process of three-party meetings with the couple and the company which formed the fund, we empathized with their strong desire to contribute toward the local healthcare, and led us toward the decision to make the investment.
Difficult construction on a slope of a hill, while continuing to provide medical consultations at the old facility
Patients continued to be seen for medical consultations at the old building within the site, while construction was going on. What was originally a difficult project in itself, because the building was to be built on a hill, became an even more challenging project, as there were various restrictions in consideration toward the patients who were continuing to receive treatment. There was much pressure at the work site, every day. However, with extreme effort, we completed the building as scheduled in December 2013. The rebuilding project was completed without having to close the hospital for construction for even one day. And with the completion of the new Mental Hospital Mt. Kamakura, acquiring new workforce, which was once difficult, became much easier. The new facility has also helped to enhance the level of contribution to local healthcare needs through a strengthening in their system for treating dementia, among others.
Development specialization-type healthcare & hospital fund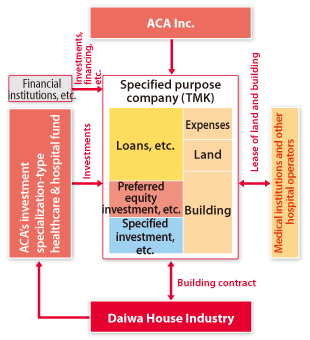 This is a fund specializing in development created by ACA Inc. It determines investments to hospitals based not only on the credit of its existing business and the value of its real estate security, but also places importance on the profitability of its business plan and its level of feasibility. ACA establishes a specified purpose company (TMK) for each case. TMK then receives investments from the said fund or from financial institutions and constructs the building that is desired by the hospital operator, which it then leases. Our company was contracted by TMK to construct this building.
Customer comment
The existence of total support that we strongly desire to promote toward medical institutions who aim to provide medical services toward the future
Daiwa House Industry decided to make the investment, after having acquired an understanding of our desire to conduct medical activities rooted to the local community with a focus on acute stage treatment, such as dementia treatment, and to enhance the provision of home visitation treatments. They also helped to create a system that allowed the construction company, with whom we first worked with, to be involved in this rebuilding project. They were well versed in medical and nursing care needs and dealt with everything with accuracy—so much so that we asked them to work as our consultant even after the building was completed. They also proposed building a new facility to better serve the local medical and nursing care needs in more depth. Now, they feel like a part of our family. This experience made me realize that in order to conduct business, it is important to not only follow your dreams, but to also incorporate the opinions of specialists. I truly wish to inform other medical institutions, who have visions for their future but are unable to implement them, of the existence of such a company that provides this level of support.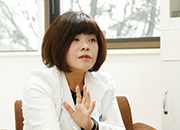 Mika Kuroda, Executive Director Mental Hospital Mt. Kamakura, Mori & Umi Medical Institution
Staff comment
Realization of a medical environment that provides value to the patients through enhanced pride and confidence
It is a difficult project to build an RC building with 2 floors underground and 1 floor above ground on a slope of a hill. This time, we also had the responsibility of first constructing the new hospital building, and then taking down the old building after everything had been moved into the new building, so that medical services would continue to be provided without missing even one day. There was only one narrow road on top of the hill, so we had to bring up the building materials by dividing it into small amounts, while also taking note of the hours when children would use the road to commute to their schools. We also encountered a problem in acquiring material and workforce from the construction company that had been maintaining a long-standing relationship with our customer and was providing their support in this construction project. Amidst these problems, the head of the work site took the lead in bringing everyone together to give their persistent efforts into this project, and as a result, succeeded in finishing all procedures within the scheduled time. Moving the patients to the new building also went smoothly, without any adverse effects from the change of environment. Rather, it made me truly happy to hear that the patients' conditions had actually become more stable since the move.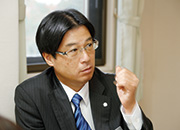 Hidetoshi Koie, General Manager Sales, Construction Business Division, Nagoya Branch (current)
Staff comment
Continuing to learn, and learning together. Hoping to further enhance the service-side in providing support to the hospitals
Hospitals have a large social mission, and so their rebuilding project is also important for the society. However, there are almost no investors who are versed in hospital business management, and there are hardly any examples of funds that provide support. In this situation, we at the Silver Age Research Center began by convincing the people within our company about this project, and managed to bring about this fund to provide support for its rebuilding. This in itself is a know-how that other companies do not possess. This particular project was a first of its kind, and it also coincided with an unusual situation of taking over an interrupted construction, so we faced continuous and multiple difficulties. However, we were able to establish a scheme with a development specialization-type fund to provide support for the hospital. In the future, I will continue to hold discussions with doctors to further my own learning, and also to learn together with those around me. I hope to provide enhanced support, not only through such funds, but also in the service side, so that there will be more new discoveries for our doctors.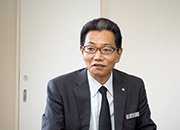 Akihisa Tomariguchi, Manager Construction Promotion Group, Sales Management Division Silver Age Research Center