Co-creating a brighter future with stakeholders

Development of a work environment that can make the most of diverse human resources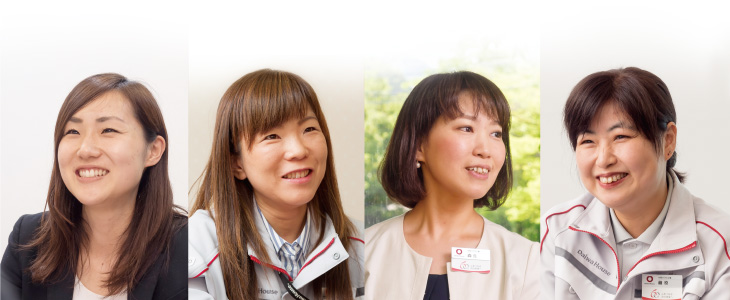 Working age population will continue to decline
The population of working age people (ages 15 to 64) in Japan is continuously declining. According to an estimation done in January 2012 by a public research organization, by the time of Daiwa House Industry's 100th anniversary in the year 2055, the working age population will be down to 47.06 million (decline of 44% compared to 2005 when Daiwa House Group's First Medium-Term Management Plan was started).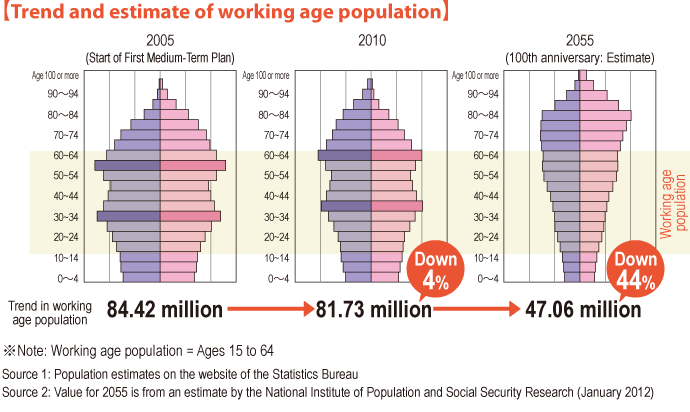 Meanwhile, equal employment opportunities have not been achieved
Meanwhile, there are invisible barriers to employment, such as by gender, age, nationality, and disabilities. For companies to do away such barriers and to provide fair and equal employment opportunities is an important social responsibility that relates to the protection of basic human rights. At the same time, an important issue is in securing highly skilled human resources at a time of declining working age population. In recent years, the importance of promoting equal employment opportunities and other such efforts is being advocated, also from the perspective of increasing diversity, which would help companies respond to diversifying market needs and to the changes in the business environment. The promotion of women in the workforce is an issue that is being particularly pushed by the government as an important factor in their growth strategy that will help increase diversity. As such, the government is deliberating on the law to promote the utilization of women, and is also calling out to various companies to enhance such efforts.

Our Group is working together as one by sharing our founder's dream to become a corporate group with 10 trillion yen in sales by our 100th anniversary in 2055. We are continuing to challenge ourselves to achieve this goal. As part of this, efforts to both secure and nurture human resources have been included in our Fourth Medium- Term Management Plan. With regards to the promotion of utilizing women in the workforce, we have established a goal of having 500 female executives within our entire Group by the year 2020.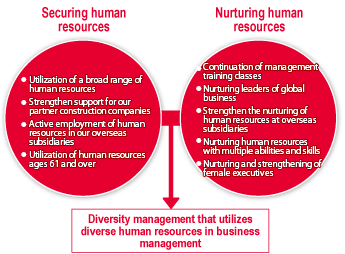 Diversity management as one management strategy that utilizes diverse human resources
By accepting diverse human resources, and accepting the differences and making use of such differences, we will be able to create an organization that can continuously generate creative ideas that is not confined to traditional thinking and practices. Our efforts to utilize diverse human resources as part of our management strategy, which started in 2005 with the promotion of women in the workforce, has now stepped into a new stage of development.

[Basic policy] An important aspect required of a global company is its ability to make full utilization of diverse human resources. The promotion of women in the workforce is particularly required to achieve sustainable growth.
In order for our Group to grow into a corporate group that can make even more contributions to the world, we need to adapt to social changes and diversifying values so that we can discover latent market possibilities and draw out new values. For this to happen, we need to create a corporate atmosphere that can utilize the various perspectives and ideas from such differences in values, gender, generation, ethnicity, language, culture, lifestyles, and more—in other words, what is required is diversity. The promotion of women is a touchstone of such efforts, and is a necessary step to achieve sustainable growth.
To realize this, we created in 2005 a project for promoting the utilization of women, and started to help the growth of our female employees. A Wave Heart Promotion Section was created within our Personnel Department to change the thinking of the female employees themselves as well as their superiors, and to also create a comfortable environment for women to work in. In April 2015, this Wave Heart Promotion Section was renamed to the Diversity Promotion Section and is striving to expand and enhance its activities.

[Execution theme] Promoting the cycle toward the utilization of women through the three pillars of increasing, continuing, and harnessing.
Women empowerment at our company started from a point of having many problems, especially because our industry is strongly reminiscent of a male society. The project's name of Wave Heart was developed from our desire to incorporate the following: WAVE to stand for women (W), ability (A), vitalize (V), energize (E); and Heart taken by combining the sounds from the words hataraku (work), anatarashiku (as you are), and togirerukotonaku (continuously). In order for everyone to be able to work in a manner that suits them, we created a practical theme based on a cycle of "increase, continue, and utilize." Ever since, this cycle has been continuing to revolve, and a new system is starting this spring.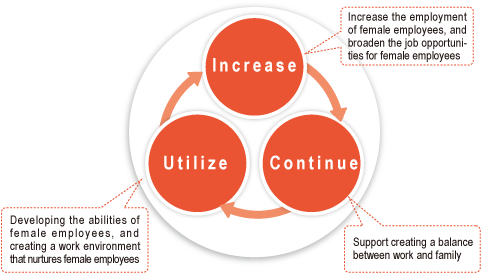 Increase
We are increasing the recruitment of female employees and broadening their job opportunities. We are also broadening their job positions by increasing female employees particularly in job types where the ratio of women were small, such as in sales and construction. As a result, the ratio of women in the sales job category rose from 1.2% at the end of March 2006 to 7.1% by April 1, 2015. As for technical jobs, what was formerly a female employee ratio of 5.5% rose to 11.0%.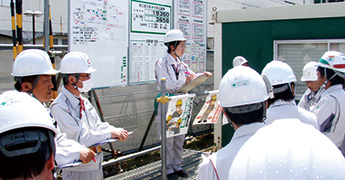 Utilize
Even if women are strongly motivated in their work, many need to place their focus on their home and families, especially when they give birth to and are caring for children. In consideration of such situations, we are making efforts to create a work environment that draws out the abilities of our female employees and nurture their potentials, such as by aiming to establish a growth method that is different from that used for male employees. We provide common training for our entire company, while also offering specialized seminars by job type, in addition to hosting seminars geared to specific issues in a job rank or type for both female employees and their superiors.
Continue
Enhancing the system for supporting work-life balance
At our company, we do not consider work-life balance to be something where you seek an equilibrium between "work" and "life" on a balance scale. Instead, we believe that each and every employee should be able to choose the weight that they wish to place on "work" and on "life" for their own personal growth. Even if they are in a situation where they need to prioritize their "life" aspect, they should still be able to achieve personal growth if they keep making the effort without giving up on their "work" aspect. And the company wishes to provide strong support toward such growth efforts of the individual.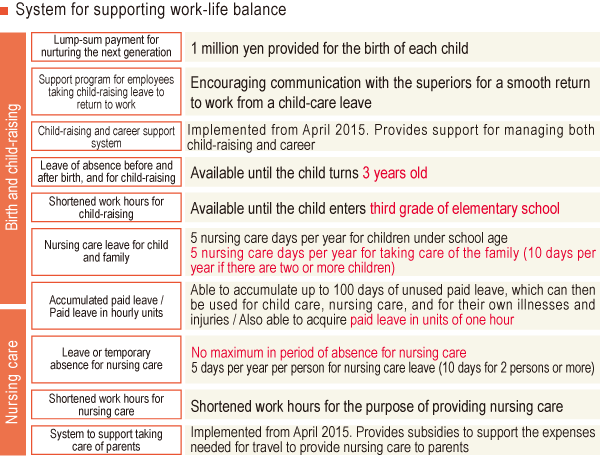 Promoting the participation of women in work
We will continue the cycle of our practical theme—increase, continue, and utilize. For efforts to increase female employees, we have taken the lead of other companies by actively placing women in the construction department, and a number of them are managing to work in this field while also raising children. We are also making efforts not only in the sales and technical divisions, but also in the clerical job categories, where 70% of the employees are women. With regards to providing support to manage both child-raising and the continuation of work, we have already started to take steps beyond aiming for the coexistence of child-raising and work, and are now looking to give women a chance to build their careers while raising children. As for utilization, we are enhancing the level of systems related to career development, such as the job type selection system (FA system), and the internal job application system.
In combination with such efforts, we are also revolutionizing our evaluation system in order to develop a corporate culture that aims to promote the participation of women. We added a section on supporting the participation of women in the goal management of our management-level employees. We have also added an "hourly productivity" category in the evaluation criteria of the office, with the aim of improving work methods and to enhance productivity. Also, forums and information exchange opportunities are provided with the Group, where numerical goals are shared amongst each other.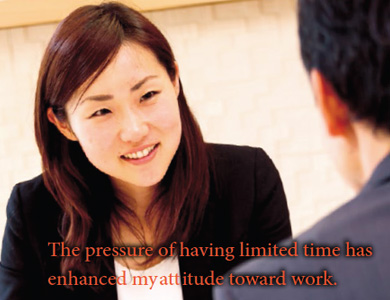 Sales
Arisa Yamamoto
Sales Section, Shiga Condominium Sales Group, Shiga Branch
Joined the company in 2008
Conducted sales of condominiums in the Kusatsu City area ever since she joined the company. Whereas most of the female sales staff are still in their fourth year or less at the company, she is already managing to continue work while raising two children. Although she entered her first child-birth leave at a time when she still did not have ample professional success, she still managed to continue with her work and build a way of working that is suited to her lifestyle.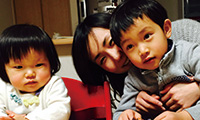 Going around the area, looking for an appropriate site for building a condominium, finding out and creating a list of the land owners, and visiting these owners numerous times—these are the first steps involved in the sales of condominiums. The reason why I was able to continue this difficult work, even after the birth of my children, was because I had the encouragement of my boss and my seniors. Now that the time I have available is limited, it has given me a good sense of pressure, and the level of concentration that I put into my work during the time I have available has been greatly enhanced. Still, there would be some hiatus in receiving orders, so I was constantly working frantically. The wife of my current General Manager also works in sales of condominiums, and has three children. So he has been very understanding of my situation, and would give me advice on my proposals, and would also come with me on visits to the landowners. This really gave me the psychological support that I needed, and helped me to increase my motivation toward my work. I think I need to work hard to achieve figures that will earn me awards in order for me to advance further in my work.
Support program for nurturing female sales staff
From 2007, we have been offering opportunities for female sales staff to exchange information or attend growth seminars, for the purpose of having them interact with their role models and to develop career life plans, as well as to develop a network of other female employees. Training is also being conducted toward male superiors, where they receive presentations on examples of sales conducted by women, as well as hold discussions on nurturing female staff.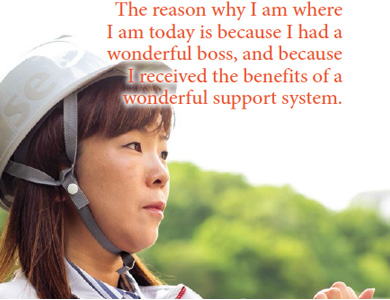 Construction
Junko Kusaka
Chief, Condominium Construction Section 2, Yokohama Kita Branch
Joined the company in 1997
Became the site foreman at a housing construction in Sendai City of Miyagi Prefecture, the city where she was born. She worked for three years in this position, before being transferred to residential design. She has become the site foreman for condominium construction sites at the Yokohama Kita Branch since 2007. She married within the company, and her husband has been transferred to Nagoya. Since she lives away from her husband and parents, she cannot rely on them for help, and yet she is raising her child in Yokohama by herself as she continues her work as a site foreman.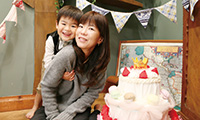 When I first joined the company, it was much more of a male society than it is now, so things were difficult for me. But, my boss encouraged me by saying, "keep at it for three years, and you'll start to see the joys of this job." My seniors also gave me help, so that I was able to get through those difficult years. I don't want to have my boss's words go to waste, and so this is now serving as my motivation to continue with my work. After I returned from childcare leave, the expenses for babysitters were high and it was difficult, but I tried different ways to be more efficient at my job, such as concentrating my administrative tasks on a certain weekday when I had the babysitter look after my child. Through such efforts, I gradually learned how to pace myself with my work. Starting this spring, we are now allowed to work full-time with staggered office hours, and there are now more subsidies for the use of babysitters. My child, who is now four years old, is a great fan of Daiwa House. I feel like I can overcome anything as long as I have the support of my child.
System providing child-raising and career support
Allowing employees to reduce the quantity and quality of their work under the name of providing support to manage both child-raising and career will actually deprive the employee from building their career. The new child-raising and career support system that was started in May 2015 aims to manage both child-raising, as well as career building. It supports employees who are raising children to also build their career by giving them subsidies for the use of babysitters so that they have the choice of taking steps to acquire enough hours for their work.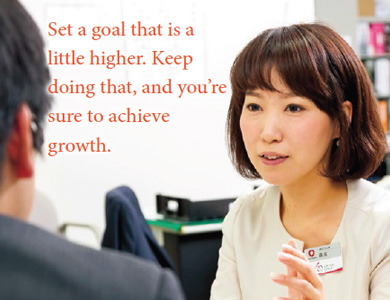 Accounting
Naoko Morimoto
Manager, Accounting Section, Administration Division, Hiroshima Branch
Joined the company in 1995
Joined the company as a clerical staff, and has been mainly working in accounting in different branch offices. In 2008, with her promotion to the position of chief, she became a general employee and was transferred from her previous clerical position to being responsible for the sales division. Under the guidance of her superior, she expanded the business area under her responsibility, and in April 2015, she became the company's first female Accounting Manager.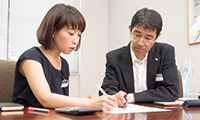 The accounting division of branch offices is responsible for managing the numbers of the sales office. For me, after I joined the company, I slowly became drawn to the appeal of being able to change the sales office by providing numerical information in an appropriate manner. My superior guided me expertly into becoming responsible for the sales division, with an understanding for my hesitation that came from a lack of confidence. The accounting person responsible for the sales division serves as an important right-hand for the General Manager of sales. At the beginning, there were some people who expressed concern in having the position being taken by a woman, but later, when that same person said "thank you" to me, I said to myself, "I did it!"
The seminar for developing female executives that I attended a year before last was very meaningful. In particular, I received a lot of motivation from younger participants in the same job category who were filled with the spirit of taking on challenges. In the future, as a new Manager, I will challenge myself to take on new goals.
Seminar for the development of female executive nominees
This is a seminar that was started in fiscal 2011, and is offered to those who have the desire to take on managerial positions, and whom their superiors are thinking of nominating for taking the managerial promotion test within the next two to three years. These nominees work together with their superiors for a period of half a year to make a conscious effort within their daily duties to develop the abilities required for managerial positions.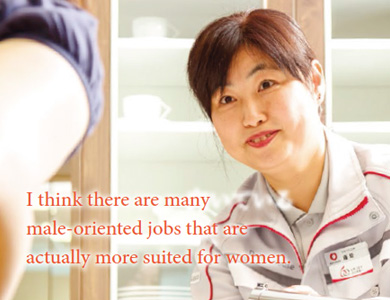 Aftercare service
Misono Fujiwara
Customer Service Center, Housing Division, Yokohama Branch
Joined the company in 2007
Started to work for the company as a temporary employee. She became a clerical staff after five years, and was responsible for answering phones and doing clerical jobs at the Customer Service Center. In 2013, at the time when the personnel management system was revised, she selected a position as a general employee instead of as a clerical staff. In the following year, with the internal job application system, she became responsible for after service operations. As a female after-service inspection staff, she has been receiving a warm welcome by the female customers that she visits.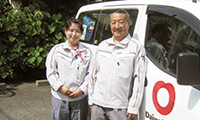 For many years, as an office staff at the Customer Service Center, I would answer the requests made from the call center and manage the inventory of parts, and send out after-service inspection staff to the sites. When I noticed that some of the inspection staff would go to the sites at an earlier time than was promised, without any regard for the customer's convenience, I felt the need for a women's perspective to be incorporated into such duties. With my clerical duties, I worked so that I would be able to give myself good marks for my job. Gradually, the desire in me to try working outside started to grow. And so, I was very lucky when I had the opportunity to change from general employee to inspection staff.
When I go on visits, the women of the household say that it is easier to ask me things, and my days are filled with a sense of satisfaction and joy. I work with Sato-san, the male inspection staff who is not good with conversation but is very good with inspections, drawing out the positive sides of each other as we go on visits. It makes me happy when people ask for the pair of us again for their next inspection visit.
Internal job application system, implemented for the purpose of broadening the opportunities of general administrative jobs with promotional opportunities
The personnel management system was revised in April 2013, and with this, female employees who entered the company as clerical staff were able to more clearly express their desire to develop their careers, thus transferring into general employee positions with promotional opportunities. By this, these employees were able to broaden their work opportunities by utilizing the specialized skills that they had cultivated so far. In September 2014, an internal job application system was conducted for the After-Service Division, which aimed to actively increase the placement of women in this job field.