Tama New Town Higashiyama, an Environment-friendly, Forest-side New Town in Greater Tokyo

Green new town development respecting biodiversity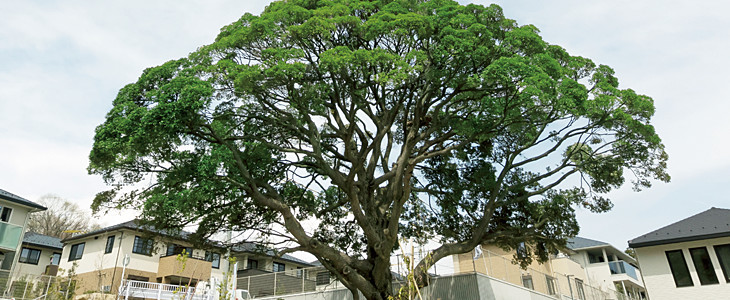 Since 2009, Daiwa House has been participating in the development of a new town with 681 total houses in an area 42 minutes from Shinjuku in central Tokyo. Due to the worsening of economic conditions, this site had been undeveloped for a long period of time after the aquisition. We began by conducting an in-depth study of the local natural environment and drew up a plan premised on environmental protection and preservation. Today, residents already settled in their new homes are enjoying their lives in the "forest-side" new town rich in biodiversity despite its Greater Tokyo location.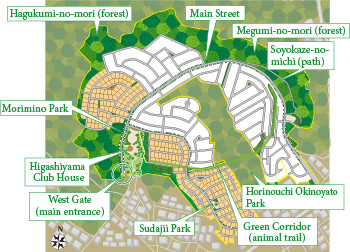 New town developments that respect resident wildlife

– Local biodiversity protection as the greatest challenge
The Tama Hills, one of the five major hilly areas in Tokyo, had a rich natural environment when we chose this site for the new town project. Determined to protect this environment, we conducted an environmental assessment* in the preparatory stage, with experts pursuing detailed studies of the local ecosystems in the field. As a result, a food chain with birds of prey at the top and numerous plants and animals totaling 1,807 species were identified in the area. Recognizing the protection of local biodiversity as the most important challenge accompanying the project, we decided to create a new town where residents could enjoy both an old satoyama life and the convenience of living in Greater Tokyo. The project slogan penned was "Let your heart live in the forest."
* Environmental assessment is a procedure involving the estimation and evaluation of possible adverse impacts of a development project on the natural environment, conducted for the purpose of preventing or minimizing such impacts.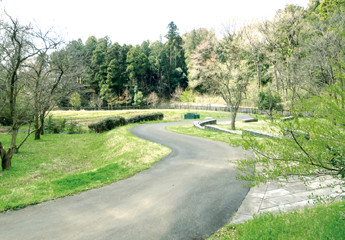 A satoyama park adjacent to a town: the natural environment is kept intact along with the natural habits of foxes and other animals, as well as Japanese sparrowhawks and other birds.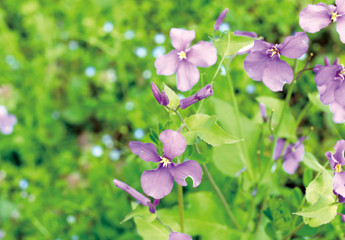 Naturally growing murasaki hanana (Orychophragmus violaceus): in the preserved mountain environment, various wild plants grow and herald the seasons.
Optimal human intervention for environmental protection

– An eco-new town combining satoyama life and urban convenience
Satoyama is a Japanese word that refers to an area on or at the foot of a mountain that is kept in a sustainable condition by people coming from nearby villages to gather firewood or use other common resources for daily purposes. Satoyama is known to maintain a rich natural environment in an aesthetically pleasing landscape thanks to adequate human intervention. Satoyama nurtures diverse wildlife and supports wide-ranging ecosystems. In Tama New Town Higashiyama, we devised various measures deemed necessary to preserve local ecosystems through managed intervention as in satoyama, while at the same time ensuring resident convenience. For example, we preserved or created habitats for animals and plants, preserved and (re)planted trees, and formulated local rules to promote greening. We placed a public park next to the West Gate, one of the entrances to the new town, while keeping spacious green zones intact on the eastern and western sides of the park. The West Gate serves as an ideal main town entrance in that it symbolizes the concept of the new town: life in harmony with the natural environment.
Greenery covering one-third of the site
The new town is linked with the western side of the Kanto Mountainous Region via uninterrupted green zones that serve as animal trails. For this reason, despite the new town's proximity to central Tokyo, diverse wildlife live here, forming myriad ecosystems. We believe that this natural environment is a precious asset that must be preserved and passed on to future generations. Accordingly, greenery is kept intact in almost one-third of the site (approximately 11 ha).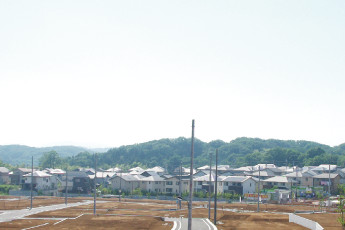 The new town is enveloped in lush greenery.
Securing animals' movements
The fragmentation of green zones by newly built houses means the interruption or loss of itinerant routes for wild animals and eventual damage to ecosystems. To avoid such consequences, we decided to provide green corridors as links between existing larger green spaces. Today, on animal-only paths behind the shrubbery, you can find the tracks of tanuki (raccoon dogs) and other animals.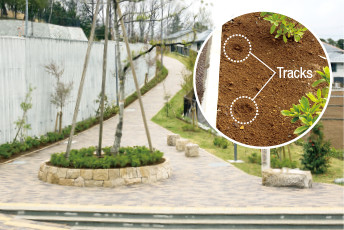 Tree-planting and protection of native species
It was out of the question that we touch the giant sudajii (Castanopsis sieboldii) estimated to be 200 years old. The tree now stands majestically as the new town's landmark, in a park specially arranged around it. In the new town, we planted more than 100 trees, including some measuring 30 meters in height, in the parks and green zones. As trees to be transplanted, we took special care to choose species native to the region for ecological reasons.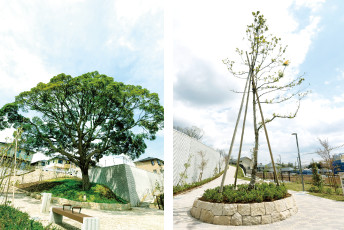 Centenary and giant trees are found here and there: the landmark sudajii (left) and an oak tree in a green corridor (above).
The first "greening agreement" in Hachioji City
To promote greening in residential areas, Hachioji City's first "greening agreement" has been adopted for the new town. Accordingly, detailed local rules make it mandatory to take certain measures to increase greenery around houses, such as the formation of 1-meter-wide green belts along the houses lining the trunk roads. Meanwhile, surplus soil rich in nutrients that resulted from the site preparation has been used to cover the ground surface in the residential sections in 30- to 40-cm layers to improve soil quality.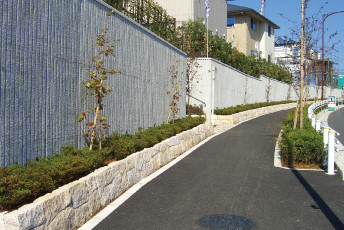 Mechanisms for environmental protection

– Green maintenance, crime prevention and emergency preparedness
To make sure that the new town remains a beautiful residential area incorporating satoyama landscapes, we have formulated guidelines intended for local service providers, as well as an exterior master plan common to all houses in the new town. Such community-wide efforts can enhance the real estate value of the entire new town and facilitates environmental protection.
In addition to such green efforts, a residents' association has been established. Forming ties among the residents is essential to improve the new town's overall anti-crime capacities and lay the foundations for strong community solidarity in times of natural disaster and other emergencies.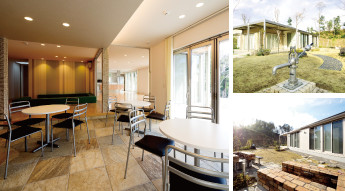 The Higashiyama Club House, located immediately past the main entrance, is the base of the residents' association. It has a well and an old-fashioned cooking stove, which can be used in emergencies.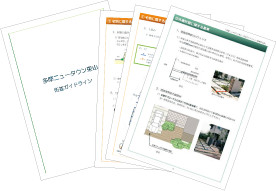 Guidelines stipulate rules to observe to maintain a unified townscape.
Daiwa House's voice
Hoping for ever-growing beauty for the entire new town including satoyama
This was our first large-scale development project in such a rich natural environment in a hilly area. Through the environmental assessment, we learned a great deal about the local ecosystems – the trees that had grown naturally in the area, how plants and animals interact, and so on. I also learned how a community is gradually formed with its own sense of direction as residents meet at the community house and participate in events that we helped organize. These findings are all important assets that we can make use of in our future new town projects. I hope that people who have become residents of Tama New Town Higashiyama come to truly love and cherish not just their houses but the new town itself with its satoyama.
Chief, Town Development Group
Tokyo Design Office, Housing Project Promotion Division
Takayuki Ishi
A customer's voice
Growing with trees, building a hometown for future generations
I volunteered to serve as an officer in the residents' association because I wanted to play an active role in the process of building a community with my neighbors. The association has so far grown to 140 members and 12 officers. My house is adjacent to a green zone, so I get to enjoy daily contact with nature. The trees planted around the houses will grow tall, just as our children will. When they become adults, they will probably move and live elsewhere, but I hope that they will eventually come back. Generations of people living here, putting down roots and turning this place into a true hometown... I am dreaming of such a future.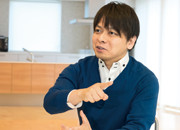 Vice President, Tama New Town Higashiyama Residents' Association
A customer's voice
Living near the sudajii tree with wonderful neighbors
When we first visited here, there was no buildings yet, and the tall sudajii tree caught our eyes. Thinking of our child who would be born soon, we decided that we wanted to live here, near Sudajii Park. Since we arrived here, we have been making many discoveries. Unlike living in an apartment, we can feel seasonal change from flowers on the trees in our garden. Inviting our friends for barbecues in the garden is great fun, and they envy us for living here. There are many things we love about living here: there are many young families like us in the neighborhood, and the residents' association is active, organizing various events, which enables us to meet other families and expand our circle of friends.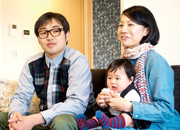 Residents, Tama New Town Higashiyama