Demonstration and commercialization of the environment conscious factory, D's SMART FACTORY

Next-generational energy-saving factory that aims to minimize energy consumption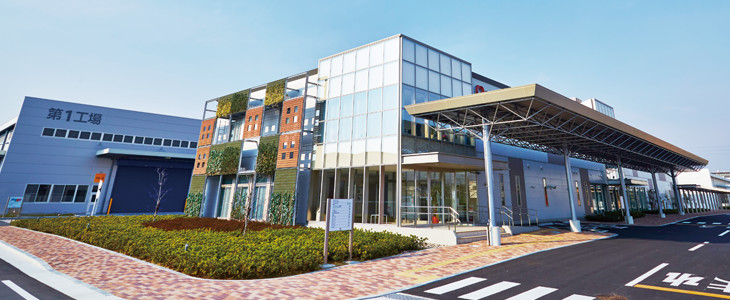 Our efforts with "Towards the commercialization of next-generational energy-saving factories: Efforts to minimize energy consumption at our own factories" that was headed by the CGO (Chief Green Officer) received high recognition, and was awarded in FY2013 the Ministry of Economic, Trade and Industry (METI) Minister's Award*1 (division for CGOs*2, companies, etc.), which is the highest honor awarded at the Energy Conservation Grand Prize (Energy-saving Activities Category).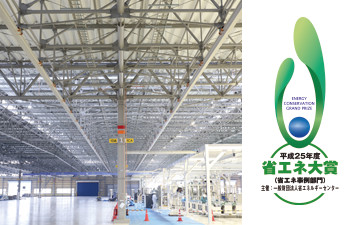 *1 Received the same award for two years in a row, which was a first for this award.
*2 CGO: Chief Green Officer. The CGO is responsible for looking at the entire business operation from the perspective of management, and to supervise activities towards energy conservation as well as environmental management.
Promoting energy conservation by improving on-site activities and by making energy usage visible
Based on the 2020 Medium- to Long-Term Environmental Vision established in 2011, we are promoting the Smart-Eco Project that aims to reduce CO2 emission (total amount) at our factories by 50% in 2020 compared to the results of fiscal year 2005*1.
Since fiscal year 2005, our factories have begun STEP 0 activities, and in fiscal year 2012*2, the CO2 emission for our factories overall (10 factories total) against sales was reduced by 48% compared to fiscal year 2005*2, and by 64% at our Kyushu Factory, which is our model energy saving factory. Currently, we are at the STEP 3 stage and are furthering our efforts to reduce energy.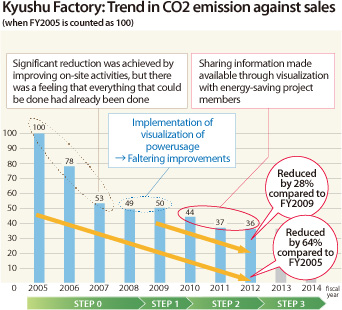 *1 CO2 emission (total amount) compared to fiscal year 2005 was reduced by 35% for our factories overall (total of 10 factories), and by 57% at our Kyushu Factory.
*2 The figures here match the content of our application for the Energy Conservation Grand Prize (in fiscal year 2013, CO2 emission against sales at our factories overall was reduced by 48% compared to fiscal year 2005, and by 62% at our Kyushu Factory).
STEP0 Energy saving by the efforts of the on-site staff
At the beginning when STEP 0 was started, the people at the production site led efforts to reduce energy, such as by implementing fuel quality improving equipment, and using paint that does not require constant mixing at the electrodeposition coating line which had the highest energy consumption within the factory, as well as implementing a new construction method that would no longer require electrodeposition coating (image on the right). These efforts achieved positive results. However, once all of these improvements were made, there was a feeling that everything that could be done had already been done, and they were no longer able to continue producing energy-saving results.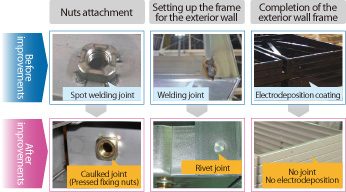 Change was made to a newly developed caulked and rivet construction method, so that it no longer requires electrodeposition coating and drying process.
STEP1-2 Visualization of energy-saving efforts
In order to find a new approach, in 2008, we made energy usage visually recognizable. We worked to reduce energy by looking for unnecessary energy usage such as during break times and after work hours. However, these efforts did not produce significant results. Thus, we created a project that included the production sites, the members leading the energy-saving efforts at the factories, and the headquarter department, and restarted our efforts to improve energy efficiency. Sharing information amongst the members resulted in producing new ideas, thus resulting in having successfully achieved a significant amount of energy reduction.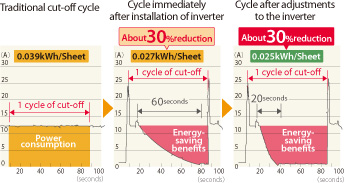 Instead of just installing an inverter, adjustments were made to the frequency speed reduction time for each equipment, thereby maximizing the energy-saving benefits.
From visualization to exposure: Making efforts to minimize energy use by getting everyone involved
STEP3 Expand information sharing through exposure
D's FEMS (Factory Energy Management System), which was jointly developed with a manufacturer based on the know-how that we have accumulated, was implemented into our Kyushu Factory in 2012. This made it possible to visualize information on energy usage.
This system was also implemented at our Nara Factory in fiscal year 2013, where efforts are currently underway to have everyone involved in energy-saving activities. Energy consumption and equipment abnormalities are shown in real time on large screens that are easy to see, so that anyone who happens to look at the screens would notice any irregularities and would be able to take the necessary actions immediately.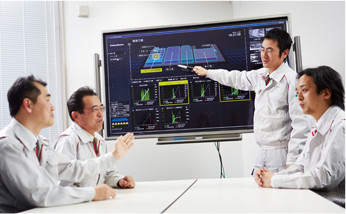 D's FEMS is also being actively used as a tool that provides objective data that are essential during discussions on ways to achieve further energy-saving improvements.

D's FEMS provides support in dealing with irregularities in real time. For example, if there are any abnormalities to an equipment on site, D's FEMS will raise an alarm so that the reason for the abnormality can be determined and the required actions taken as soon as possible. D's FEMS also makes it possible to notice more things at once, because the display shows various data simultaneously.

D's FEMS estimates demand in real time by using past data and the level of power usage. If the estimate exceeds the established value, it will not only send automatic e-mails to the persons responsible, but will also automatically adjust the power use of equipment that have minimal impact, such as by shutting down nonessential and non-urgent lights.
Comments from the Factory Manager
Aiming to be a top-runner as an energy-saving factory, while also being very particular about our efforts in developing both products and people.
We implemented the visualization of energy use in fiscal year 2008, and shared the information from the production sites with the related persons. And by doing so, we managed to achieve significant results in improving energy conservation. We newly implemented D's FEMS in fiscal year 2013. At the beginning, we were constantly having to respond to the alarms, which were helping us realize new things about our energy usage. But with time, we learned to be able to respond appropriately to such alarms. Also, since technical expertise is needed to connect our realizations into energy-saving activities, we have become aware of the need to educate our people, including those from our contracting companies, and are currently making efforts towards this end. Kyushu Factory will continue to aim to be the top-runner among energy-saving factories, while also being particular about our ability to develop both products and people.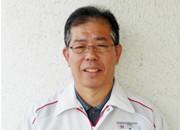 Factory Manager, Kyushu Factory
Tetsuji Shima
Comments from the Factory Manager
Horizontal deployment of energy-saving activities, and implementation of demonstrative experiments for further energy-saving achievements.
Energy-saving activities that started in fiscal year 2005 at our Kyushu Factory began with activities lead by the production sites that later led to energy-saving projects, and succeeded in achieving a significant reduction of energy. We began implementing such efforts at our Nara Factory as well. In fiscal year 2013, the Nara Factory managed to reduce CO2 emission by 19.3% against sales in comparison to fiscal year 2010. Currently, the factory is using D's FEMS which was jointly developed with a manufacturer to share information throughout the factory, and are applying new measures for improving energy conservation. We will utilize Factory Ⅰ, which was rehabilitated in January 2014 as a model D's SMART FACTORY, as we continue to further improve and standardize our energy conservation efforts and also conduct demonstrative experiments.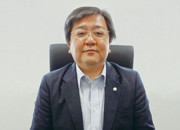 Factory Manager, Nara Factory
Shinya Nakao
Towards the future: Further studies on energy-saving measures, and proposals for next-generational energy-saving factories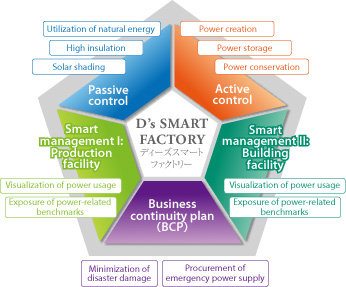 While we spread our energy-saving activities at our factories to not only entire company but also the entire Group, we also consider it our role, as a company that owns its own factories, to propose next-generational energy-saving factories to our customers. And so, we have put together our various activities and began commercially offering D's SMART FACTORY.
Particularly with D's FEMS, the standards for determining when to raise the alarm "for which data, and when it exceeds what value" is a key know-how that is at the core of smart technology. Therefore, demonstrative experiments are being conducted for the time being at the two factories in Kyushu and Nara. We will continue to make steady efforts to improve the degree of perfection of our products.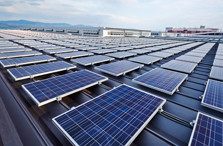 One key feature of our proposal is "active control." It creates, stores, and saves energy by using the latest equipment and devices.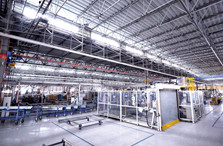 We are also very particular in pursuing "passive control" in which we use the forces of nature such as light and wind, and making innovative use of natural light to reduce the amount of artificial lighting.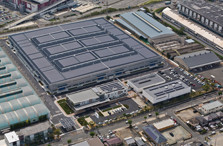 Nara Factory is being rehabilitated, having been established as a model D's SMART FACTORY. Work on the Factory Ⅰ was completed on January 2014. Currently within this new building, we are proceeding with verification experiments towards minimizing energy consumption.