Daiwa House Group wins the "Outstanding Award" in the 16th Green Purchase Award

Greening will change communities

– Promoting greening in the Group's housing and construction businesses, and environmental greening services under our ECOLOGREEN project –

At the Daiwa House Group we believe that greening will change communities. Following this concept, we aim to design urban spaces featuring abundant greenery, as doing so will help mitigate the "heat island" phenomenon – which has been pinpointed as a serious social issue – as well as improve cityscapes from the aesthetic viewpoint and help relieve stress. To this end, we put efforts into creating "green" spaces at facilities operated by the Group as well as by other corporations, and at public facilities, where people can enjoy these benefits.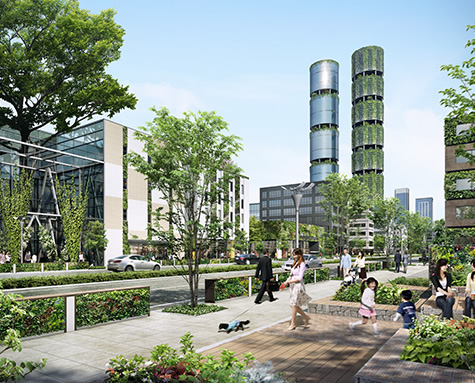 An artist's impression of the kind of near-future cityscape imagined by the Group
Point 1: Promoting greening in the Group's housing and construction businesses
Promoting the increased adoption of environmentally symbiotic housing
In fiscal 2014, the Daiwa House Group was ranked No.1 for general results in construction (a total of 1,167 housing units) in the Environmentally Symbiotic Housing Certification* issued by the Institute for Building Environment and Energy Conservation. This was the eighth consecutive year in which the Group had achieved the top ranking.
* Environmentally symbiotic housing: To improve the environment surrounding people and their residences, the Institute for Building Environment and Energy Conservation certifies homes as "environmentally symbiotic housing" based on the principles of conserving the global natural environment, harmonizing with the surrounding environment, and ensuring a healthy and comfortable living environment.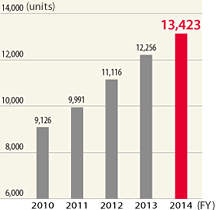 Aggregate numbers of homes certified as Environmentally Symbiotic Housing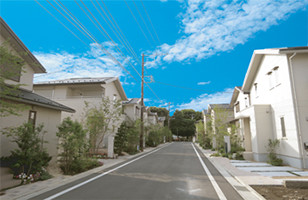 SMAxECO City Sagamihara Hikarigaoka Eco-Town (Kanagawa Pref.)
Expansion of area covered by greenery (housing and other buildings)
At Daiwa House, we are working to expand the area of building lots covered by greenery in the case of all buildings constructed by us (including single-family houses, rental housing, condominiums, commercial facilities, and business and corporate facilities). In fiscal 2015 the area covered* amounted to 600,000 m² (equivalent to roughly 13 times the area of the Tokyo Dome baseball stadium), up by 25 percent from fiscal 2012.
In fiscal 2013 we increased the green coverage area by 7.2 percent over the previous year with the creation of 504,000 m² in new greenery coverage.
* Greenery coverage area = area calculated on a horizontal projection basis
Point 2: Promoting the increased use of greenery through the Group's environmental greening services
In the environmental greening services operated by Daiwa House Group member Daiwa Lease Co., Ltd. under the ECOLOGREEN project, customized greening solutions are offered for the roofs, walls, exteriors and interiors of buildings.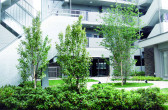 Greening of exterior space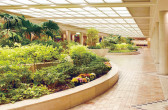 Indoor greening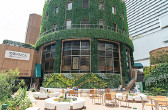 Green wall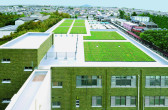 Green roof
Examples of Greening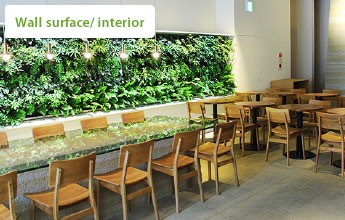 Restaurant (Tokyo)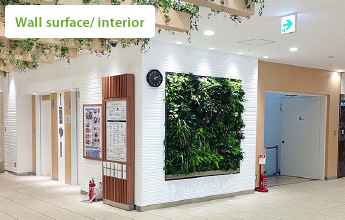 Commercial facility (Hyogo Pref.)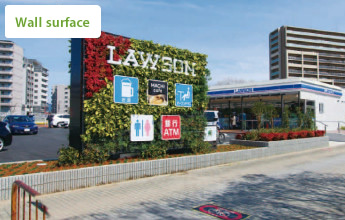 Convenience store (Osaka Pref.)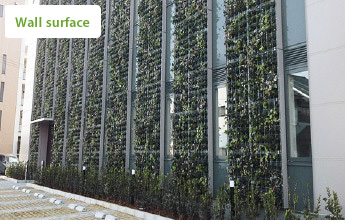 Office building (Miyagi Pref.)
Point 3: Using facilities operated by the Group, other companies, and public organizations to showcase the greening concept and teach the public about environmental issues
Using facilities operated by the Group, other companies, and public organizations to showcase the greening concept
By actively promoting greening initiatives at facilities operated by the Daiwa House Group (offices, factories, hotels, commercial facilities, parking lots, etc.), we are introducing a growing number of people to the way that greenery can make the working environment more pleasant. We are also putting efforts into greening facilities operated by ordinary private-sector companies or public organizations where many people gather, thereby increasing the presence of natural greenery in human spaces and peoples' day-to-day lives.
The Group is also developing new areas for the application of greening technology, such as designated smoking areas and the exterior walls of high-rise buildings.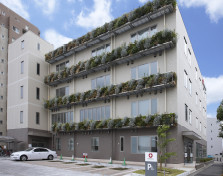 The Daiwa House Aichi-Kita Building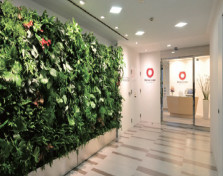 Daiwa Lease head office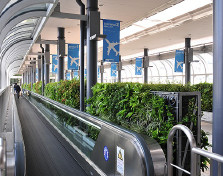 Kansai International Airport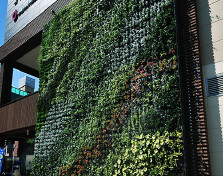 Frespo Nagata (shopping mall)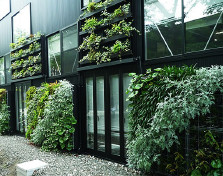 Tohoku University (Sendai)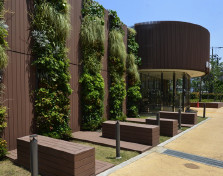 Minami-ku Hall (Tokyo)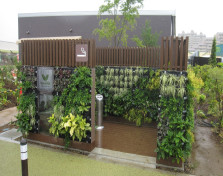 Designated smoking area with wall-greening (shopping mall)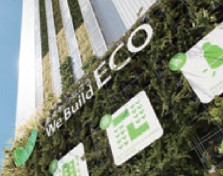 ECOLOGREEN Parking (parking facility)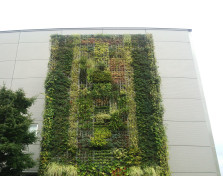 The Daiwa House Central Research Laboratory
Environmental Education, including Greening
[Eco Workshops for Children]
The Daiwa House Group holds Eco Workshops for Children all over Japan to teach children about environmental issues using scale-models of houses whose layout can be easily rearranged. The children can have fun learning about eco-friendly daily living by using these models, such as by repositioning a house's windows or the location of the greenery in the house's garden to take maximum advantage of sunlight and natural ventilation. Over 5,300 children and adults have taken part in these workshops thus far.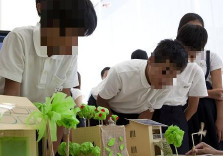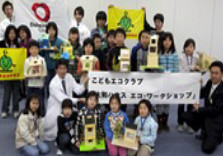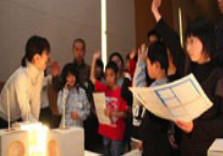 [International Ideas Competition]
In collaboration with the NPO Art & Architect Festa, Daiwa House Group member Daiwa Lease holds an international competition to solicit ideas from persons under 30 years of age for urban greening projects capable of implementation in the near future. This competition has produced a large number of interesting proposals.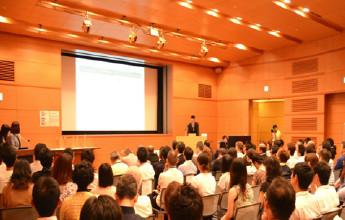 The proposal screening session (open to the public)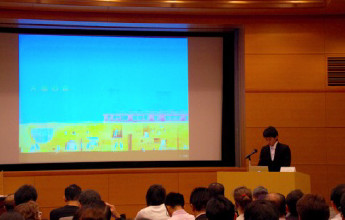 [Dialogue with Experts]
At the Daiwa House Group we frequently hold dialogues with experts in the field on the significance and role of urban greening strategies as part of our larger ongoing dialogue with our stakeholders.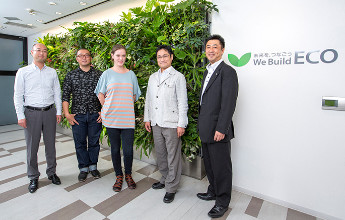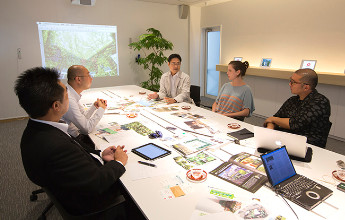 Point 4: Greening will change communities and our daily lives.
Change wrought by greenery in daily lives: Example No.1 – the Frespo Inage shopping mall
At the Frespo Inage Shopping Mall in Inage City, Chiba Pref., operated by Daiwa Lease, the company has downsized the building to create an open space featuring extensive greenery as well as a sign with the mall's name in giant letters.
Thanks to the creation of this open space, the facility as a whole has become a sort of park. Various events are regularly held here, attracting many members of the surrounding community, particularly mothers with young children. In this way, the redesigning of this space has been very successful in breathing new life into the facility as a popular place for people to gather.

Change wrought by greenery in daily lives: Example No.2 – Osaka Marubiru – a "Mighty Urban Tree"
Osaka Marubiru – a high-rise building with a circular cross-section, which towers over the area in front of Umeda Station in central Osaka – can be compared to a massive tree, all the more because of the greenery that envelops its lower stories. We have also created a "city-center oasis" at the foot of the tower in the form of a terrace which is planted with twenty different types of greenery. Osaka Marubiru was constructed under a joint project among Daiwa House Industry and Group members Daiwa Lease and Fujita.
The terrace at the foot of the Marubiru has become a popular new place for local people. Office workers eat their takeout bento or home-packed lunch boxes there, and the coffee shops are always filled with shoppers.
(Completed in June 2013)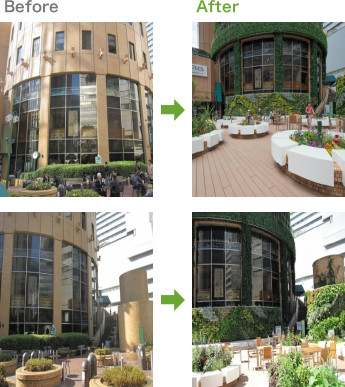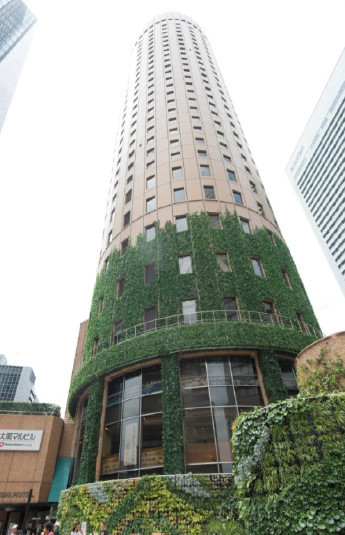 Change wrought by greenery in daily lives: Example No.3 – The Osaka Hanabyobu (flower screen) in the green park in front of Shin-Osaka Station
The area surrounding the roundabout in front of Shin-Osaka Station used to be a drab and dreary environment, with nowhere to sit, and notable for the large number of cigarette ends scattered about by smokers waiting to meet arrivals at the station.
To inject vitality into this space, Daiwa Lease undertook a renovation project involving the construction of a 23-meter-long green wall – which has been likened to a huge version of a traditional Japanese folding screen – thereby creating a green community space.
This space is now popular with all sorts of people, including those waiting for someone and those who just want somewhere to take a short rest.
(Completed in August 2012)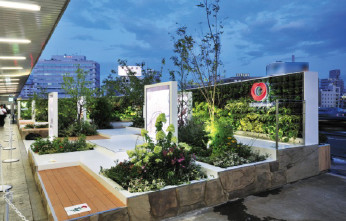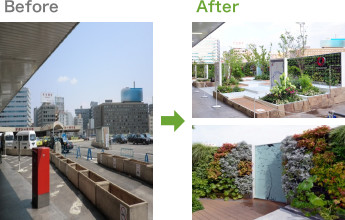 After renovation: The green wall includes an information panel showing a map of the natural environment elements in Osaka City, such as rivers and parks, with information about the "official flower" and "official bird" of the city.