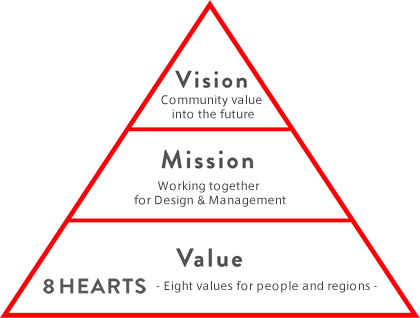 Community value into the future
Our development of a community does not end when infrastructure and buildings are built. Development of a community where happiness is presented to every human and other living things related to this community. Rather than thinking of communities as something with asset value, we create new values that will lead us to a new stage towards the future. That is the type of community development we are aiming for.
Working together for Design & Management
Our basic philosophy is "Creating Dreams, Building Hearts." This does not change even when developing communities. We engage in building a bridge between people and working together to lead the value of the community to the future. And to enrich the lives of every person who lives in this community. That is our mission and our challenge.
8 HEARTS
- Eight values for people and regions -
In our community development, there always are eight values (hearts) for people and regions that continues indefinitely at the core. How can we provide people with a safe, comfortable and healthy lifestyle? How can we improve to the maximum the regional economy, environmental friendliness and identity? With "Creating Dreams, Building Hearts" as the basic philosophy, we at Daiwa House Group aim to develop a community connecting to the future that connects people with people, and people with the region.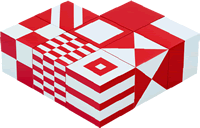 Giving consideration to safety to create a "secure environment", where people smile.

Crime prevention and monitoring measures
Security towards the future
Countermeasure and response to disasters (resilience)
Consideration to safety

To a community where people can stay "with a healthy heart and body" for many years to come.

Health maintenance and improvement
Creation of a purpose in life
Health and living support (medical and nursing care collaboration)

Create a convenient "comfortable daily life" for an enriched lifestyle.

Improvement of usability
Formation and maintenance of a comfortable space
Providing lifestyle functions and services
Responding to various lifestyles

Make more "communication" between people and people, people and the community for a more fostered community.

Communication between people and people
Communication between people and the community
Communication between communities

To a community that will be a "sustainable" society asset in the future as well.

Flexible response to change
Sustainable future plan
Community independence
Education and development of human resources who will be responsible for the next generation

For a community "coexisting with the environment", living together with nature and making smart use of limited resources.

Effective utilization of resources
Efficient use of energy
Harmony with the natural environment
Consideration for the local environment

For a community that becomes the center of a region to revitalize "economy".

Formation and maintenance of asset value
Revitalizing regional economy
Creating regional employment
Maximizing business efficiency
Solving administrative issues

To respect the history and culture, for a community that harmonizes with the "uniqueness" of the region.

Conservation of traditional culture
Harmony with regional characteristics
Solving regional issues (cooperation with the region and administration)