1. Decarbonization around the world
We at the Daiwa House Group believe moving forward under the decarbonization battle flag is an imperative not only out of a sense of mission to protect the Earth's environment, but also to protect our Group's businesses and to be able to roll them out globally. It becomes more obvious with each passing year that climate change-driven meteorological disasters are growing in frequency and intensity. If this continues unmitigated, it will threaten the possibility of safe and secure living and living spaces—the core value the Daiwa House Group provides. With the adoption of the Paris Agreement, the whole world has turned full rudder in the direction of decarbonization, and Prime Minister Suga has declared that Japan, too, wants on the whole to eliminate greenhouse gas (GHG) emissions by 2050.
2. Decarbonization in our Long-Term Environmental Vision
In fiscal 2016 our Group drew up Challenge ZERO 2055, a long-term environmental vision looking over the horizon to 2055, Daiwa House Industry's centennial. It commits us to taking up the net-zero environmental impact challenge across the Group, around the world, and throughout our supply chains as we help bring about a sustainable world.
Long-Term Environmental Vision
[Long-Term Environmental Vision] Mitigating and adapting to climate change
In our push to help the world decarbonize, we are moving all out to conserve energy and leverage renewables as we cut to zero GHG emissions across the life cycle of our products and services. Further, through adaptive measures to avert or minimize the negative effects of climate change, we are working to conduct business in ways impervious to the risks associated with climate-change and ultimately, help bring about a world where people can feel safe and secure.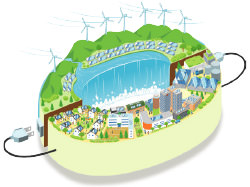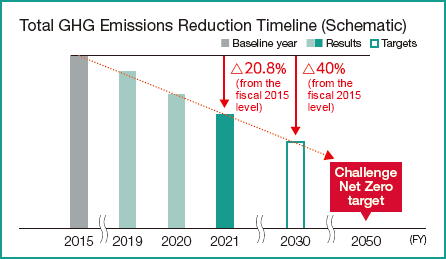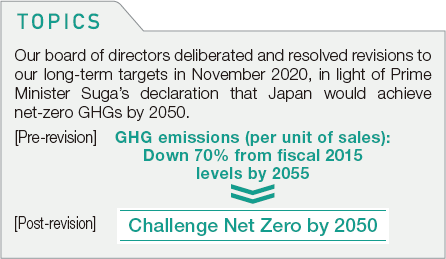 3. Our Decarbonization Strategy
Our Group's decarbonization strategy entails ensuring that environmental stewardship and profitability are compatible. While continuing or bolstering current energy-saving measures at facilities we own, we also work to keep costs down. How? Incorporating the expertise we've gained from our own decarbonization into ideas for net-zero housing, buildings, and even town and community developments and then offering them to customers!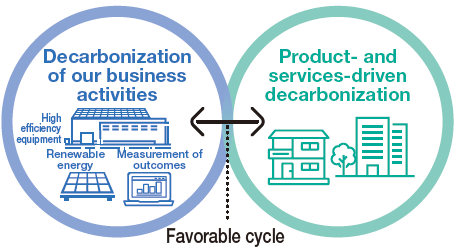 Decarbonization of business activities
Wanting to align our Group's decarbonization with international benchmarks, we joined three international initiatives—SBTi*1, EP100*2, and RE100*3—to step up our efforts by working towards the targets they impose.

1. Transition own new builds to ZEBs, update existing facilities
We have made it policy to develop all our own new builds as ZEBs. And we are devoting the equivalent of 15% of our annual energy costs to investing in energyconserving equipment updates at existing facilities.

Our Group's a new training facility, the Daiwa House Group MIRAI KACHI KYOSO Center in Nara embodies the ZEB concept
2. Generating power with renewables on own properties
The Daiwa House Group is proactive in developing and promoting uptake of wind, solar, and hydro generation systems. Leveraging our construction technology and experience operating megasolar installations, we install renewable energy generation systems on Group-owned properties: idle tracts of land, factories and plants, commercial and retail facilities—even logistics centers. And we run a renewable-energy generation business using customers' idle land, offering them one-stop, end-to-end services from land survey and design through operation and management.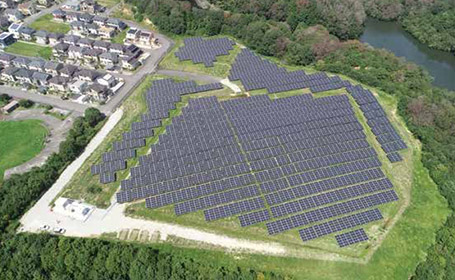 DREAM Solar Miyazaki Kunitomi
(Miyazaki Prefecture)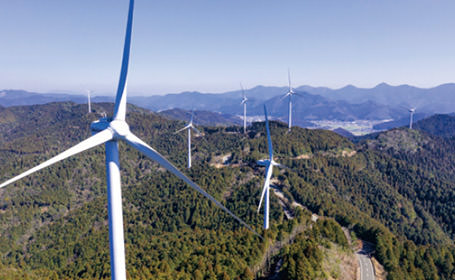 DREAM Wind Ehime Seiyo
(Ehime Prefecture)
3. Using renewable energy
Not only does our Group generate power from renewables, but we use it too—at our offices, construction sites, and plants and factories are purchased renewables. They are totally green powered, making us self-sufficient with electricity generated from renewable energy.

1) SBTi is an international initiative that encourages companies to set themselves scientifically grounded GHG emissions reduction targets congruent with the Paris Agreement's 2℃ targets.
2) EP100 is a group of companies that have committed to doubling the energy efficiency of their businesses.
3) RE100 is a group of companies that have committed to covering 100% of their businesses' power needs with renewable energy.
Decarbonization of products and services
We apply in our own products and services the very energy-conserving, renewable-power, and energy-storage expertise we've amassed in building and running our own facilities as we work to expand our environment-conscious energy businesses. We develop and encourage uptake of ZEHs and other energy self-sufficient housing, create more ZEBs for office and retail use, develop and build towns and communities 100% powered by electricity generated with renewables, retail electricity as well as manage and operate renewables-powered generating stations that produce it.
1. Expanding uptake of ZEH-standard single-family housing
Our ZEHs enable energy-conserving yet comfortable living with their solar generating systems, high efficiency water heaters, and superlative thermal insulation, all provided as standard equipment.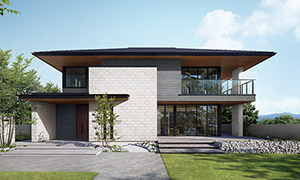 xevo Σ PREMIUM (steel frame)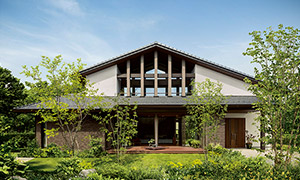 PREMIUM Gran Wood (wood frame)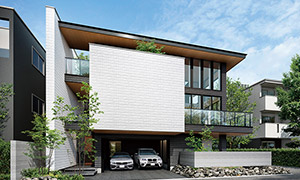 Lifegenic (steel frame, Web-exclusive offering)
2. Forward with ZEBs (net-zero energy buildings)
We've transformed into reality the concept of ZEBs for a diverse range of applications. We provide ZEBs that function well as logistics hubs and centers, hotels, retail stores, and even midsize office buildings designed for comfort.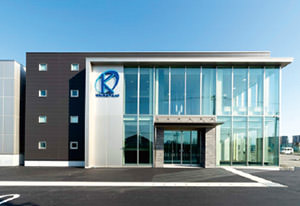 Offices (Kuratani Aluminum Works)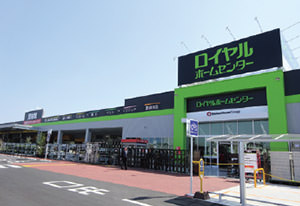 Retail store (Royal Home Center Tsushima)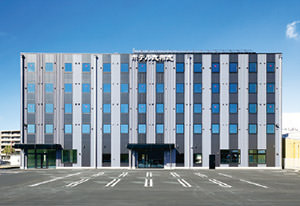 Hotel (Hotel Shibushi)
3. Renewables-powered community development
We lead the drive to net-zero towns by installing solar generation stations in our developments. In 2019, we completed Funabashi Grand Oasis, where power generated from renewable sources effectively covers 100% of the town's electricity needs, and has done so since house building began.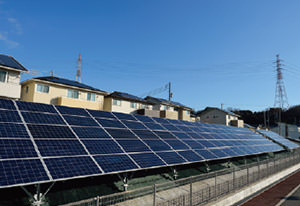 Hidamari-no-Oka
(Kuwana City, Mie Prefecture)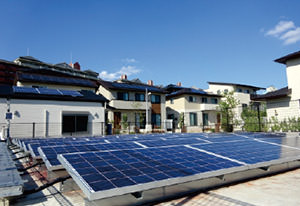 SECUREA Toyota Kakimoto
(Toyota City, Aichi Prefecture)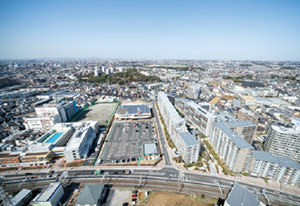 Funabashi Grand Oasis
(Funabashi City, Chiba Prefecture)
4. Design and construction of renewable-energy generating stations
Our Group has undertaken numerous renewable-energy generating projects, leveraging our expertise down the line from concept development to operational management.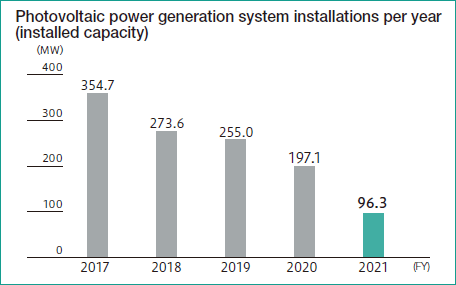 5. Retail sales of electricity generated from renewables
Since Japan's feed-in tariff (FIT) program's purchasing term ended, the Daiwa House Group is expanding the scope of the Daiwa House Denki ("electricity") program to buy surplus power from homeowners.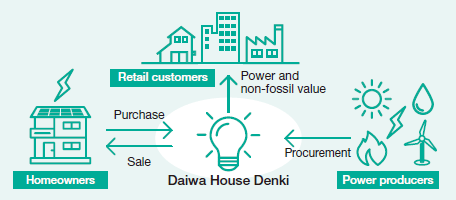 4. Daiwa House's Ideas for Building Decarbonized Communities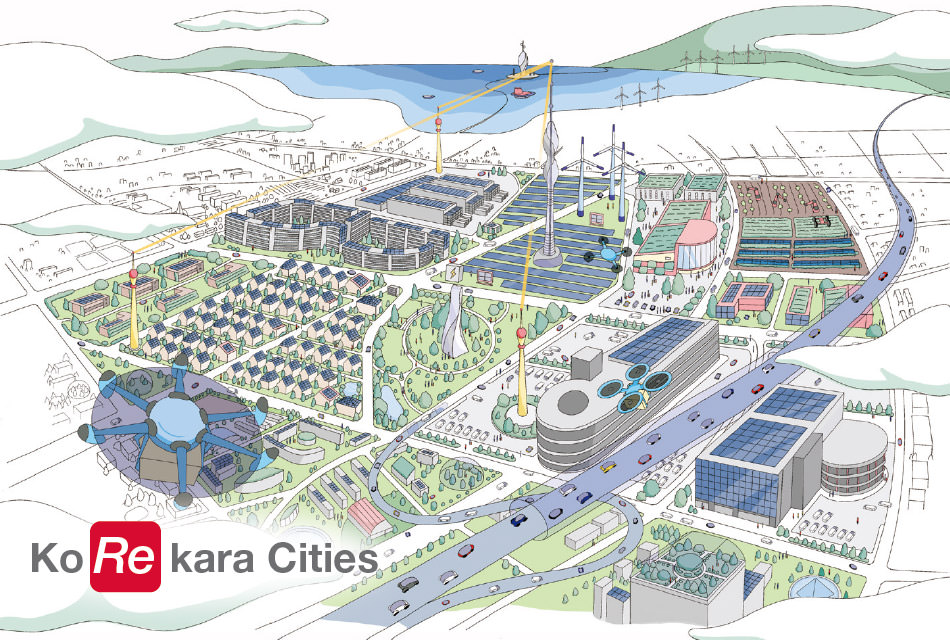 The Ko
Re

kara City Concept

The name we've given to our new concept in mixed-use developments in suburban area, KoRekara, incorporates into the Japanese word for from now onward the Re of the three Res the concept embodies.

The first Re stands for reality: Do expeditiously what's possible within the constraints of current technology (reality). The second Re is for renewable energy: Cover 100% of developments' power needs with renewables as a first step towards decarbonization and local self-sufficiency in energy. And the third Re signifies resilience: Build communities able to keep going and bounce back quickly when disaster strikes.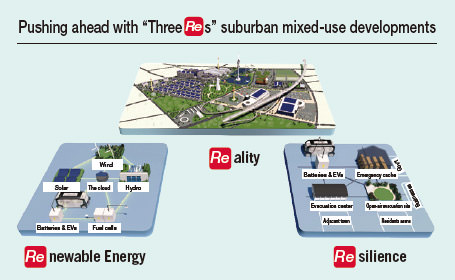 The lifestyle Ko
Re

kara City offers

COVID-19 fueled stay-at-home demand sparked an e-commerce explosion. And, we believe, the pandemic accelerated teleworking and digital transformation in numerous domains. So we're working on town and community building ideas that will deliver palpable new value—communities and living spaces embodying a new Reality capable of supporting the new lifestyles these changes bring about and Resilience against disaster, all powered by Renewable energy.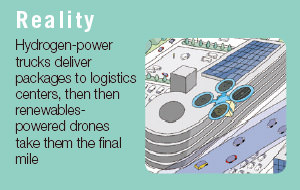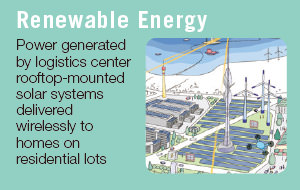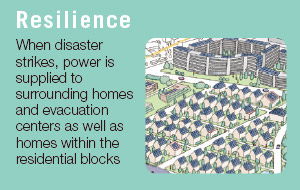 * These are mere example ideas that we are working to transform into reality.