Creating Dreams, Building Hearts
The Daiwa House Group, via its broad portfolio on businesses, is advancing initiatives themed on creating to fulfill people's dreams and building to fill their hearts with joy—to create and build a society where people can live enriched lives. For us, that means Co-creating a Brighter Future through our products and services, together with those who live in and use them.
Our employees and Company will keep seeking growth and burnishing our strengths, together toward Our Hopes for the Future
Managing Executive Officer
Head of:
Human Resources,
Human Resources and Interpersonal
Relationships Development,
Sustainability,
and Human Rights Promotion
Junko Ishizaki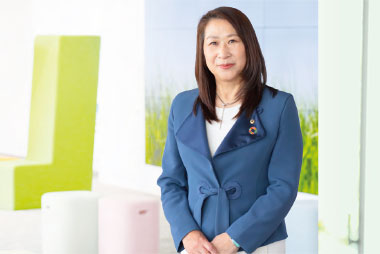 Long-Term Social Vision
As a group that co-creates value for individuals, communities, and people's lifestyles, the Daiwa House Group works to strengthen relationships with its stakeholders from five perspectives, and thereby contribute to society through its business operations.