Diverse human resource utilization 2 / Senior citizens, disabled persons, and global personnel
Encouraging senior citizens to work
In accordance with the revised "Law for the Stabilization of Employment of the Aged," we raised our company age limit for employment from 60 to 65 since fiscal 2013. After the conventional retirement age, our reemployment system used to involve fixed-term contracts and a fixed wage structure. But by raising the age limit itself, employees can now work in a more stable system of employment. Our system also considers each individual's achievements to determine a wage, which serves as motivation for senior citizen employees to work for a raise in salary. In fiscal 2015, we also established the "Active Seniors System," which allows for the reemployment of senior citizens over the 65-year age limit. With "lifetime active service" as a slogan, we offer annual part-time contracts to senior citizens of any age, as long as they are healthy and meet the requirements of our company. By keeping on senior citizen personnel with the ability and desire to continue employment, we are certain they will contribute to the development of our company by training the younger generation, and passing down connections and skills to them.
Encouraging employment of disabled persons
Disabled persons make up 2.15% of our workforce (as of April 2015), which exceeds the statutory employment rate of 2.00%. Instead of offering limited employment opportunities to disabled persons, our company employs them in the same fields as other employees, according to what fits their personal needs. This includes sales, design, construction, and management. At our main office, we have various tools to create a comfortable working environment for disabled employees, such as an experimental software that puts written text into voice on the computer screen for the visually impaired.
At Daiwa LifeNext, we have organized a work environment that fits the traits of each disabled person. We have also worked to provide appropriate employment management by founding Daiwa LifePlus in 2011, which has been certified as a special subsidiary company. We even received an award in fiscal 2013 for our successful examples of workplace improvement for the disabled.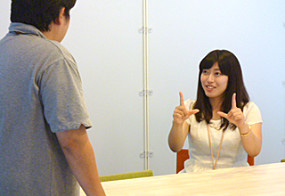 An employee at Daiwa LifePlus communicating with sign language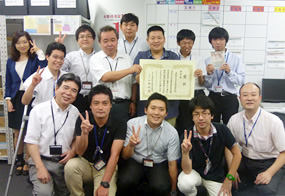 Award for successful workplace improvement for the disabled in fiscal 2013 (Daiwa LifePlus)
Promotion and training of global personnel
In anticipation of further global expansion in the near future, we have been sending employees to IUJ (the International University of Japan in Minami-Uonuma city of Niigata prefecture) every year since 2011. They are sent to acquire management skills for global business, and to increase their understanding of other cultures, ultimately training to become leaders on a global scale. After participating in the IUJ program, one of our employees suggested to top management that we start a new housing project overseas. We sent him overseas to be in charge of our local subsidiary, where he is currently moving forward with the business plan he described.
We have also established two subsidiaries overseas to be in charge of BPO (business, process, outsourcing) in local housing and construction projects. They are DH (Dalian) Administrative Management Consulting Center Co., Ltd. (in Dalian China, 2001) and Daiwa House Vietnam (Hanoi, Vietnam 2012). Since 2013, we've been inviting top and mid-range management employees from our overseas subsidiaries to in-house training sessions in Japan, allowing them to discuss the Group's future together with Japanese employees through lively discussion.
In order to train our best employees to become global personnel, we also implemented an "exchange student system" in 2011 for employees from the DH (Dalian) Administrative Management Consulting Center in China. Since 2012, a number of their employees have been selected annually to come to Japan for 1 to 3 years. Through this opportunity, the selected employees can work together with Japanese employees to gain new perspective and insight on various issues, form personal relationships with Japanese employees, including top management, and learn what our founding spirit is all about. Once the exchange students have returned to China, they can utilize the experienced gleaned from living overseas, and further promote the globalization of our Group into the future.
Through our efforts to train global personnel throughout the Group, we are building a foundation to expand business overseas into the future.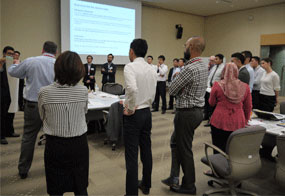 A foreign employee announcing business results
(DH (Dalian) Administrative Management Consulting Center Co., Ltd.)