Diverse human resource utilization 1/ Promotion of active female participation in the workplace
Efforts by job type and level
In 2007, we started a full-time organization in the Human Resources Department which actively promotes female participation in the workplace through various activities.
In addition to company-wide education and specialized training for each job type, we've taken positive action to create a work environment that further contributes to the development and training of female employees. We offer training that is specifically tailored to the level and job type of each female employee and her supervisor.
Training and strengthening management employees
By 2020, we hope to have at least 500 female managers (200 in Daiwa House Industry, non-consolidated) employed throughout the Group, and today we are working to train and strengthen our current female managers. By the end of March 2006, Daiwa House Industry had 8 female managers (0.3%) (no chief or deputy chief directors) and 127 chiefs (4.0%). As of April 1 2016, those numbers have increased to 86 female managers (2.5%) (4 chief or deputy chief directors, 0.8%) (5 transferring employees) and 428 female chiefs (10.8%).
* Within Daiwa House Group, the term "manager" includes senior managers, chief engineers, and above.
Throughout the entire Group, we have 12 female executives and 240 female managers (3.4%).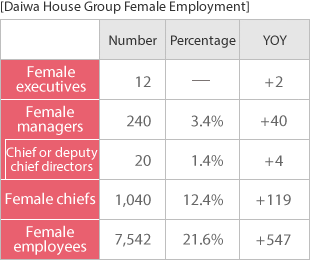 As of April 1, 2016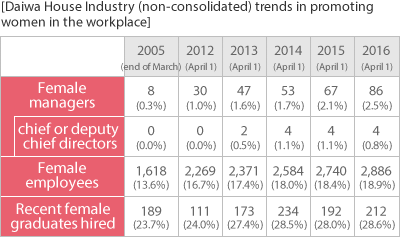 Encouraging participation in Daiwa House Juku and Tech Management Dojo
Since fiscal 2008, we've been offering a "Daiwa House Juku" to train the next generation of managers throughout the Group. By offering strategic training for a more diverse range of human resources, and urging female managers to participate, we had 16 female leaders from throughout the Group involved by fiscal 2015. Also, we've been holding a "Tech Management Dojo" since fiscal 2011 designed to teach technical management skills to our human resources, and by actively encouraging women to join, we've had 7 female engineers participate.
Manager training
Since fiscal 2010, we've been offering various types of training tailored for female managers, such as enlightenment/awareness training, and assessments, with a goal of training many female employees for upper management positions.
Training for potential managers
Since fiscal 2011, we've been offering a type of training tailored specifically for potential female managers. The training involves various items that come up in management positions, such as the type of mindset needed, a close look at the range of tasks required of a manager, and appointed roles. For six months, potential female managers and their supervisors develop the abilities required for management, which are consciously carried out in a business operations.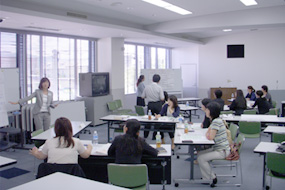 Training tailored for female managers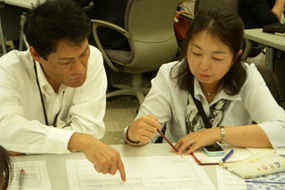 Training for potential female managers
Efforts to expand positions within each department
In order to ensure an adequate amount of human resources with our country's decreasing birthrate and aging population, and to meet a diverse range market needs, we are actively assigning more female employees to positions that have traditionally been male dominated in our company. We are also offering support and training for females, to help them establish themselves and maximize their abilities.
Female sales employees training and support program
We have implemented a "female sales employee support program" in efforts to create a work environment in which female employees and their supervisors can train together. As a result of these efforts, the number of female sales employees went from a paltry 1.2% (60) in late March 2006 to a robust 8.1% (334) as of April 1, 2016. Also, female employees are in charge of a wider range of business fields today.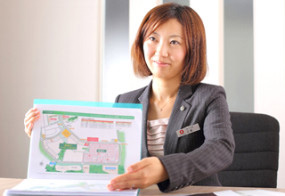 One of our female sales employees proposing an idea to customers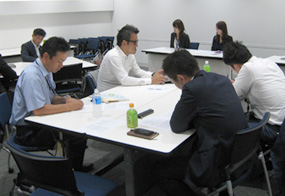 The supervisors of female employees training to work in sales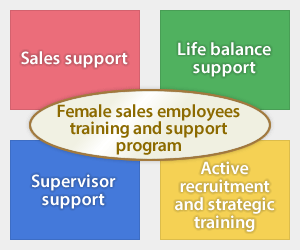 Sales support
Since 2007, we've offered information exchange meetings and training seminars for female sales employees, providing them with a venue to meet with role models, create career life plans, and build networks with other female sales employees. Since 2014, we included additional content in these programs, with topics related to each business department, such as strengthening life proposal abilities and exchanges with people in other industries, in a bid to offer a more well-rounded type of training.
In addition, we've offered an "exchange meeting between female sales employees of different housing manufacturers" since 2007, which originally included three different housing manufacturers, but has since expanded to nine. Participants in these meetings have found them to be quite stimulating, as they are able to talk with role models, exchange thoughts and opinions regarding female managers, and exchange information with housing industry employees from other companies who do similar work.
Supervisor support
To create a work environment where female sales employees can better utilize their abilities, we offer training for their male supervisors in each department, provide examples of women currently working in sales, and hold discussions between participants regarding sales employees training for women.
Life balance support
We offer a system for female sales employees who are planning to return from maternity leave, including consultation to deal with any worries they might have, as well as life balance support, to help them transition back into the sales team as smoothly as possible.
Active recruitment and strategic training
When considering new graduates for employment, we are actively recruiting female employees into the Sales Department. We also hold a Q&A seminar with veteran employees for female students, which includes specific examples of the difficulties experienced by female sales employees, such as balancing child rearing with work. This is also an opportunity to explain the efforts we are taking to encourage female employment within our company.
We are also promoting career advancement to strategically train female leaders in sales.

Establishing and training female employees in the Technology Division
To help establish and train female employees in the Technology Division, we have offered an information exchange seminar in our Home Construction Division since 2007, and an exchange of ideas meeting in our Home Design Division since 2013. In these and other ways, we have been both helping female technical staff to establish their own networks, and giving them role models who can encourage them to continue in their jobs.
As a result, the number of women with technical jobs in our company increased from 5.5% (263) in late March 2007, to 11.4% (714) as of April 1, 2016. This increase is not only in design, but spans supervisory jobs in construction, structural design, and facilities as well. On-site construction management jobs in particular include 100 women.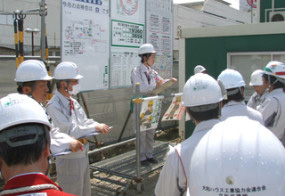 Daiwa House staff at one of our construction sites

Strategic personnel changes in office-related positions
For female employees who have entered our company in clerical positions, we have provided a means of expansion into other departments that have traditionally been dominated by male employees and new businesses, such as the customer counseling center and robotics-related business. Efforts include a job posting system and FA system within the company for a strategic expansion of job categories.
In addition to expanding the career paths of our employees, this strategy also utilizes customer satisfaction to increase employee motivation.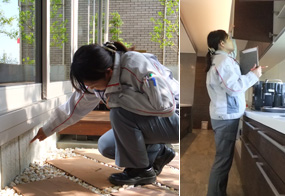 A female employee who has switched jobs to post-inspection staff performing her inspection duty.
Efforts to develop abilities
Specialization improvements
We are working to eliminate the conventional thinking regarding gender-specific roles in clerical work, and train professional human resources regardless of gender. This goal is being achieved through our supervisory training of employees for the Management Department (General Affairs and Accounting Department) in the branch ofiices.
Promoting improvement in business operations
Enlightenment and awareness training
We have been offering enlightenment and awareness training since 2014, as a way to develop employee awareness of their roles, touch on career building and life events, and to further improve business operations.
When training female employee in clerical positions for management, our enlightenment and awareness training helps them more fully understand the expansion of required tasks, newly allotted roles, and encourages reform in the level of awareness that supervisors have regarding training.
Examples of our efforts throughout the office departments
To develop the abilities of female employees working in clerical positions, we are carrying out business improvement efforts. For example, in areas that have a high percentage of double-income households, we focus on female employees who are raising children while also working clerical position. Some efforts include house designs that incorporate the sharing of household chores as a theme, and various events, etc. that lead to successful examples of homes that fit well with local customs.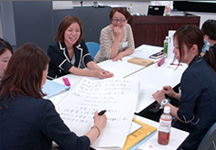 Enlightenment and awareness training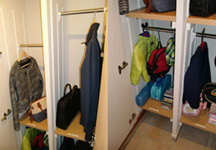 Business improvement project with
Model house built by "sharing of household chores" as a theme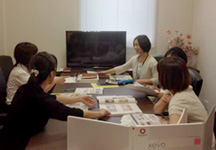 Business improvement project meeting
Business culture creation
Efforts taken by Daiwa House Industry
Sharing examples and disseminating information
In 2013, we started distributing the Handbook of Positive Action for Workforce Diversity to all of our employees. This is to give them a deeper understanding of what our females in the workplace and diversification efforts are all about, and to establish a business culture in the workplace where a diverse range of human resources can be active, including women. This handbook provides various examples of women in the workplace, successful examples of women being trained by their male supervisors, an introduction to systems that provide women with life balance support so that they can advance their careers, philosophies regarding frequently asked questions, information on readings and study sessions to be held, etc.
The handbook also provides information from the Diversity Promotion Office once every three months regarding diversification efforts, including women in the workplace. It covers the stories of male and female employees that are utilizing the work/life balance support system, and introduces efforts/data regarding the promotion of women in the workplace throughout our company.
Reflected in evaluation categories
In order to accelerate the creation of a business culture that fits a diverse range of human resources, categories such as "active support for female subordinates" and "roles and opportunities to train subordinates" were included in manager evaluation content, with female career support stressed as an important element in management.
In addition, the "training of female employees for clerical positions" was included as a soundness of management evaluation category, along with business improvement projects, to create an even more accommodating business culture.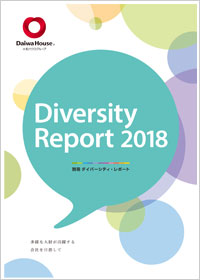 Handbook of Positive Action for Workforce Diversity
Efforts within the Group
In order to further accelerate the creation of a business culture that promotes diversity, Daiwa House Group has been holding a Group-wide forum to promote female participation in the workplace called "Third D's Women's Forum" since last fiscal year. 218 female managers and potential female managers participated along with 34 members of top management from 26 Group companies. The top managers participated as advisors in group discussions, where ideas were considered to further empower women in the Group's management sector, and a lively exchange of opinions took place.
29 Group companies are also participating in information exchange meetings on the promotion of diversity, where various examples of efforts to promote female participation in the workplace are shared.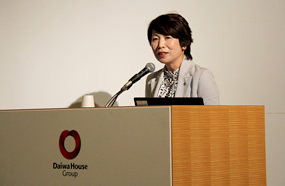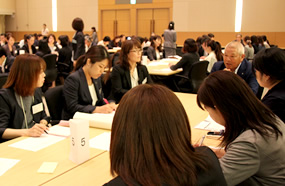 The Third D's Women's Forum
External evaluations
Daiwa House wins Nadeshiko Brand and New Selection of 100 Best Companies for Management Diversity awards in same year
In March 2016 Daiwa House Industry became the first enterprise in Japan's housing and construction industries to be included in two selections of listed companies – the Nadeshiko Brand and the New Selection of 100 Best Companies for Management Diversity. The Nadeshiko Award was won for the second time following the first award in 2015. The Company received these two awards in recognition of its efforts to expand the range of occupational categories available to female staff by actively encouraging capable and ambitious employees to apply for jobs outside their present category, as well as its efforts to improve ways of working through such steps as introducing "productivity per hour" as an evaluation criterion for the business performance of individual workplaces.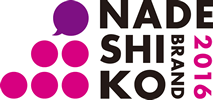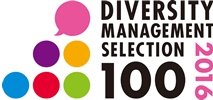 Others
In 2012 our Kobe Branch(former Kobe Office)was recognized by the city of Kobe as a "workplace in the municipality of Kobe that promotes active participation by both male and female staff." This award came as the end-result of a process of comparison among numerous places of business in terms of their proactive approach to joint participation by male and female staff in planning; their efforts to promote gender equality in the workplace; and their measures to help female staff continue in their careers while also raising children.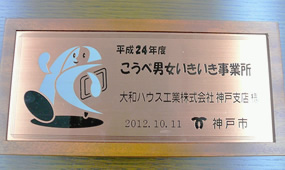 In order to help many businesses in Kanagawa Prefecture understand the potential of female human resources, and promote female participation in the workplace, Kanagawa Prefecture certified our "SÉJOUR WIT-SW" condominiums as the "First Nadeshiko Brand in Kanagawa Prefecture" in 2014. This was due to our contribution to female employee development, and certification of good products under the "Kanagawa Nadeshiko Brand."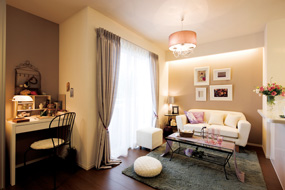 In June 1 2015, we were awarded "two-star certification" by the city of Osaka as a leading company for female participation in the workplace for our positive efforts in organizing a work environment that is easy for women to work in. We were also evaluated for our promotion of the male role in child rearing efforts, receiving certification as a "company that promotes male child rearing activities."
We were also selected as the leading company in this category for the 2015 fiscal year, and received an award.