Message from the Management
-- To all our shareholders and investors --
Group's Fifth Medium-Term Management Plan started from April 2016
Keeping alive the spirit of our founder, we will continue to create new value
Daiwa House Industry was founded in 1955 with the corporate mission of achieving the "industrialization of construction." In April 2016, when we marked the Company's 61st anniversary, the Group had grown to comprise 172 companies with around sixty-thousand employees.
The Daiwa House Group operates in a wide range of business areas, centered on the core fields of Single-Family Houses, Rental Housing, Condominiums, Existing Homes (renovation, real estate agency services, etc.), Commercial Facilities, and Logistics, Business and Corporate Facilities (logistics, medical and nursing care, and residential services for senior citizens, etc.), and also reaching out to encompass resort hotels, fitness clubs, city hotels, and home centers, among others.
Under our motto of being "a group that co-creates value for individuals, communities, and people's lifestyles," we work to create businesses that are needed all around the world and will be of service to many people. At the same time, in line with our catchphrase Asu Fukaketsuno (Indispensable for Tomorrow) – which is composed of the initial syllables of the Japanese words for safety & comfort, speed and stock, welfare, the environment, health, information-communication technology, and agriculture – we are engaged in businesses involving the environment and energy, as well as in robotics, agriculture, and other new business operations. We are also committed to proactive involvement in overseas markets. In these and other ways, we are striving to further diversify and expand the Group's operations.
Thursday, May 11, 2017: Earning Release for FY2016
(From April 1, 2016 to March 31, 2017)
Financial Highlights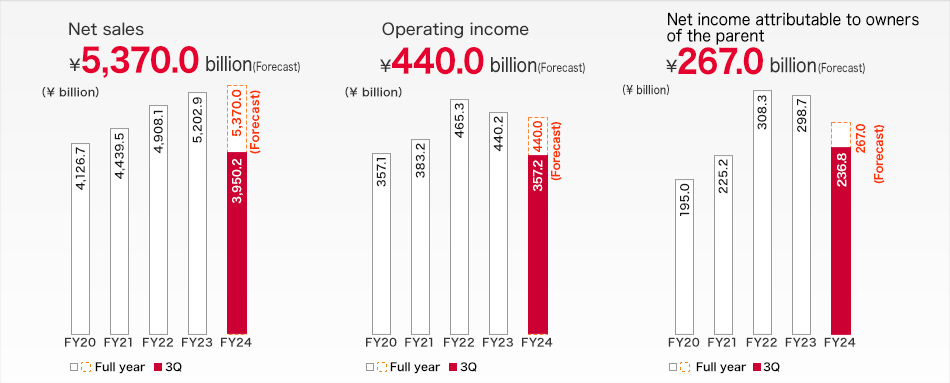 Management Policy

Sustainable Management

External evaluation of Daiwa House Industry's SRI
Daiwa House Industry has been highly praised for its efforts to contribute to the creation of a sustainable society through its business activities, and it has been included in several leading global SRI* indexes.
* SRI = Sustainable and responsible investment (also known as socially responsible investment), which refers to any investment strategy that seeks to consider both financial return and social good.