Message from the Management
-- To all our shareholders and investors --
Daiwa House Group - working to co-create value for individuals, communities and people's lifestyles, and expanding wide-ranging business operations in our business fields-Housing, Business, Life, and Global.
Daiwa House Industry was founded in 1955 with the corporate philosophy of industrialized construction. We grew dramatically as a prefabricated housing supplieralong with increasing housing demand, building our business through diversification into all categories of the construction sector.  In April 2022, the Group had grown to comprise 480 companies with around 71 thousand employees.
Going forward, we will work to further grow market share in our core businesses while expanding our fields of business and geographic operational area, in pursuit of our management vision of realizing a society in which people can live fulfilling lives.
In April 2022, we have started the five-year Daiwa House Group 7th Medium-Term Management Plan (covering the FY2022–2026 period).
FY2022 3Q:
Feb. 10, 2023 at 14:00(JST)
Financial Highlights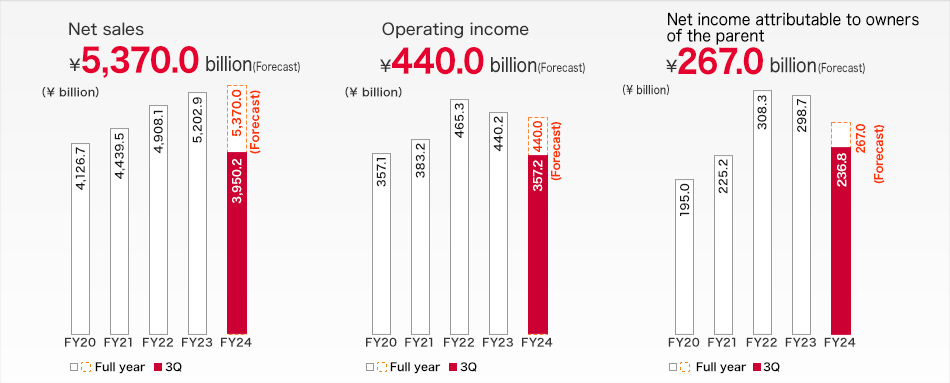 External Evaluation
Inclusion of Daiwa House Industry in ESG indices
* THE INCLUSION OF Daiwahouse Industry. CO. Ltd IN ANY MSCI INDEX, AND THE USE OF MSCI LOGOS, TRADEMARKS, SERVICE MARKS OR INDEX NAMES HEREIN, DO NOT CONSTITUTE A SPONSORSHIP, ENDORSEMENT OR PROMOTION OF Daiwahouse Industry.
CO. Ltd BY MSCI OR ANY OF ITS AFFILIATES. THE MSCI INDEXES ARE THE EXCLUSIVE PROPERTY OF MSCI. MSCI AND THE MSCI INDEX NAMES AND LOGOS ARE TRADEMARKS OR SERVICE MARKS OF MSCI OR ITS AFFILIATES.