Medeium-Term Management Plan

Based on the management vision of "Connecting Hearts," the Daiwa House Group aims to "co-create value for individuals, communities and people's lifestyles" through a wide portfolio of businesses that offer housing, business and lifestyle support.
In the 4th Medium-Term Management Plan, "3G&3S" for the Next Step (FY2013 to FY2015), we accelerated core businesses growth and through strengthening business diversification and management foundations, we reached the plan's target of 2,800 billion yen in net sales and 170 billion yen in operating income in two years, one year earlier than initially planned.
We expect to see a surge in construction and real estate demand as we head towards the Tokyo Olympics, at the same time there is also increasing uncertainty of consumer consumption and instability in the Chinese economy, among other factors. In the midst of this, we formulated our 5th Medium-Term Management Plan, based on future growth strategies to enable the Daiwa House Group to grow and develop even further in the years ahead. In our 5th Medium-Term Management Plan, we aim to strengthen short- to medium-term growth potential and mark steps toward future growth while upgrading management foundation to adapt to future environmental changes.
5th Medium-Term Management Plan
5th Medium-Term Management Plan (PDF 2.0MB)
1. Review of 4th Medium-Term Management Plan
2. Perception of Outside Environment
3. Basic Policies of 5th Medium-Term Management Plan
4. Performance Goals of 5th Medium-Term Management Plan
5. Earnings Goals by Business Segment
6. Strategies for Each Core Business
Performance goals of 5th Medium-Term Management Plan (revised upward in May ,2017)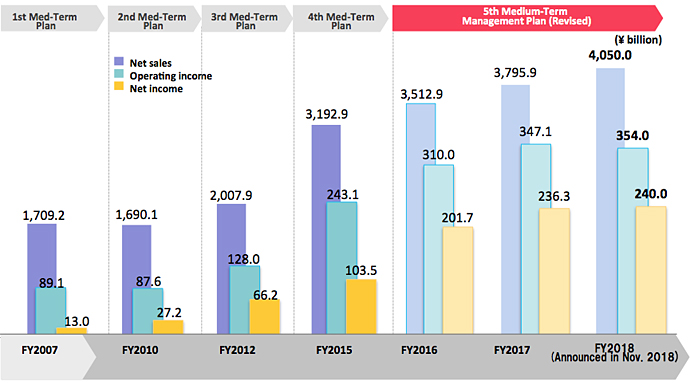 Basic policies of 5th Medium-Term Management Plan
The theme of the 5th Medium-Term Management Plan is to capture domestic demand while preparing for future environment changes and building a platform for achieving 4 trillion yen in net sales.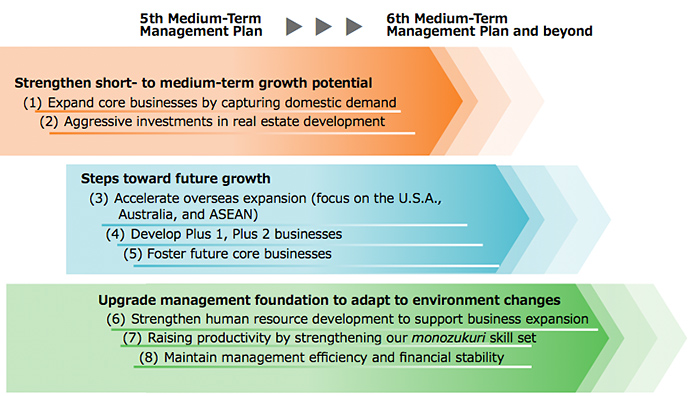 Planned investment
We will invest 900 billion yen, including our highest ever 700 billion yen in real estate investments, based on the aforementioned growth strategies.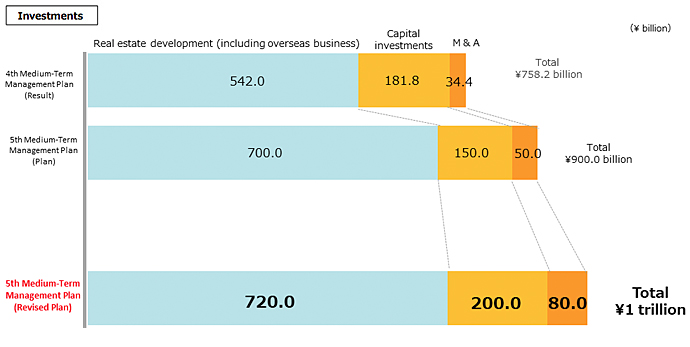 Maintain management efficiency and financial stability
Aim to sustain the growth of value for our shareholders by effectively using shareholder capital while maintaining financial health.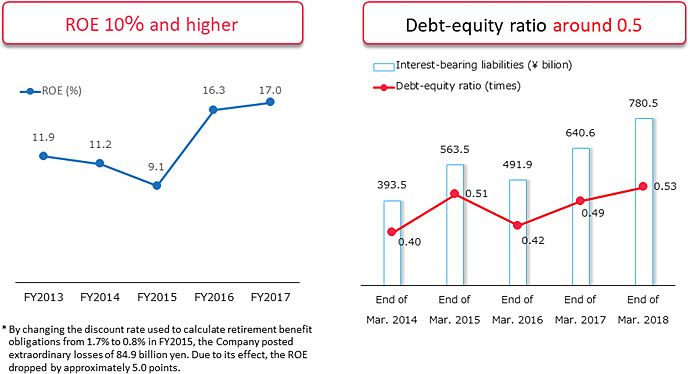 Shareholder return policy
By investing income created through business activities into growth areas, the Company enhances shareholder value by augmenting the net income per share.
The Company aims to maintain stable dividends and return profits to shareholders in line with business performance through a dividend payout ratio of 30% or higher of consolidated net income attributable to owners of the parent.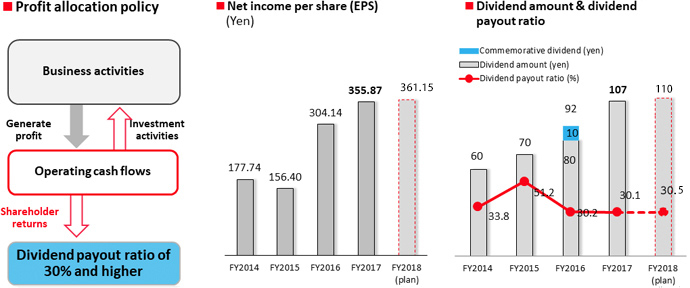 Presentation on management policies (The 5th Medium-Term Management Plan)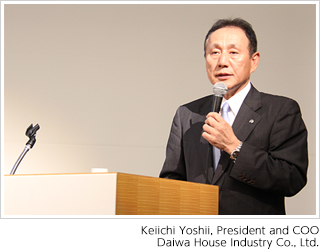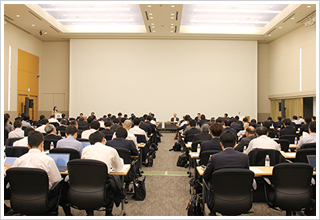 | | |
| --- | --- |
| Date | Tuesday, May 17, 2016 (at Tokyo Head Office) |
| Presentator | Naotake Ohno, President and COO, Daiwa House Industry Co., Ltd. |