Business Segment
The percentage figures for breakdown of net sales and operating income by segment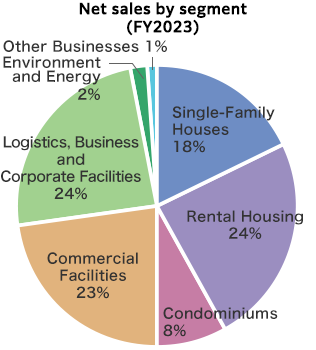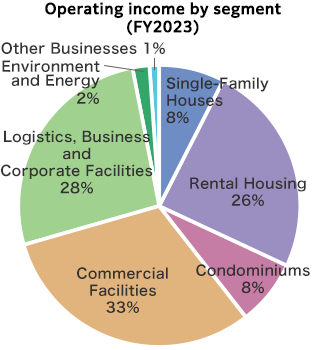 Note: Net sales and Operating income by segment include intragroup transactions between segments
Single-Family Houses Business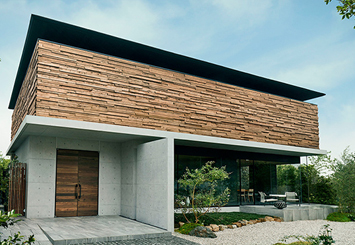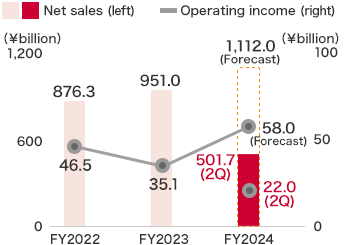 In the Single-Family Houses Business segment, we marked the transition to a business division-based system by formulating a business mission "Create 'lasting happiness' through housing" and a business vision "LiveStyle Design―Transforming home from a place to return to a place to 'live'―," and we stayed close to the life of each customer and pursued community-based business expansion based on the new mission and vision.
In April 2021, we launched "Wood Residence Ma-Re," our most luxurious detached house product combining a wood structure and RC structure. We are also proactively working to resolve our customers' issues and propose new values with our rich product lineup and proposals for living that cater to changes in society and people's lives. The lineup includes Lifegenic, which offers a fun and easy home designing experience online, "Comfortable workplace" and "Connecting work pit" as a proposal of our unique telework style, as well as "Kaji Share House" that helps facilitate sharing of household chores among family members. Additionally, we focused on value chain reform with our group companies and, using the "Homes of Daiwa House" platform, we will continue working to expand proposals that address the house owner's lifetime value, including home renovations, relocation, and sale, finding homes for their families, and suggestions on furniture, in addition to providing new housing.
In the United States, our main operating area overseas, we pursued expansion of the housing business in the "smile zone" which connects the economically booming eastern, southern and western tiers of the United States, and we strengthened the foundations for business expansion by welcoming CastleRock Communities, LLC, which operates mainly in the South, to the Group in September 2021, joining Stanley Martin Holdings, LLC, which operates mainly in East Coast area, and Trumark Companies, LLC, which operates mainly in the West coast area. Meanwhile, in the United States as elsewhere, we experienced supply chain disruptions and delays in the processing of permits by the regulatory authorities due to the impact of COVID-19. However, demand for single-family houses remained firm and we succeeded in minimizing the impact of such disruption by putting effort into reinforcing procurement of materials to ensure a stable supply. As a result, our performance exceeded initial projections.
As a result, net sales for this segment amounted to 626,889 million yen (+21.5% year on year), while operating income came to 29,708 million yen (+36.2% year on year).
Rental Housing Business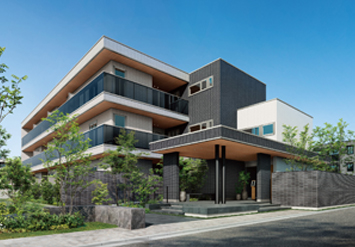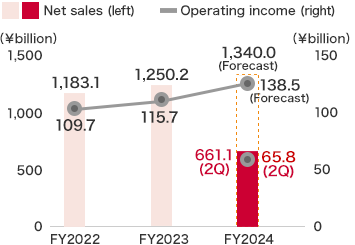 In the Rental Housing Business segment, we have been proposing and supporting rental housing management that leads to the maximization of the asset value and long-term stable management for owners through the provision of homes of choice for residents where they may want to continue living in for a long time. We pushed ahead with built-for-sale business and eco-friendly ZEH-M, as opportunities to make face-to-face sales proposals increased after the stagnation caused by states of emergency and other control measures, reflecting efforts to achieve both strict containment and economic and social activity. At the same time, we continued to hold regular online seminars and built lasting relationships with customers through the provision of information on the latest trends in land use, rental housing markets and suchlike.
Daiwa Living Co., Ltd. maintained a high occupancy ratio, reflecting relocation hesitancy of tenants during the COVID-19 pandemic and growing demand for properties coming equipped with Internet access, as new lifestyles such as teleworking become more widespread. Daiwa Living Care Co., Ltd. of the Daiwa Living Group opened a serviced house for the elderly "D-Festa Kashiwa-Tanaka" (Chiba Pref.) in December 2021. It now has a nationwide network of 17 such facilities. Furthermore, Daiwa Living Co., Ltd. and Daiwa Living Management Co., Ltd. implemented an absorption-type merger with Daiwa Living Co., Ltd. as the surviving company and Daiwa Living Management Co., Ltd. as the extinct company, on January 1, 2022. The purpose of the merger is to further improve convenience for owners and tenants by speeding up decision-making and creating a one-stop-service structure.
Meanwhile, overseas in the United States, our main operating area, we sold a rental housing development in Texas in August 2021, bringing the cumulative total of properties sold since our first sale in 2016 to five. Occupancy of rental properties is also steadily improving as economy activity gradually recovers, and we are steadily building up a track-record of occupancy with a view to sale.
As a result, net sales for this segment amounted to 1,029,195 million yen (+4.7% year on year), while operating income came to 94,337 million yen (+3.9% year on year).
Condominiums Business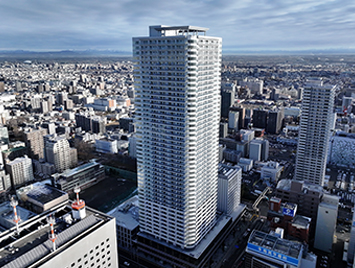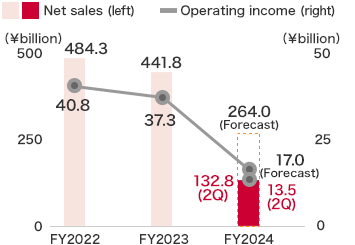 In the Condominium Business segment, we sought to provide basic housing performance essential for a long housing life, comfort, safety and a management structure, drawing on our knowhow as a home builder to meet the diverse lifestyle needs of potential residents. We are also striving to create high added-value condominiums which, in addition to asset value for the customer, also consider the environment and society and aim to contribute to local communities.
At PREMIST Towers Sapporo Naebo, a large-scale multipurpose redevelopment in front of JR Naebo Station, the first of the two towers (Aqua Gate) was completed in January 2022 and all units sold quickly in recognition of the convenience of direct connection to JR Naebo Station and a large shopping mall, and ample common areas and adjoining facilities. Meanwhile, sales of PREMIST Ohori 2-chome (Fukuoka Pref.) are progressing steadily, due to factors such as the prestigious location in Fukuoka City close to Ohori Park and recognition of its environmental credentials and next-generation specifications. The development received ZEH-M Oriented certification due to the high heat insulation and high energy efficiency of the building and its energy-saving facilities and equipment and it also received ABINC certification, a certificate for facilities supporting harmony with nature and biodiversity conservation.
In addition, at Group member Cosmos Initia Co., Ltd., sales of investment units in Selesage Toyosu (Tokyo)-joint-investment type real estate project that enable investors to acquire excellent city-center property on a tight budget-have trended favorably, and the total number of units has been sold out.
Daiwa LifeNext Co., Ltd. launched a service for the production of disaster management manuals tailored to individual condominiums in June 2021 and collaborated with Rikei Corporation on the joint development of a VR (virtual reality) Fire Drill service overseen by Yokohama Fire Bureau and began providing it to condominium management associations which entrust management to Daiwa LifeNext in November 2021.
Overseas, business operations in China went well, with all units at "Grace Residence" (Nantong) and "Grace Residence" (Changzhou) sold out at an early stage, and we also started on a new development project in Suzhou.
As a result, net sales for this segment amounted to 379,865 million yen (+11.8% year on year), while operating income came to 9,762 million yen (+80.9% year on year).
Existing Homes Business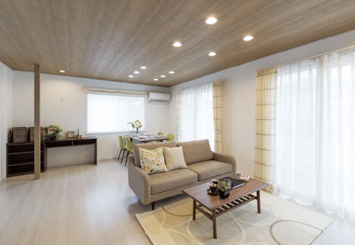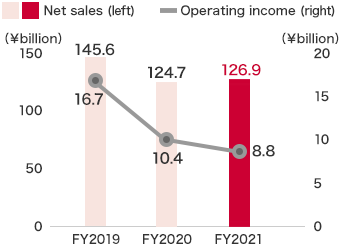 In the Existing Homes Business segment, we worked to strengthen the relationship with owners of single-family houses and rental housing constructed by the Company through building inspections. We also strengthened our efforts to propose renovations required for extended warranty. At the same time, to our corporate customers, we focused on proposing maintenance of their business assets and sought to increase orders.
In our Livness business, which meets needs for diverse homes through a one-stop service, we held online seminars as a new form of marketing under the COVID-19 pandemic. In the single-family houses division, we have set up a Livness business premises to 60 locations nationwide and provided a wide range of consultation service, including relocation, sale and renovation, mainly to owners.
As a result, net sales for this segment amounted to 126,955 million yen (+1.8% year on year), while operating income came to 8,877 million yen (-15.0% year on year).
Commercial Facilities Business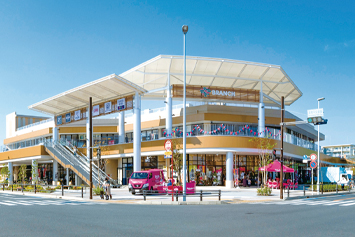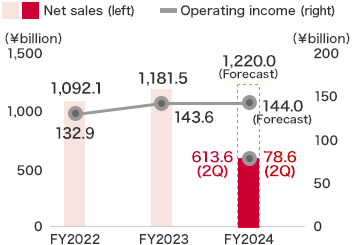 In the Commercial Facilities Business segment, we designed and proposed that matched tenant corporations' strategic needs and took into account the impact of the COVID-19 pandemic. We offered various plans to make the best of the particular characteristics of each region and meet a wide range of needs. In particular, we strengthened our efforts in the field of large-scale projects. Also, for customers looking for options in the purchase of real estate for investment purposes, we took steps to expand our services by strengthening strategies to encompass land acquisition, construction, and leasing-out to tenants.
Meanwhile, Daiwa Information Service Co. Ltd. and Daiwa Royal Co., Ltd. merged to form Daiwa House Realty Mgt. Co., Ltd. on October 1, 2021, for the purpose of further maximizing business synergy and improving management efficiency. Daiwa House Realty Mgt. Co., Ltd. opened its first overseas hotel Roynet Hotel Seoul Mapo in South Korea in March 2022. Furthermore, the shopping center "ALPARK" (Hiroshima Pref.), which Daiwa House Realty Mgt. has managed and operated since acquiring it in 2019, is scheduled to be fully renovated and reopened in April 2023, following renovation and reopening of the East Building and West Building in December 2021 and April 2022 respectively. Through projects such as these, Daiwa House Realty Mgt. is developing multipurpose facilities which combine the Group's management assets spanning development and planning, design and construction, and operation and management.
Daiwa Lease Co., Ltd. opened Branch Chigasaki Three (Kanagawa Pref.), a community-type multipurpose commercial facility with a community room for local residents and temporary evacuation space to use in the event of disaster, in October 2021. In March 2022, Daiwa Lease Co., Ltd. also renovated and reopened Toriizaki Seaside Park (Chiba Pref.), which combines restaurants and accommodation facilities on the concept of new interactions linked by the theme of "food."
However, due to a decrease in sales of development properties, etc., net sales for this segment amounted to 796,922 million yen (-1.4% year on year), while operating income came to 114,825 million yen (-6.6% year on year).
Logistics, Business and Corporate Facilities Business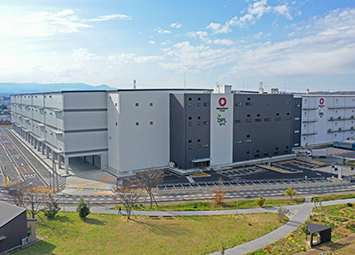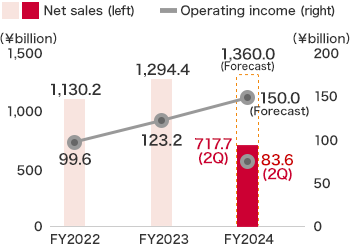 In the Logistics, Business and Corporate Facilities Business segment, we worked to enhance the Group's business scope by constructing a variety of facilities to suit the differing business needs of our corporate customers, and by providing total support services that enable customers to utilize their assets most effectively. To nurture business pillars besides logistics facilities development, which has driven earnings growth, we launched the "DPDC" (D Project Data Center) brand and also worked on, as part of an initiative for organizing an infrastructure for people's daily life, Toyama Public Wholesale Market Redevelopment Project, as a first project to support the redevelopment of aging municipal wholesale markets, and one of Japan's largest onshore salmon farms.
In the field of logistics facilities, we began construction of 40 multi-tenant logistics facilities nationwide, leveraging our extensive experience and know-how to provide the essential back-up to our customers' logistics strategies. Particularly notable among these newly commenced projects is the "DPL Nagareyama IV" (Chiba Pref.), a multi-tenant logistics facility with the largest floor area (322,299㎡) in eastern Japan (*1) and the largest in our company, completed in October 2021.
In the field of medical and nursing care facilities, we targeted hospitals whose existing facilities are showing signs of aging and which do not meet current earthquake resistance standards, making proposals for reconstruction or relocation. We also strengthened proposals with urban development centered around CCRC (*2) and health care as the starting point.
In the field of support for offices, manufacturing plants and suchlike, we strengthened efforts commercialize and attract companies to industrial parks developed by Daiwa House, including starting development of Hiroshima Innovation Techno Port II in April 2021. We also stepped up ZEB proposals to promote energy-efficient buildings toward helping realize a decarbonized society.
In food factory-related business, we started construction of two large plant factories.
Daiwa House Property Management Co., Ltd. manages and operates mainly the logistics facilities developed by Daiwa House. It entered into new property management (PM) and building management and maintenance (BM) contracts with a total of 40 logistics facilities, including "DPL Nagareyema IV" (Chiba Pref.) completed in October 2021 and "DPL Shin-Yokohama I" (Kanagawa Pref.) completed in March 2022, bringing the cumulative number of buildings under its management to 209, or approximately 7.62 million square meters.
Fujita Corporation saw significant improvement in construction orders from the previous fiscal year when orders were affected by COVID-19, with orders received for a large condominium tower, multiple large logistics facilities, and additional construction work on the Metro Manila Subway Project in the Philippines.
As a result, net sales for this segment amounted to 1,139,640 million yen (+15.1% year on year), while operating income came to 131,769 million yen (+13.7% year on year).
*1: According to our research (per standalone facility; based on area at completion)
*2: Continuing Care Retirement Community is an initiative for the development of communities whose members can lead healthy, active lives, interacting with local residents and many different generations, and can access medical and nursing care where necessary.
Other Businesses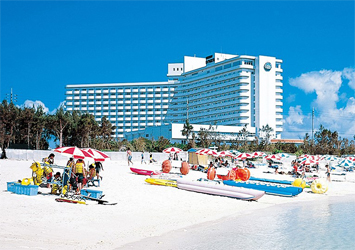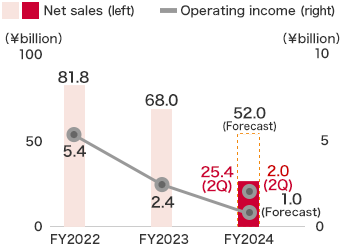 In the logistics business, Daiwa Logistics Co., Ltd. was impacted by initial costs incurred on the establishment of new bases and higher fuel costs attributable to rising oil prices. However, its business results remained steady, reflecting increased transport volumes on the back of recovery in the movement of core cargos, construction materials. Daiwa LogiTech Inc. saw an increase in projects to introduce systems for logistics automation in the IT business, and met various customer needs in the logistics business, as a shift to e-commerce and growing stay-at-home consumption led to warehouse expansion and automation and higher cargo volume.
In the home center business, Royal Home Center Co., Ltd. continued to face a challenging business environment due to continued shortages of timber and housing equipment and products (such as boilers, built-in ovens and toilet seats with warm-water bidet) and worsening consumer sentiment due to the spread of new variants but it sought to expand operations aiming to be the best partner for community-based living and homes.
In the fitness club business, Sports Club NAS Co., Ltd. continued operating alongside implementation of strict infection control measures. Whilst the impact of the spread of new variants delayed recovery in the number of fitness club members (full membership), the number of class members (limited memberships for particular classes) returned to pre-pandemic levels.
In the accommodation business, Daiwa Resort Co., Ltd. reported a full-year occupancy rate above the level a year earlier, albeit only slightly. Whilst inbound demand is expected to take some time to recover, domestic accommodation demand is staging a modest recovery.
However, due to a decrease in construction work for environment and energy business, etc., net sales for this segment amounted to 501,831 million yen (-1.1% year on year), while operating income came to 2,542 million yen (-76.4% year on year).
Notes:
1. Net sales for each segment include internal (inter-segment) sales and transfers in addition to sales to external customers.
2. The above monetary amounts are exclusive of consumption tax, etc.