Business Segment
The percentage figures for breakdown of net sales and operating income by segment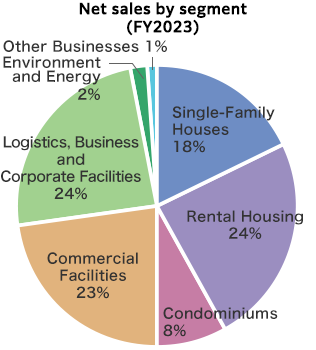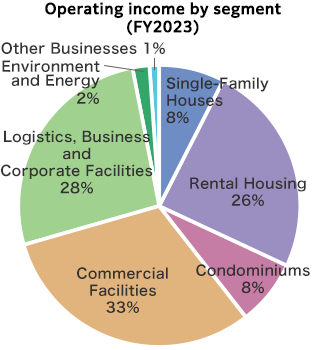 Note: Net sales and Operating income by segment include intragroup transactions between segments
Single-Family Houses Business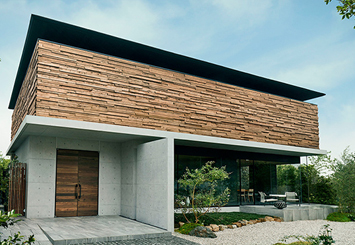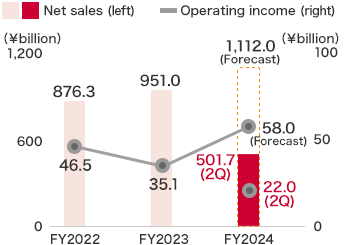 In the Single-Family Houses Business segment, during the term under review, we earnestly addressed our role as a home builder and pursued community-based business projects to expand sales.
In our custom-built houses business in Japan, we aim to meet customer needs with a varied product lineup. This includes, most notably, our xevoΣ single-family house, which boasts a strong level of earthquake resistance guaranteed to last for many years, as well as comfort thanks to exterior wall thermal insulation and 2.72-meter-high ceilings for a spacious living environment. The xevo Gran Wood is another of our top-of-the line wooden-house products, and we also offer our "skye" home in three-, four-, and five-story versions. And since November 2019 we have been offering our "Lifegenic" products, which can be individually designed by the customer employing our simple, user-friendly website. We have also been expanding our range of services with proposals for converting conventional single-family houses into what we call "combination housing," which can function both as a home and various kinds of business premises. Finally, under our Livness brand, we purchase previously-owned single-family houses for resale.
Turning to overseas markets, in the Box Hill Project—in the suburbs of Sydney, Australia—the number of home purchase contract signings has been growing steadily. Meanwhile, in the United States, Group company Stanley-Martin Communities,LLC has been registering favorable business results.
However, as a result, net sales for this segment amounted to 497,880 million yen (-1.1% year on year), while operating income came to 18,080 million yen (-24.3% year on year).
Rental Housing Business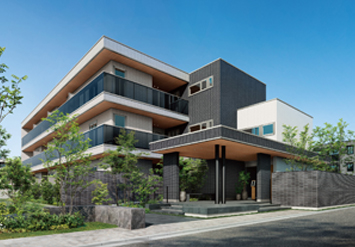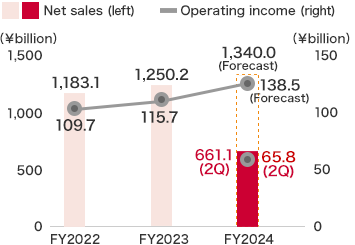 In the Rental Housing Business segment, we make proposals based on a comprehensive balancing of the various factors involved, including the needs of individual land owners, the particular characteristics of each site, and overall market demand. Our land-use proposals are tailored to achieve optimal value, not only for the land owners themselves, but also for the prospective residents and the wider regional community.
On the Japanese market, we are working to expand orders received by making proposals that go beyond the scope of residences. These encompass rental housing properties that include retail outlets, as well as medium- to high-rise properties, in urban locations such as city centers, and facilities for medical care and nursing care.
In overseas activities, our "Aurelian" project in the United States has maintained a roughly 90 percent occupancy rate ever since the start of renting, and 47 percent of real estate equity in the project was sold to Daiwa House Global REIT, Inc.
However, net sales for this segment amounted to 1,005,902 million yen (-4.6% year on year), while operating income came to 98,587 million yen (-5.8% year on year).
Condominiums Business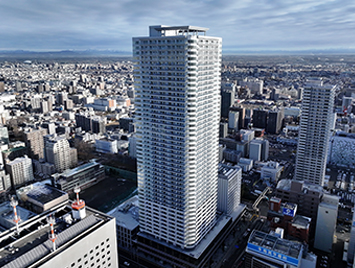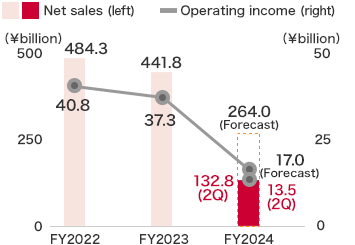 In the Condominiums Business segment, during the term under review, in addition to constructing condominiums that provide asset value and a high level of added value for both the owners and the community at large, we also strove to improve our condominium building management support service, in which we leverage an integrated and comprehensive system to enable a safe residential experience, with peace of mind.
In the Japanese market, we have received praise for developments that inject future potential, such as commercial facilities adjoining the Premist Ariake Gardens in Tokyo. This project has also been rated highly thanks to its easy access to the city center, as well as other features contributing to convenience in daily life, and sales proceeded smoothly—centered on families and DINK couples—with all residential units being sold.
In addition, at Group member Cosmos Initia Co., Ltd., sales of investment units in both Selesage Omotesando and Selesage Naka-Meguro (Tokyo)-joint-investment type real estate projects that enable investors to acquire excellent city-center properties on a tight budget-have trended favorably, and the total number of units has been sold out.
In overseas activities, all units have been completed at the Flour Mill of Summer Hill development & sale project in Australia.
As a result, net sales for this segment amounted to 372,731 million yen (+8.5% year on year), while operating income came to 15,883 million yen (-23.4% year on year).
Existing Homes Business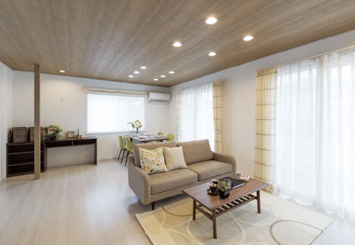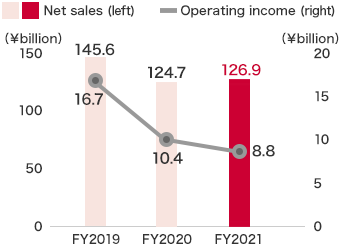 In the Existing Homes Business segment, during the term under review, we maintained our policy of mainly strengthening our relationship with the owners of single-family houses and rental housing built by the Company by means of regular inspections. We also strengthened our lineups of renovation proposals for warranty extensions.
In addition,we focused on the sale of home storage batteries to owners of single-family houses whose contract for the feed-in tariff for renewable energy was expiring, and on maintenance proposals for business assets owned by corporate customers, in an effort to expand our orders.
In our Livness business, whose goal is to revitalize the market for the resale of high-quality existing homes, we have been conducting a home-sales campaign, targeting owners of single-family houses and condominiums nationwide, in which we understand the sentimental value of the homes to their owners, and help convey this to future buyers, and held seminars.
Additionally, in our Livness Town Project, we revitalize housing developments originally developed by Daiwa House many years ago under the "Neopolis" brand name, where the average age of residents is now very high. This is just one of the ways in which the Group addresses social issues through its business operations.
As a result, net sales for this segment amounted to 145,619 million yen (+10.5% year on year), while operating income came to 16,723 million yen (+22.1% year on year).
Commercial Facilities Business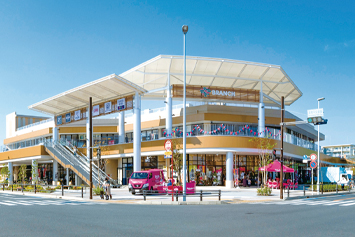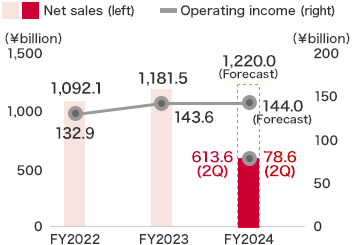 In the Commercial Facilities Business segment, during the term under review, we made facility-opening proposals that match the business strategies of corporate tenants, as well as a wide variety of proposals that made optimal use of the unique characteristics of each region. We also took a number of measures to expand the scope of our business. In particular, we strengthened our efforts in the field of large-scale projects such as hotels and commercial buildings. Also, for customers looking for options in the purchase of real estate for investment purposes, we took steps to expand our services to encompass land acquisition, construction, and leasing-out to tenants.
In the Japanese market, in front of Hiroshima Station we developed the "GRANODE Hiroshima," a large-scale multipurpose facility incorporating a hotel, shopping mall, and offices. We also constructed the "iias Okinawa Toyosaki," a large-scale shopping mall that includes an aquarium, in Toyosaki, Tomigusuku, Okinawa Prefecture. This facility is scheduled to open in June 2020, and will be the first of its kind in the prefecture. In these ways, we combine and utilize our management assets to develop multipurpose facilities that meet our customers' needs.
In overseas activities, we acquired a commercial facility by the name of "Trade" in California, USA in October 2019, and commenced operating management.
As a result, net sales for this segment amounted to 806,784 million yen (+10.4% year on year), while operating income came to 140,632 million yen (-1.4% year on year).
Logistics, Business and Corporate Facilities Business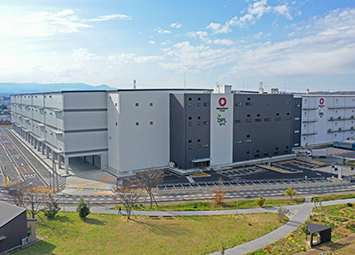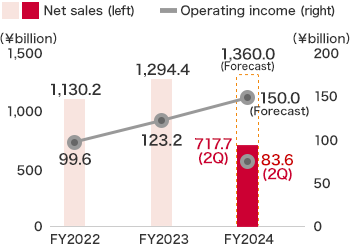 In the Logistics, Business and Corporate Facilities Business segment, during the term under review, we worked to enhance the Group's business scope by constructing a variety of facilities to suit the differing business needs of our corporate customers, and by providing total support services that enable customers to most effectively utilize their assets.
In the logistics facilities business, we started the construction of 26 new logistics facilities nationwide, including DPL Urawamisono, a largest logistics facility in Saitama city, to support the logistics strategies of our customers leveraging our extensive experience and know-how.
In the field of medical and nursing care facilities, we targeted hospitals whose existing facilities are showing signs of aging and which do not meet current earthquake resistance standards, making proposals for reconstruction or relocation. We also strengthened our lineup of solutions to meet the management needs of healthcare corporations, such as those operating homes for senior citizens or multipurpose nursing care facilities.
In the field of support for companies wishing to open new offices or factories, we have started work on development of the Hiroshima Innovation Technoport, which involves the redevelopment of the site of the former Hiroshima-Nishi Airport. We have also stepped up efforts to invite corporations to open places of business in 25 industrial parks developed by the Group.
For food factories, we held seminars for manufacturers and processors of food products for making HACCP* compulsory, while also enhancing our proposals for the building of facilities adapted to safety certification.
As a result, net sales for this segment amounted to 1,152,347 million yen (+12.3% year on year), while operating income came to 120,636 million yen (+20.2% year on year).
* Hazard analysis and critical control points (HACCP) is a systematic preventive approach to food safety in production and preparation processes, in which the dangers posed by contamination by microorganisms at each stage of the process are analyzed and managed.
Other Businesses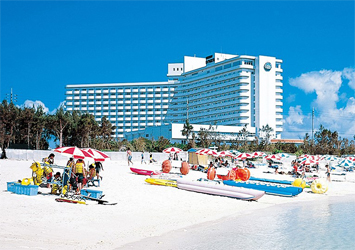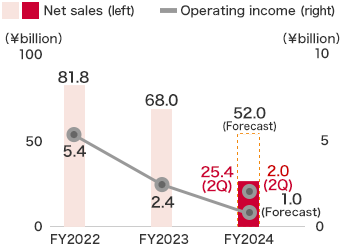 In our home centers business, we operate a diverse range of retail outlets to suit the widely differing lifestyles of today's consumers. Group member Royal Home Center Co., Ltd. opened the Royal Home Center Kisela Kawanishi (Hyogo Pref.).
In our accommodation business, Daiwa Resort Co., Ltd. opened three new hotels—in the cities of Kanazawa, Nara —in its D-Premium series, which focuses on incorporating the unique local traditions and culture of each location into the interior design of its premises.
In our logistics business, Daiwa Logistics Co., Ltd. has completed construction of facilities at five new locations, including the Kashiwa Interchange Logistics Center (Chiba Pref.), enabling it to offer logistics networks that fully meet all customer needs.
In the fitness club business, Sports Club NAS Co., Ltd. opened four new facilities, including Sports Club NAS Warabi (Saitama Pref.)
As a result, net sales for this segment amounted to 530,079 million yen (+9.7% year on year), while operating income came to 19,285 million yen (+42.4% year on year).
Notes:
1. Net sales for each segment include internal (inter-segment) sales and transfers in addition to sales to external customers.
2. The above monetary amounts are exclusive of consumption tax, etc.