Financial Highlights
(Millions of yen)
FY2015
FY2016
FY2017 Forecasts
Net sales
3,192,900
3,512,909
3,750,000(Forecasts)
Operating income
243,100
310,092
315,000(Forecasts)
Ordinary income
233,592
300,529
312,000(Forecasts)
Net income attributable to
owners of the parent
103,577
201,700
210,000(Forecasts)
Total assets
3,257,805
3,555,885
-
Net assets
1,181,986
1,329,901
-
Net assets ratio
35.9%
36.8%
-
Net income per share (yen)
156.40
304.14
316.48(Forecasts)
Book-value per share (yen)
1,762.97
1,971.66
-
Note: Figures are rounded down to the nearest million yen, with the exception of the net assets ratio, net income per share, and net assets per share.
Net sales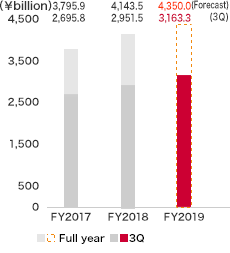 Operating income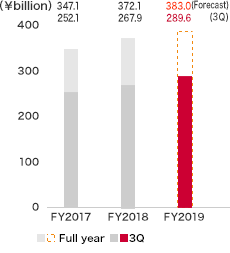 Net income attributable to owners of the parent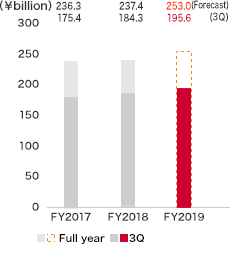 Total assets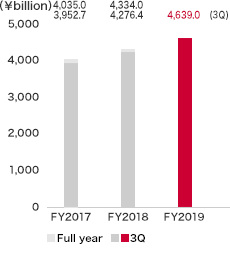 Net assets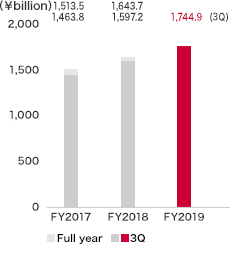 Net assets ratio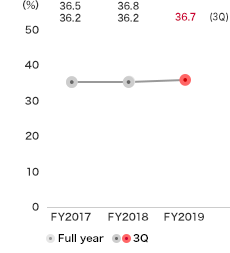 Net income per share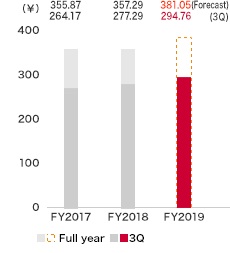 Book-value per share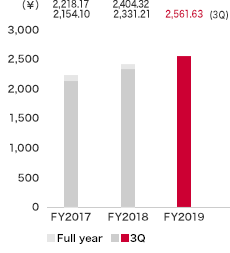 Note1: Amounts below 100 million yen are omitted.
The percentage figures for breakdown of net sales and operating income by segment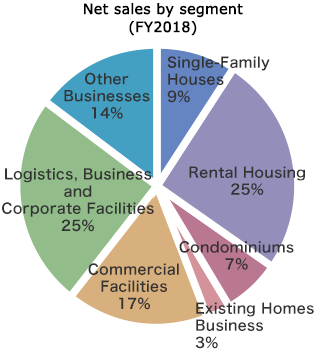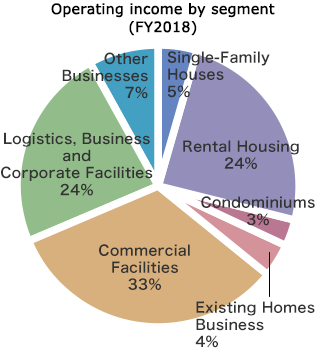 Single-Family Houses Business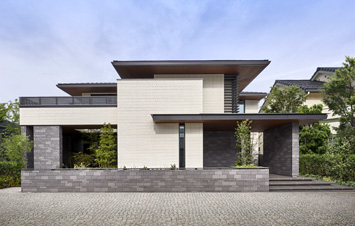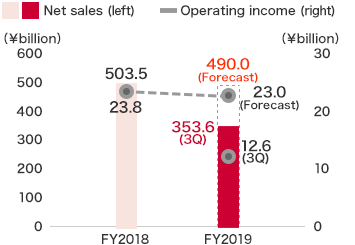 In the Single-Family Houses business segment, during the period under review, we earnestly addressed our role as a home builder and pursued community-based business projects to expand sales.
In our custom-built houses business, we continued to focus on expanding sales of our xevoΣ (xevo sigma) product. This single-family house combines the advantages of strong anti-earthquake performance with a spacious interior thanks to its extra-high (2.72 meter) ceilings. It is capable of fully withstanding repeated exposure to powerful earthquakes while maintaining the same seismic resistance as when it was newly built.
We also took steps to strengthen our marketing of dual-purpose houses, notably by developing and offering 3-story, 4-story, and 5-story versions of our "skye" model single-family house. These products meet customers' need for houses that can be used as a residence by the owner while a portion of the structure is either rented out to a tenant or used as a retail outlet or for other purposes.
During the term under review we also launched our For Nature brand of single-family houses, which embodies the concept of living in harmony with the natural environment. In these homes, we aim for zero environmental impact in line with our goal of popularizing "zero-impact housing."
As a result, net sales for this segment amounted to 390,332million yen (+3.2% year on year), while operating income came to 19,290 million yen (+16.8% year on year).
Rental Housing Business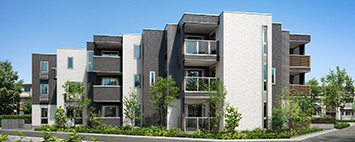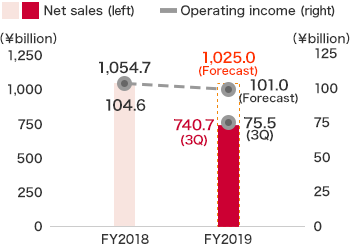 In the Rental Housing business segment, we opened 11 new operational bases during the period under review, and now operate a network of 173 locations nationwide, from which our staff have been conducting regional community-centered marketing activities and working to expand orders.
During the term, we worked to expand our product lineup. Particularly notable was the launch in July 2016 of the Séjour New Lupina, a rental housing model specially designed to minimize damage and/or inconvenience in the event of natural disasters, which comes with lithium-ion storage batteries installed as standard, a first in the Japanese housing industry.
During the term, the aggregate number of rental housing units covered by our anti-crime service, in which we offer tenants top-class burglary prevention and other safety features, passed the 200,000 mark. This business operation continues to grow steadily.
In our rental housing management business, Daiwa Living Co., Ltd. opened another 11 new offices during the term, enabling them to offer marketing and services even more closely matched to the needs of each operating region. We also worked to further enhance the level of services to our tenants. For instance, we expanded the menu of digital contents available in our D-room + services, which now includes e-books and online English conversation lessons, among many others.
As a result, net sales for this segment amounted to 977,215million yen (+11.0% year on year), while operating income came to 94,299 million yen (+15.1% year on year).
Condominium Business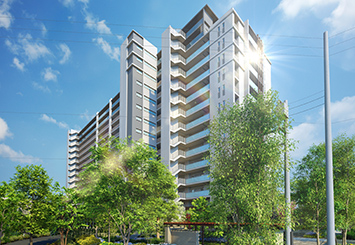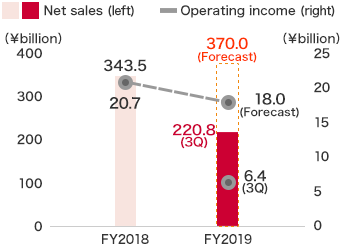 In the Condominium business segment we are working to offer products with higher added value for both our customers and local communities as a whole.
In October 2016, all units of the PREMIST Takao SAKULa City condominium project were sold out on the first day at all seven marketing stages. The popularity of this project – situated in Takao in the suburbs of Tokyo – is attributable to its excellent location – highly convenient for transportation, shopping, etc. – combined with a beautifully green environment.
In March 2017 we completed construction of "PREMIST Shirokanedai," a conveniently-located condominium only one minute's walk from Shirokanedai Station, in a fashionable and chic district of Tokyo's Minato-ku.
We also put great effort into the construction and sale of condominiums in provincial cities across Japan. For example, we commenced the sale of home units in The Ocean Terrace Toyosaki Seaside Terrace, located in the city of Tomigusuku, just outside Okinawa's capital of Naha, where there has recently been a flurry of real estate development activity.
In March 2017, Group member Cosmos Initia Co., Ltd. sold all home units in the GRAND COSMOS Musashiurawa, a newly developed condominium in Saitama Prefecture. This condominium—designed to appeal to active seniors—features common-use facilities such as restaurants, an onsen-style common-use large bath, and a lounge.
However, as a result of a decline in the number of construction completions compared with the previous year, net sales for this segment amounted to 262,867 million yen (-5.9% year on year), and operating income came to 13,431 million yen (-15.0% year on year).
Existing Homes Business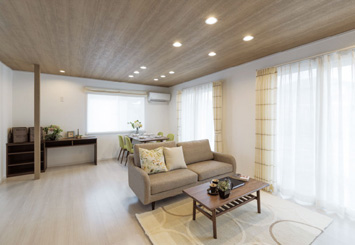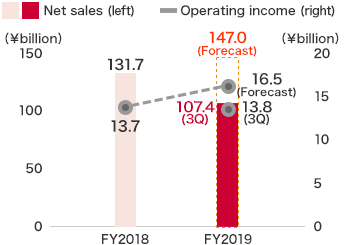 In the Existing Homes business, we strengthened our relationships with owners of single-family homes and rental housing by offering property inspection services, and also engaged in marketing campaigns in which we made various renovation proposals.
We have been working to expand the scope of our Existing Homes business. For example, by strengthening our lineup of proposals for renovation services that improve a home's performance, we have been making effective use of the government's project to build a stock of lasting high-quality housing through the promotion of renovation work, for which financial subsidies are available.
As a result, net sales for this segment amounted to 105,592 million yen (+10.6% year on year), while operating income came to 13,081 million yen (+15.8% year on year).
Commercial Facilities Business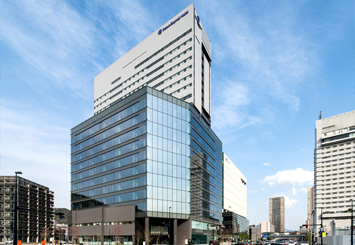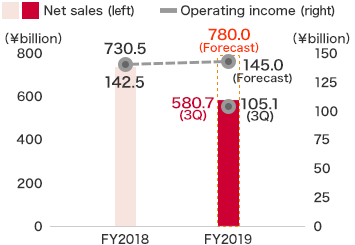 In the Commercial Facilities business, we worked to expand our business scope by strengthening our involvement in urban development and large-scale projects, while at the same time making facility-opening proposals that match the business strategies of corporate tenants, as well as a wide variety of proposals that made optimal use of the unique characteristics of each region. We received particularly firm levels of orders for multipurpose complexes centered around grocery supermarkets, automobile showrooms, and business and city hotels, among others.
Among our large-scale development projects, we commenced work on the Hiroshima Futaba-no-Sato Project, which will involve the construction of a complex including a hotel and various other commercial facilities in an urban redevelopment area to the north of JR Hiroshima Station.
During the term, we also laid the groundwork for the scheduled opening in June 2017 of iias-Takao, a large-scale shopping mall within Takao SakuLa City (Tokyo), which is a multipurpose complex under development, and which will incorporate both residences (single-family houses and condominiums) and commercial facilities.
As a result, net sales for this segment amounted to 569,776 million yen (+15.0% year on year), while operating income came to 100,742 million yen (+25.4% year on year).
Logistics, Business and Corporate Facilities Business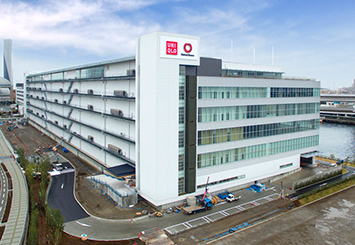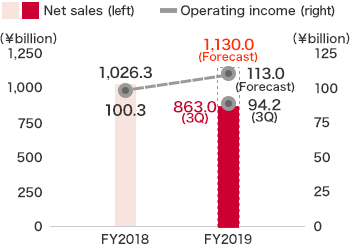 In the Logistics, Business and Corporate Facilities business segment during the period under review, we worked to enhance the Group's business scope by constructing a variety of facilities to suit the differing business needs of our corporate customers, and by providing total support services that enable customers to most effectively utilize their assets.
In the field of logistics facilities, just outside the immediate Tokyo area we commenced construction of one (DPL Nagareyama I) of the planned three buildings that will comprise the DPL Nagareyama Logistics Center (Chiba Pref.). This center will have a total floorspace of approximately 387,000 square meters, making it one of the largest logistics facilities in Japan. Elsewhere in Japan,, in Iwate Prefecture we started construction of the DPL Iwate-Kitakami. We also sold the D-Project Ariake I, a facility that we had developed in Tokyo's Koto-ku.
In the field of medical and nursing care facilities, we continued working to strengthen our lineup of proposals, including the reconstruction or relocation of hospitals built prior to the introduction of the present earthquake-resistance standards, and the construction of nursing care facilities for former hospital patients who have been discharged and want to return home.
In the area of production facilities, we held a number of seminars for corporate customers involved in food processing, and designed improved proposals for the construction of facilities capable of obtaining safety certifications such as HACCP (* 1) and FSSC 22000(* 2).
During the term, Fujita Corporation enjoyed a solid performance in both the construction and civil engineering fields. In the Japanese market it received orders for high-rise condominiums, logistics facilities, and railroad facilities. Overseas, the company received orders for an airport-related project as well as work on preparing land for construction of an automotive manufacturing plant, among other large-scale projects.
As a result, net sales for this segment amounted to 828,478 million yen (+12.5% year on year), while operating income came to 78,967 million yen (+16.1% year on year).
*1. Hazard analysis and critical control points (HACCP) is a systematic preventive approach to food safety in production and preparation processes, in which the dangers posed by contamination by microorganisms at each stage of the process are analyzed and managed.
*2. This is a benchmark approval standard established by the Global Food Safety Initiative (GFSI), which is a food safety system that combines the ISO 22000 (Food Safety Management System) and its extension, the ISO/TS 22002-1 and/or ISO/TS 22002-4.
Other Businesses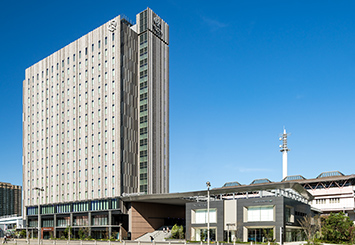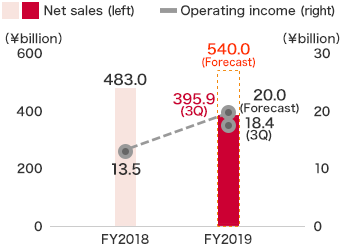 In our Home Centers Division, in April 2016 Royal Home Center Co., Ltd. opened the Royal Home Center Tsushima (Aichi), a next-generation eco-friendly home center and one of Japan's largest zero-energy buildings in the commercial facility category. The company also opened new home centers in Tokyo as well as the prefectures of Chiba and Hyogo, bringing the total number of home centers operated by the company nationwide to 57.
In our Logistics Division, during the term Daiwa Logistics Co., Ltd. opened the Kafukucho Logistics Center I and the Kafukucho Logistics Center II (Aichi Pref.), as well as the Tsukuba Logistics Center (Ibaraki Pref.), bringing the number of logistics centers operated by this company to 77 nationwide.
In our City Hotels Division, Daiwa Royal Co., Ltd. opened the Daiwa Roynet Hotel Kyoto-Ekimae, the Daiwa Roynet Hotel Nagoya-Taikodoriguchi, and the Daiwa Roynet Hotel Koriyama-Ekimae (Fukushima Pref.), bringing to 47 the number of Roynet hotels operated nationwide.
As a result, net sales for this segment amounted to 513,581 million yen (+11.9% year on year), while operating income came to 16,861 million yen (+76.1% year on year).
Notes:
1. Net sales for each segment include internal (inter-segment) sales and transfers in addition to sales to external customers.
2. The above monetary amounts are exclusive of consumption tax, etc.