Financial Highlights
(Millions of yen)
FY2014
FY2015
FY2016 Forecasts
Net sales
Full year
2,810,714
3,192,900
3,460,000 (Forecast)
3Q
1,976,032
2,242,336
2,514,666
Operating income
Full year
180,352
243,100
280,000 (Forecast)
3Q
116,101
170,062
209,405
Ordinary income
Full year
202,628
233,592
272,000 (Forecast)
3Q
119,423
170,826
210,377
Net income attributable to
owners of the parent
Full year
117,133
103,577
182,000 (Forecast)
3Q
85,281
119,575
142,111
Total assets
Full year
3,021,007
3,257,805
-
3Q
2,931,525
3,215,982
3,452,571
Net assets
Full year
1,112,817
1,181,986
-
3Q
1,059,894
1,204,641
1,248,011
Net assets ratio
Full year
36.6%
35.9%
-
3Q
35.9%
37.2%
35.7%
Net income per share (yen)
Full year
177.74
156.40
274.44 (Forecast)
3Q
129.39
180.71
214.31
Book-value per share (yen)
Full year
1,678.24
1,762.97
-
3Q
1,599.67
1,797.93
1,858.68
Note: Figures are rounded down to the nearest million yen, with the exception of the net assets ratio, net income per share, and net assets per share.
Net sales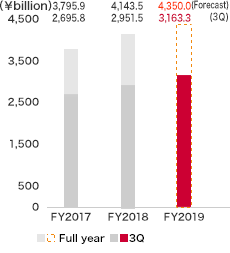 Operating income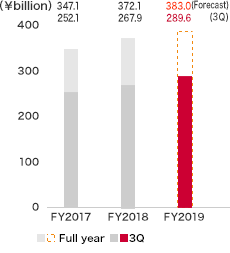 Net income attributable to owners of the parent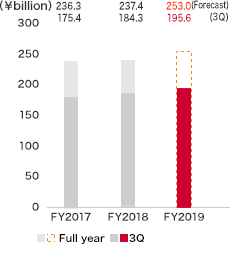 Total assets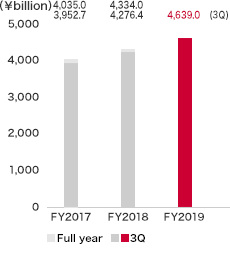 Net assets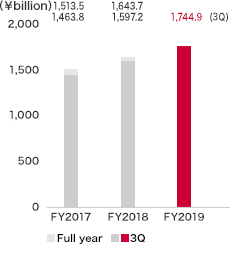 Net assets ratio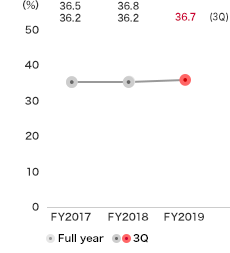 Net income per share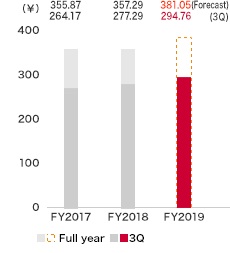 Book-value per share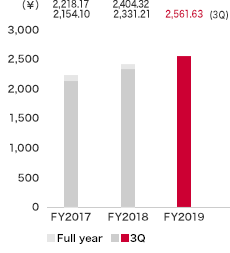 Note1: Amounts below 100 million yen are omitted.
The percentage figures for breakdown of net sales and operating income by segment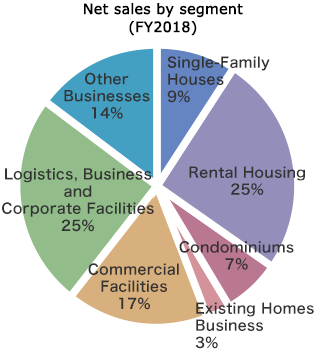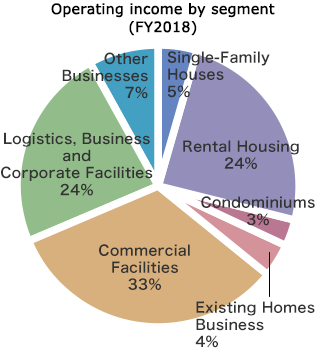 Single-Family Houses Business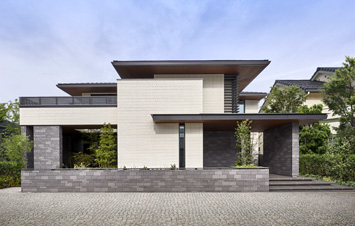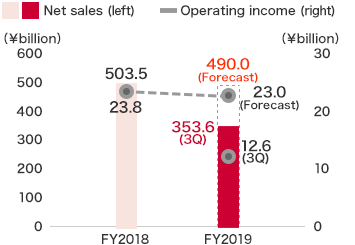 In the Single-Family Houses business segment, during the period under review, we earnestly addressed our role as a home builder and pursued community-based business projects to expand sales.
In our custom-built houses business, we continued to focus on expanding sales of our xevoΣ (xevo sigma) product. This single-family house combines the advantages of strong anti-earthquake performance with a spacious interior thanks to its extra-high (2.72 meter) ceilings. It is capable of fully withstanding repeated exposure to powerful earthquakes while maintaining the same seismic resistance as when it was newly built.
We have recently expanded our product lineup in the xevoΣ series of single-family houses. In October 2016 we launched the xevoΣ Hirayagurashi, a one-story house model, and the xevoΣ Wagurashi, which combines a variety of ingenious features for which traditional Japanese houses are renowned with the high-ceilinged rooms and large door-and-window openings made possible by our advanced proprietary technologies. Then, in November we launched the xevoΣ + R, a two-story house whose design facilitates the renting-out of a portion of the whole structure while the owners continue to reside in a separate portion.
Despite these efforts, due to the posting of the lower of cost or market method in the cost of sales and other items, net sales for this segment amounted to 272,521 million yen (+0.9% year on year), while operating income came to 8,883 million yen (-15.2% year on year).
Rental Housing Business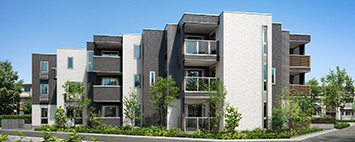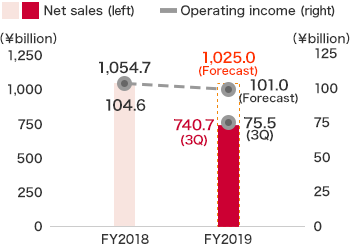 In the Rental Housing business segment, we opened 11 new offices during the period under review, and now operate a network of 173 locations nationwide, from which our staff have been conducting regional community-centered marketing activities and working to expand orders.
We also held seminars for land owners all over Japan, at which we introduced methods of making effective use of assets and of minimizing the inheritance tax burden. In addition, we offered land owners proposals tailored to their specific needs, based on our wide and varied product lineup.
In August 2016, the aggregate number of anti-crime rental housing unit contracts passed the 200,000 mark. The superior safety levels of these units have made them very popular among tenants.
In our rental housing management business, Daiwa Living Co., Ltd. opened six new offices, further enhancing its ability to offer community-centered services. We have also taken steps to provide improved services to tenants. For example, in the company's D-room+ product, in which tenants can choose up to three special-privilege services, the new option of a baggage storage service has been added to the menu.
As a result, net sales for this segment amounted to 705,887 million yen (+12.5% year on year), while operating income came to 65,942 million yen (+17.8% year on year).
Condominium Business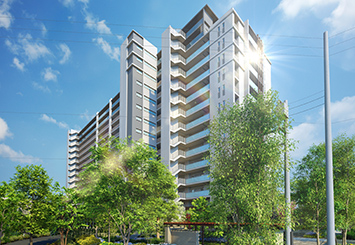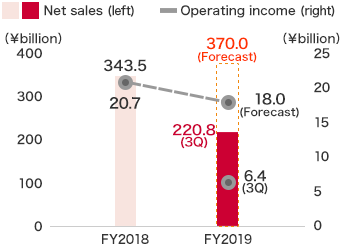 In the Condominium business segment we are working to offer products with higher added value for both our customers and local communities as a whole.
In October 2016, all units of the PREMIST Takao SakuLa City condominium project were sold out on the first day at all seven marketing stages. The popularity of this project – situated in Takao in the suburbs of Tokyo – is attributable to its excellent location – highly convenient for transportation, shopping, etc. – combined with a beautifully green environment.
As part of our continued focus on the development of condominiums in major cities throughout Japan, in November we put on sale units in the PREMIST Sapporo Station Axis condominium (Hokkaido) – located within easy walking distance of four train stations (serving three different railway lines) including JR Sapporo Station – and in December we put on sale units in the PREMIST Kyoto Oike-dori condominium, located in central Kyoto.
In October our subsidiary Cosmos Initia Co., Ltd. started up RENONAVI – a specialist website providing information about renovated condominium properties, particularly those located in central Tokyo. In addition to information on such properties generally available online – such as room layouts and the number of years since construction – it also offers details of the kind that people who are starting out to search for the right condominium have had difficulty in obtaining. For this reason, the website has achieved considerable popularity.
However, as a result of a decline in the number of construction completions compared with the previous year, net sales for this segment amounted to 161,639 million yen (-6.6% year on year), and operating income came to 5,946 million yen (-16.4% year on year).
Existing Homes Business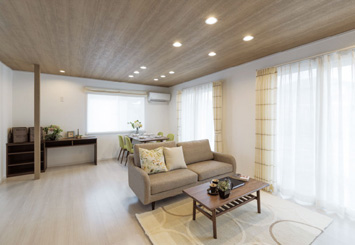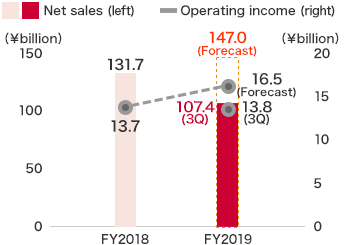 In the Existing Homes business segment, we worked to strengthen relations with owners of single-family houses and rental housing properties by offering property inspection and examination services.
We have been working to expand the scope of our Existing Homes business. For example, by strengthening our lineup of proposals for renovation services that improve a home's performance, we have been making effective use of the government's project to build a stock of lasting high-quality housing through the promotion of renovation work, for which financial subsidies are available.
In June and August, respectively, we opened two specialty renovation showrooms – the Reform Salon Minoh (Osaka) and the Reform Salon Yokohama-Tsuzuki (Kanagawa) – to serve the needs of their local regions. Both showrooms have attracted a large number of visitors.
As a result, net sales for this segment amounted to 76,869 million yen (+10.4% year on year), and operating income came to 9,625 million yen (+17.9% year on year).
Commercial Facilities Business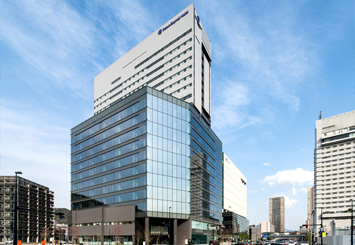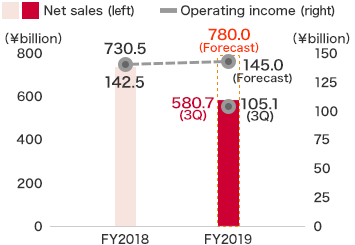 In the Commercial Facilities business segment, we drew up and proposed facility-opening plans to suit prospective tenant companies' particular business strategies, and devised a variety of plans that made optimal use of the particular characteristics of different geographical regions. We also worked to expand our business scale in the field through increased investment in the development of large-scale facilities, and enjoyed a particularly firm flow of orders for grocery supermarkets, automobile showrooms, and business and city hotels, among others.
In addition, construction work has begun on the Iias Takao, a large-scale project scheduled to open in June 2017 within Takao SakuLa City (Tokyo), which is a complex consisting of residences and commercial facilities being undertaken by the Group. Work has also begun on the Hiroshima Futaba-no-Sato Project, a complex that will include a hotel and commercial facilities, located in the redevelopment area to the north of JR Hiroshima Station.
As a result, net sales for this segment amounted to 405,526 million yen (+15.5% year on year), and operating income came to 69,604 million yen (+25.5% year on year).
Logistics, Business and Corporate Facilities Business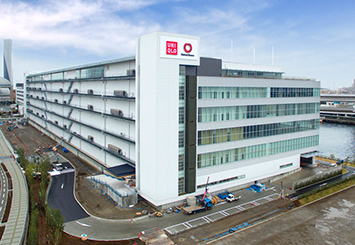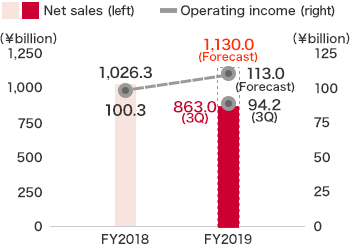 In the Logistics, Business and Corporate Facilities business segment during the period under review, we worked to enhance the Group's business scope by constructing a variety of facilities to suit the differing business needs of our corporate customers, and by providing total support services that enable customers to most effectively utilize their assets.
In the field of logistics facilities, we commenced work on one ("DPL Nagareyama I") of the three buildings constituting the DPL Nagareyama, one of the largest logistics facilities in Japan (total floorspace of approx. 387,000㎡), located in Chiba Prefecture, as well as on the DPL Iwate-Kitakami, the largest in Iwate Prefecture. We also sold the D-Project Ariake I, a facility that we had developed in Tokyo's Koto-ku.
In the area of production facilities, we held a number of seminars for corporate customers involved in food processing, and designed improved proposals for the construction of facilities capable of obtaining safety certifications such as HACCP and FSSC 22000.
In the field of medical and nursing care facilities, we continued working to strengthen our lineup of proposals, including the reconstruction or relocation of hospitals built prior to the introduction of the present earthquake-resistance standards, and the construction of nursing care facilities for former hospital patients who have been discharged and want to return home.
Fujita Corporation's orders received followed a firm trend in both the construction and civil engineering fields. The company received a number of large-scale orders – in the Japanese market for logistics facilities and condominiums, among others, and in overseas markets for airport-related work.
As a result, net sales for this segment amounted to 616,415 million yen (+21.0% year on year), and operating income came to 59,948 million yen (+28.7% year on year).
Other Businesses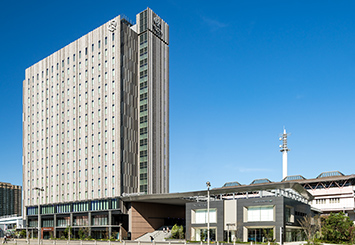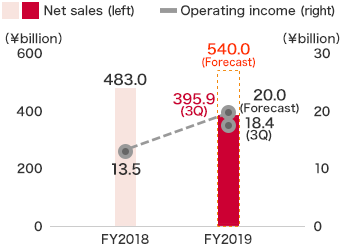 In our Home Centers Division, in April 2016 Royal Home Center Co., Ltd. opened the Royal Home Center Tsushima (Aichi), a next-generation eco-friendly home center and one of Japan's largest zero-energy buildings in the commercial facility category. The company also opened new home centers in Tokyo as well as the prefectures of Chiba and Hyogo and others, bringing the total number of home centers operated by the company nationwide to 57.
In our Logistics Division, in April 2016, Daiwa Logistics Co., Ltd. opened the Kafukucho Logistics Center (Aichi) which is ideally located to serve the city of Nagoya as well as the Tokai and Hokuriku regions.
In our City Hotels Division, Daiwa Royal Co., Ltd. opened the Daiwa Roynet Hotel Kyoto-Ekimae in August and the Daiwa Roynet Hotel Nagoya Taiko Dori Side in September. The former hotel features the use of the famous traditional Nishijin-ori fabrics in guest rooms, as well as in the decorative designs elsewhere in the building. The latter is the third Daiwa Roynet hotel to be opened in the city of Nagoya, and brings the total for the chain to 46 hotels.
As a result, net sales for this segment amounted to 370,681 million yen (+11.3% year on year), and operating income came to 18,426 million yen (+24.3% year on year).
Notes:
1. Net sales for each segment include internal (inter-segment) sales and transfers in addition to sales to external customers.
2. The above monetary amounts are exclusive of consumption tax, etc.