Daiwa House Group's community development case studies
New smart town where sales revenue from the town is returned as living support service

SMA x ECO TOWN Hidamari-no Oka (sales completed)
Kuwana City, Mie Prefecture
This is an advanced example of Mie Prefecture's first Net-Zero Energy community with the town's own photovoltaic power station, and energy creation, conservation, and storage at housing units. This is the first initiative in Japan (*) to utilize sales proceeds from photovoltaic power station for town management and maintenance of single-family houses.
* According to Daiwa House Industry
Development area: 16,648.44 m²
Total units: 66 single-family houses, One Ultra Lightweight Vehicle parking space

As part of the "Environment and Energy Technology Based Community Planning" listed by the "Kuwana City Smart Energy Initiative" and the "Mie Smart Life Promotion Council", this project was selected through a public offering proposal for "Hidamari-no Oka Advanced City Type Smart Housing Supply Project" for Kuwana City in 2014.
The town development was based on the themes of "safety and comfort", "environmental symbiosis" and "community support" for the Urban Renaissance Agency (UR) which was the builder for the land readjustment project, of "a town that realizes an environmentally friendly and energy efficient lifestyle," and of "an attractive new town model that was Smart Energy City Kuwana," which were the requirements proposed by Kuwana City. In order to realize these requirements, it was a challenge to realize a town plan that provides a variety of merits to the people who live there, such as [1] houses with zero utility fees, [2] a lush green city, and [3] returning various types of services to the people living there.

A monitoring system that keeps dual- income households safe
With the increase in dual-income households, parents who are anxious about supervision of their children are increasing (*).
At "SMA x ECO Town Hidamari-no Oka", we introduced "Familine" to solve the concerns that such parents have. Familine will deliver an image of your children when they return home by e-mail (images are taken by the interphone). You will feel safe because you can see the face of your child even while you are out. (Panasonic Corporation)
It also responds to anxieties about keys getting lost if you let your child have his/her own key. In the unlikely event that a key is lost, the electronic key will allow you to simply reset the key that was lost. (YKK AP Inc.)
Furthermore, you can check whether your child really locked the door when he/she leaves the house and if he/she has not, you can close the door by remote from outside the home.
* From "Labour Force Survey" Ministry of Internal Affairs and Communications
Reference Link: Gender Equality Bureau Cabinet Office, / Statistics Bureau, Ministry of Internal Affairs and Communications

Storage battery that can be carried around and release electric power in a disaster are scheduled to be released
Two lithium-ion storage battery are installed at SMA x ECO Station (Ultra Lightweight Vehicle parking space). One of them adopts a mobile storage battery (POWER YIILE Plus) so that it can be carried for disaster use. For charging, we use the energy we make at the town's photovoltaic power station.
In addition, the town's photovoltaic power station has concluded an agreement with Kuwana City and will release electricity to the surrounding residents when a power outage occurs due to a disaster.
The mobile storage battery used is by ELIIY Power Co., Ltd.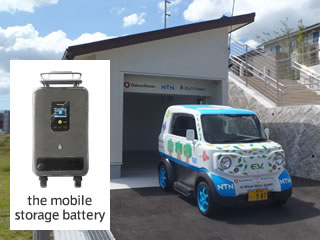 SMA x ECO Station and the stored mobile storage battery

Returning the town's electricity revenue to the residents
Revenues earned from the town's photovoltaic power station are being returned to residents as a living support service. Living support service provides two types of services, one is a "community service" which operates and manages Ultra Lightweight Vehicle and the visualization of the town's energy, the other is a "homeowner service" which provides maintenance to extend the life of the house and keep equipment running efficiently, and house improvement savings accounts.
The Ultra Lightweight Vehicle (NTN Corporation) has been borrowed for 3 years for the purpose of verification test operation as well. We also provide house cleaning services (Duskin Co., Ltd.), and house cleaning goods and such (Royal Home Center Co., Ltd.) for each house.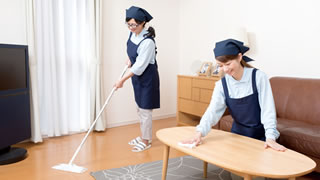 Example of service to each house (house cleaning)

Japan's first-ever 0-yen management association fee scheme
The town's photovoltaic power station, which is jointly owned by the town's residences, is leased to Daiwa Energy Co., Ltd. for operation and management through the management association formed by the town's residents. With this first time scheme in Japan, the management association can obtain lease income while leaving the operation management to Daiwa Energy, and is now possible to continuously provide various living support services with a 0-yen management association fee.

Town and housing, double energy conservation measures
Together with the photovoltaic power station (about 100kW) shared by the community and the equipment at each house, the whole town generates about 300kW of energy. At the same time, the amount of energy used is reduced with high heat insulation houses, and excellent energy saving equipment as well as our company's original energy management system "D-HEMS3". Also, to allow everyone in the family to check energy information in a simple way, we have made sure that the home's energy usage conditions can be seen from the TV screen as well. (Nippon Telegraph and Telephone West Corporation)
Through these efforts, we have realized a Net-Zero Energy community that produces more energy than it consumes. In a trial calculation, the whole town generated 200,000MJ of energy every year, equivalent to two houses.
Mobile storage batteries (POWER YIILE Plus) and household lithium-ion storage batteries (POWER iE 6) use ELIIY Power Co., Ltd. products.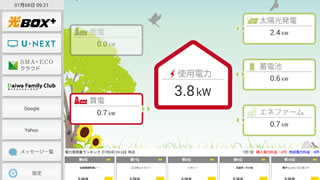 Visualization of energy for "house" and "community" using TV system

A photovoltaic power generation facility with a total of about 100kW is installed on the south side of the town
Owner's voice
We have received many comments from various owners who realize the merits of SMA x ECO Town, such as zero utility cost and advanced crime prevention measures. Most owners claim that the utility costs have dramatically decreased compared to their previous residences. In addition, the wide variety of services that take advantage of the characteristics of SMA x ECO Town, such as town security cameras, Ultra Lightweight Vehicle, and housing maintenance services operating with revenue from the town's photovoltaic power station have gained popularity as well.
Administrator's voice
In Kuwana City, by incorporating private wisdom, know-how, funds, etc. into public service, administrative and private companies make use of their strengths as equal partners, promoting the idea of civic cooperation aiming to provide better citizen services. Thanks to this project which proposed a new way of living that materializes the smart energy plan of this city, we think that it is an advanced and very meaningful initiative, not only from the viewpoint of energy conservation and environmental conservation, but also from the perspective of civic cooperation as well (*).
As a result, new relationships were established when administrative officials inside and outside the prefecture inspected the town.
The experience of public and private sector collaborating and working together to create a new town is a valuable experience for us and we would like to make use of the know-how gained here for future services and initiatives.
* Reference Link:[Civic Cooperation case study 2] Advanced city-type smart housing supply business
Daiwa House's voice
We will not only create a town that is friendly to the global environment, but also change its merits to a different form to perform town management, and return it to the owner as a living support service, etc. "SMA x ECO Town Hidamari-no Oka" is aiming to become a new smart town never seen before, and ever since it was announced, it has been featured in many newspapers, television-shows, etc. Since the announcement, various organizations from across the country have visited us, contributing to its spread. We are very pleased that it has gained so much interest.
Although the town has gradually come to be recognized as a town that returns various merits to the owner, we will continue to challenge this with even more creative ingenuity so that we can spread this wonderful town planning mechanism and initiatives to more people.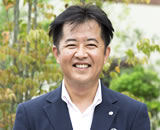 ---