Daiwa House Group's (Daiwa Lease's) community development case studies
Achieving reconstruction through area management in cooperation with the people

Kyassen Ofunato
Ofunato City, Iwate Prefecture
Ofunato City in Iwate Prefecture was damaged in the Great East Japan Earthquake in 2011, and the district around the JR Ofunato Station is being reconstructed. The area management method has been introduced for community maintenance, with the community development company as the promoting organization.
Development area: 10.4 hectares (Overall land readjustment project area: 33.8 hectares)
Commercial area: Factory outlet store, hotel, shopping center, shopping district (food and drink, sales of goods, services), winery, manufacturing facility, etc.

The district around the JR Ofunato Station is being revitalized into a city center with diverse functions, including transportation, commerce, industry, and interaction between people. The government, private sector, and city residents are collaborating on the development, and area management has been introduced to take various factors into consideration, from community development to management and operation.
In Ofunato City, a public offering was made for a partner to conduct area management. Daiwa Lease had a history of working to build temporary shopping districts immediately after the disaster, managing businesses in cooperation with the government and the private sector, managing large-scale commercial facilities, and running environmentally friendly businesses, and was selected. In March 2014, Daiwa Lease became the city's area management partner, and provided support in order to make area management into a reality. The company advised local merchants on basic concepts regarding managing commercial facilities and general ideas about lease.
The Ofunato Chamber of Commerce and Industry and Daiwa Lease recognized that a community development company was needed to be in charge of the actual work of area management, in next 2015, they launched the Preparatory Office for Founding a Community Development Company. In the same year, Kyassen Ofunato Co., Ltd. was founded as a business that promotes urban revitalization (Act on Special Measures concerning Urban Revitalization) using funds provided by the Ofunato Chamber of Commerce and Industry, local companies, financial institutions, and Daiwa Lease. Kyassen Ofunato Co., Ltd. manages the commercial area facilities where it is a tenant, maintains the landscaping, plans and holds common events, and develops communities for nearby residents.
Area management structures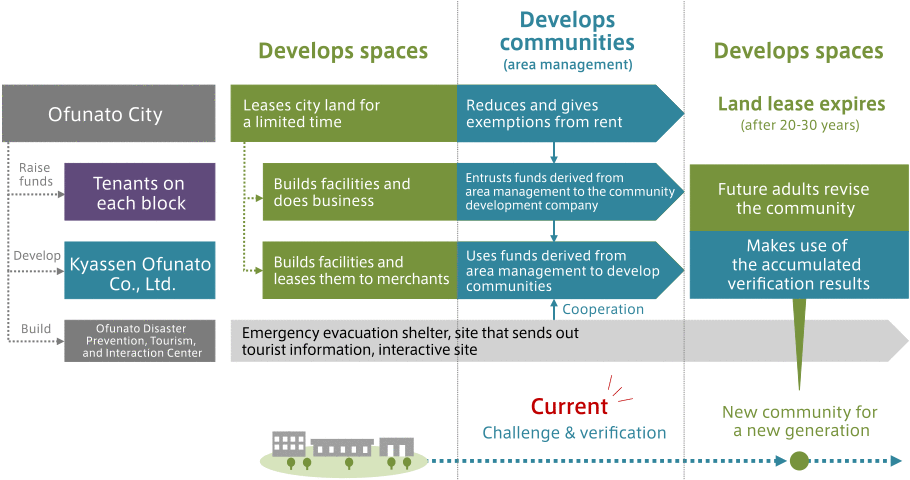 Using commerce to revitalize the city center based on the direction of separating residential and work spaces
In Ofunato City, out of the 33.8 hectares that is the land readjustment project area, approximately 10.4 hectares of city land around the JR Ofunato Station was set as a tsunami reconstruction area, and the Kyassen Ofunato area is maintained here as a commercial area. It is also an area where the expected flood depth is at least 2 meters, so it is prohibited to build things like housing and social welfare facilities, so the city came up with the direction of separating residential and workspaces. The Kyassen Ofunato area is composed of the following 9 blocks.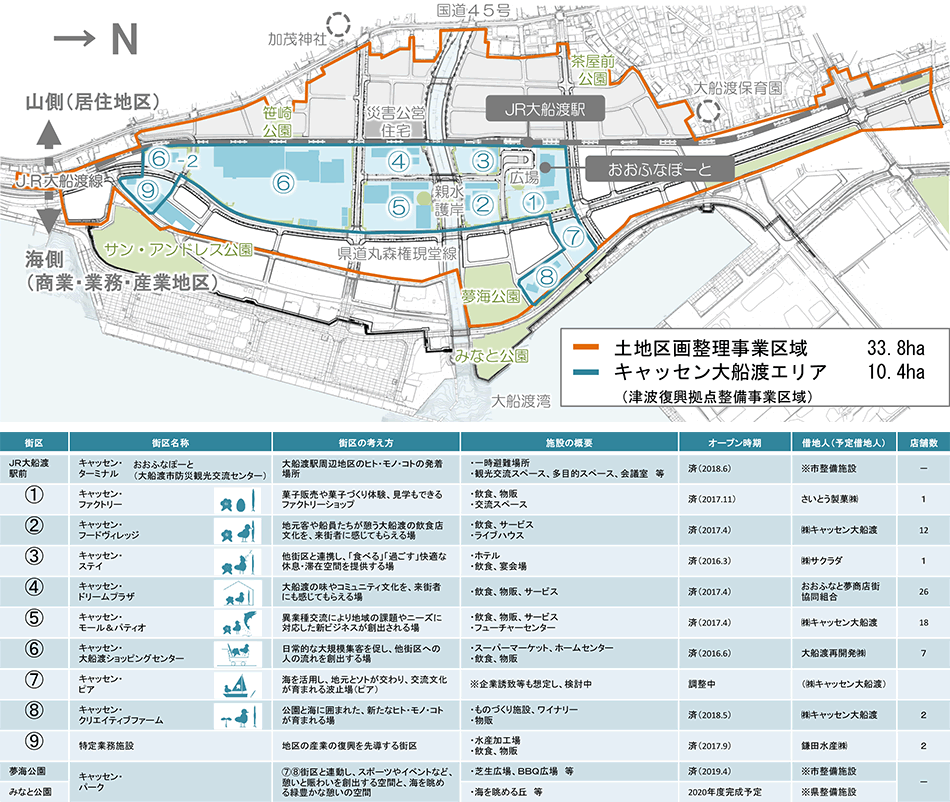 Large local stores opened (Blocks 1, 3, 6, and 9)
・Factory outlet store (sweets)
・Hotel
・Shopping center
・Marine product processing, food and drink, retail stores
Kyassen Ofunato Co., Ltd. is a tenant and maintains the facilities. In 2 out of the 3 blocks, in the commercial area that Kyassen Ofunato manages, stores from local shopping districts moved in as tenants. This prevents tenants from changing quickly and prevents the area from becoming a deserted shopping district in cases when stores close when the owners retire due to old age (Blocks 2, 5, and 8).
・Shopping district (food and drink, sales of goods, services)
・Winery, manufacturing facility
Maintained by the local shopping district cooperative, and individual stores move in as tenants (Block 4)
・Shopping district (food and drink, sales of goods, services)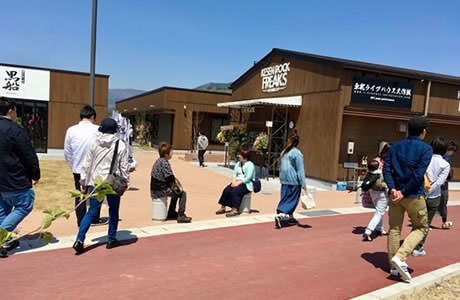 In the Kyassen Food Village, visitors can taste Ofunato cuisine, such as fresh local fish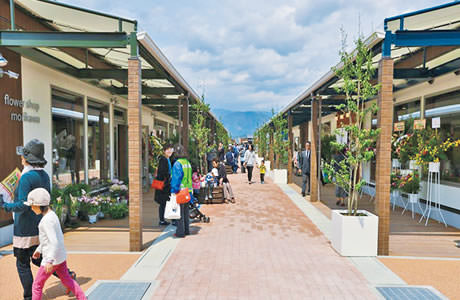 The mall and patio mainly consist of stores that sell goods to suit regional needs

Tenants and spaces support the regional economy and bring new development
Kyassen Ofunato Co., Ltd. was founded in cooperation with various groups, such as regional residents and companies, Ofunato City, and the Ofunato Chamber of Commerce and Industry, and town manager was recruited as the leader of the actual work.
Many businesses have opened in the Kyassen Ofunato commercial area, such as stores that sell goods for daily necessities that support the life of residents, hotels that serve visitors from outside, stores that deliver directly from farms to consumers, and restaurants that are open at night and contribute to the region's night-time economy. There are also community spaces for co-working and training, which have the potential to be rich environments that give rise to new goods and experiences in the future.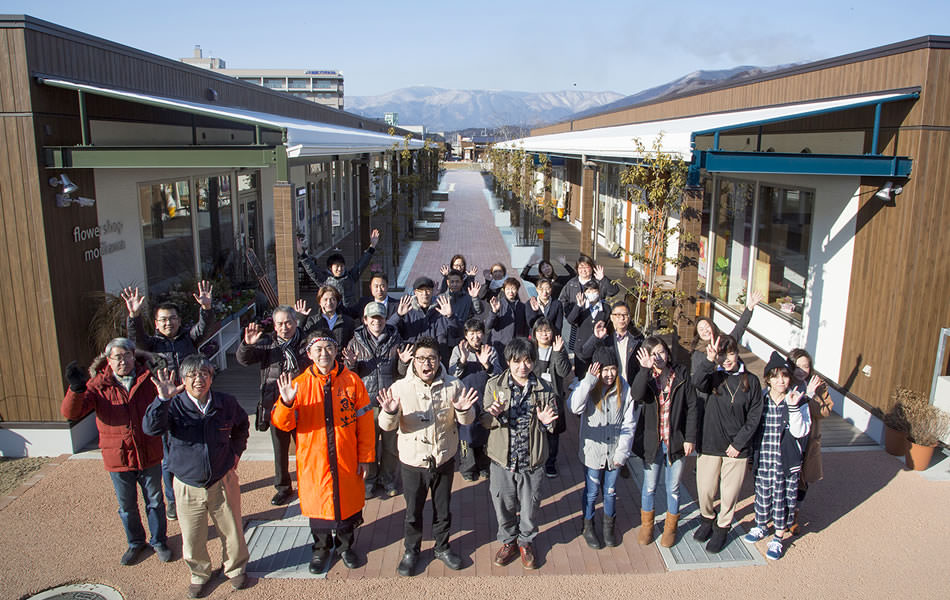 Daiwa Lease is working with the local people to develop a community that the people of Ofunato will be proud to inherit 100 years from now

Community space where regional residents can interact
Community spaces have been established in Kyassen Ofunato as facilities where the people of the city can interact. These spaces can be freely used for events, meetings, and seminars, etc. Also, the plaza area in front can be rented out for holding events.
Daiwa Lease's voice
At the time that Daiwa Lease became the area management partner, everyone in the region was wary because Daiwa Lease was engaging in activities for no charge, and it was a major struggle. However, when I was a student, I was a victim in the Great Hanshin-Awaji Earthquake, and regretted that I was unable to help at the time. So I communicated my intention that I wanted to help with the reconstruction in Ofunato, and I was able to build a deep trust relationship through those activities.
Kyassen Ofunato Co., Ltd. uses funds to subsidize and create employment in companies located in regions that were damaged by tsunamis and nuclear disasters (work to subsidize maintaining the reconstruction of commercial facilities, etc.) to maintain commercial facilities, and is an organization that not only manages the facilities but also does area management for all of the areas including the facilities. The true value of the company will be determined in the future, and it will be necessary to develop the company into an organization that can take the initiative and invigorate Ofunato City commercial facilities and the local people. Daiwa Lease's area management partner agreement ended in 2017, but we currently continue to support Kyassen Ofunato and work together with all of the staff and city employees.
The mission of Daiwa Lease and the Daiwa House Group is of course to provide temporary emergency housing and recovery and reconstruction after the disaster, which are businesses that society needs in order to achieve SDGs (Sustainable Development Goals). We will continue to support the reconstruction of Ofunato City in the future.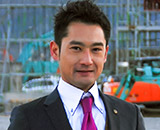 Daiwa Lease Co., Ltd.
Private vitality research institute
Tomokazu Hisada
---