Message from the Management
-- To all our shareholders and investors --
The Group's net sales and operating income both set new records for the fiscal year ended March 31, 2019 (the final year of our Fifth Medium-Term Management Plan)
Daiwa House Industry was founded in 1955 with the corporate mission of achieving the "industrialization of construction." In April 2019, the Group had grown to comprise 387 companies with around 67 thousand employees.
The Daiwa House Group operates in a wide range of business areas, centered on the core fields of Single-Family Houses, Rental Housing, Condominiums, Existing Homes (renovation, real estate agency services, etc.), Commercial Facilities, and Logistics, Business and Corporate Facilities (logistics, medical and nursing care, and residential services for senior citizens, etc.), and also reaching out to encompass home centers, city hotels, resort hotels, and fitness clubs, among others.
Under our concept of being a group that co-creates value for individuals, communities, and people's lifestyles, we are also actively pursuing business opportunities in overseas markets. In addition, we are dedicated to expanding our total sphere of operations by creating businesses that are needed all around the world and will be of service to many people. To this end, we engage in businesses involving the environment and energy, as well as in robotics, agriculture, and other new operations. These activities are all motivated by our catchphrase Asu Fukaketsuno (Indispensable for Tomorrow), which is composed of the initial syllables of the Japanese words for safety & comfort, speed and stock, welfare, the environment, health, information-communication technology, and agriculture.
Financial Highlights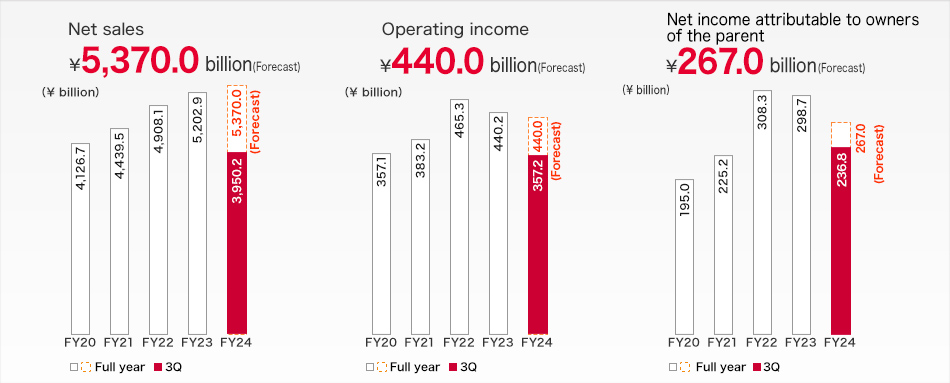 Management Policy

Sustainable Management