Business Segment
The percentage figures for breakdown of net sales and operating income by segment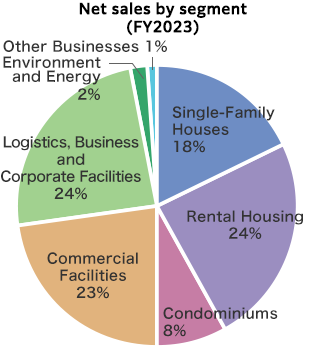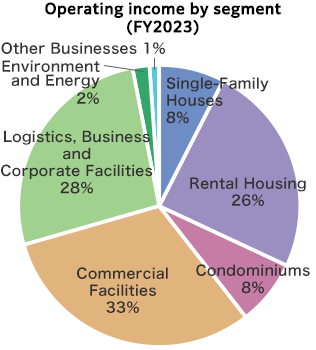 Note: Net sales and Operating income by segment include intragroup transactions between segments
Single-Family Houses Business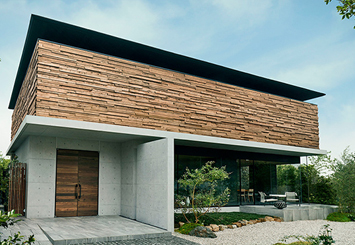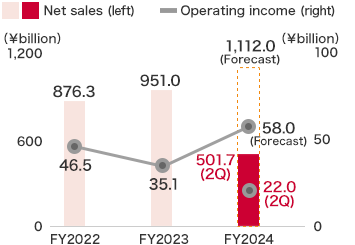 In the Single-Family Houses Business segment, during the term under review, we earnestly addressed our role as a home builder and pursued community-based business projects to expand sales.
In Japan, we aim to meet customer needs with a varied product lineup. This includes, most notably, our xevoΣ single-family house, which boasts a strong level of earthquake resistance guaranteed to last for many years, as well as comfort thanks to exterior wall thermal insulation and 2.72-meter-high ceilings for a spacious living environment. The xevo Gran Wood is another of our top-of-the line wooden-house products, and we also offer our "skye" home in three-, four-, and five-story versions.
We offered online housing exhibition tours, consultation, and home building simulations at our website themed on "online home building" to expand customer contact points that are tailored to changes in society and lifestyles.
In June, as a home environment proposal to match the "new normal," we began proposing our company's original telework style "Comfortable workplace" and "Connecting work pit" which allows owners to work from home comfortably.
In September, we launched 3-storied "skye3," a heavy-gauge steel moment-framed housing product with larger open interior spaces and wider wall openings. A new construction method adopted for this product has enhanced our ability to fit on various sites by making best use of the limited size of sites and achieved a spacious and well-lit living space.
In our overseas operations, in the United States, Stanley-Martin Communities, LLC focused on sales employing information technology. Thanks to this, the COVID-19 pandemic had little impact on the number of contracts signed or the number of properties handed over, and their business performance remained favorably on track.
However, due to the impact of COVID-19, net sales for this segment amounted to 243,178 million yen (+1.5% year on year), while operating income came to 8,089 million yen (-22.4% year on year).
Rental Housing Business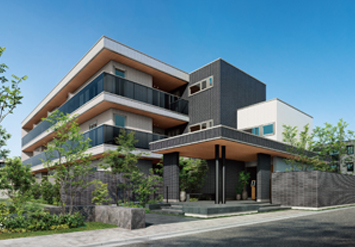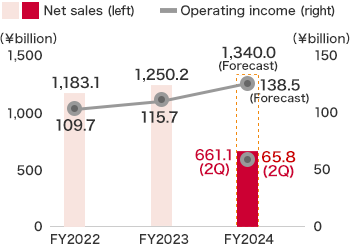 In the Rental Housing Business segment, we make proposals based on a comprehensive balancing of the various factors involved, including the needs of individual land owners, the particular characteristics of each site, and overall market demand. Our land-use proposals are tailored to achieve optimal value, not only for the land owners themselves, but also for the prospective residents and the wider regional community.
In Japan, we released "GRACA," a 3-storied housing product for urban areas and city centers in July. The product boasts the industry's highest noise barrier performance, in addition to the deeply textured exterior walls exclusively for the product and refined appearance design going well with streetscapes, along with a 30-year initial guarantee on structural devices and watertightness. The product matches the "new normal" need of tenants spending more time at home, so we actively proposed it to land owners.
In response to the state of emergency declaration, Daiwa Living Management Co., Ltd. announced in April that it would allow tenants to defer rent payment. Providing the information on administrative grants and benefits, the company worked to protect the livelihoods of tenants living in its properties to retain the occupancy rates. Also, to meet the increasing use of mail-order services and non-face-to-face transactions, we started to merchandise "D-room BOX, " our original home delivery box, in September.
However, due to the impact of COVID-19, net sales for this segment amounted to 468,317 million yen (-6.9% year on year), while operating income came to 39,015 million yen (-24.6% year on year).
Condominiums Business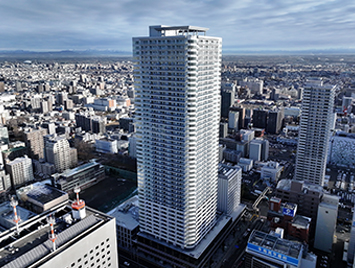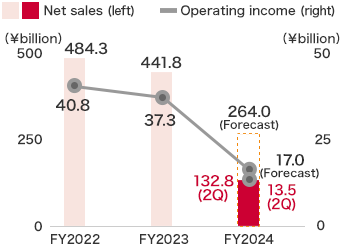 In the Condominiums Business segment, during the term under review, in addition to constructing condominiums designed to reduce environmental impact that provide asset value and a high level of added value for both the owners and the community at large, we also strove to improve our condominium building management support service, in which we leverage an integrated and comprehensive system to enable a safe residential experience, with peace of mind.
In Japan, we halted operation of our marketing activities at "model room" sites around the country in response to the government's declaration of a state of emergency. The number of visitors and subscriptions to model rooms has been on a recovery trend after the state of emergency was lifted.
Our "PREMIST Heiwadai" (Tokyo) was selected as a "ZEH-M Ready" building by the Ministry of Economy, Trade and Industry for its environmental initiatives, particularly carbon emission reduction achieved by the supply of photovoltaic energy to each dwelling unit in the condominium. The sales of "PREMIST Kitaurawa Brightfort" (Saitama Prefecture), a condominium rebuilt under the new quakeproof standard, has been steady for its accessibility to central Tokyo and its comfortable living environment with facilities convenient for daily life within walking distance. Strong sales of "PREMIST Funabashi Tsukada" in Chiba Prefecture also contributed to net sales. This large-scale multi-purpose development is a community development project committing to 100% renewable energy by using only the electric power generated from renewable sources right from the start of construction up to residence.
Group member Cosmos Initia Co., Ltd. exercised "self-restraint" in respect to the marketing of lot-subdivision properties in April and May via personal, face-to-face sales, in response to the COVID-19 pandemic, and instead made extensive use of online marketing. With the subsequent resumption of face-to-face sales (when the customer requests it), the company has seen sales trending roughly in line with its forecasts. Cosmos Initia also designed a plan for condominium buildings being renovated, whereby workspaces are built into dwelling units, and these units are being put on sale.
In addition, Daiwa Lifenext Co., Ltd. received the highest award in the comprehensive evaluation of "SUUMO AWARD 2020" hosted by Recruit Sumai Company Ltd. in the division of condominium management companies (one hundred+units).
In our overseas operations, sales of units in our two properties which went on sale last year in China were unaffected by the COVID-19 pandemic and sales are progressing smoothly.
However, due to the impact of COVID-19, net sales for this segment amounted to 133,579 million yen (-18.4% year on year), while operating income came to 234 million yen (-96.8% year on year).
Existing Homes Business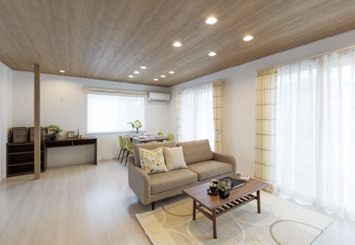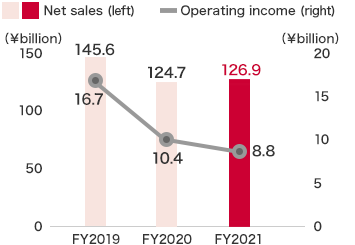 In the Existing Homes Business segment, the mainstay of our business is to provide renovation proposals through inspections and diagnosis to owners of single-family houses and rental housing constructed by the Company.
Self-restraint was exercised in this business from March to mid-May, amid the ongoing COVID-19 pandemic, as a result of which the value of orders received in April and May recorded a year-on-year slump. Upon resuming normal operations in June, however, orders recovered to the level for the average year.
In our Livness business, we worked to inject greater vitality into the market for good-quality previously-owned homes. Specifically, we opened new business premises to meet the needs of a wide range of customers, particularly home owners. Daiwa House Industry's Single-Family Houses Division has 57 offices nationwide.
However, due to the impact of COVID-19, net sales for this segment amounted to 56,906 million yen (-27.8% year on year), while operating income came to 4,007 million yen (-65.8% year on year).
Commercial Facilities Business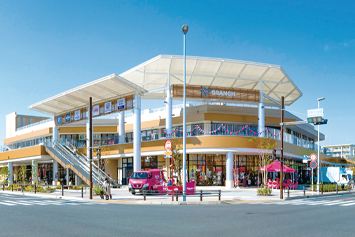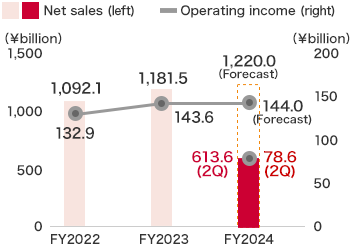 In our Commercial Facilities Business segment, we designed and proposed store-opening plans that matched tenant corporations' strategic needs and also took into account the impact of the COVID-19 pandemic. The different plans offered included those that make the best of the particular characteristics of each region and meet a wide range of needs.
In particular, we strengthened our efforts in the field of large-scale projects such as commercial buildings and office buildings. Also, for customers looking for options in the purchase of real estate for investment purposes, we took steps to expand our services to encompass land acquisition, construction, and leasing-out to tenants.
In the Japanese market, we had a grand opening the "iias Okinawa Toyosaki," a large-scale shopping mall that includes an aquarium, in Toyosaki, Tomigusuku City, Okinawa Prefecture in June 2020, and was the first of its kind in the prefecture. In these ways, we combine and utilize our management assets to develop multipurpose facilities that meet our customers' needs.
However, due to the impact of COVID-19, net sales for this segment amounted to 414,723 million yen (+7.7% year on year), while operating income came to 68,774 million yen (-3.9% year on year).
Logistics, Business and Corporate Facilities Business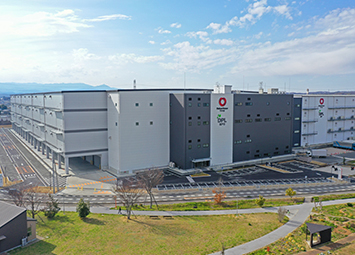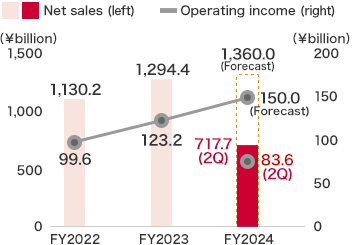 In the Logistics, Business and Corporate Facilities Business segment, during the term under review, we worked to enhance the Group's business scope by constructing a variety of facilities to suit the differing business needs of our corporate customers, and by providing total support services that enable customers to most effectively utilize their assets.
In Japan, in the field of logistics facilities, we began construction of 19 new facilities nationwide, leveraging our extensive experience and know-how to provide the essential back-up to our customers' logistics strategies. Particularly notable among these newly commenced projects is the "DPL Shin-yokohama I" in Kanagawa Prefecture, which is a large-scale multi-tenant logistics facility that is 2.8 times the size of Yokohama Stadium.
In the field of medical and nursing care facilities, we targeted hospitals whose existing facilities are showing signs of aging and which do not meet current earthquake resistance standards, making proposals for reconstruction or relocation. We also strengthened our lineup of solutions to meet the management needs of healthcare corporations, such as those operating homes for senior citizens or multipurpose nursing care facilities.
In the area of support for offices, manufacturing plants, and so on, we have strengthened our efforts to attract companies to industrial parks developed by Daiwa House. In the "Hofu No.2 Techno-Town" in Hofu City, Yamaguchi Prefecture, which is currently under development, we succeeded in attracting companies for the first time.
For food factories, we held seminars for manufacturers and processors of food products for making HACCP* compulsory, while also enhancing our proposals for the building of facilities adapted to safety certification.
In our overseas operations, we started a project which is the second multi-tenant logistics facility "D Project Malaysia Ⅱ" near Kuala Lumpur, Malaysia.
However, due to the impact of COVID-19, net sales for this segment amounted to 468,495 million yen (-23.1% year on year), while operating income came to 52,302 million yen (-23.4% year on year).
* Hazard analysis and critical control points (HACCP) is a systematic preventive approach to food safety in production and preparation processes, in which the dangers posed by contamination by microorganisms at each stage of the process are analyzed and managed.
Other Businesses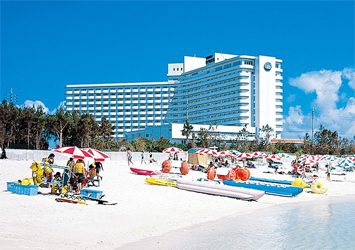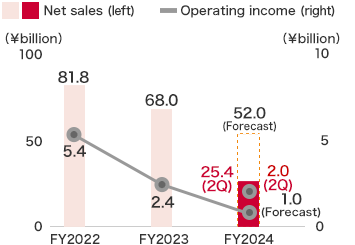 In our home centers business, we took a number of steps to help prevent the spread of the COVID-19. These included closing all of our home centers on Sundays during May 2020. In spite of that, sales and profit increased due to strong sales of DIY supplies and gardening equipment, as well as outdoor gear as an easy leisure activity, spurred by the rise in demand among consumers changing their lifestyles and choosing to stay at home due to the pandemic.
In our accommodation business, following the declaration of the state of emergency, Daiwa Resort Co., Ltd. was forced to close almost all its hotels. After the declaration was lifted, the company has been resuming operation of one hotel after another, taking all due precautions to prevent the spread of the infection, but the occupancy rate of hotels has not recovered to the normal-year level.
In the field of logistics, despite an increase in work volume caused by growing demand for e-commerce, we experienced a decrease in the volume of goods transport as a result of suspension and postponement of construction work at sites, the closure of retail outlets and a reduction in operating hours by others in response to the declaration of the state of emergency.
In our fitness club business, Sports Club NAS Co., Ltd. temporarily closed all its facilities under the declaration of the state of emergency. After the declaration was lifted, the company reopened its facilities, while taking measures such as reducing the number of classes, reducing the lesson time and installing anti-droplet panels in accordance with the COVID-19 prevention guidelines for fitness centers promulgated by the Fitness Industry Association of Japan.
However, due to the impact of COVID-19, net sales for this segment amounted to 248,128 million yen (-6.2% year on year), while operating income came to 7,423 million yen (-42.8% year on year).
Notes:
1. Net sales for each segment include internal (inter-segment) sales and transfers in addition to sales to external customers.
2. The above monetary amounts are exclusive of consumption tax, etc.