Business Segment
The percentage figures for breakdown of net sales and operating income by segment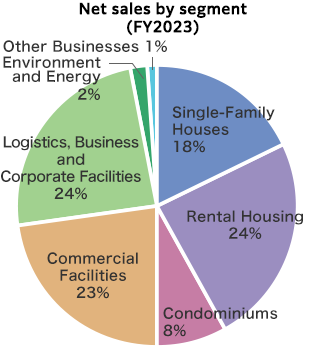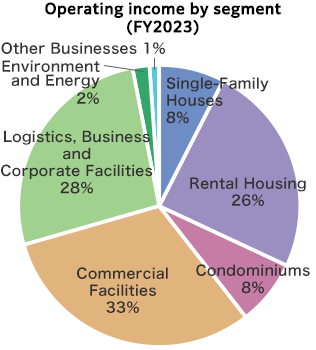 Note: Net sales and Operating income by segment include intragroup transactions between segments
Single-Family Houses Business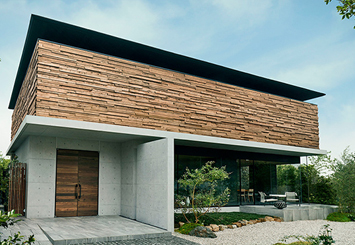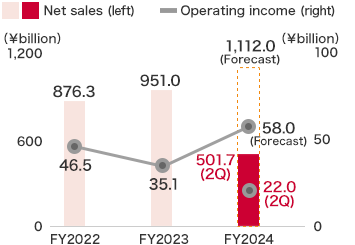 In the Single-Family Houses Business segment, we earnestly addressed our role as a home builder to build our customers' homes and pursued community-based business projects to expand sales.
In the domestic business, we aimed to meet customer needs with a varied product lineup. This includes the launch of new product 3-storied "skye3, " a housing product with larger open interior spaces and wider wall openings, along with the enhanced ability to fit on various sites. We promoted the sale of our "Lifegenic" product which offers a fun and easy home designing experience online, despite the COVID-19 situation.
Meanwhile, we also launched the sale of as a series of home environment proposals to match the "new normal, " which allow owners to work from home comfortably, as well as our unique telework style "Comfortable workplace, " and "Connecting work pit." They were followed by "Antivirus fresh air package plan" in which we combined "Adsorptive photocatalyst coating, " and "ef-excellent fresh," and also "Nekolet" bath unit dedicated for cats as the first such product in the industry to facilitate owners in comfort with their pets as they spend more time at home. In these ways, we have been proactively working to resolve our customers' issues by capturing changes in society and lifestyles.
In our overseas operations, the sales of the Box Hill project, which is currently progressing in the suburbs of Sydney in Australia, both the number of visitors and contracts increased from the beginning of autumn owing to the government's success in containing COVID-19 and a subsidy program for home purchase. In the United States, Stanley-Martin Holdings, LLC which operates mainly in the East Coast area, exceeded its initial plan and continued to expand from the fiscal year 2019, driven by growing demand for housing in suburban areas in line with changes in lifestyles caused by COVID-19.
As a result, net sales for this segment amounted to 516,109 million yen (+3.7% year on year), while operating income came to 21,818 million yen (+20.7% year on year).
Rental Housing Business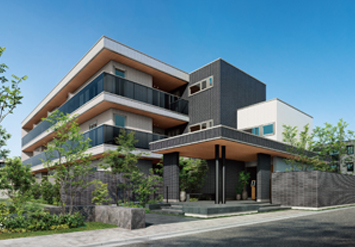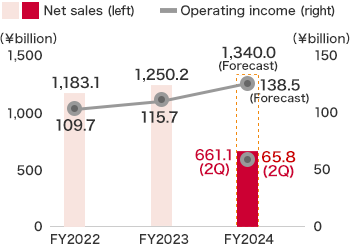 In the Rental Housing Business segment, we propose to land owners high-quality rental housing products with marketability and catering to customer needs in order to provide homes of choice for residents where they may want to continue living in for a long time. By doing so, we support the safe, secure, and comfortable living of residents and the long-term stable management by the land owners.
In Japan, we have actively promoted "GRACA," a 3-storied housing product for urban areas and city centers in July 2020. Furthermore, in an environment where face-to-face sales activities and holding events are difficult due to the impact of COVID-19, we hold regular online seminars targeted at the land owners considering an effective use of the land which they own, and the owners of rental housing constructed by the Company. We have been building continuous relationships with customers, by providing useful information in a timely manner that they would like to know, such as trends in the rental market and tenant needs amid the spread of COVID-19.
Daiwa Living Management Co., Ltd. announced in April 2020 that it would allow tenants to defer rent payment for residents who were economically affected by impact of COVID-19. Providing the information on administrative grants and benefits, the company worked to protect the livelihoods of tenants living in its properties. In addition, our subsidiary Daiwa Living Care Co., Ltd. opened a serviced house for the elderly "D-Festa Kodaira" (Tokyo) in November 2020.
However, as a result of decreasing orders for construction due to the impact of COVID-19, net sales for this segment amounted to 982,785 million yen (-2.3% year on year), while operating income came to 90,832 million yen (-7.9% year on year).
Condominiums Business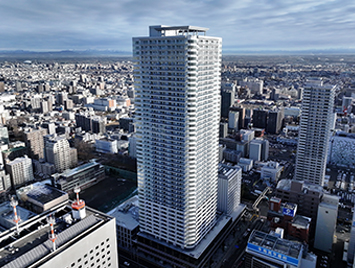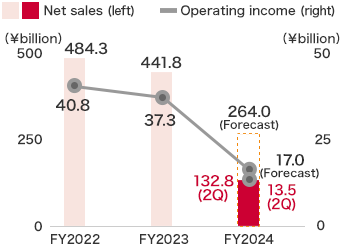 In the Condominiums Business segment, we have provided high value-added condominiums that are not only comfortable for customers to live in, but also reduce environmental impact. We also strove to improve our condominium building management enhancement service by our Group, in which we leverage to enable a safe residential experience for condominium customer, with peace of mind.
In Japan, our "PREMIST Bunkyo Sengoku" (Tokyo), a condominium rebuilt under the new quakeproof standard, won favorable recognition and was sold out in a short time for its accessibility to central Tokyo and its surrounding historic streetscape. In addition, our "PREMIST TOWER Utsubohonmachi" (Osaka) was selected as a "ZEH-M Ready" building by the Ministry of Economy, Trade and Industry, in recognition of its improved basic performance with the use of double sashes and high-performance heat insulation materials, as well as the high-efficiency built-in systems such as Eco-Jozu, Eco-Farm, and underfloor heating, all of which were aimed at reducing environmental impact. The sales are steadily progressing as its comfortable living space adopting IoT and the view from the tower have been well appreciated, in addition to its favorable location just a one-minute walk from both Hommachi Station, and Utsubo Park, an oasis in the city center.
However, due to the impact of COVID-19 and the delay in the sales schedule for some new property, net sales for this segment amounted to 339,790 million yen (-8.8% year on year), while operating income came to 5,397 million yen (-66.0% year on year).
Existing Homes Business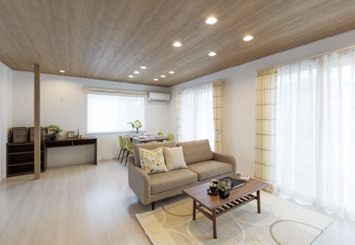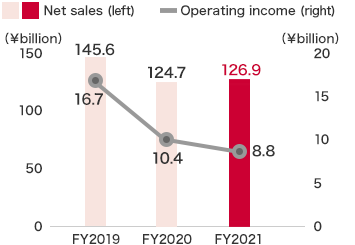 In Daiwa House Reform Co., Ltd. we worked to strengthen the relationship with owners of single-family houses and rental housing constructed by the Company through building inspections. We also strengthened our efforts to propose renovations required for extended warranty. At the same time, to our corporate customers, we focused on proposing maintenance of their business assets and sought to increase orders.
Also, in our Livness business, we worked to inject greater vitality into the market for good-quality previously-owned homes. Specifically, we organized campaign for owners of single-family houses and condominiums, and also held online seminars as a new form of marketing under the COVID-19 pandemic. We expanded our Livness business premises to 60 locations nationwide to meet the concerns of a wide range of customers, particularly owners.
However, as orders for renovation work decreased due to the impact of COVID-19, net sales for this segment amounted to 124,718 million yen (-14.4% year on year), while operating income came to 10,438 million yen (-37.6% year on year).
Commercial Facilities Business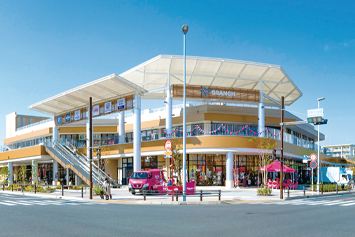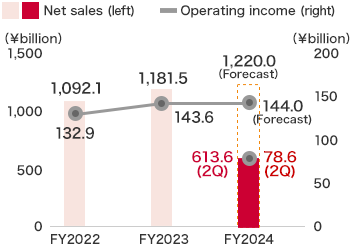 In our Commercial Facilities Business segment, we designed and proposed store-opening plans that matched tenant corporations' strategic needs and also took into account the impact of the COVID-19 pandemic. We offered various plans to make the best of the particular characteristics of each region and meet a wide range of needs.
In particular, we strengthened our efforts in the field of large-scale projects such as complex commercial facility and office buildings. Also, for customers looking for options in the purchase of real estate for investment purposes, we took steps to expand our services by strengthening strategies to encompass land acquisition, construction, and leasing-out to tenants.
In addition, we started "Kasugai Commercial Project (tentative name), " a development plan of a large-scale shopping mall with 70 tenants in Kasugai City, Aichi Prefecture in August 2020, and a large-scale renewal of the shopping center "ALPARK" (planned to be fully renovated and reopened in the spring of 2023, with 160 stores) operated by our group company, Daiwa Information Service Co., Ltd. In these ways, we combine and utilize our management assets to develop multipurpose facilities that meet our customers' needs.
Daiwa Royal Co., Ltd. opened the "Daiwa Roynet Hotel Fukuyamaekimae" (located in front of Fukuyama station, Hiroshima Prefecture) and other facilities to promote development that takes into account regional characteristics and location conditions.
Daiwa Lease Co., Ltd. opened "Sennan Rinku Park (nicknamed SENNNAN LONG PARK)" in Sennan City, Osaka in July 2020 as a project to construct, maintain, manage, and operate an urban park. This project undertaken by the Company is a partial development of the Osaka prefectural park to create an urban park where people can enjoy sports, food, and leisure.
However, as orders for capital investment in some industries decreased due to the impact of COVID-19, net sales for this segment amounted to 808,395 million yen (+0.2% year on year), while operating income came to 122,898 million yen (-12.6% year on year).
Logistics, Business and Corporate Facilities Business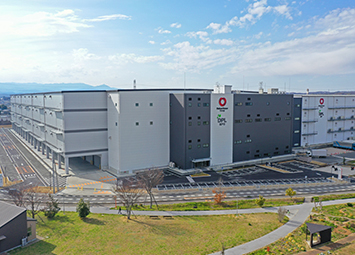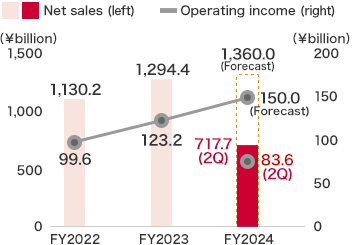 In the Logistics, Business and Corporate Facilities Business segment, we worked to enhance the Group's business scope by constructing a variety of facilities to suit the differing business needs of our corporate customers, and by providing total support services that enable customers to utilize their assets most effectively.
In Japan, in order for us to nurture another mainstay next to logistics facilities, we are planning to develop a data center park, which will be the largest in Japan, in Chiba New Town in Inzai City, Chiba Prefecture. The construction of the first data center building has already started.
In the field of logistics facilities, we began construction of 39 facilities nationwide, leveraging our extensive experience and know-how to provide the essential back-up to our customers' logistics strategies. Particularly notable among these newly commenced projects is the "DPL Okinawa Tomigusuku" in Tomigusuku City, Okinawa, which is the largest multi-tenant logistics facility in Okinawa Prefecture*¹. Moreover, in our overseas operations, we started a project which is the second multi-tenant logistics facility "D Project Malaysia II" near Kuala Lumpur, Malaysia.
In the field of medical and nursing care facilities, we targeted hospitals whose existing facilities are showing signs of aging and which do not meet current earthquake resistance standards, making proposals for reconstruction or relocation. We also strengthened our lineup of solutions to meet the management needs of healthcare corporations, such as those operating homes for senior citizens or multipurpose nursing care facilities.
In the field of support for offices, manufacturing plants, and so on, we have strengthened our efforts to attract companies to industrial parks developed by Daiwa House. In the "Hofu No.2 Techno-Town" in Hofu City, Yamaguchi Prefecture, which is currently under development, we succeeded in attracting companies for the first time.
For food factories, we held seminars for manufacturers and processors on making HACCP*² compulsory, while also enhancing our proposals for the building of facilities adapted to safety certification.
However, as for postponement or cancellation of capital investment plans by some companies due to the impact of COVID-19, net sales for this segment amounted to 989,984 million yen (-14.1% year on year), while operating income came to 115,910 million yen (-3.9% year on year).
*1 The largest total floor area including "DPL Okinawa Tomigusuku" and "DPL Okinawa Tomigusuku II" in Okinawa Prefecture
*2 Hazard analysis and critical control points (HACCP) is a systematic preventive approach to food safety in production and preparation processes, in which the dangers posed by contamination by microorganisms at each stage of the process are analyzed and managed.
Other Businesses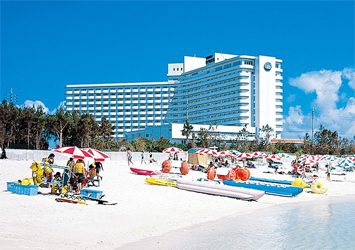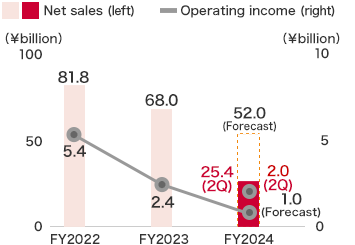 In the home center business, Royal Home Center Co., Ltd., has developed stores that are useful in the lives of various customers, including the opening of "Royal Home Center Toda Park" (Saitama Prefecture) and "Royal Home Center Fujisawa Namikidai" (Kanagawa Prefecture), as for watching demand among consumers choosing to stay at home due to the impact of COVID-19.
In the logistics business, Daiwa Logistics Co., Ltd. opened four new locations, including "Kyoto Distribution Center" (Kyoto Prefecture), and has been developing the most suitable logistics base for each customer.
In the fitness club business, Sports Club NAS Co., Ltd. opened "Sports Club NAS Kosaka" (Osaka Prefecture).
However, because resort hotel business and fitness club business were heavily affected by COVID-19, net sales for this segment amounted to 507,359 million yen (-4.3% year on year), while operating income came to 10,771 million yen (-44.1% year on year).
Notes:
1. Net sales for each segment include internal (inter-segment) sales and transfers in addition to sales to external customers.
2. The above monetary amounts are exclusive of consumption tax, etc.