Business Segment
*This page is updated semi-annually.
The percentage figures for breakdown of net sales and operating income by segment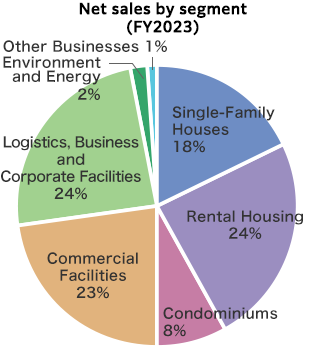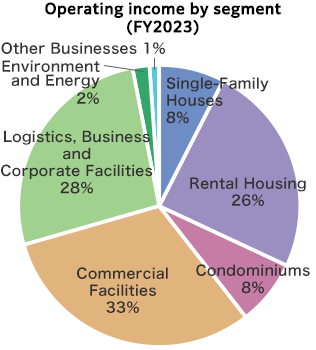 *Net sales represents sales to external customers.
*Adjustments are included in the total but not shown on the graph. The percentage of each segment does not add up to 100%.
Single-Family Houses Business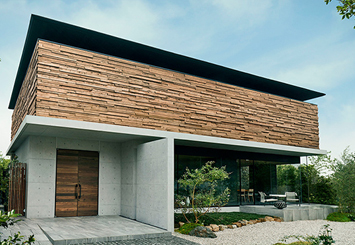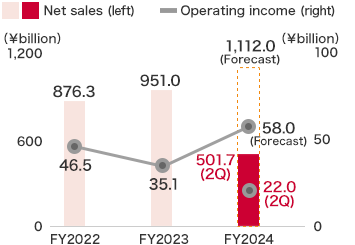 In the Single-Family Houses Business segment, we stayed close to the life of each customer and pursued community-based business expansion based on our business mission "Create 'lasting happiness' through housing" and a business vision "LiveStyle Design―Transforming home from a place to return to a place to 'live'―."
In the domestic housing business, the Company took advantage of its extensive product lineup primarily consisting of the mainstay "xevo Σ" steel-framed housing product, the "xevo Granwood" wooden housing product, "Skye" which is a three- four- or five-storied house, "Lifegenic" which enables the user design houses online and its most luxurious "Wood Residence Ma-Re" housing product. In addition, regarding custom-built houses and houses in housing development projects, it sought to provide solutions to customer issues while also proposing new value to address changes in society by proposing the Company's unique telework style and "Kaji Share House" that helps facilitate sharing of household chores among family members.
From January 2023, the Company worked to leverage digital technologies to strengthen its proposal-making capabilities, and it launched new initiatives, such as 3D plans when making initial proposals and the introduction of "LiveStyle Diagnosis" communication tool online. It also developed the industry's first single-family house-specific delivery box equipped with an intercom with 24-hour security camera functionality to provide products that improve security and address social issues.
Overseas, the Company has been expanding the Single-Family Houses Business in the "smile zone" which encompasses the eastern, southern and western United States, where housing demand is expected grow due to a rise in employment. During the second half of FY2022, the growth in orders received slowed due to a series of policy interest rate increases. Nevertheless, given solid demand, the Company continued to engage in sales activities without resorting to price adjustments. With housing loan interest rates apparently reaching a plateau, orders received have been trending toward a recovery recently.
As a result, net sales for this segment amounted to 910,076 million yen (+15.9% year on year), while operating income came to 46,666 million yen (+21.6% year on year).
Rental Housing Business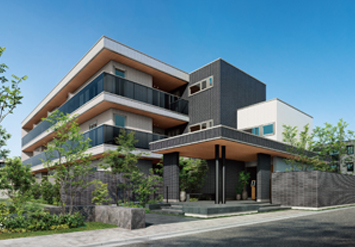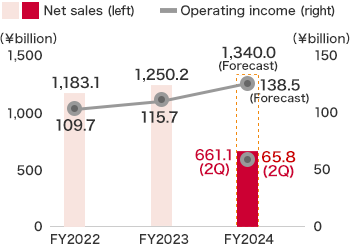 In the Rental Housing Business segment, we have been proposing and supporting rental housing management that leads to the maximization of the asset value for owners through the provision of homes of choice for residents where they may want to continue living in for a long time. In the course of initiatives promoting eco-friendly rental housings that support energy saving and energy generation, the Company sought to popularize and promote ZEH-M (net Zero Energy House Mansion) properties by launching the "TORISIA" rental housing product that offers higher thermal insulation performance in October 2022.
Daiwa Living Co., Ltd. offered properties with specifications that meet residents' needs, such as the introduction of Internet access and home delivery boxes to the properties it manages as standard fixtures, in response to changing lifestyles. By doing this, it succeeded in maintaining high occupancy rates while also increasing the number of units under management regarding properties built by the Company.
Daiwa House Chintai Reform Co., Ltd. worked to strengthen relationships with the owners of rental housings constructed by the Company by conducting building inspections and diagnoses periodically, while also continuing to promote work to extend warranty periods and submit renovation proposals.
In addition, the Company, Daiwa Living Co., Ltd. and Daiwa House Chintai Reform Co., Ltd. jointly established the "Daiwa House Group D-room Regional Symbiosis Fund" for the creation of a new circular business model centered on D-room with a view toward addressing social issues that have become increasingly diverse and complicated in recent years such as poverty, the aging of the population and the low birth rate. The first round of donations was made in March 2023 to 10 organizations selected by the Fund in recognition of their support for and contribution to the safety and security of communities, efforts to preserve regional events and cultures, and the raising of children mainly by single-parent families.
Overseas, in the United States where the Company is operating its rental housing development business, the "Rockville Town Center" rental housing developed in the State of Maryland was sold quickly due to favorable evaluations of its profitability. Although the market for revenue-generating properties, where the interest rates that have been increasing on and off have been affecting the financing activities of many buyers such as institutional investors, continues to require close monitoring, the Company will continue to focus on improving occupancy rates and profitability of leasing, while keeping a close eye on the market trends when the best time is to sell the properties it developed.
As a result, net sales for this segment amounted to 1,149,424 million yen (+9.2% year on year), while operating income came to 109,710 million yen (+13.5% year on year).
Condominiums Business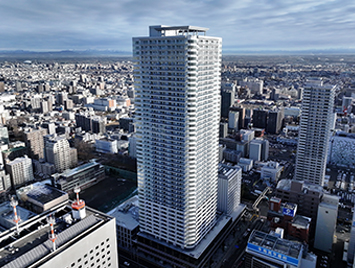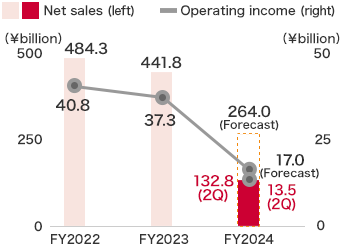 In the Condominium Business segment, we sought to provide basic housing performance essential for a long housing life, comfort, safety and a management structure, drawing on our knowhow as a home builder to meet the diverse lifestyle needs of potential residents. We are also striving to create high added-value condominiums which, in addition to asset value for the customer, also consider the environment and society and aim to contribute to local communities.
At "PREMIST Honkugenuma" (Kanagawa Prefecture), steady progress is being made in sales which started in March 2023, reflecting high evaluations of its quiet location and well-developed living environment which features convenient facilities for daily life and education facilities located within a 10-minute walk, as well as excellent convenience in terms of access to major cities.
Regarding PREMIST condominium series developed by the Company, the ZEH-M specifications will be adopted for all projects to be constructed in and after FY2024. With the development of condominiums with the ZEH-M specifications starting in FY2018 and the development and sales systems being established on a nationwide basis, the initial target is now two years ahead of schedule.
Cosmos Initia Co., Ltd. succeeded in selling all units of the "Initia Machida" (Tokyo), reflecting steady progress in sales due to high evaluations of the location's open atmosphere which faces roads on three sides in a sun-flooded environment, as well as convenient access. Specifically, it is a four-minute walk from Machida Station on the JR Yokohama Line. It is convenient in residents' daily lives because of the nearby shopping facilities and streets.
With a view toward enhancing corporate clients' competitiveness in recruitment through excellent welfare programs, Daiwa LifeNext Co., Ltd. offers the "L-Place Series" of high-quality residential facilities for companies (company dormitories) in 61 locations nationwide to address a range of issues, such as demand for company dormitories and company-owned housing, a lack of communication partly due to an increase in the number people working from home, and the risk of employees being out of contact when they are in poor health. In March 2023, it newly opened "L-Place Kiyosumi Shirakawa" (Tokyo).
As a result, net sales for this segment amounted to 484,382 million yen (+27.5% year on year), while operating income came to 40,879 million yen (+319.2% year on year).
Commercial Facilities Business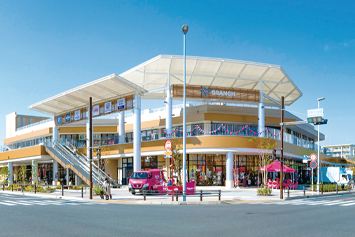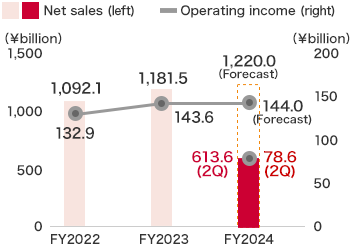 In the Commercial Facilities Business segment, we offered various plans that meet the needs of tenant corporations, taking advantage of their business strategies and the characteristics of each region. In particular, we strengthened our efforts in the field of large-scale properties and in built-for-sale business in which we sell to investors properties for which we have acquired land, planned development, designed and constructed, and conducted leasing-out to tenants.
In urban hotels business, against the backdrop of strong pent-up demand and robust demand from foreigners for travel to Japan, the earnings of Daiwa House Realty Mgt. Co., Ltd. are expected to increase to a level that is higher than before the COVID-19 pandemic in line with the recovery of inbound tourism-related demand, which is also aided by the lifting of immigration restrictions for foreign tourists implemented in October 2022 and the yen's historic depreciation. The average occupancy rate of the Daiwa Roynet Hotels from January to March 2023 improved to 85.1%, showing steady performance.
In the fitness club business, Sports Club NAS Co., Ltd. saw memberships to its schools recovering to pre-COVID-19 levels. However, tough business conditions are continuing due to the impact of the recent increase in utilities expenses, so it continued to improve efficiency by reviewing operations and took every possible measure to reduce costs.
As a result, net sales for this segment amounted to 1,092,167 million yen (+5.2% year on year), while operating income came to 132,984 million yen (+7.1% year on year).
Logistics, Business and Corporate Facilities Business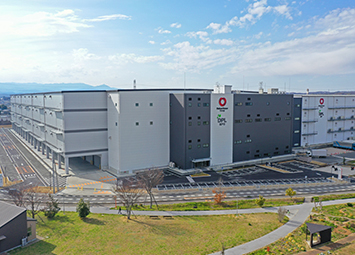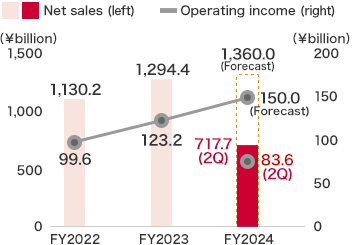 In the Logistics, Business & Corporate Facilities Business segment, we worked to enhance the Group's business scope by constructing a variety of facilities to suit the differing business needs of our corporate customers, and by providing total support services that enable customers to utilize their assets most effectively.
Regarding logistics facilities, "DPL Urayasu IV" (Chiba Prefecture) began operating at full capacity immediately after its completion. As this indicates, the Company steadily moved forward with development. It started construction of "DPL Niigata Makigata Higashi," the first multi-tenant logistics facility to be built in Niigata Prefecture. Leveraging bases in regional areas, the Company's strength, it has accelerated the development of logistics warehouses in regional areas targeting manufacturing industry, productions of which are returning to the domestic locations. In FY2022, the Company commenced the construction of new logistics facilities in 41 locations nationwide and leveraged its extensive experience and expertise to support customers' logistics strategies.
Daiwa House Property Management Co., Ltd., a company that mainly manages and operates logistics facilities developed by the Company, concluded new property management agreements for 30 logistics facilities including "DPL Sakado II" (Saitama Prefecture) that was completed in January 2023, increasing the number of facilities and the area under management to 238 facilities and approximately 9.38 million square meters.
Daiwa Logistics Co., Ltd. completed the construction of the "Hiroshima Kan-on Logistics Center" in January 2023 and the "Marugame Logistics Center" (Kagawa Prefecture) in March 2023. By enhancing its logistic infrastructure, it has been actively implementing logistics center-based 3PL (third party logistics) operations.
Fujita Corporation received orders for large-scale construction projects such as cleaning plants (reconstruction), logistics warehouses and university facilities, as well as complex facilities/production facilities in an urban area redevelopment project, and orders in its civil engineering business including an order related to energy business. Reflecting these orders, the amount of orders received remained solid. In addition, the company's net sales increased significantly year on year, reflecting steady progress in carryover construction at the beginning of the fiscal year and an increase in the sales of development properties.
Overseas, progress was made in the easing of regulations regarding measures to prevent COVID-19 infections in ASEAN, the main area for this segment. However, the logistics warehouse business that the Company is promoting in Indonesia, Vietnam, Malaysia and Thailand was affected because the depreciation of the yen made Japanese companies less willing to continue making capital investments. The Company will engage in business operations with a focus on foreign companies, while simultaneously paying close attention to Japanese companies expanding into the ASEAN region or resuming their business expansion going forward.
As a result, net sales for this segment amounted to 1,130,230 million yen (+4.7% year on year), while operating income came to 99,630 million yen (-20.6% year on year).
Environment and Energy Business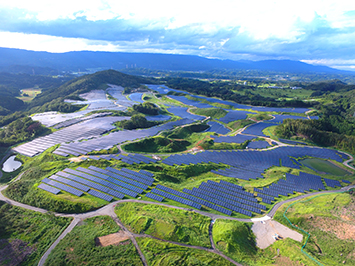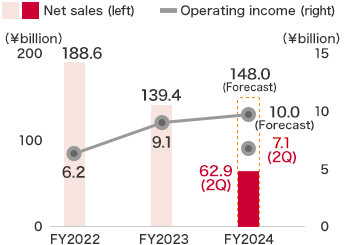 In the Environment and Energy business, amid the current acceleration of transition toward decarbonization and the growing demand for renewable energy, the Group promoted three businesses, the EPC business (design and construction of power plants for renewable energy), the PPS business (electric power retail business) and the IPP business (electric power generation business).
To facilitate initiatives in the EPC business with the termination of Japan's FIT program (the feed-in tariff scheme for renewable energy), the Group is working to expand two PPA-related businesses, on-site PPA (Power Purchase Agreement) with the goal of supplying renewable energy directly from a solar power generation facility installed on a roof or in an adjacent area and off-site PPA with the goal of supplying renewable energy to a purchaser far from a solar power generation facility. The number of projects is rising.
In the PPS business, the business environment continues to be difficult, reflecting surging power purchase prices due to the prolonged war in Ukraine and rising resource prices attributable to the depreciation of the yen. The Group has been working to improve profitability through a range of measures such as the elimination of an upper limit on fuel adjustment expenses for low-voltage power, the launch of market-linked plans regarding high-voltage power, the supply of power according to the amount of power procured and the reduction of the ratio of procurement from the wholesale power market. With wholesale power market spot prices stabilizing recently, profitability is expected to improve.
In the IPP business, the Company engages in the operation of wind power generation and hydroelectric power generation, as well as solar power generation, which is its main business, at 480 locations nationwide. Going forward, as part of efforts to facilitate the three management policies set out in the 7th Medium-Term Management Plan, the Company will accelerate, on a Group-wide basis, its initiative installing solar power generation equipment on the roofs of all newly constructed facilities in principle. By doing so, it aims to continue to expand the renewable energy-based power generation business.
As a result, net sales for this segment amounted to 188,611 million yen (+17.1% year on year), while operating income came to 6,285 million yen (+19.3% year on year).
Other Businesses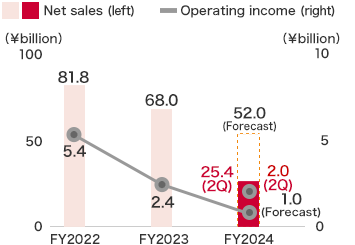 In the accommodation business, Daiwa Resort Co., Ltd. achieved an occupancy rate that surpassed the year-ago level, reflecting a rise in domestic accommodation demand due to the implementation of nationwide travel assistance programs and discounts for local residents.
On January 26, 2023, the Company acquired the right to manage Hibikinada Thermal Power Station Co., Ltd. and made it a Group company. The Group included "realize carbon neutrality" as a theme in the 7th Medium-Term Management Plan, its five-year plan started in FY2022. As a part of its efforts, it established the goal of increasing the supply of renewable energy. It aims to provide society as a whole with clean energy by directly operating renewable energy supply facilities that generate a total of at least 1,550 MW in FY2026 and at least 2,500 MW in FY2030. In doing so, it acquired the Hibikinada thermal power station with a rated output of 112 MW to more actively increase the number of directly operated facilities. The Hibikinada thermal power station which the company operates has been generating power through the co-firing of coal and biomass fuel (wood pellet). The company will convert it to a biomass-fired power station that uses only biomass fuel and aims to start operations in April 2026.
As a result, net sales for this segment amounted to 81,849 million yen (+29.8% year on year), while operating income came to 5,497 million yen (compared to 5,922 million yen in operating loss in the previous fiscal year).
Notes:
1. Net sales for each segment include internal (inter-segment) sales and transfers in addition to sales to external customers.
2. The above monetary amounts are exclusive of consumption tax, etc.