Business Segment
The percentage figures for breakdown of net sales and operating income by segment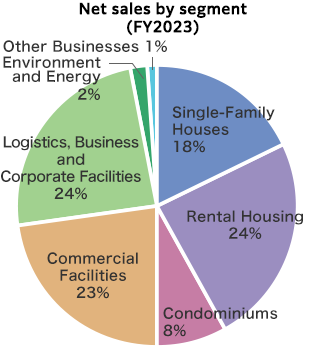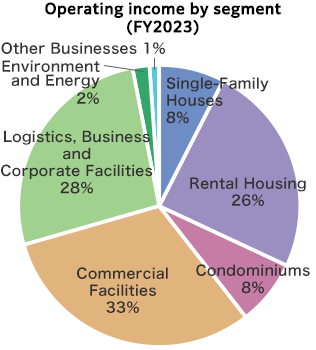 *Net sales represents sales to external customers.
*Other businesses and adjustments are included in the total but not shown on the graph. The percentage of each segment does not add up to 100%.
Single-Family Houses Business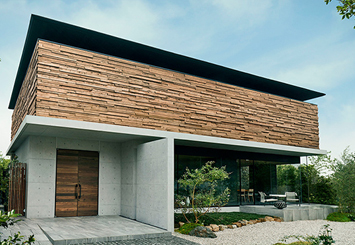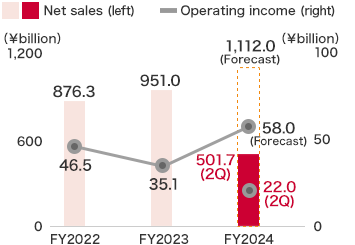 In the Single-Family Houses Business segment, we stayed close to the life of each customer and pursued community-based business expansion, based on a business mission "Create 'lasting happiness' through housing" and a business vision "LiveStyle Design―Transforming home from a place to return to a place to 'live'―."
In the domestic custom-built house business, we focused on resolving our customers' issues and proposing new values with our product lineup that caters to changes in society. The lineup includes our mainstay products such as "xevoΣ (sigma)," "xevo Granwood" and "skye," as well as "Lifegenic" online home designing service, our unique telework style proposals and "Kaji Share House" that helps facilitate sharing of household chores among family members.
As part of the three management policies under the 7th Medium-Term Management Plan that started in the current fiscal year, we opened "LiveStyle Shop Tsukuba" (Ibaraki Pref.) on May 28, 2022, as a new physical means of attracting customers that substitutes model house exhibitions. Located in a large-scale multipurpose commercial facility, the shop is easy of access for customers where they can casually seek advice on housing and living concerns. The shop is jointly managed by four of our Group companies―Daiwa House Reform Co., Ltd., Nihon Jyutaku Ryutu Co., Ltd., DesignArc Co., Ltd. and Daiwa Living Co., Ltd.―in an effort to expand customer lifetime value. Strengthening intra-Group collaboration, we plan to expand this type of shop mainly in Tokyo, Osaka, Nagoya and other large metropolitan areas, with an aim to promote sales of single-family houses and to further develop our Livness real estate stock business comprising renovation, buy and resale, etc.
Overseas, in the United States, we continued to pursue expansion of the housing business in the "smile zone" which connects the 11 states in the eastern, southern and western parts of the nation, where housing demand is expected thanks to job growth. In the U.S., policy rates have been raised to tame soaring prices, of which impact on economy calls for close attention. The business performance, however, remained firm with a lack of inventory of existing homes, the strong demand from Millennials anticipating home purchase, and a rise in demand for single-family houses for rent.
As a result, net sales for this segment amounted to 173,458 million yen (+19.0% year on year), while operating income came to 4,183 million yen (+27.9% year on year).
Rental Housing Business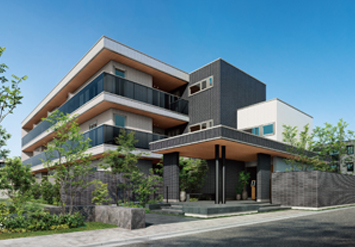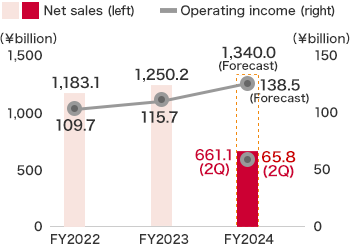 In the Rental Housing Business segment, we have been proposing and supporting rental housing management that leads to the maximization of the asset value and long-term stable management for owners through the provision of homes of choice for residents where they may want to continue living in for a long time. We pushed ahead with built-for-sale business and eco-friendly ZEH-M, as opportunities to make face-to-face sales proposals increased after the stagnation caused by states of emergency and other control measures, reflecting efforts to achieve both strict containment and economic and social activity. At the same time, we continued to hold regular online seminars and built lasting relationships with customers through the provision of information on the latest trends in land use, rental housing markets and suchlike.
Daiwa Living Co., Ltd. maintained a high occupancy ratio, reflecting relocation hesitancy of tenants during the COVID-19 pandemic and growing demand for properties coming equipped with Internet access, in line with lifestyle changes such as telework.
In addition, Daiwa House Chintai Reform Co., Ltd. has worked to strengthen the relationship with owners of rental housing constructed by the Company through periodic building inspections and has also strengthened our efforts to propose renovations required for extended warranty.
Overseas, in our main operating area of the United States, we successfully sold a rental housing Rockville Town Center in Maryland despite being in the construction phase at the time. The property was rated as highly profitable in light of the occupancy status of adjacent properties. Now that economy is bouncing back from the impact of COVID-19, we are steadily raising occupancy of other rental properties with a view to sale.
As a result, net sales for this segment amounted to 270,423 million yen (+13.8% year on year), while operating income came to 25,791 million yen (+27.8% year on year).
Condominiums Business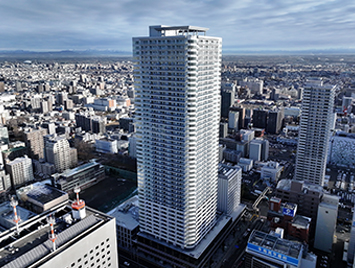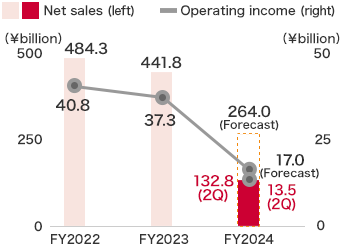 In the Condominium Business segment, we sought to provide basic housing performance essential for a long housing life, comfort, safety and a management structure, drawing on our knowhow as a home builder to meet the diverse lifestyle needs of potential residents. We are also striving to create high added-value condominiums which, in addition to asset value for the customer, also consider the environment and society and aim to contribute to local communities.
At PREMIST Tower Shin-sapporo, a large-scale multipurpose redevelopment in front of a railway station, all units sold quickly in recognition of the great convenience of direct connection to both a JR station and a subway station, the first of such in Hokkaido, as well as the town development with enhanced urban functions and environmental friendliness. Another feature was that the building was certified as a super high-rise ZEH-M by the Ministry of Economy, Trade and Industry.
PREMIST Tokuyama The Residence (Yamaguchi Pref.), another multipurpose redevelopment in front of a railway station, boosts an excellent location of 2-minites' walk on the deck directly connecting to JR Tokuyama Station. With the design supervised by Mr. Jun Mitsui, an architect from Yamaguchi Pref., the property will become the highest-rise landmark in Shunan City. In recognition of these features, the sales are progressing steadily.
A Group member Cosmos Initia Co., Ltd. also started sales of INITIA Nerima Kitamachi Residence (Tokyo). Sales are progressing steadily due to its excellent traffic convenience of 4-minutes' walk to Tobu-nerima Station of Tobu Tojo Line, living convenience of having shopping streets and restaurants around the station, and a variety in the purchase plans that cater to various lifestyles of home buyers.
Daiwa LifeNext Co., Ltd. was awarded in the seven sections, the highest count in the industry, under the Condominium management companies' category in SUUMO AWARD 2022 hosted by Recruit Co., Ltd. It also received the top award in the Staff hospitality category (for properties of over 100 units). In addition, in the Comprehensive strength section in the Condominium management companies ranking compiled by Economic journal "Diamond," Daiwa LifeNext Co., Ltd. was recognized as the highest among all 113 companies from mid-sized to large ones. These high reputations from external parties are the result of its efforts for enhancing quality in condominium management based on improvements in day-to-day operations and new service development.
Overseas, in the U.S., the economy is gaining momentum by coexisting with COVID-19. The sales of two properties that the Company has in Manhattan, New York are progressing steadily.
However, due to the decrease in sales of profit-earning properties, etc., net sales for this segment amounted to 61,788 million yen (-10.1% year on year), while operating loss came to 1,149 million yen, which compares with 138 million yen in an operating loss for the corresponding quarter of the previous fiscal year.
Commercial Facilities Business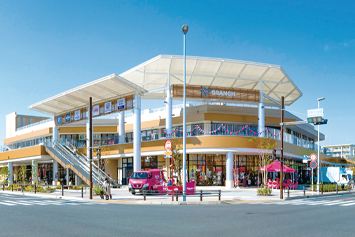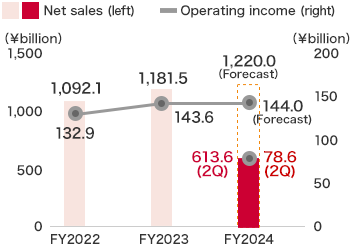 In the Commercial Facilities Business segment, we designed and proposed that matched tenant corporations' strategic needs and took into account the impact of the COVID-19 pandemic. We offered various plans to make the best of the particular characteristics of each region and meet a wide range of needs. In particular, we strengthened our efforts in the field of large-scale projects. Also, for customers looking for options in the purchase of real estate for investment purposes, we expanded our business by strengthening strategies to encompass land acquisition, development planning, design and construction, and leasing-out to tenants.
Also, the shopping center "ALPARK" (Hiroshima Pref.), which Daiwa House Realty Mgt. Co., Ltd. has managed and operated since acquiring it in 2019, underwent major renovations and reopened its east wing in December 2021 and its west wing in April 2022. Through projects such as these, Daiwa House Realty Mgt. is developing multipurpose facilities which combine the Group's management assets spanning development planning, design and construction, and operation and management.
In the urban hotel management business, Daiwa House Realty Mgt. Co., Ltd. opened Daiwa Roynet Hotel Kagoshima Tenmonkan and Daiwa Roynet Hotel Kobe Sannomiya Chuo-dori in April 2022, Daiwa Roynet Hotel Sendai Nishiguchi in May 2022, and Daiwa Roynet Hotel Sapporo Nakajima Koen in June 2022.
In the home center business, Royal Home Center Co., Ltd. continued to face a challenging business environment due to cooling of consumer confidence with price hikes and a decline in sales of tools stemming from shortages of professional-use merchandise, but it sought to expand operations aiming to be the best partner for living and homes based on the local community.
In the fitness club business, Sports Club NAS Co., Ltd. continued operating alongside implementation of strict infection control measures. Although there has been a delay in the recovery of the number of club members (full membership) due to the spread of new variants, the company worked to improve operational efficiency through a fundamental review of operations.
As a result, net sales for this segment amounted to 242,734 million yen (+6.7% year on year), while operating income came to 25,377 million yen (-5.8% year on year).
Logistics, Business and Corporate Facilities Business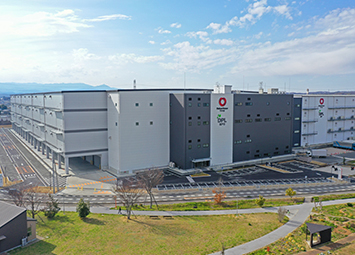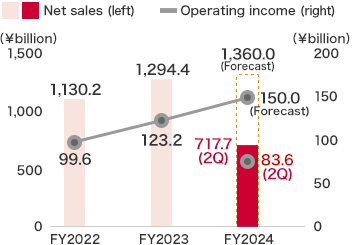 In the Logistics, Business and Corporate Facilities Business segment, we worked to enhance the Group's business scope by constructing a variety of facilities to suit the differing business needs of our corporate customers, and by providing total support services that enable customers to utilize their assets most effectively.
On April 15, 2022, as part of social contribution activities, we entered into an agreement on cooperation for storage of emergency provisions during disasters with Kanagawa Prefecture. In Toyama City, we started construction of D Tower Toyama (tentative name), a multi-tenant building with the largest standard floor area (*1) in Toyama Prefecture in June 2022. In this way, we proceeded with a variety of development projects in the nation.
In the field of logistics facilities, we began construction of new logistics facilities in 11 location nationwide, leveraging our extensive experience and know-how to provide the essential back-up to our customers' logistics strategies. Particularly notable among these newly commenced projects is DPL Sapporo Rail Gate, a multi-tenant logistics facility in the largest scale in Hokkaido completed in May 2022 as a joint project with Japan Freight Railway Company. Together with three other companies, Daiwa Logistics Co., Ltd., FRAMEWORX, Inc. and Hacobu Co., Ltd., the Company initiated a collaborative project aimed at building a sustainable logistics network that covers the nation.
In the field of medical and nursing care facilities, we targeted hospitals whose existing facilities are showing signs of aging and which do not meet current earthquake resistance standards, making proposals for reconstruction or relocation. We also strengthened proposals with urban development centered around CCRC (*2) and health care as the starting point.
In the field of support for offices, manufacturing plants and suchlike, in May 2022, we signed a business alliance with Tsuyama City, Okayama Prefecture, to promote the commercialization of industrial parks developed by the Group and to strengthen the attraction of companies. In addition, we have strengthened our ZEB proposals to promote energy-efficient buildings for a decarbonized society.
In food factory-related business, we engage in the Toyama Public Wholesale Market Redevelopment Project, which is part of an initiative for organizing an infrastructure for people's daily life. Under this project, we started construction of a building to house relevant stores and offices in February 2022 and a fruit and vegetable building in April 2022.
Daiwa House Property Management Co., Ltd. manages and operates mainly the logistics facilities developed by the Company. It entered into new property management contracts for 10 logistics facilities, including "DPL Misato III" (Saitama Pref.) completed in May 2022, bringing the cumulative number of buildings under its management to 218, or approximately 8.29 million square meters.
Daiwa Logistics Co., Ltd. started operations at Hyogo Ono Logistics Center, Urayasu Logistics Center III (Chiba Pref.), and Ichinomiya Logistics Center (Aichi Pref.), and has worked to strengthen its business foundation. At the same time, the company has been actively worked to expand transactions with existing customers and acquire new customers such as online mail-order companies with strong demand.
Fujita Corporation saw a significant increase in orders year on year for large-scale construction projects such as logistics warehouses, production facilities, and university facilities, and for civil engineering projects related to the energy business. In addition, net sales remained strong due to the progress of construction carried from the previous fiscal year.
Overseas in ASEAN, our main operating area, the logistics facilities business in Thailand and Malaysia is proceeding smoothly, and all properties we own are fully occupied.
As a result, net sales for this segment amounted to 229,597 million yen (+5.2% year on year), while operating income came to 17,264 million yen (-17.5% year on year).
*1: According to our research
*2: Continuing Care Retirement Community is an initiative for the development of communities whose members can lead healthy, active lives, interacting with local residents and many different generations, and can access medical and nursing care where necessary.
Environment and Energy Business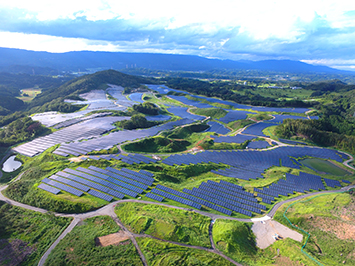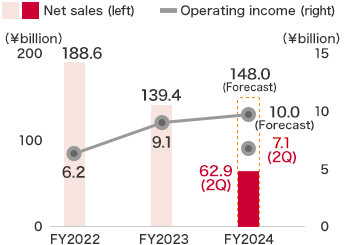 In the Environment and Energy Business, we promoted three businesses of EPC (design and construction of renewable energy power plants), PPS (electric power retail business) and IPP (electric power generation business), amidst an accelerating trend toward decarbonization entailing a growing need for renewable energy.
In the EPC business, while the number of projects decreased on account of drop in solar feed-in tariff (FIT) rates, we saw an increase in orders for onsite PPA(*) (installation of photovoltaic power generation equipment on rooftops or on adjacent land to directly power in-house facilities) and offsite PPA (supply of energy to buyers located away from solar power plants). These projects are measures to prepare for the end of FIT.
In the PPS business, there is a steep rise in prices of resources purchased overseas due to the prolonged Ukraine crisis and a sharp depreciation of yen. As a result, electricity purchase prices are soaring, and the business environment remains harsh. Our efforts are focused on minimizing this impact through revising sales prices and lowering the ratio of electricity sourced from wholesale power markets.
In the IPP business, we operate power plants at 443 locations across the nation centering on solar power generation, along with wind and water power generation. Going forward, the Group will promote the installation of rooftop solar panels on our newly constructed facilities as a rule, which is set out under a focal theme to underpin the three management policies in the 7th Medium-Term Management Plan. We aim to further expand the renewable energy generation business.
As a result, net sales for this segment amounted to 39,645 million yen (+6.8% year on year), while operating income came to 2,435 million yen (-13.7% year on year).
* Power Purchase Agreement
Other Businesses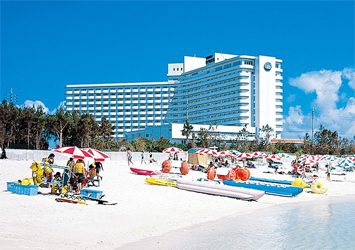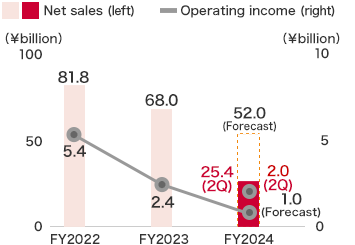 In the accommodation business, Daiwa Resort Co., Ltd. reported an occupancy rate above the level a year earlier. Whilst inbound demand is expected to take some time to recover, domestic accommodation demand saw a recovery centering on independent travel, partly backed by prefectural residents' discounts.
As a result, net sales for this segment amounted to 18,725 million yen (+42.2% year on year), while operating income came to 830 million yen, which compares with 2,643 million yen in an operating loss for the corresponding quarter of the previous fiscal year.
Notes:
1. Net sales for each segment include internal (inter-segment) sales and transfers in addition to sales to external customers.
2. The above monetary amounts are exclusive of consumption tax, etc.